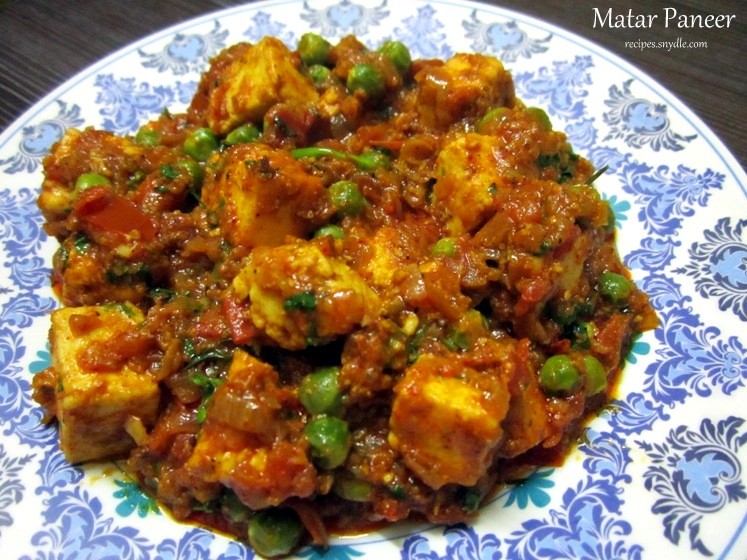 Matar Paneer Recipe / Mutter Paneer Recipe with Step by Step Pictures
Holla amigos! What's up? You are having a great day, I hope! I am having a crazy day! I mean, I have had so much yummy food all day that I might slip into a food coma! Delicious and creamy cucumber-tomato sandwiches for lunch and Malai Kofta and Matar Paneer with butter naan for dinner! That's way too much deliciousness for a day, right? Also, I have shared all these recipes with you a few moments ago. If you missed them, please click on the links and you would be directed to the respective recipes.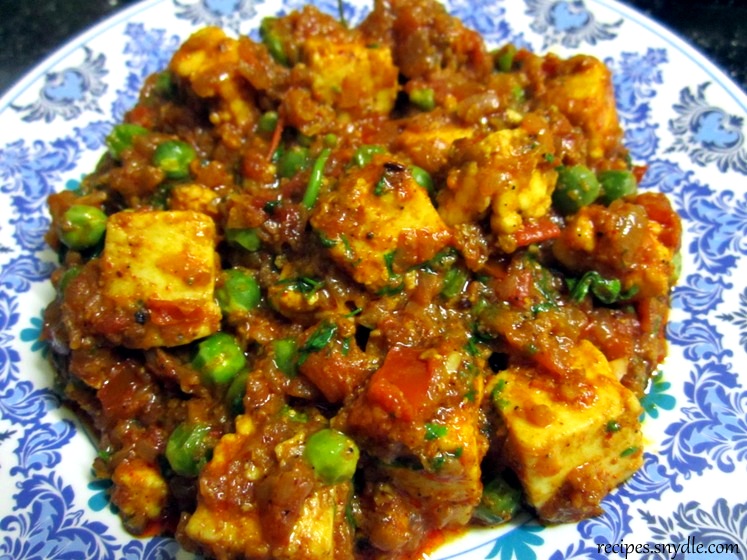 Now coming back to what I am here for! Now I am sharing with you the recipe of the classic Mutter Paneer. For those who aren't familiar with the dish, it is a curry comprising of paneer/Indian cottage cheese and matar/green peas. This is yet another all time favorite of so many people! I made a nice, thick and spicy gravy this time. Since its winter time, I didn't want to miss out on the fresh green peas. So instead of the frozen green peas, I used the fresh ones. Of course you could use the frozen peas in case you do not have fresh peas.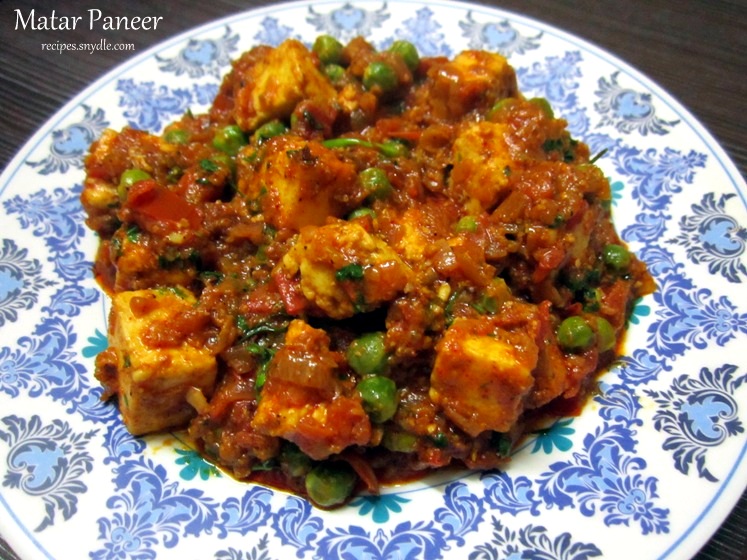 I have also compiled a list of all the paneer recipes that I have shared previously, so that you can take a look. Here you go!
I hope you like these recipes of paneer and would try them out.
Let's start with the recipe of Matar Paneer / Mutter Paneer. For the purpose of measurement, 1 cup = 250 ml. This recipe serves 3.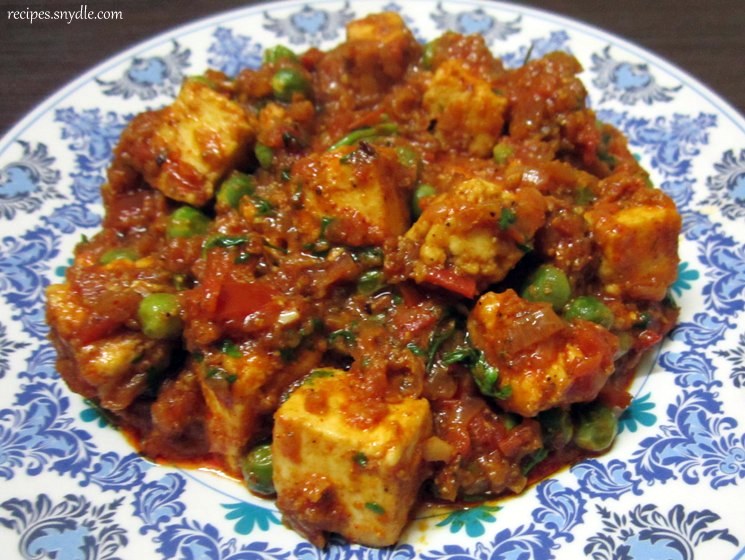 Ingredients
Paneer – 150 grams
Green peas – 1/2 cup
Onion – 3 medium, finely chopped
Ginger – 1-inch piece, finely crushed
Garlic – 12 cloves, finely crushed
Green chilies – 2, finely chopped
Tomato – 1 large, finely chopped
Hung curd – 1/2 cup, whisked (not very sour)
Water – 1/3 cup or as needed
Coriander leaves – a handful, finely chopped
Salt – to taste
Kashmiri red chili powder – 1 and 1/2 tsp
Turmeric powder – 1/3 tsp
Oil – 3 tbsp
For the Spice Mix
Cumin seeds – 1 tsp
Coriander seeds – 2 tsp
Black peppercorns – 1 tsp
Cinnamon – 1 inch piece
Green cardamom – 2
Fennel seeds – 1 tsp
Cloves – 5
How to Make Mutter Paneer
Wash and boil the green peas till they get cooked and soft. This might take 20 minutes in the pot. Alternatively, you could pressure cook them for one whistle.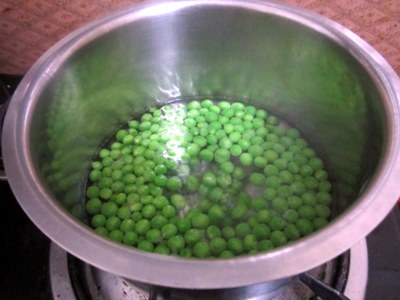 Lightly roast the dry spices on a tawa/griddle/pan till they become aromatic. This will take a minute or two. Take care not to burn them. Transfer the roasted spices into the mixie jar.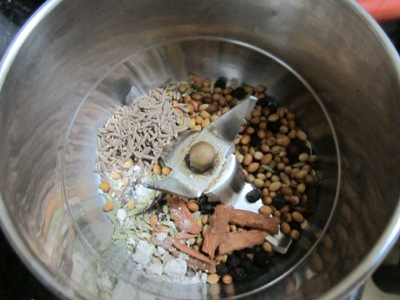 Grind the spices to a fine powder. Set it aside for a while.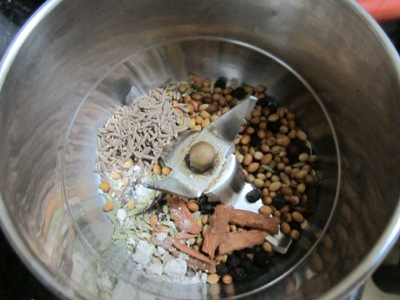 In a skillet, heat oil. Add in the onion and saute it till it turns golden brown.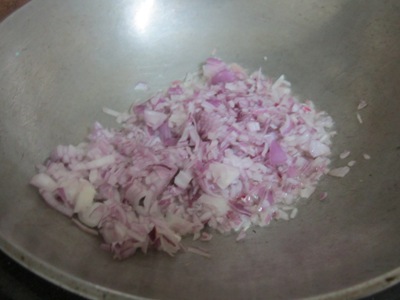 Add in the ginger and garlic. Saute for a minute or two on medium low heat till the raw smell goes away. Take care not to burn, since the ginger and garlic tend to stick to the skillet a lot.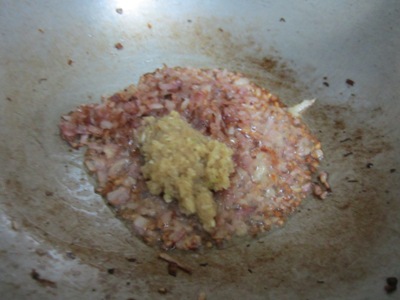 Add in the green chilies and saute for a few seconds. Add in the tomato and cover the skillet. Cook till the tomato gets mushy, onion melts and oil begins to separate. If the mixture looks too dry, you can add some water and continue to cook.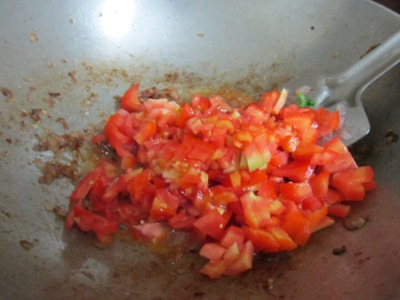 Add in the ground spice mix, red chili powder and turmeric. Cook for a minute till the spices release a nice fragrance.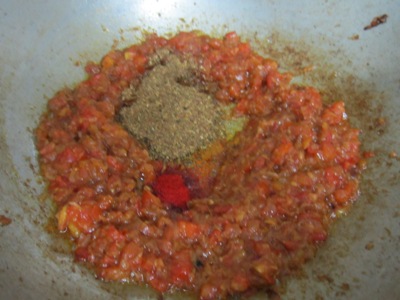 Add in the yogurt and mix well.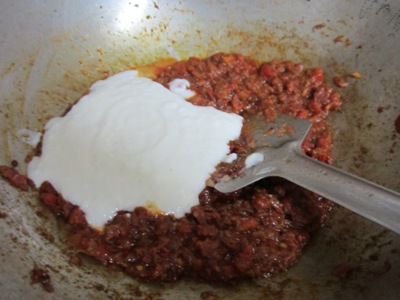 Add in the green peas and continue to cook for about 5-7 minutes till the peas get cooked completely and absorb the flavors of the gravy.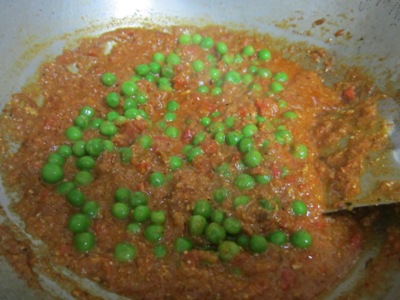 When the gravy thickens and oil begins to separate, add in the paneer/cottage cheese and coriander leaves.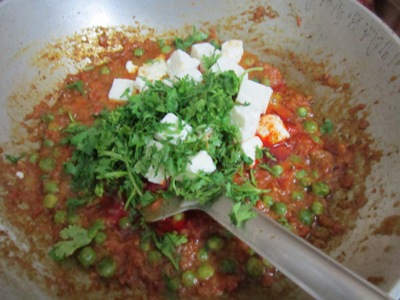 Mix well. Allow to cook for another 2-3 minutes. It should look like this.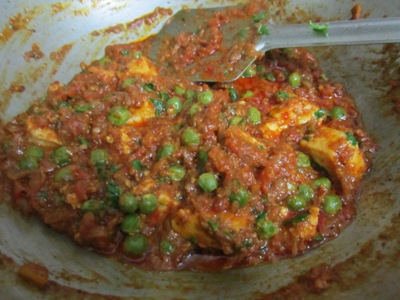 Delicious Matar Paneer is ready. Serve hot with rice, roti or naan. Enjoy!