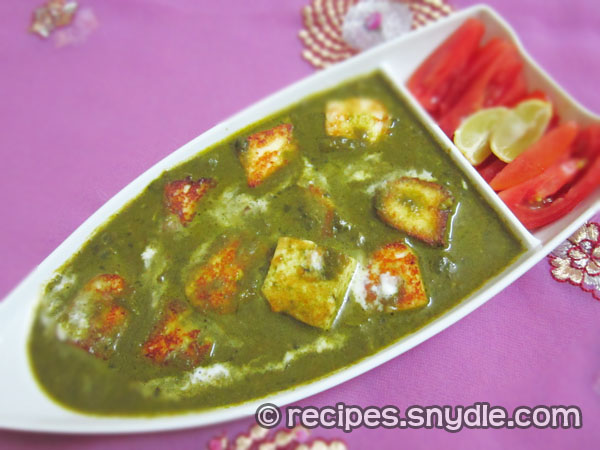 Hello dear readers. Looks like you are planning to cook something new and delicious today. Well, your search for a scrumptious idea just came to an end. Today, I am sharing a simple and quick yet very appetizing recipe of the India classic Palak Paneer Recipe.
The dish consists of smooth gravy that has pureed spinach or palak as its base. The milky flavor of Paneer or cottage cheese marries the mildly spicy spinach gravy perfectly. We suggest you cook this dish using ghee, i.e., clarified butter, for an ultimate desi touch.
For those who are watching their calories, you can simply use olive oil. This recipe is the perfect way to incorporate spinach in your diet, especially if your taste-buds despise the otherwise dull leafy vegetable.
Palak Paneer Recipe
Ingredients- Palak Paneer Recipe
Spinach – 1 large bunch, blanched and pureed
Cottage cheese (Paneer) – 400 grams
Onion – 2 medium, finely chopped
Tomatoes – 1 large, finely chopped
Cinnamon – 1 stick
Bay leaves – 2
Red chili powder – 1 tsp
Turmeric powder – 1/4 tsp
Garam Masala powder – 1/2 tsp
Salt – To taste
Ghee / Clarified Butter – 2 tbsp
Cashews – 10
Fresh Cream – 1 tbsp
Water – 1 cup
To finely crush together
Green chilies – 3 nos.
Ginger – 1/2 inch piece
Garlic – 5 to 6 cloves
Cloves – 3 nos.
Roasted Cumin seeds – 1 tbsp
How to Cook Palak Paneer
Soak the cashews in a few spoonfuls of warm water for 3-4 hour. Grind them using the same water to make a smooth cashew paste. The cashew paste renders a velvety texture to the spinach gravy.
In a skillet, heat 1 tbsp of ghee and heat it on a medium flame till it melts. Carefully drop in the paneer cubes and fry them for a minute. The exterior of the paneer cubes should turn golden and look slightly crispy. The inside should be soft and moist. It is important that the ghee should not be smoking hot if you want perfectly fried paneer cubes.
Remove the fried paneer cubes onto a plate and keep aside. You may use a kitchen towel to drain the excess ghee out.
In the same skillet add the remaining 1 tbsp of ghee and let it melt. Toss in the cinnamon stick and bay leaves and sauté for a few seconds till it gets fragrant. Add the chopped onions and sauté them till they turn golden brown. This may take 6-8 minutes. You will get a very nice aroma, which will tell you that the onions are not raw anymore.
In the meanwhile, crush the garlic, ginger, green chilies, cloves and roasted cumin using a mortar and pestle. If you do not have it, you can grind the ingredients. I suggest you avoid making this paste while preparing the rest of the ingredients. Make it fresh and add it to the skillet to get maximum flavor.
When the onions are done, add in the paste you just prepared. Fry for a couple of minutes till the raw smell of ginger and garlic disappears and it gives out a nice whiff.
Next, toss in the tomatoes. Sprinkle some salt to speed up the cooking process. Cook the tomatoes till they turn mushy and oil begins to separate.
Add in the red chili powder and turmeric powder and give it a good stir. Cook for a minute.
It's time to now add the pureed spinach to the skillet. Mix it well with the spicy jumble and add some water. Palak paneer is usually thick. 1 cup of water should be enough. After adding water, simmer it for around 8 minutes. Don't forget to adjust the salt at this stage.
Add the cashew paste and garam masala powder. Give it a good stir. Hurl the golden and crispy paneer cubes in the gravy. You will notice how silky the texture turns as soon as you add the cashew paste. It will smell incredibly earthy due to the fresh garam masala powder. Let it bubble away for 2 more minutes as the paneer absorbs in all the flavors.
Switch the flame off. Finish it with a dollop of fresh cream. And voila! Palak paneer is ready to be served.
So, wasn't that an easy Palak Paneer Recipe? You can serve it with corn-meal flatbread, roti, naan or butter-fried jeera rice. Yes, it pairs amazingly with jeera rice! Do you know what else can enhance the taste? Bring in some onion and tomato salad drizzled with lemon juice. A glass of chilled lassi and your meal becomes a complete package!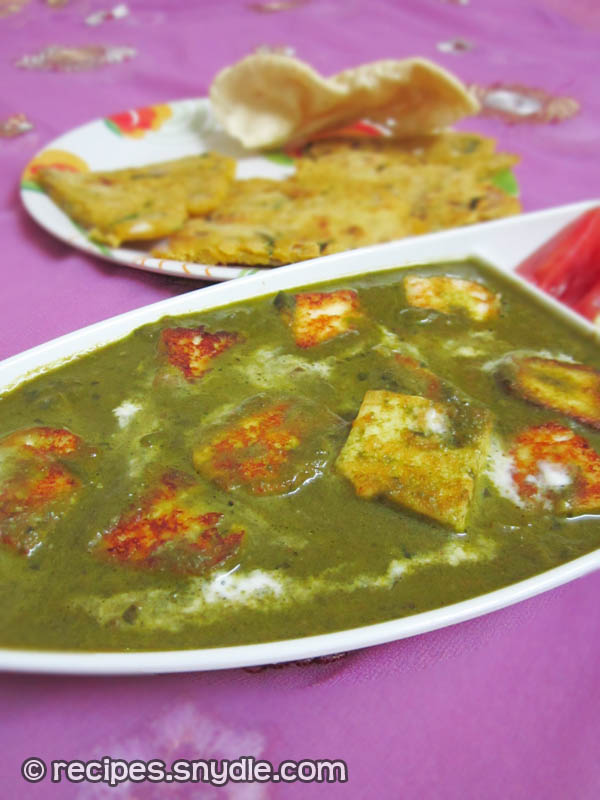 We hope you would surprise your family by serving this delightful palak paneer dish and that everyone would love it to the core. Do give it a try and let us know how you like it. Stay tuned for more of such quick and delectable upcoming recipes.