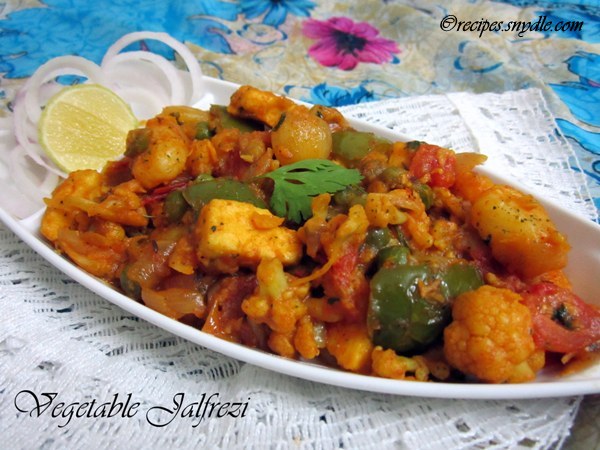 Today I created a really colorful dish from my Mom's old recipe diary. It is 'Vegetable Jalfrezi' and it is filling and delicious. It consists a variety of vegetables, cubed and sautéd in thick gravy. I also added some paneer, because it adds substance to the recipe.
And naturally, I tried out a different spice mix. I used Maggi Masala-e-Magic to this recipe and it gave a nice zest to it!
Maggi Masala-e-Magic does add a delightful zing to the food!
This recipe will serve 3 to 4 persons. For the purpose of measurement, 1 cup = 250 ml. Let's see how to make it!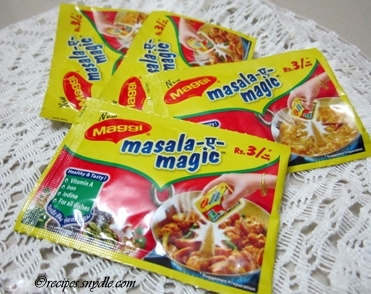 Notes
Use good quality malai  paneer for best results. Take it out of the freezer and allow it to come down to room temperature. Soak the paneer in lukewarm water for 5 minutes and then use it.
In case you wish to replace Maggi Masala- e-Magic from the recipe, you can use Kitchen King masala instead.
Always, dry raost kasoori methi on a tava /griddle on a very low flame for a minute and then crush it between your palms to a fine powder before you add it to the dish. This enhances its flavor.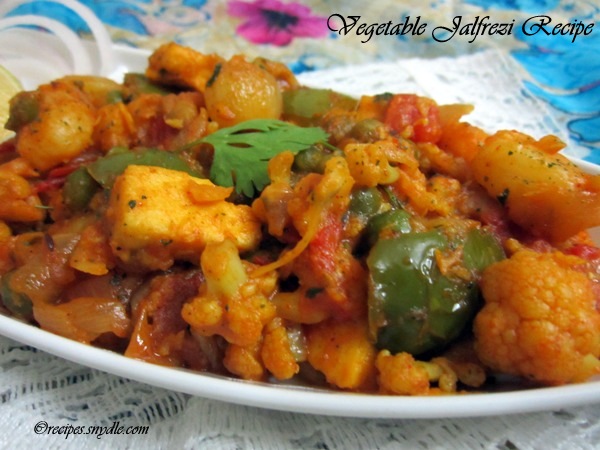 Ingredients
Onion – 1 large, diced
Tomatoes – 1 large, diced
Ginger paste – 1 tbsp
Garlic paste – 1 tbsp
Green chilies – 2, finely chopped
Capsicum – 1, diced
Cauliflower – 1/2 cup, cut into smaller florets
Green peas – 1/3 cup
Potato – 1medium, diced
Paneer / Cottage cheese – 200 grams
Chopped cilantro – For garnish
Red chili powder – 1 tsp
Turmeric powder – 1/2 tsp
Garam Masala – 1/3 tsp
Maggi Masala- e- Magic – 1 tsp
Salt- To taste
Hung Curd – 5 tbsp
Honey – 1 tsp
Kasoori methi / Dried fenugreek leaves – 1 tsp
Cumin seeds – 1 tsp
Oil – 3 tbsp
How to Make Vegetable Jalfrezi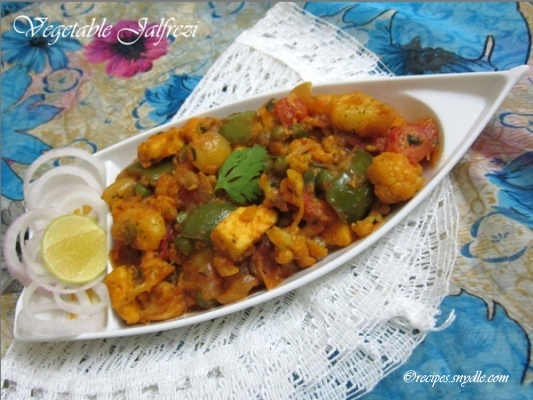 Heat the oil in a skillet or a pan and add cumin seeds to it. Allow them to sizzle. Toss in the diced onion and sauté it till it turns translucent.
Throw in the in green chilies, ginger paste and garlic paste sauté for a couple of minutes till it loses the raw smell.
Toss in the cauliflower and potatoes, some salt and mix well. Allow the veggies to cook in their own moisture for 6 to 7 minutes with the lid on. Stir the veggies occasionally.
When the cauliflower and potatoes are partly done, add in the tomatoes and sauté till the tomatoes turn soft.
Toss in the capsicum and green peas. Sauté for a couple of minutes till the oil starts separating out.
It's time to add in the spices, i.e., red chili powder, turmeric powder and Maggi Masala-e-Magic. Stir it well and cook for 2-3 minutes, adding little water if need be.
Add in the hung curd and mix well. Add honey and adjust the salt.
In the end, add the paneer and let it cook for 3 to 4 minutes on low heat. Let the gravy thicken a bit.
The oil should start separating again. Finish it with garam masala, kasoori methi and mix well. Garnish with fresh chopped cilantro. Vegetable Jalfrezi is ready!
Serve hot with roti or naan. Enjoy!