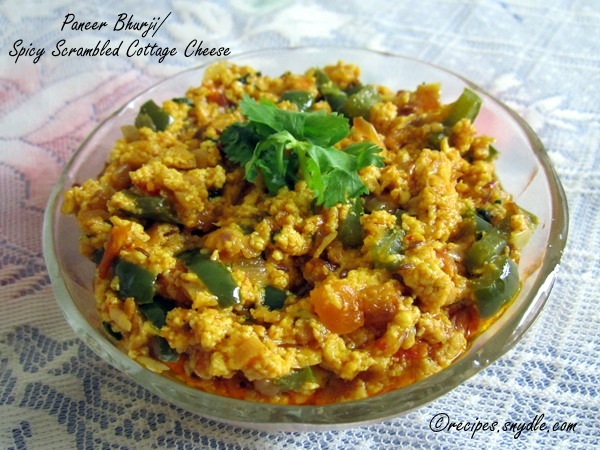 Paneer bhurji is basically a delicious side-dish. Paneer is the cottage cheese or farmer's cheese. Bhurji means scramble. Hence, paneer bhurgi is made from scrambled cottage cheese. Paneer is a delightful option for vegetarians. Not to mention its high nutrient content. This is one of my favorite cottage cheese recipes and it is absolutely lip-smacking. The soft and spicy crumbs of paneer will melt in your mouth, leaving a rich memory to your taste buds.
Paneer bhurji turns out best when you make it from home-made paneer.
How to Make Paneer at Home?
Making home-made paneer is really simple. Just boil 1.5 liters of whole milk and add 1 cup of sour curd to it. Keep stirring on low flame for 2-3 minute. Switch off the flame and let it stand for 2 more minutes till the milk curdles completely. Strain the mixture using a muslin cloth to separate the whey.
Using 1 tbsp of lemon juice instead of curd will also do. However, using curd will give you better paneer. When using lemon juice, you will need to wash the paneer lightly under the tap just for a few seconds. Gently squeeze the water out. Doing so will remove the residual sour taste from lemon.
And now you have soft and fresh crumbled paneer at your hand within minutes. This is how you make paneer at home. 1.5 liters of full-cream milk normally yields 400 grams of paneer. You may need to adjust the quantity of curd / lemon juice depending upon the fat content of the milk.
Now, let's come back to the recipe. This is a recipe for two persons. I used 350 grams of paneer.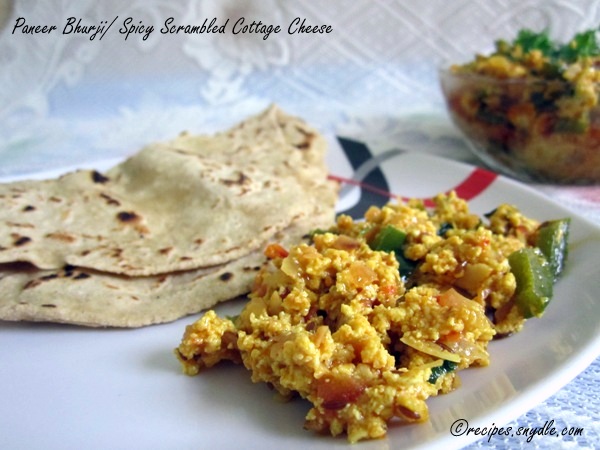 Ingredients – Paneer bhurji
Crumbled paneer – 350 grams
Onion – 1 medium, finely chopped
Capsicum / Green bell pepper – 1 medium, cut into small pieces
Tomato – 1 medium, finely chopped
Green chilies – 2, split lengthwise
Ginger – 1/2 inch piece, crushed
Garlic – 8 cloves, finely chopped
Lemon Juice – 1 tsp
Sugar – 1/4 tsp
Coriander leaves – A handful, finely chopped
Salt – To taste
Cumin seeds – 1/2 tsp
Oil – 2 tbsp
Spice Powders
Turmeric – 1/3 tsp
Red chili powder – 3/4 tsp
Jeera powder – 1/2 tsp
Everest Chicken Masala Powder – 1/2 tsp (Optional)
Garam Masala Powder – 1/3 tsp
How to Make Paneer Bhurji
Heat oil in a skillet and toss in the cumin seeds and allow them to sizzle. Next comes in the onion. Sauté onion till it turns golden.
Add in the green chilies, crushed ginger and chopped garlic. You may crush the garlic along with the ginger. But, I add the chopped garlic because I like to bite into it. Sauté for a minute till the ginger and garlic lose the raw smell and it becomes aromatic.
Add in the capsicum and sauté it lightly. We want the capsicum to look fresh and green with its crispiness intact. You may choose to sauté it on high flame for a few seconds. Take care not to burn the onion, ginger and garlic.
Add in the tomato and a pinch of salt. Make sure the tomato is finely chopped. Else it will take a long time to cook and make the capsicum soggy.
Add the all the dry spice powders and give it a nice mix. Sauté for half a minute. I like to add some Everest Chicken Masala or Meat Masala, whichever is available at hand. It adds a lovely flavor to the dish. Nevertheless, it is optional. Try to use freshly ground home-made garam masala instead of the packed, store-bought ones.
You may add sprinkle some water on the mixture if it looks too dry. Add half the chopped coriander leaves at this stage and mix well.
Add in the crumbled paneer and combine everything well. Adjust the salt at this stage. Cover the skillet with the lid for 2 minutes on a low flame. Let the paneer warm up and soak in all the flavors.
Finish it with sugar and lime juice and mix really well again. Switch off the flame after a minute. Finish it with the remaining coriander leaves. Serve hot with rotis.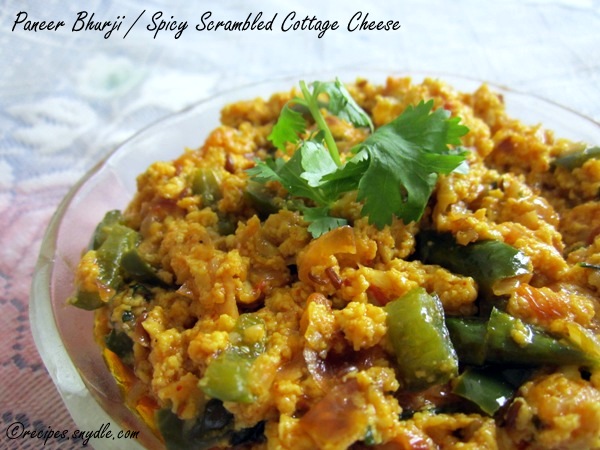 You might be wondering that we used too many spice powders. Paneer is a milky ingredient. It absorbs the flavors really well. It also tends to neutralize the hotness of spices. So, you do not need to worry about this dish turning out too spicy. We have maintained the quantity at minimal amount. Nevertheless, you can increase or decrease the amount of spices to suit your palate. After all, cooking is all about tinkering the food to your liking.
Hope you enjoyed reading this  Paneer bhurji recipe. Give it a try and let us know how it turned out for you. We will be coming up with more yummilicious recipes. Stay tuned.