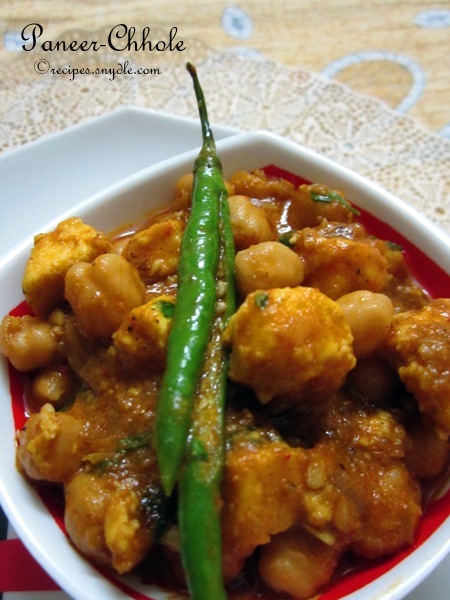 Hello dear foodies. Are you a fan of Punjabi food? If yes, then you are in for a real treat today. Punjabi cuisine is one of the most loved and popular cuisines of India. Punjabis live their lives to the fullest and the same spirit is reflected in their love for wholesome and lavish food.
Be it butter chicken or simple aloo paratha smothered with lots of ghee, no one can make them like Punjabis do. With my humble attempt, I tried making one of the iconic Punjabi dishes – Chhole Masala. This recipe is adapted from Karan Dua of 'Food Journey with Karan'. This is a conventional recipe with a twist. Adding paneer to chhola masala might be new to some of you. But it is a relished delicacy in Punjab. I followed Karan's recipe to much extent, except for a few modifications to suit my taste-buds.
This recipe serves 4. For the purpose of measurement, 1 cup = 250 ml. Let us see how to make Paneer-Chhole recipe.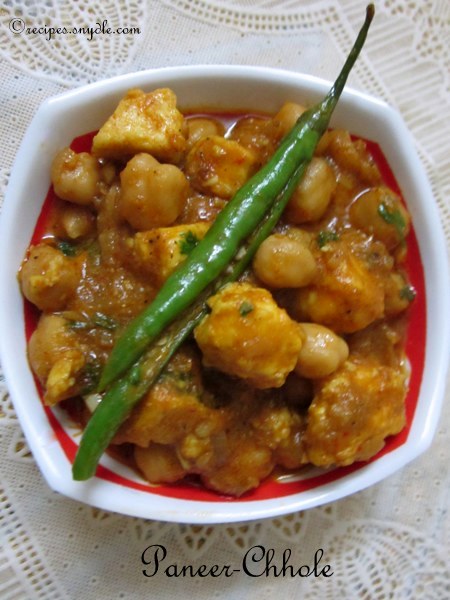 IngredientsFor Preparing the Kabuli Chana
Kabuli Chana / Safed Chana – 1 cup
Water – 2 and 1/2 cups or as needed
Sukha avla / Dried Indian Gooseberry – 1 tbsp
Salt- 1 tsp
For Making the Gravy 
Onion – 2 large, finely chopped
Tomatoes – 2 large, pureed
Ginger- 1 inch piece, finely crushed
Garlic – 8 cloves, finely crushed
Green chilies – 2 nos., split lengthwise
Red chili powder – 2 tbsp
Turmeric – 1/2 tbsp
Coriander powder – 1 tbsp
Chhole Masala – 1 tbsp, Everest, MDH or your favorite brand
Salt – to taste
Paneer – 200 grams, cubed
Oil – 2 tbsp
Chana Stock – About 1 and 1/2 cups
Lemon juice – 2 tsp or to taste
Coriander leaves – a handful, finely chopped
How to Make Paneer-Chhole
Wash and soak the kabuli chana for 7 to 8 hours in sufficient water. Drain the water. Transfer kabuli chana to the pressure cooker; add two and half cups of fresh water to them. Add in the dried Indian gooseberry and some salt. Pressure cook the chana for 3 whistles. We want the chana to be melt-in-the-mouth soft but not mushy. The amount of water will depend upon the type and size of your cooker and the quality of chana. So, adjust the amount of water accordingly.
Drain the chana and set them aside. Reserve the stock.
In a heavy bottom handi, heat some oil. Add in the chopped onion and saute it till it turns golden.
Now add in the crushed ginger and garlic and saute them for a minute till the raw smell goes away.
It's time to incorporate the tomato puree. There is a trick here. Instead of adding all the tomato puree at once, add it in batches. This will reduce your cooking time by several minutes. Turn the flame to high and add one-third or one-fourth of the tomato puree. Stir vigorously. You will see the oil separating out within a few seconds. Now add in some puree and cook. Do this till all the puree is completely incorporated, cooked and the oil begins to separate. This will take about 3-4 minutes.
Time to add the spices. Add in the salt, red chili powder, turmeric powder, chhole masala and coriander powder and cook for a minute. Go easy on the salt, since the chana stock already contains some salt.
Add in the chana and mix every thing well. Add in a ladle-full of reserved chana stock and cook on medium heat till the stock evaporates. Add in some more stock and cook again till the mixture dries up. Do this 2-3 times. This process is call 'bhunna' in Hindi and is important to enhance the flavors of the dish.
Add in half a cup of stock and mix well. Cover the handi with a lid and allow the chana to simmer away for 15 minutes, so that it soaks in all the flavors.
The gravy with thicken up a bit too. In the end, add in the paneer cubes and mix well. Allow it to simmer for the next 5 minutes with the lid on.
Add in a handful of chopped coriander and some lemon juice to taste. Paneer-Chhole is ready. Serve the lip-smacking dish with bhaturas, kulchas or parathas. Enjoy!