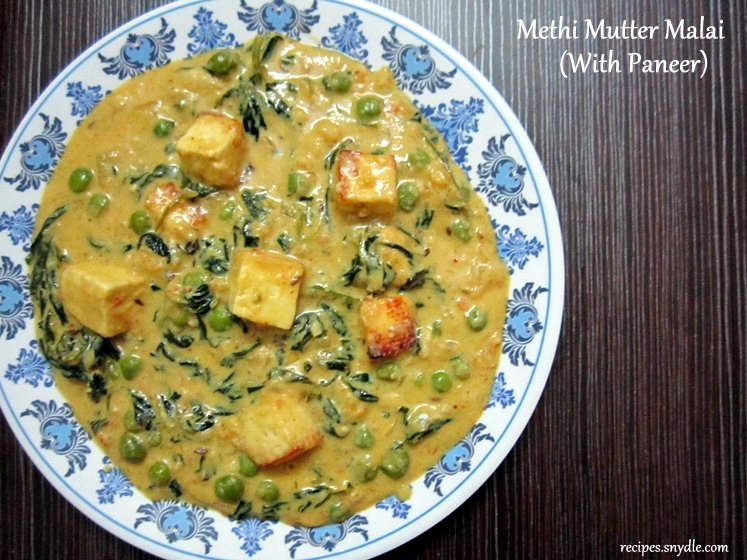 Methi Mutter Malai Recipe with step by step photos.
Methi Mutter Malai is yet another Punjabi classic known for its unique combination of veggies. This side dish basically consists of fresh green fenugreek, green peas cooked in luscious and milk dairy cream based gravy. Most of you might feel this recipe will have a bitter taste from the fenugreek leaves. However, the way that I have cooked the fenugreek leaves before adding it to the gravy ensure you get just the right amount of flavor minus the bitterness.
Not many whole spices are used in the preparation of methi mutter malai. I have used only some whole cinnamon because the aroma pairs up perfectly with the creaminess of the gravy. For sweetness, I have used some sugar. There has to be the perfect balance for sourness as well. So I went ahead and used some dry mango powder/amchur. So now you have an excellent rendition of all the basic tastes, i.e., the bitter, sweet, sour and salty.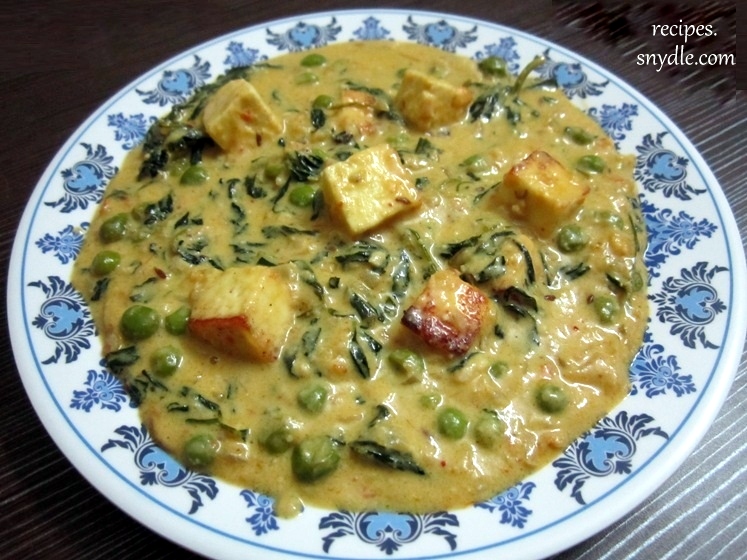 I should tell you that I added a few cubes of shallow-fried paneer/Indian cottage cheese to this recipe for methi mutter malai. This is completely optional. You may skip the paneer entirely and the curry would taste equally delicious. Also, I recommend you using double cream or whipping cream instead of single cream. The higher fat content does magic to the overall taste of the gravy. I used the Amul whipping cream with 30% fat content. If you cannot get hold of it, you can add the regular Amul fresh cream (Single cream) with 25% fat content. It's up to you, really.
Now let's start with the recipe of Methi Mutter Malai. For the purpose of measurement, 1 cup = 250 ml. This recipe yields 4-5 servings.
Ingredients
Onion – 2 medium, finely chopped
Tomato – 1 large, pureed
Garlic – 8 cloves
Ginger – 1-inch piece
Green chilies – 4 to 5, or to taste
Green peas – 3/4 cup
Methi/Fresh fenugreek leaves – 3 cups
Cashews – 10 to 12, boiled and ground to a smooth paste
Cream – 1/2 cup
Paneer/Cottage cheese – 150 grams
Salt – to taste
Sugar – 1 tsp
Garam Masala – 3/4 tsp (I used the Everest brand)
Coriander powder – 1 tsp
Turmeric powder – 1/2 tsp
Cumin seeds – 1 tsp
Cinnamon – 2-inch piece
Oil – 4 tbsp + some more to shallow fry the paneer
Water – 1/2 cup or as needed
How to Make Methi Mutter Malai
Let's prep the fenugreek and green peas first. Boil the green peas for about 3 minutes or till they are almost cooked. Drain them and freshen them under the cold running water. Keep aside.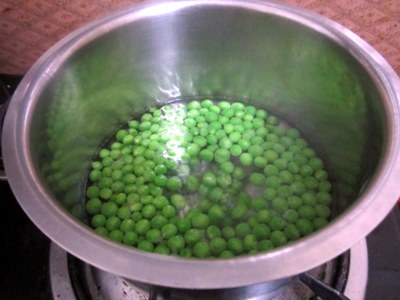 Boil the fenugreek leaves using enough water for about 3 minutes. Drain and freshen the fenugreek leaves under cold running water. Keep aside.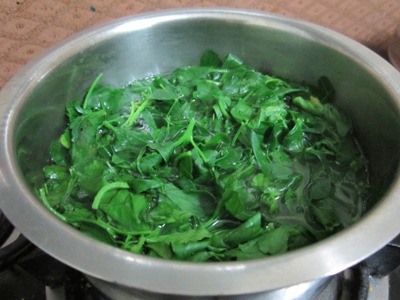 In a skillet, heat 4 tbsp oil. Add in the cumin seeds and allow them to splutter. Add in the cinnamon stick and fry it for a few seconds until it releases its fragrance.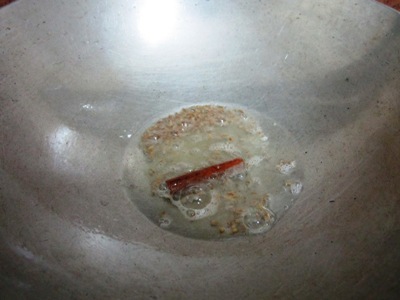 Add in the chopped onion and sauté it till shrinks and turns golden.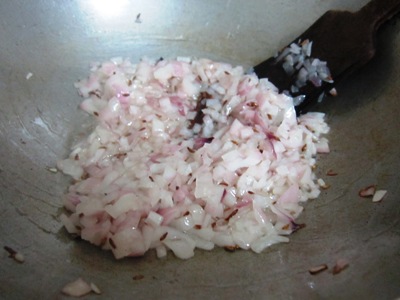 Grind together the ginger, garlic and green chilies and the paste to the onion. Sauté for a minute or two on low flame till the raw smell disappears.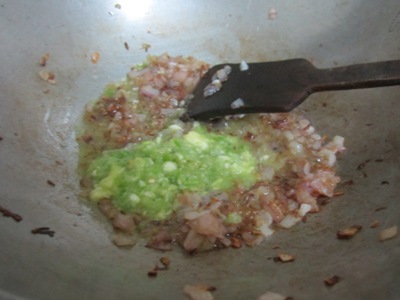 Now turn the heat to high and add in the tomato puree little by little as you sauté it. This process will take about 3-4 minutes till the raw smell of tomatoes disappears and oil begins to separate.
It's time to add the salt and dry spice powders; coriander powder, garam masala, turmeric powder, dry mango powder/amchur powder. Mix well and cook for a minute on low flame.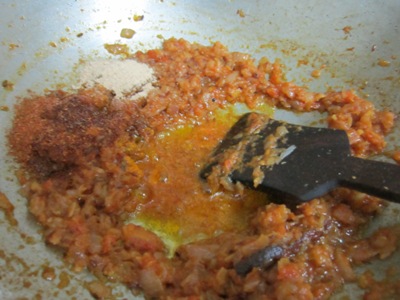 Add in the blanched methi/fenugreek leaves and green peas. Mix well. Sauté on low to medium heat for about 2-3 minutes till they get completely coated in the spices.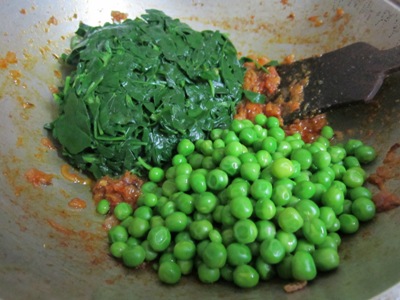 Add in the cashew nut paste and sauté for 2-3 minutes till the paste gets roasted and aromatic.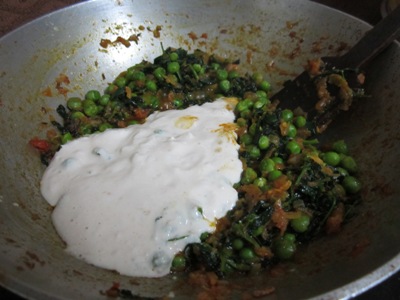 Add in 1/2 cup water or as needed to adjust the consistency. Bring it to a boil.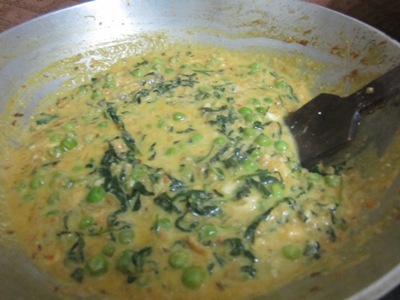 Add in the cream and mix well. Let the gravy cook for another 3-4 minutes between low to medium flame. Stir occasionally.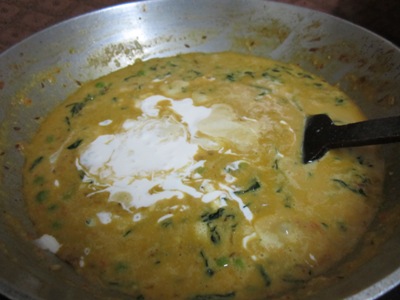 Add in the sugar. Continue to cook for a minute or two.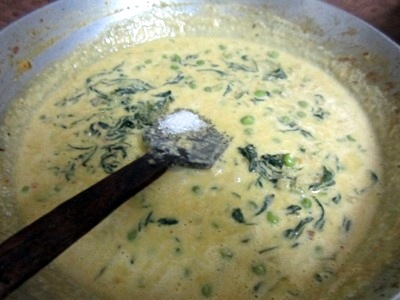 In the meanwhile, heat oil in a pan or a small skillet. Add in the paneer cubes and shallow fry them till they turn golden brown. Do not fry for longer, else they will turn rubbery and hard.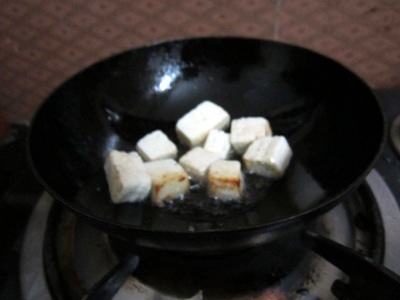 Add the paneer to the methi mutter malai. Turn off the heat. Methi mutter malai is ready to be served.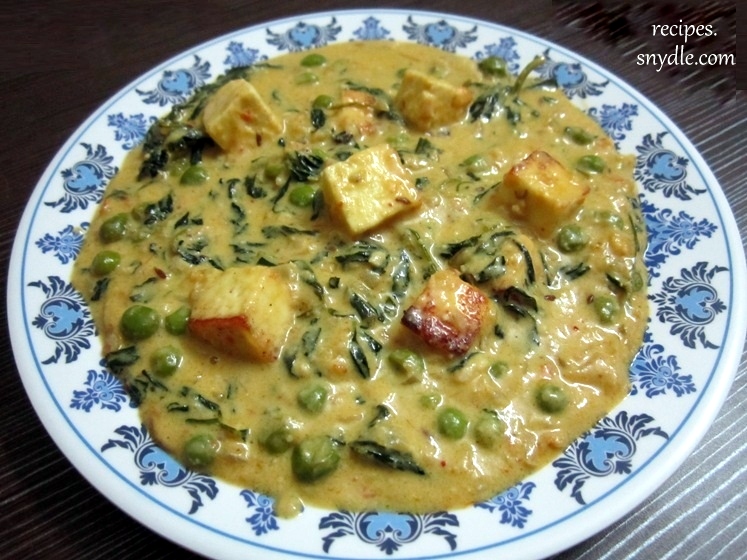 Serve hot with phulkas or naan. Enjoy!