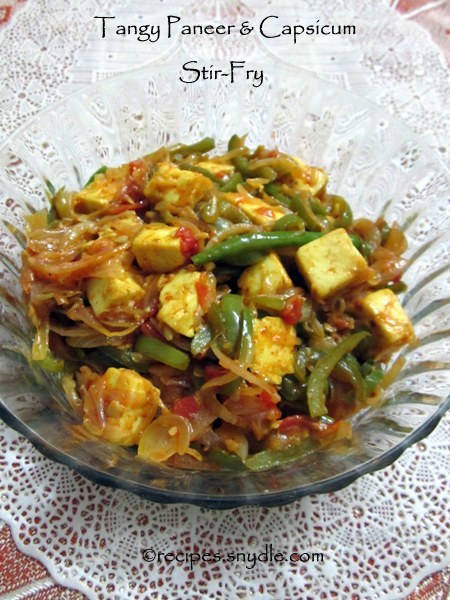 Hello dear readers. I hope you had a blast today on the occasion of Raksha Bandhan. We had a lot of guests today and made lavish lunch comprising a spread of yummy but easy-to-make recipes. One of the side-dishes I made was this Tangy Paneer & Capsicum Stir-Fry. It gets ready within minutes and tastes great. It can be paired with naan or roti with daal tadka and raita on the side. Dry paneer recipes are my personal favorites.
This recipe will serve 8. You can adjust the quantity of ingredients depending upon the number of persons.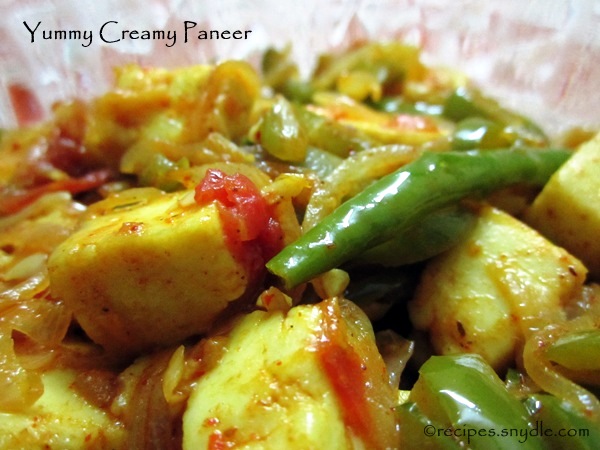 Ingredients
Paneer / Cottage cheese – 500 grams, diced
Onions – 3 large, sliced
Capsicum – 3 large, sliced
Tomato – 2 large, sliced
Green chilies – 5, split lengthwise
Ginger – 1 inch, finely crushed
Garlic – 10 cloves, finely chopped
Red chili powder – 1 tsp
Turmeric – 1/3 tsp
Everest Meat Masala – 1 tsp (You can use your favorite brand)
Salt – To taste
Lemon juice – 1 & 1/2 tsp
Sugar – 1/2 tsp
Oil – 4 tbsp
Cilantro – A couple of sprigs, finely chopped
How to Make Tangy Paneer & Capsicum Stir-Fry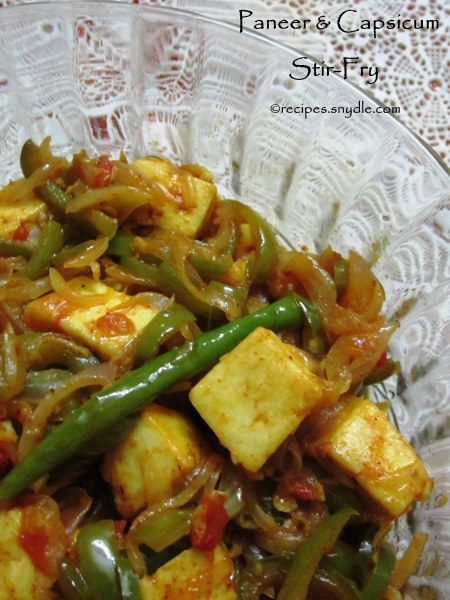 Heat oil in a skillet and add in the onions and sauté them on high heat till they turn translucent.
Now add in the finely chopped garlic and sauté for a minute till the garlic loses the raw smell.
Quickly toss in the finely crushed ginger and sauté for another minute as you keep stirring. Be careful not to burn anything. Turn the heat to medium.
Toss in the sliced capsicum and split green chilies and sauté them well for a couple of minutes. Take care not to overcook the capsicum. It should stay green and crisp.
It's time to add in the spices now; turmeric powder, red chili powder and Meat Masala. Add the salt as well.
Toss in the tomato and sauté again for a minute on high heat. Time to add in the dices of paneer. Keep tossing and stirring around for a minute so that the paneer absorbs the flavors of the spices and gets combined with onion and capsicum.
Finish it with some freshly squeezed lemon juice and sugar for the tang. Add in the chopped cilantro as well. Mix everything well.
Tangy Paneer & Capsicum Stir-Fry is ready. Serve hot with naan or rotis. Enjoy hot!