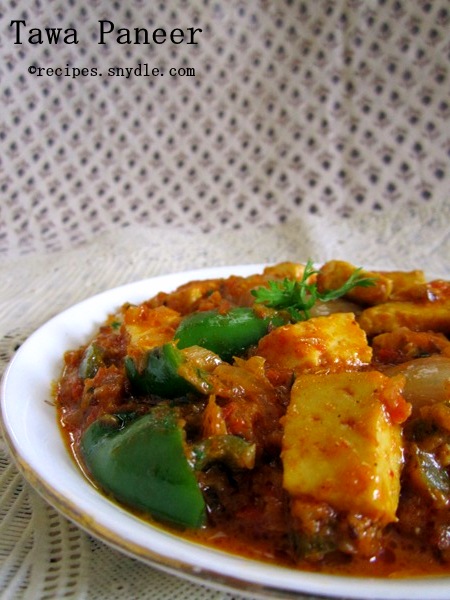 After 3 delightful paneer recipes, I present to you Tawa Paneer Recipe! Tawa Paneer is a spicy and tangy paneer delicacy that is sure to tickle your taste-buds. It is a feisty-looking tangy gravy that is way different from its rich and creamy cousins that Paneer Butter Masala and Paneer Tikka Masala are. Not to mention how wonderful the tawa gravy smells.
This dish is prepared on a tawa or a griddle. Cast iron is the best choice to make this dish. I used a cast iron tawa. If you don't have one, you can use a non-stick tawa. You can also make this in a kadhai or skillet. But then you won't get the typical flavor of the gravy prepared on a tawa. Cast iron cooking is not famous just for nothing!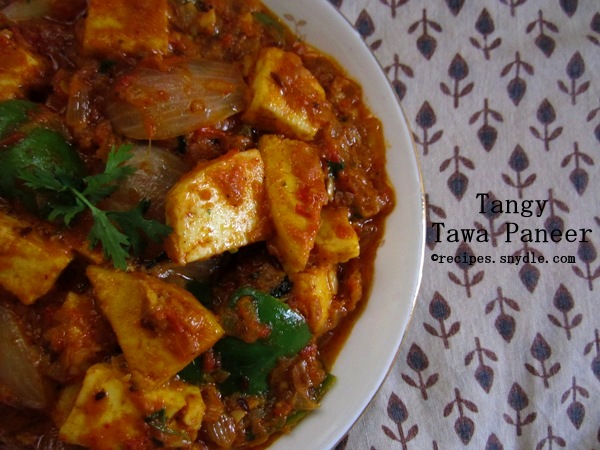 This is a recipe for 4. I suggest that you should use a big tawa so that it would be easy for you to stir and sauté the ingredients. You can also make it in 2 batches like I did. I first cooked the tawa panner masala gravy and kept it aside. I then stir-fried the onion, capsicum and paneer, seasoned them with some salt and red chili powder. I added the gravy to the stir-fried veggies and combined them well. Like I said I made this dish in 2 batches, I had to repeat the procedure. But that won't make you feel like its a lot of work. This dish gets ready in a few minutes. You can use half part of all the ingredients for each batch.
So let us get started and see how to make this yummy recipe.
Ingredients For Making the Gravy
Onion – 2 large, finely chopped
Tomatoes – 4 large and ripe, pureed
Ginger – 1 tbsp, finely crushed
Garlic – 1 tbsp, finely crushed
Green chilies
Carrom seeds / ajwain – 10 to 15 seeds
Cumin seeds – ½ tsp
Pav Bhaji Masala – 1 tbsp
Red chili powder – 1 tsp
Turmeric powder – 1/3 tsp
Coriander powder – 1 tsp
Chat Masala – 1 tsp
Garam Masala – A generous pinch
Salt – To Taste
Water – 50 ml or as required
Butter – 2 tbsp
Oil – 1 tbsp
Fresh cream – 1 tbsp
Chopped cilantro – For garnish
Lemon juice – 1 tsp or to taste
For Stir Frying the Veggies
Onion – 1 medium, diced
Capsicum – 1 medium, diced
Paneer – 250 grams, cut into 1/2 inch cubes
Red chili powder – ¼ tsp
Salt – ¼ tsp, or just enough to season the veggies
Butter – 1 tbsp
How to Make Tawa Paneer Recipe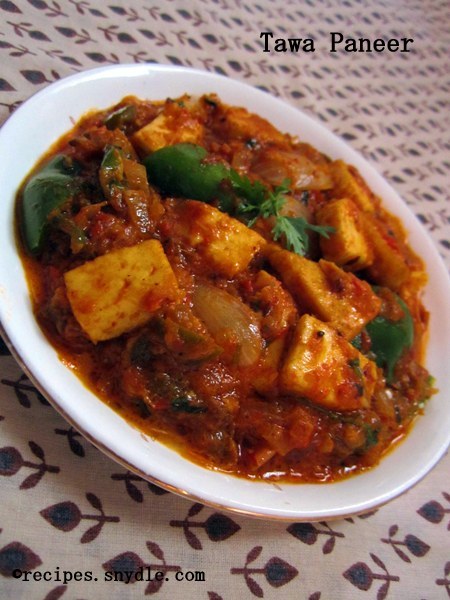 Soak the cubes of paneer in warm water for 5 to 6 minutes. Remove them from the water and keep aside.
Heat a cast iron tawa and pour oil on it. Add the butter as well and allow it to melt on medium flame.  Toss in the carom seeds and cumin seeds and allow them to sizzle.
Next add in the finely chopped onion and sauté it for 5 to 6 minutes till the onions turn golden brown. Now add in the crushed ginger and garlic. Crushing the ginger and garlic in the mortar and pestle is the best thing to do. It enhances the flavor manifold. Sauté it till the raw smell of ginger and garlic disappear.
Pour in the tomato puree and let it cook for 6 to 7 minutes. The puree should be made from red and ripe tomatoes. Add some salt at this point. This dish derives its taste mainly from the tang of tomatoes. So, sauté the puree till it's properly cooked and the oil begins to separate.
It is time to add the dry spices – turmeric powder, red chili powder, pav bhaji masala and coriander powder. The turmeric and red chili are the basic spices without which the dish is incomplete. The coriander powder renders a sweet earthy flavor and thickens the gravy. The pav bhaji masala is the other major ingredient after the tomato which makes tawa paneer so special.
Sauté the spices well and add some water at this stage to adjust the consistency. When it comes to boil, adjust the seasoning and add the garam masala and chat masala at this stage.
Add in the fresh cream. A spoonful of fresh cream won't diminish the tang and hotness of the dish. Instead it helps all the ingredients to bind together well and form nice gravy.
The tawa paneer gravy is ready. Remove the gravy into a bowl.
Now we shall sauté the veggies. Add some butter on the same tawa. Toss in the onion, capsicum and paneer together into the butter. Sauté the veggies on high flame for a minute or two. The onions and capsicums should retain their crunch. The paneer will have a slight golden color.
At this point, add some salt and red chili powder and stir everything around. Now add the gravy to the veggies back into the tawa and mix again. Finish it with lemon juice chopped cilantro and tangy tawa paneer is ready to be served. You can have it with naan or roti. It will taste equally good with rice.