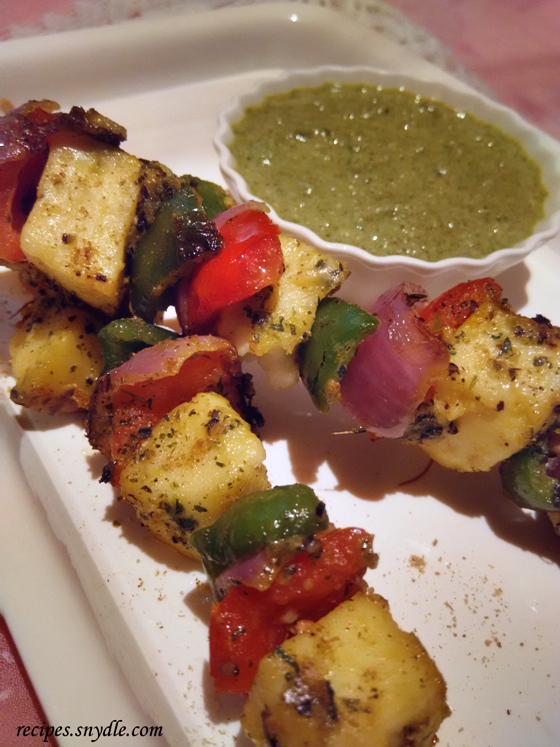 Hello foodies! Today I am sharing one of the most popular paneer recipes of all time. This one is an appetizer recipe – Paneer Malai Tikka.
This is basically paneer and vegetables marinated in cream along with flavorful condiments and then grilled on in tandoori. This is a restaurant style malai paneer Tikka recipe, whwre the paneer and veggies have a pretty color, slightly charred and have a smoky flavor from the coal.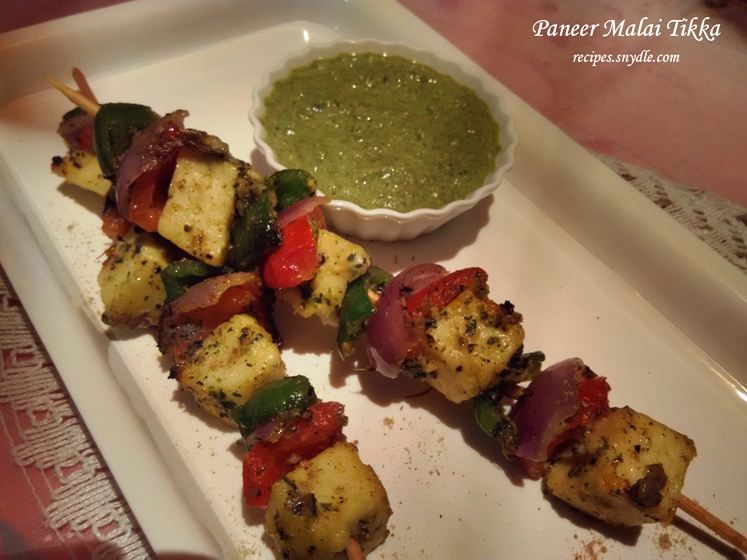 However, I do not have a tandoor at home. If you do not have it, you can bake the tikkas in the oven. But what if you do not have an oven either? Then you can follow this recipe of mine and still get perfect results.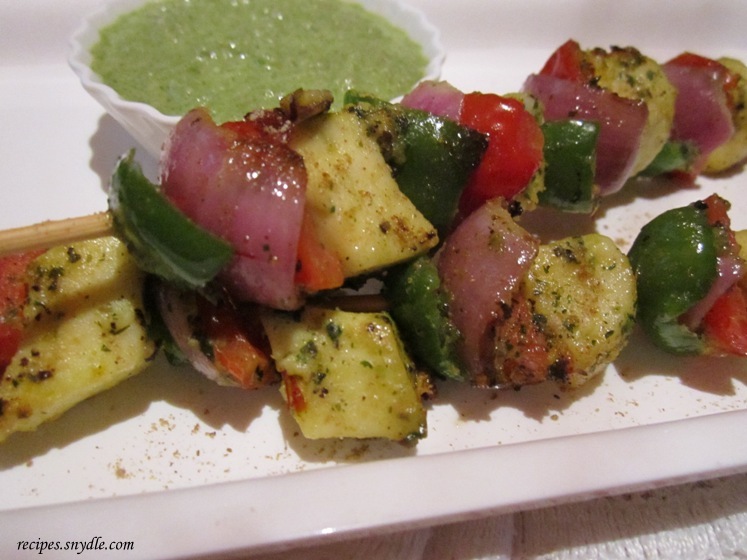 I have prepared this paneer malai tikka recipe without oven on the tawa. But tikkas are nothing without their smoky flavor from the coal. So I have smoked this tikkas by placing a piece of hot charcoal and pouring oil over it. Then shut the bowl containing the tikkas tight for a minute for the smoky flavor to stay in. Tadaaa! Restaurant style paneer malai tikkas are ready. But today I was out of coal; hence I help the tikkas over the flame of gas stove for the char. That worked out pretty well too.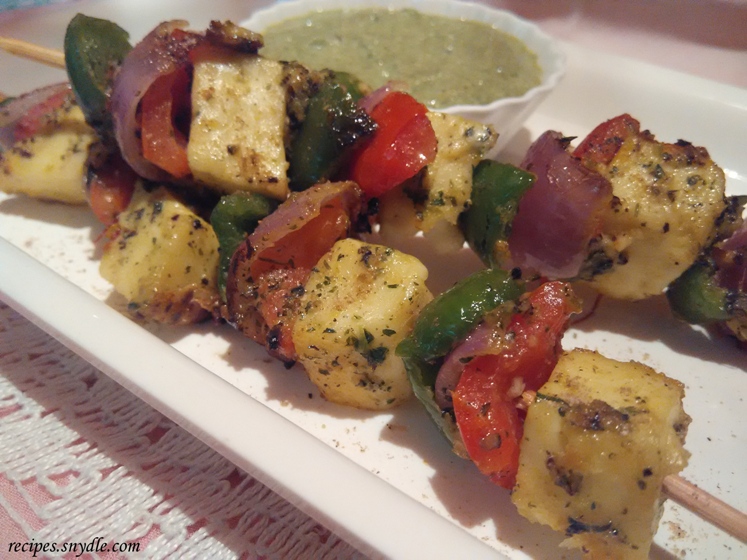 You can choose to marinate the paneer overnight like I did. If you have to make the tikkas ASAP, then a couple of hours is good as well.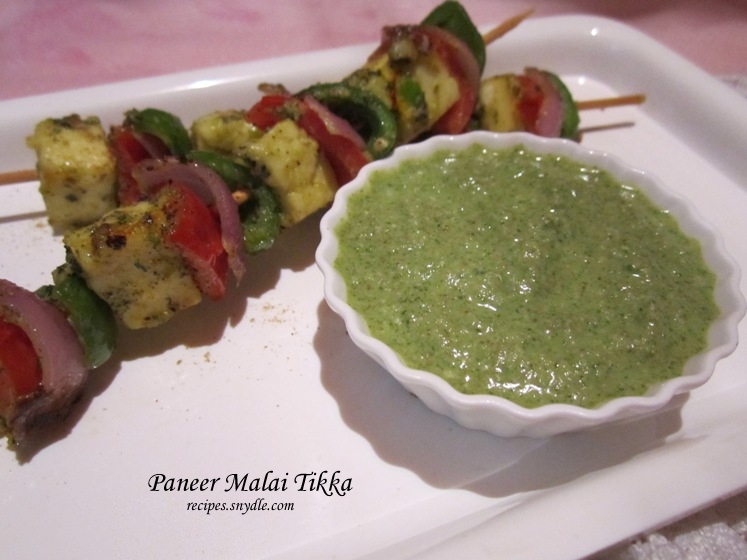 Let's begin with the recipe for malai paneer tikka now. This recipe serves 2.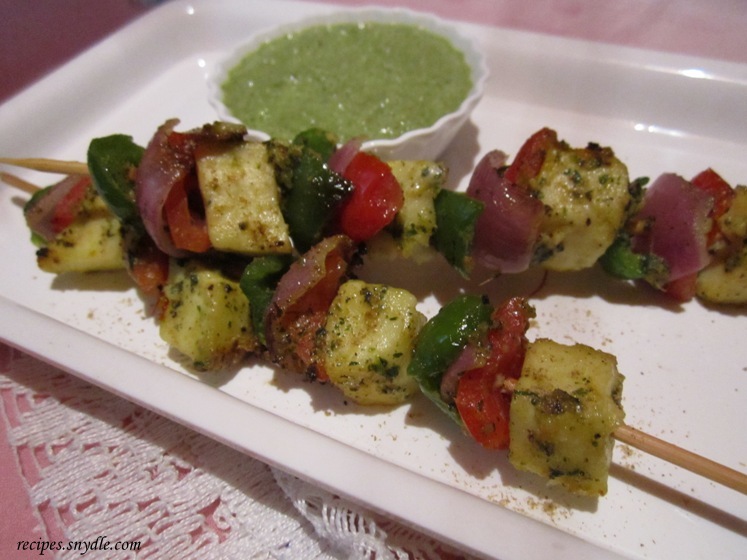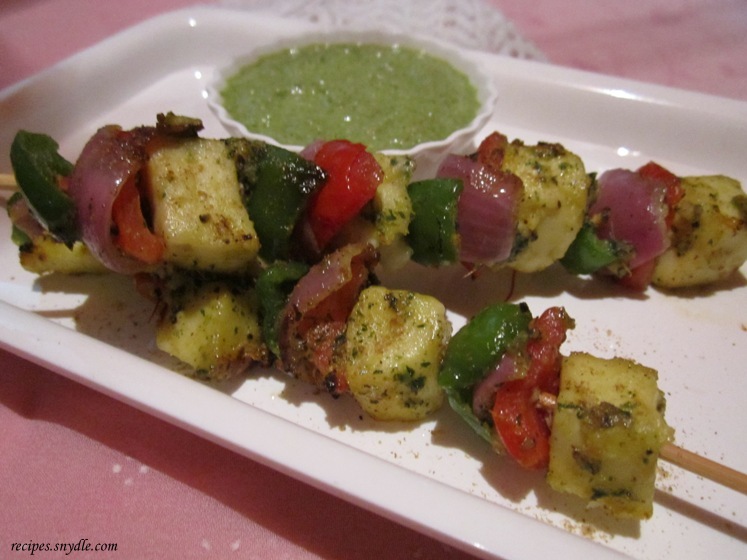 Ingredients
Paneer – 100 grams
Capsicum – 1 small, cut into cubes
Tomato – 1 small, seeds removed and cut into small cubes
Onion – 1 small, cubed and layers peeled
For the Marinade
Fresh cream – 6 tbsp (I used Amul)
Cheese – 50 grams
Salt – to taste
Sugar – 1 and 1/2 tsp
Green chilies – 2
Ginger – 1/2 inch piece
Mint – 10 leaves
Cilantro – a few leaves
Elaichi powder – 1/2 tsp
Kasoori methi – 3/4 tsp
Chat masala – 1/2 tsp
Kesar – 7 to 8 strands
Milk – 1 tbsp, warm
How to Make Paneer Malai Tikka
Soak the kesar in warm milk for about 10 minutes.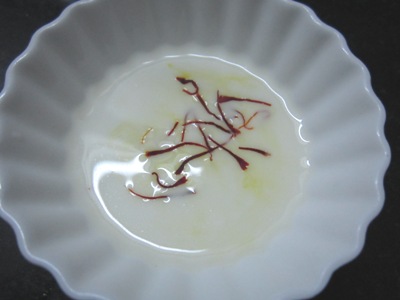 Let's make the tikka paste now. In a mixie jar, take the cheese, mint leaves, cilantro, ginger and green chilies. Grind them to a smooth paste.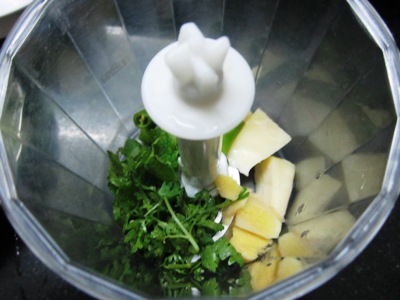 Remove the paste into a bowl and add to it the cream, cheese, salt, sugar, elaichi powder, black pepper, kasoori methi and chat masala. Mix well.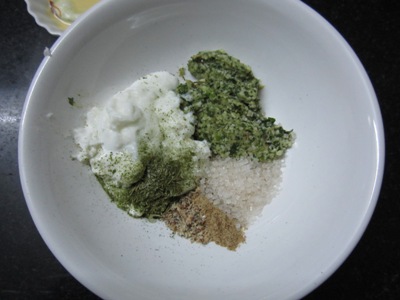 Add in the kesar infused milk. You can avoid kesar if you want white color maninade. I like the yellowish tinge so I added the kesar. The flavour of kesar is not very strong since I have used very little quantity just for the color. Now mix well again.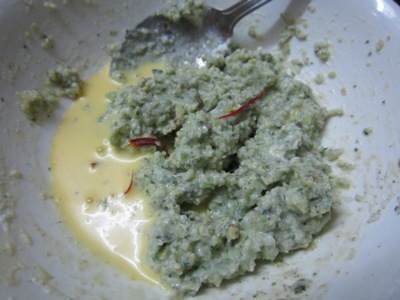 Divide the marinade into 2 parts. In one part, add the paneer. Mix gently with your fingers so the marinade coats the paneer well.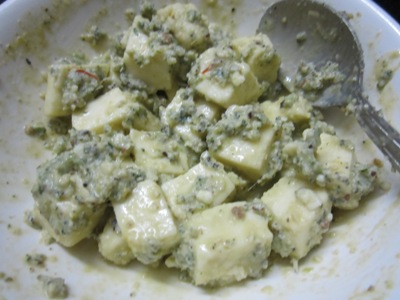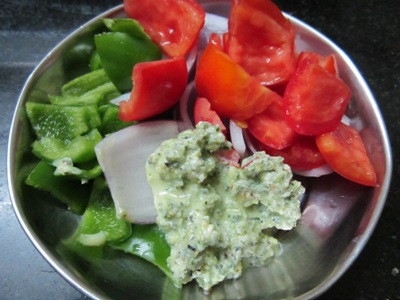 In another part, add in the veggies and mix well. You can choose to marinade everything together but this makes it a bit easier when you have to put on everything onto the skewers. Allow the veggies and paneer to marinade for a couple of hours or overnight. Keep everything in fridge when marinating overnight.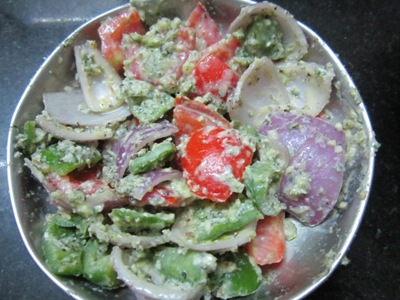 In the meanwhile, soak the bamboo skewers in the water for about an hour. When ready, give a quick, gentle mix to the paneer and veggies once. Arrange the paneer and veggies onto the skewers as shown in the picture.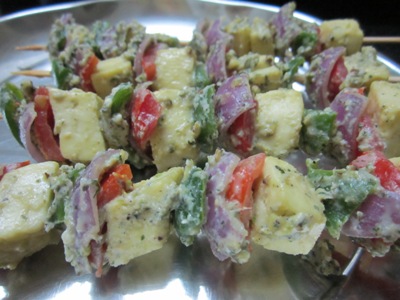 Heat a grill pan or non-stick tawa. Brush a little oil onto it. When hot enough, keep the skewers onto the tawa and roast the paneer and veggies for a minute or two. Make sure you turn its sides frequently. Then on the open flame of the stove, carefully hold and rotate the skewers to get the char. This will take just a fee seconds. You will get a nice aroma now.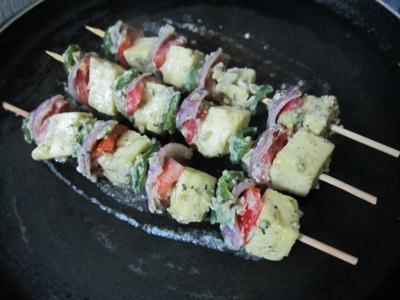 (Alternatively, keep the skewers in a deep dish. In the centre, keep a small bowl. While the tikkas were on the tawa, heat a piece of charcoal on gas stove's flame for couple of minutes till it got red and hot. Keep this piece of hot coal in the small bowl. Pour a tbsp of oil or ghee over the coal and place a lid on the dish for a minute. Open the lid. Paneer Malai Tikka is ready to serve.)