Sadya is a malayalam word which indicates a grand lunch feast. In Kerala Sadya a variety of dishes traditionally served on a banana leaf, normally it's a vegetarian feast. In Kerala, sadya is normally served as lunch on birthdays, marriages, or festivals like onam and vishu. It's a kerala lunch with lot of side dishes. A normal sadya can have twenty to thirty variety dishes including snacks and sweet dishes as a single course. The dishes are served in specific places on banana leaf in a specific order. There are variations in menu depending on the place and religion, in some communities like the north part of kerala includes non vegetarian dishes in sadya.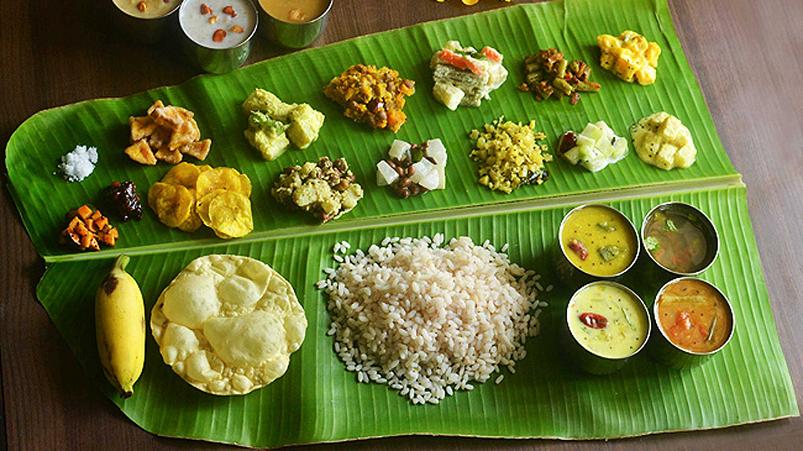 In traditional sadya like Onam sadya, Vishu sadya, Piranaal sadya people are seated cross legged on mats and food is eaten with their right hand. Nothing can beat sadya, which is prepared at home with so much of excitement and love. Hope the following recipes would be helpful to make a grand sadya to your loved ones.. Now here I am providing some best recipes collected from internet to make your sadya some thing memorable
onam sadya vibhavangal
Main Dishes
Rice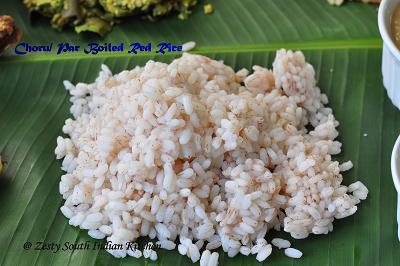 The main dish in sadya is boiled rice, and it is served along with all other curries. For sadya the rice used is either matta or hand prepared white rice known as nelluthari. it is steamed without adding any flavour,and it is just white steamed rice . On sadya normally all side dishes are served first before serving rice. Once rice is served it is understood that you can start eat the lunch.
Curries for Kerala sadya
There are lots of main curries and side curries for sadya, some of them are gravey type some are semi-gravey types . I will share some of them for you.
Parippu curry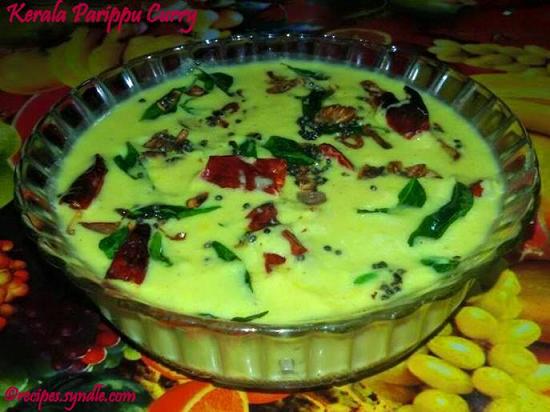 This is the first item to be served on rice , Parippu curry is an essential part of any kerala sadya.  a small quantity of parippu curry is served with a teaspoon of ghee. You would love to eat this after having it once, its is just divine. You can find a wonderful parippu curry reciepe here.
http://recipes.snydle.com/kerala-parippu-curry-kerala-sadya-recipe.html
Sambar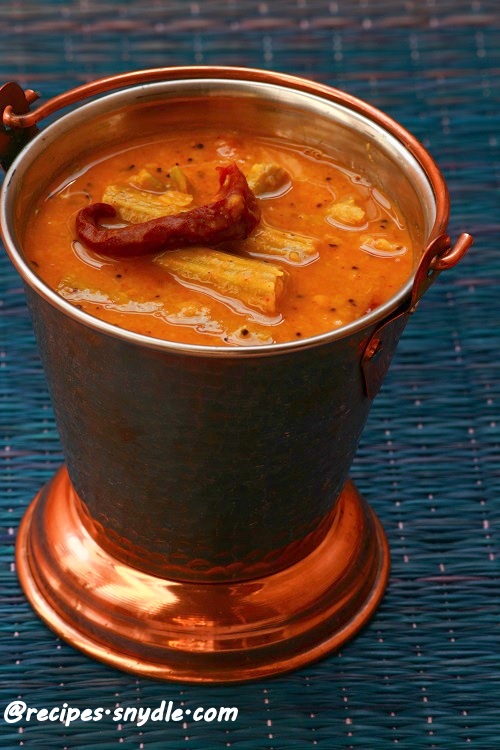 The next item to be served on a sadya is Sambar, which is famous south indian vegetable curry. This is a combination of vegetales, onion, and masalas in parippu gravey. Sambar is normally followed by Parippu. Murungakkai sambar, is the popular sambar in sadya. Hear is the recipe of one yummy Sambar dish for sadya.
http://recipes.snydle.com/murungakkai-sambar-drumstick-sambar.html
Kalan or Moru Curry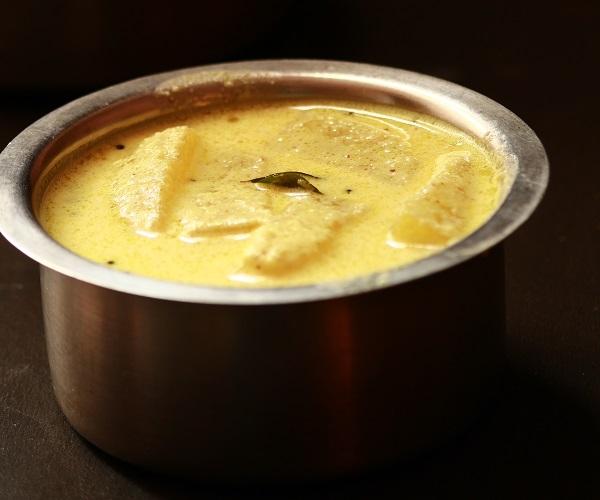 This is a traditional kerala curry which is common dish you can normally found in every house. Thick coconut paste gives this curry a perfect texture , and butter milk gaves sour taste to the gravy. You can use slightly ripened banana, or ash gourd to make this curry. This is a dish which you can make very easily, so please try this recipe for making a perfect yummy kalan or moru curry.
source :http://recipes.snydle.com/kumbalanga-moru-curry.html
Side Curries ( semi gravy type curries )
Avial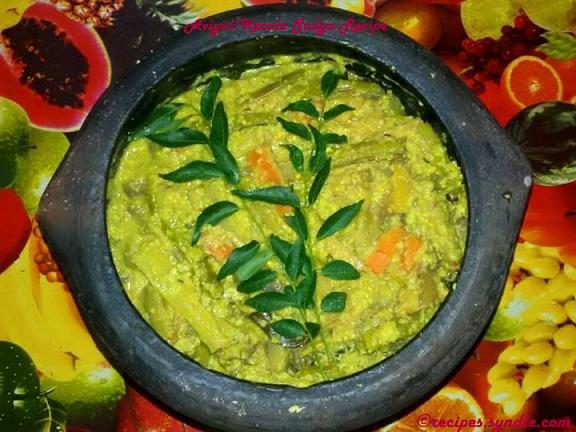 This is another traditional dish of kerala. It is a unavoidable side dish in all sadya. Avial is considered as side dish as well as a main dish. It is a mixture of all vegetables, coconut paste, along with thick curd which is  seasoned with fresh coconut oil and raw curry leaves. You can include any vegetbles what ever you like, because of that this is consider to be a healthy dish.
 http://recipes.snydle.com/aviyal-kerala-sadya-recipe.html
Mambazha Pulissery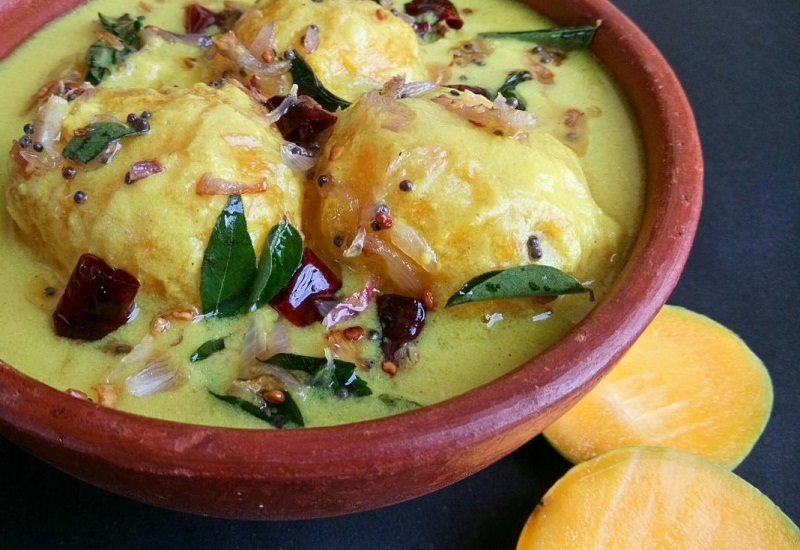 Mambazha Pulissery is atraditional Kerala curry made using ripe mangoes which cooked in coconut milk gravey.  Mamabzha Pulissery is also known as pazha manga curry.  This curry is usually made with local variety mangoes. You can use any type of mangoes . In this  curry coconut paste addes for thickening the gravey, and curd for sour taste. Some people like the sweet and sour taste of this curry, i am adding  a recipe of a perfect Mambazha Pulissery
KUMBALANGA PACHADI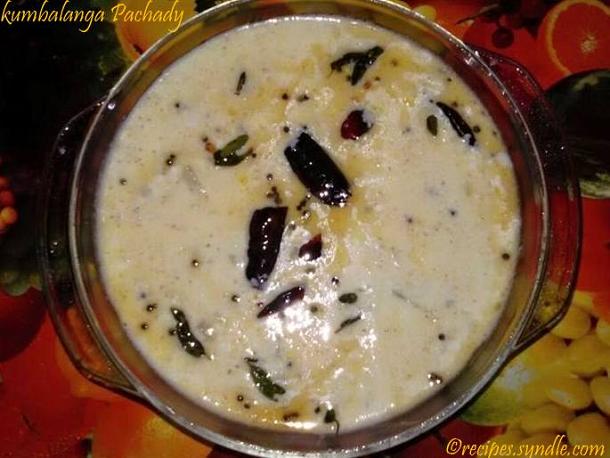 pachadi is as side dish made from differet vegetables like cucumer, ash gourd,bitter gourd , even with beetroot, and pineapple also. In this curry vegetables cooked in less water and coconut paste and curd mix for the gravy, after finishing tempered mustard seeds, dried red chilly and curry leaves in coconut oil. In some areas of kerala people loves the taste of raw mustard by adding it while graniding the coconut. I am sure that you would love the taste of this dish.
description :http://recipes.snydle.com/kumbalanga-pachadi-winter-melon-pachadi.html
Kootu Curry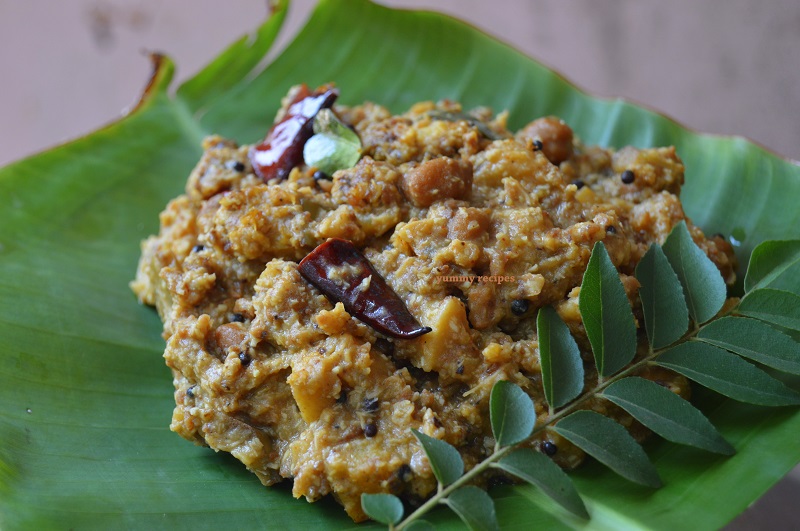 This is famous traditional famous dish in all sadyas.  The word "kootu" means a good combiation, and this dish justifies that word. this dish is a combination of different vegetables and soaked chickpeas. Roasted coconut mix is used here for a good taste and nice binding to this dish, all this works very well to give balanced dish. find the recipe here
Dry side dishes
Thorans, Uperis, Mezhukku puratti are side dishes which uses as dry dishes in sadya. Thoran in generaly is a everyday side dish made for rice ,Noramally people select two or three dry dishes for each sadya. Here is the recipe of some of them.
Cabbage thoran or Cabbage upperi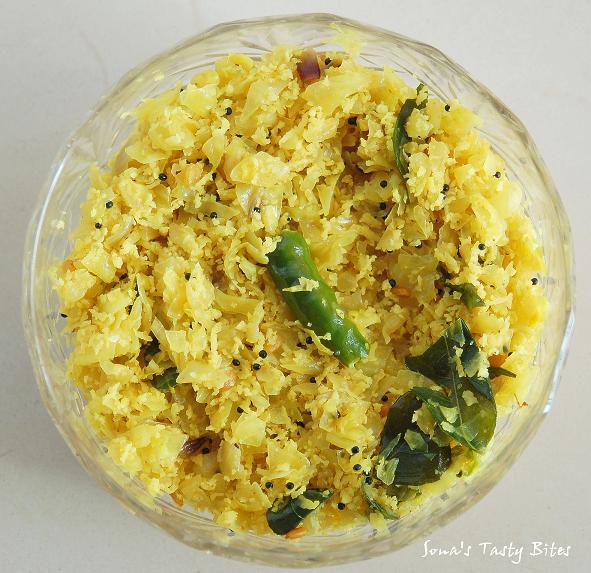 This is a main iteam of  kerala sadya, which we can easily make . There are so may different ways to prepare this cabbage thoran. Its combination of cabbage and grated coconut tempered with mustard seeds and curry leaves in coconut oil. Please have a try
Source : https://sonastastybites.wordpress.com/2012/02/03/cabbage-upperithoran-2/
Beans carrot  thoran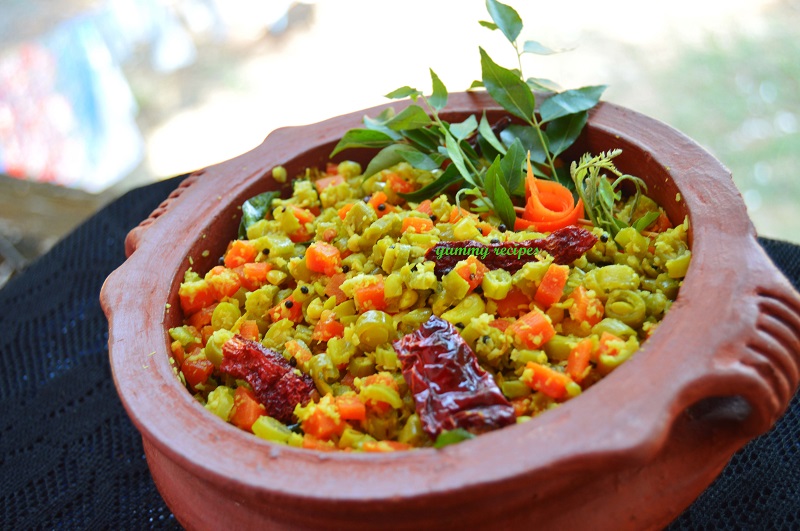 This is a combination of carrot, beans and coconut,which makes it a very colourful dish. This is a healthy vegetarian dish, and combination of these vegetable gives a yummy taste to sadya. I am adding the recipe link here, by which you can make it very easily. find the recipe here
Achinga payar mezhukku puratti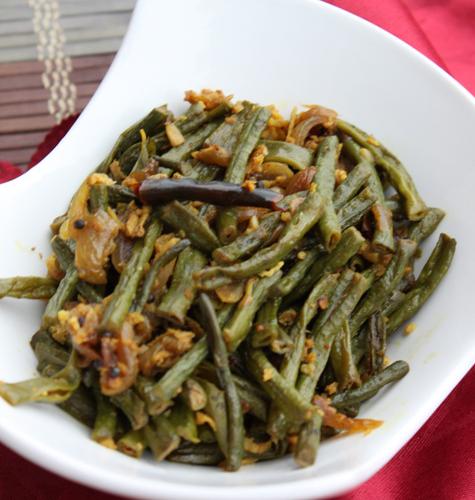 The mezhukkupuratti word indicates the process of cooking in oil,without useing a drop of water. Here is the recipe of long bean or payar mehukkupuratti.
source : http://www.thasneen.com/cooking/long-beans-stir-fry-or-payar-mezhukkupuratti/
Vendakka Mezhukkupuratti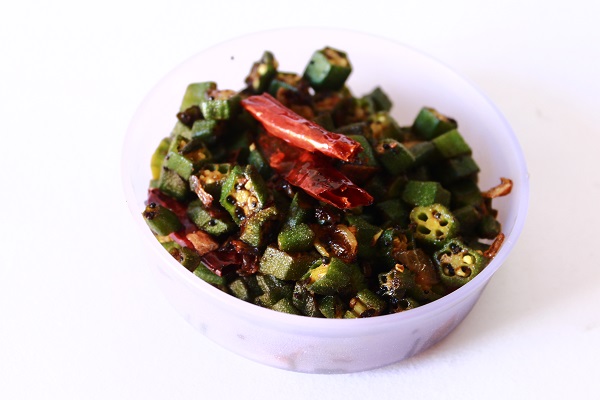 Vedakka mehukkupuratti is an easy to make stir fry dish. This is a healthy side dish for rice. In some area pepole prefer to add coconut in this dish, it is optional.
soruce : http://recipes.snydle.com/vendakka-mezhukkupuratti-ladys-finger-stir-fry.html
Taste makers
Rasam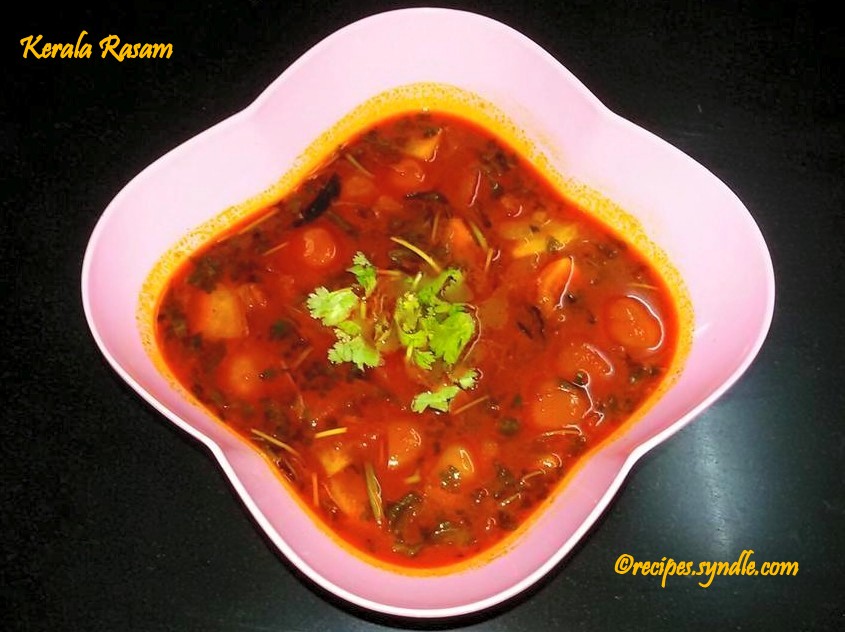 Rasam is one of the simplest, quickest curry for sadya.  Many veriety of  Rasam are made out tomato, tamarind pulp and turdal. It is eaten with rice or alone as a soup. Rasam has cosidered to be good for health.
source: http://recipes.snydle.com/kerala-rasam-recipe.html
Moru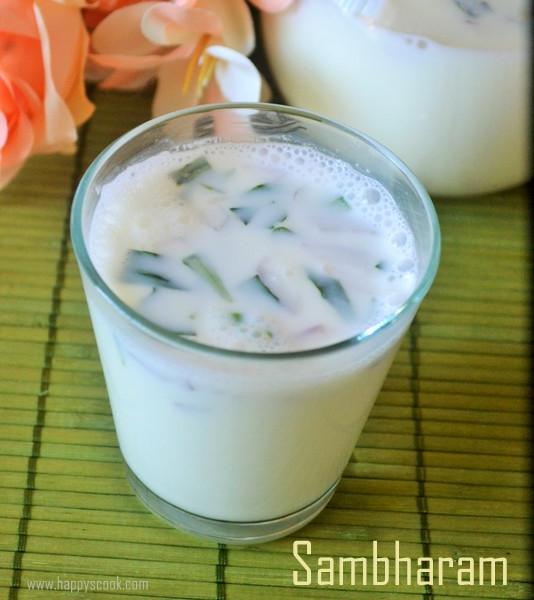 Butter milk or moru is most common and unavoidable itam in all sadya. You can have it with rice or drink it in a small glass of the same. It helps to settle down the heaviness after having such a huge meal, and helps in improving the digestion.
Source: http://www.happyscook.com/2016/09/sambaram-recipe-kerala-spiced.html
Pickles
Mango pickle and lime pickle are the most important codiment addition in all sadyas. The combination of spiciness, saltiness of these pickle is delightful. You can make pickles instantly or few days before the sadya.
Puli inchi or Inchi curry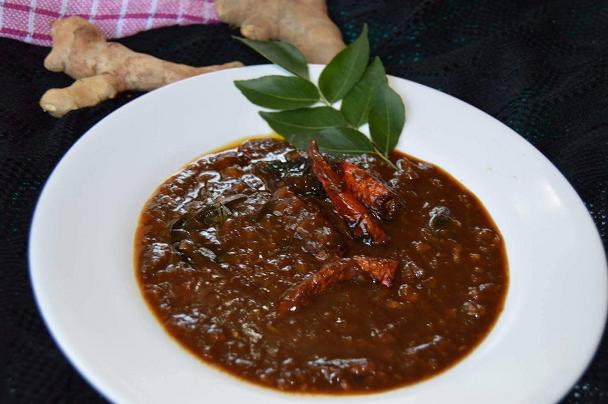 Puli inji is a sweet and sour dish served as an appetizer in all kerala sadya. Main ingredients puli inchi are ginger, tamarind and jaggery. its cosider as a pickle. You can increse the level of sweetness as per your choice in this dish.  Its a combination of tongue pleasing flavours.
Pappadams, Sarkara upperi, pazham, nuruku upperi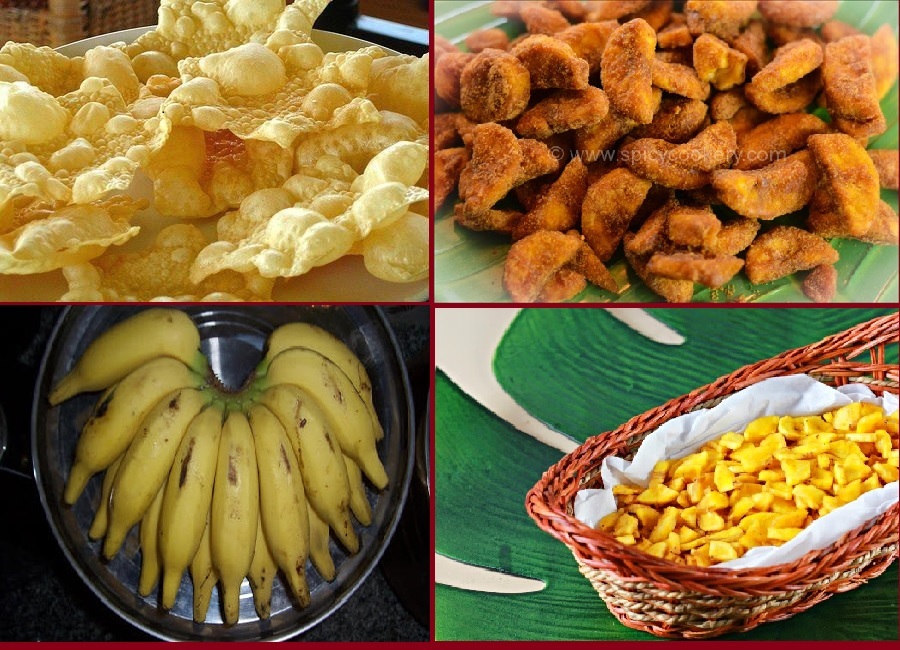 These are the iteams which gives sweet and savoury taste to sadya. Usually people love to eat pappadam along with pazham at the time of sadya.  Pappadam is to be oil fried for sadya. Sarkkara upperi and urukku upperi  is made out raw banana, one is sweet i taste while other is salty taste. Kids are huge fans of these dishes.
Sweets and Desserts for Kerala Sadya
For sadya the main sweets are pradhamans and payasam, which is served at the end of  the meal. There are lot of pradhamans are available. But for sadya normally one pradaman is selected. Pradamans are served in banana leaf instead of glasses as it is more tastier when it is mixed with remaining of pulliserry, avial etc. You can select one from below
Palada pradhaman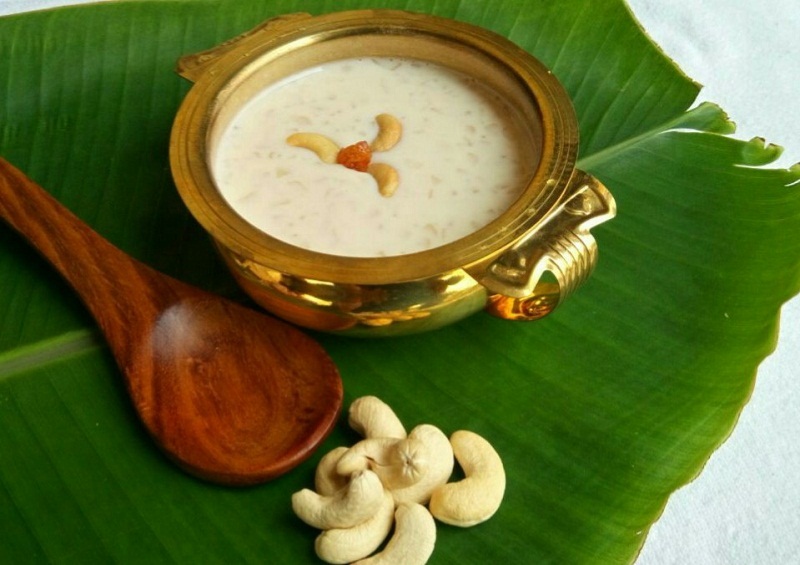 Palada is the most favorite sweet dish of Kerala people. There are several payasam or pradhaman recipes in the cuisine of Kerala but this one is the queen of them all. Kerala Style Palada Payasam Recipe is traditionally prepared with milk, ada and sugar. This is a simple and easy dish which anybody can make very easly.
source : snydle
Chacka pradham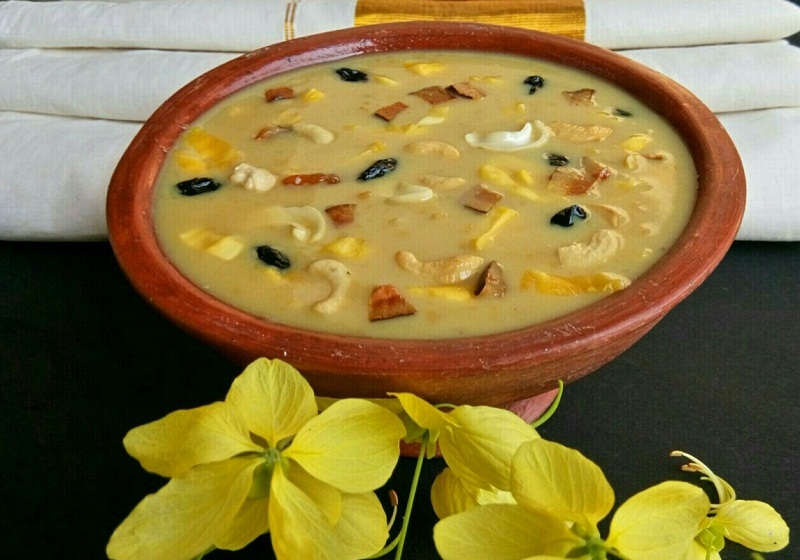 Jackfruit Payasam is a traditional payasam of Kerala made with Jackfruit, coconut milk and jaggery. It's also known as chakka payasam. This in an easy method. Usually this payasam is prepared using chakka varatti, but here it is done this with fresh jackfruit.
Parippu Pradhaman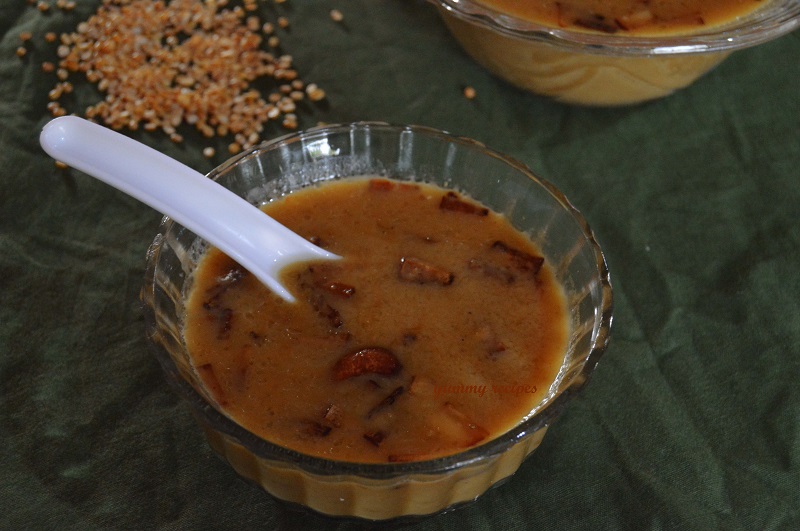 Cherupayar Parippu Pradhaman or parippu payasam is a main choice in sadya, which is also called as parippu pradhaman. In this payasam jaggery is used for sweetness, dry ginger powder and cardamom gives nice aroma to this payasam.
Semiya payasam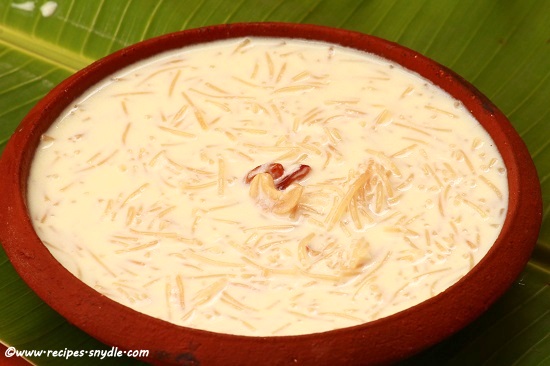 This is the easy payasam recipe which can be made in any sadya. you need only few ingredients to make this payasam. In this payasam vermicelli is cooked in milk and flavoured with cardamom and sweetened with sugar. It is easy to make but, taste wise it is highly delicious. find the recipe here
Unniyappam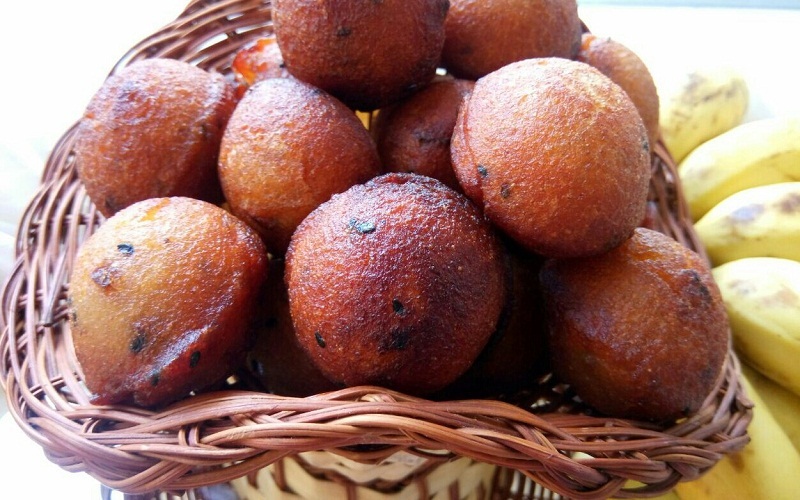 Unniyappam is the traditional recipe, and a popular snack of Kerala people. unniappam is made with rice flour and jaggery. In Kerala this is a must item for our traditional festivals like onam and vishu. Kids love to eat these unniappam people make this in every occasion. In some places unniappam is often used as a ritual offering in temples in Kerala at the time of festivals
Vettila murukkan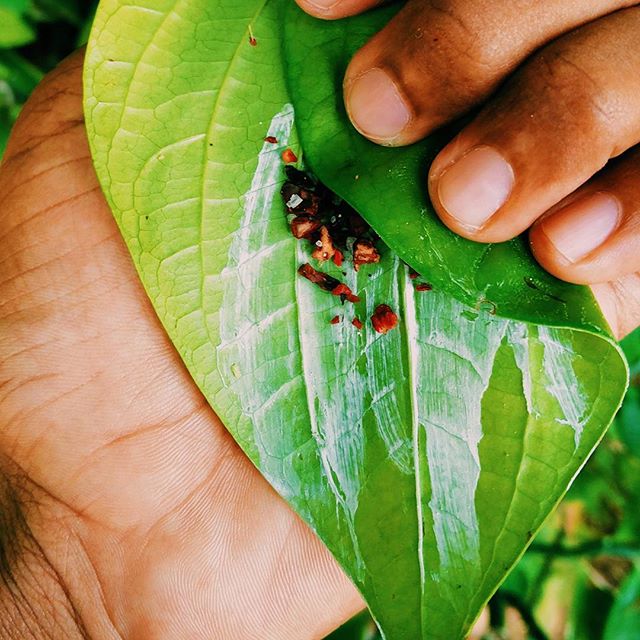 By finishing sadya, vettila murukkan is served . Its combination of lime and arecanut rapped with a betel leaf, which helps digestion process.
We are happy to  share the above recipes for the grand  sadya for you in all occasion. Seeking your feedback in our comment box. Wishing you a delicious festival and enjoy well.
More Sadya Images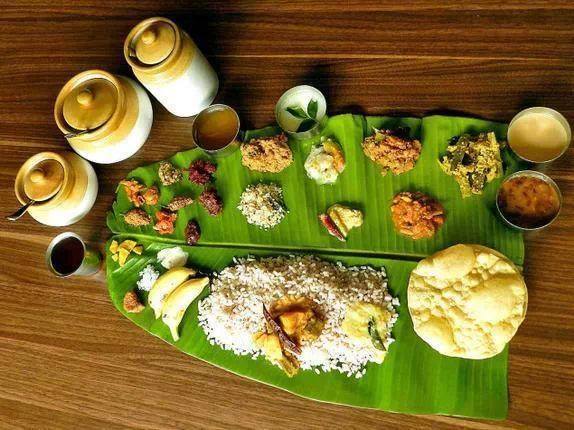 Here you can see a simple onam sadya, served in house. You can see that the pickes jars are kept asside, so that you can add more pickles if you like
Vishnu Sadya (A Kerala Sadya Served on Vishu)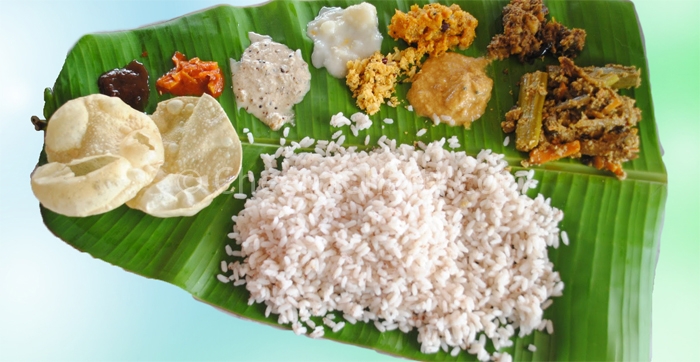 This is another variation of Kerala sadya served on vishu.
A simple Onam Sadya (A Kerala Sadya Served On Onam)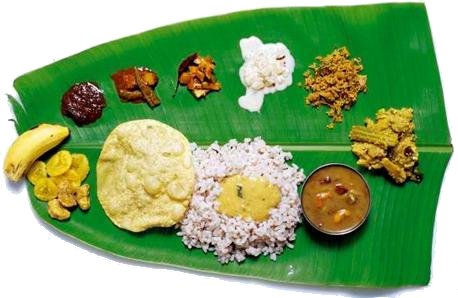 This is a very simple kerala sadya served on onam, known as Onam sadya
Fabulous kerala Sadya from wikipedia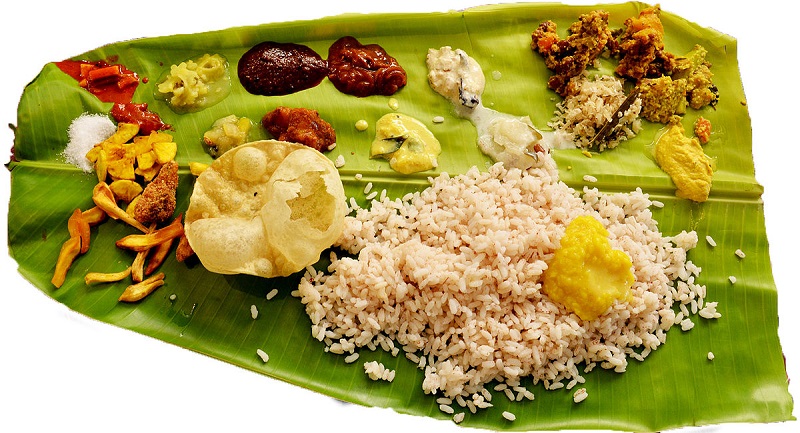 The above image I have got it from wiki.