Semiya payasam is a South Indian dessert made with semiya / vermicelli. Payasam is prepared on special occasions and since Onam is nearing, I thought of sharing this tasty payasam with you all.
Semiya payasam, I would say is an easy payasam which can be made by all and during all occasions.  Though we make parippu pradhaman or some other payasams with coconut milk, this is a favourite among my kids and I make it during all functions.  This is an easy payasam which can be prepared within 20 – 30 minutes.
You Can Watch Semiyapayasam Video Now
For preparing semiya payasam, you need very few ingredients for the entire preparation.  The main being semiya / vermicelli, milk and sugar.  I have used MTR roasted vermicelli for making payasam, but you can use any variety of semiya available.  If you are using unroasted semiya, roast it well in low flame before making payasam.  Payasam does not taste good with unroasted semiya.  In case of roasted semiya, saute it in ghee nicely and then make payasam.  Now to the recipe..
For making this payasam, vermicelli is cooked in milk and flavoured with cardamom and sweetened with sugar.  If you don't want to add sugar, you can also add jaggery, but don't cook for a long time after adding jaggery otherwise, the milk will curdle.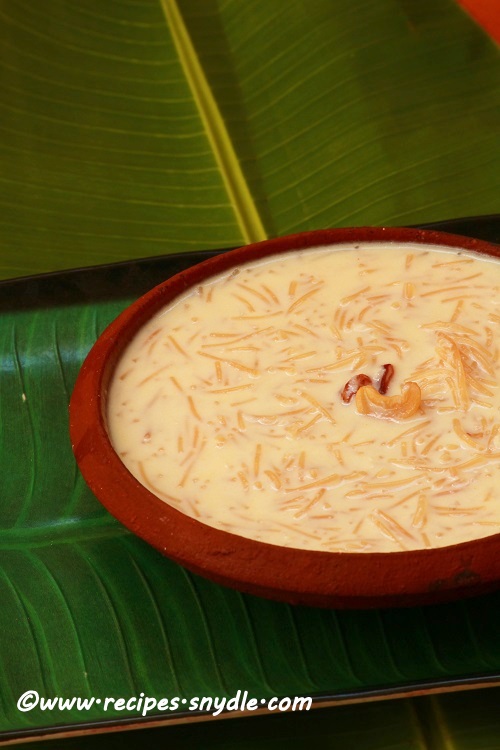 Ingredients
semiya / vermicelli – 1/2 cupmilk – 1 and  1/2 litreghee / clarified butter – 2 teaspoonssugar – 1/2 cup (or more depending on your sweet requirement)
cardamom powder – 1/4 teaspoon
cashew nuts – 5 – 6
kismis – 5 – 6
How to make semiya payasam 
1.  In a thick bottomed vessel, heat ghee.  Add raisins or kismis and fry till it puffs up.  Transfer it to another plate, keep aside.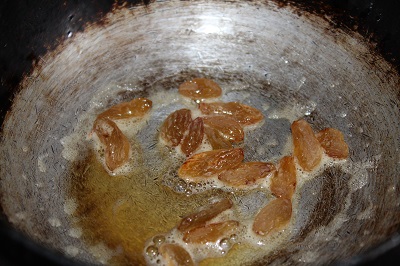 2.  In the same ghee, roast cashew nuts till it starts changing color.  Transfer it to a plate and keep aside.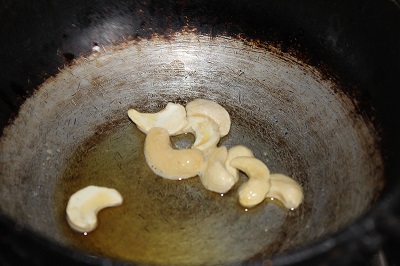 3.  In the same pan, add vermicelli / semiya, and roast it on low flame.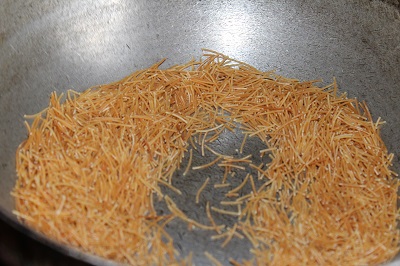 4.  Add milk, keep the flame high and bring the milk to boil.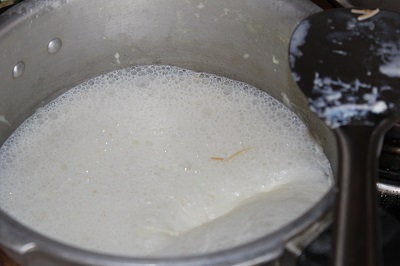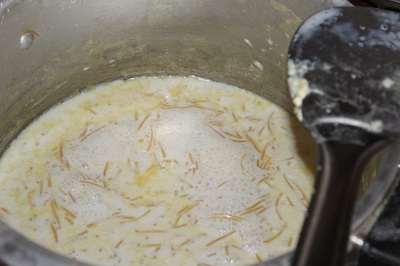 5.  Once the milk starts boiling, reduce the flame, wait till the vermicelli gets cooked well.  By this time, milk will become little thick and creamy.  Keep stirring to avoid sticking to the bottom.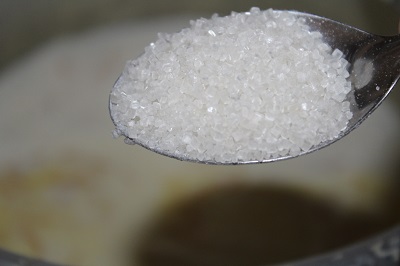 6.  Now add sugar, stir well .  Add cardamom powder.  Stir well so that the sugar dissolves completely.  Cook in low flame for another  5 – 6 minutes.
7.  Turn off the flame and add roasted cashew and raisins.
Tip:
As the payasam cools down, it will become thick.  Add hot milk and stir to make it thin.