Moru curry is a tasty curry for rice.  It is a tasty delicacy from Kerala.  It is called as morozhichu kootan or moru curry.  Moru is a malayalam word which means curd / yogurt.  This is a traditional curry which is made in all Malayalee families.  It can be prepared with various vegetables like cucumber, raw plantain, yam, jack fruit seeds and so on.  Here I have made use of kumbalanga to make this Kumbalanga moru curry.  Now to the recipe..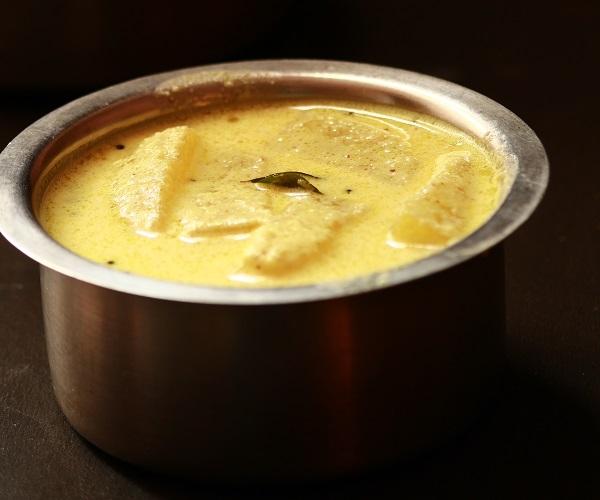 Ingredients required
Ash gourd / kumbalanga – 250 gms / 1 1/2 cup
turmeric powder  – 1/4 teaspoon
red chilly powder  – 1/2 teaspoon
green chilly  – 1 (slit lengthwise)
salt  – to taste
For grinding 
coconut (scraped)  – 1/2 cup
cumin seeds – 1/2 teaspoon
green chilly – 3
parboiled rice (soaked in water for 10 minutes)  – 1 teaspoon)
curd (sour)  – 1 1/2 cup
For tempering
mustard seeds  – 1 teaspoon
dry red chilly  – 2
curry leaves  – few
fenugreek seeds / uluva – 1/2 teaspoon
coconut oil  – 2 tablespoon
Technique
1.  Peel and dice kumbalanga / ash gourd into small pieces.  (Remove the seed part)
2.  Cook it in 3/4 cup of water, turmeric powder, chilly powder, one green chilly and salt.  Once it starts boiling, reduce the flame,  and let the ash gourd get cooked well.
3.  Mean while, grind all the ingredients given under " for grinding" into a smooth fine paste.  Beat curd well, mix it with the coconut paste, keep it aside.
4.  Once ash gourd is cooked well, reduce the flame and add the ground coconut curd mixture.  Bring the curry to a just boil state and then immediately turn off the stove.  (Donot over boil, otherwise, it will curdle)
5.  In another pan, heat coconut oil, splutter mustard seeds.  Then add fenugreek seeds, curry leaves, dry red chilly and saute for few seconds.  Add the tempered ingredients to the curry.  Cover with a lid and keep aside for few minutes so that the flavor gets locked in the curry.
6.  Serve it with rice.