Sambar is a very popular South Indian dish. It is served as a side dish for rice, and also with breakfast items like idli or dosa.  Sambar can be made with variety of vegetables.  Today's sambar is made with drumsticks which is also called as "muringakkaya" , "muringakkai" and is known as Murungakkai sambar also known as  Muringakkai sambar.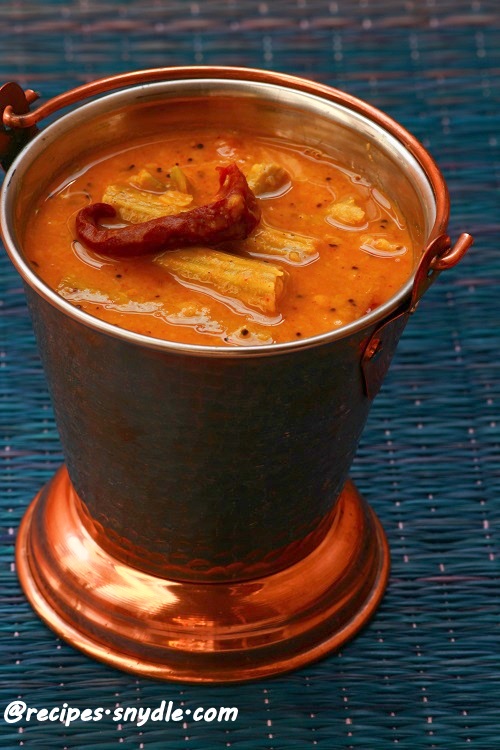 Sambar is a South Indian curry made with lentils / toor dal, vegetables, tamarind paste and sambar powder.  I have used homemade sambar powder for this sambar.  But you can use any good variety of sambar powder available in the market.
Drumsticks are often used in preparation of sambar along with other vegetables.  It is very flavorful and adds an extra flavor to the sambar.  Serve this sambar with rice, idli or dosa.  Drumsticks are rich in vitamin B6, folate, thiamine, vitamin A and vitamin C.  Now to the recipe..
Ingredients:
toor dal / arhar dal – 1/2 cup
drumsticks – 2 -3
turmeric powder – 1/2 teaspoon
chili powder – 1 teaspoon
green chilies – 2 (slit lengthwise)
shallots – 4 – 5
tomatoes -2 (chopped)
sambar powder – 2 teaspoons
tamarind extract – 2 tablespoons
coriander leaves – 1 tablespoon (finely chopped)
For tempering
vegetable oil – 2 tablespoons
cumin seeds – 1 teaspoon
mustard seeds – 1 teaspoon
urud dal – 1 teaspoon
curry leaves – few
asafoetida powder – 1/4 teaspoon
How to make drumstick sambar
1.  Put the dal, turmeric powder, green chili and salt along with the water into a pressure cooker and cook for 3 – 4 whistles.  Wait till the pressure subside, then mash the dal nicely and keep it aside.
2.  Cut drumstick into 1 – 2 inch long pieces, peel the skin of shallots and keep it aside.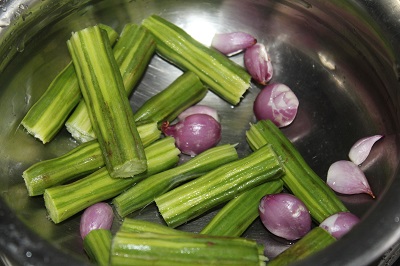 2.  Meanwhile, heat oil in a kadai.  When hot enough, splutter mustard seeds.  Then add urud dal, cumin seeds, curry leaves and hing.  Saute for 2 seconds.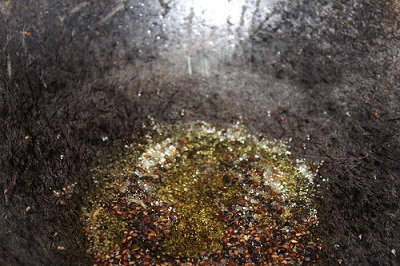 3.  Then add the chopped drumstick pieces, and the shallots and saute well.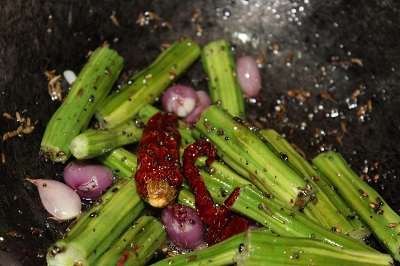 4.  Add sambar powder, chili powder and saute well.   Add chopped tomatoes and saute them till they turn mushy.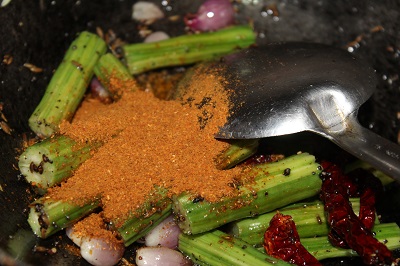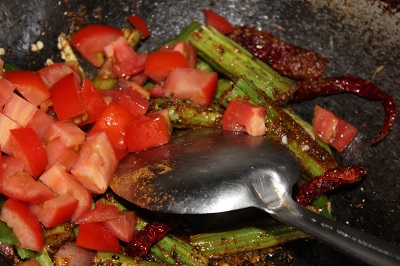 5.  Add 2 cups of water to this, let it start boiling.  Then reduce the flame, and wait till drumstick pieces get cooked well.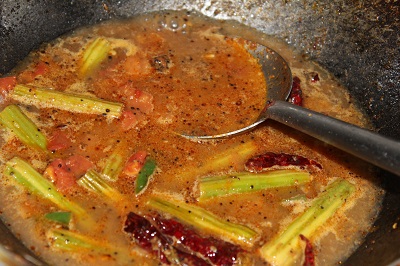 6.  Now add tamarind extract, mix well, and let it come to a boil.  Reduce the flame, stir occasionally for 10 – 12 minutes.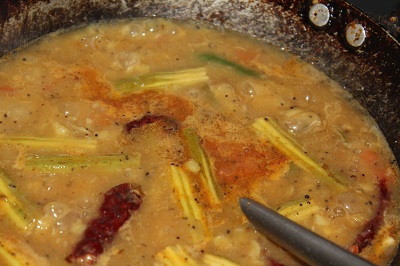 7.  Check for salt.  Add if necessary.
8.  Add chopped coriander leaves stir and turn off the flame.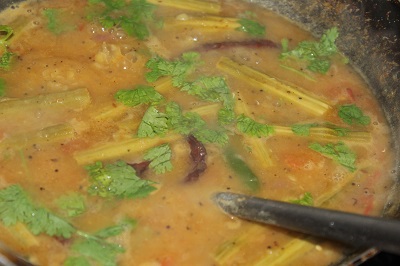 9.  Sambar is ready.  Serve it along with rice.