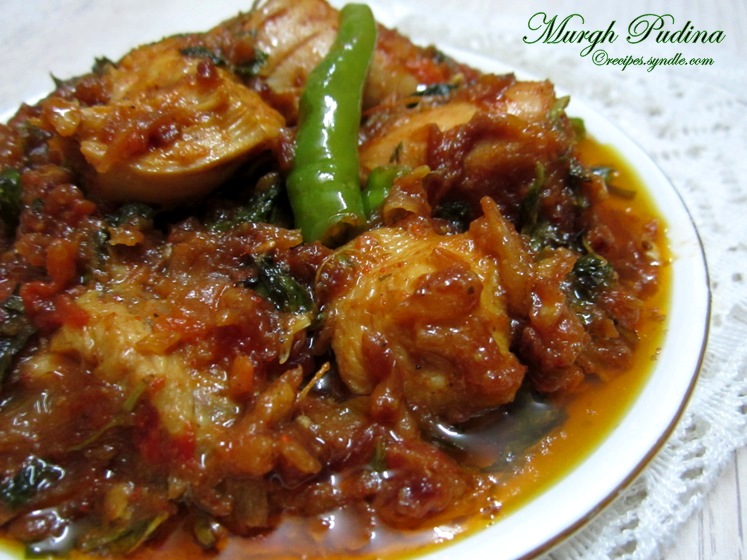 Hello, dear foodies. If you are a regular follower here, you might have noticed all my recent recipes that call for mint. My fridge's vegetable compartment is half-full with several bunches of fresh mint and I am trying to create as many recipes as possible before the mint goes extinct after this season.
Today's recipe is a chicken curry recipe. This is not those run of the mill chicken recipe with a runny broth. This one has a very thick, flavorful, tangy and refreshingly delicious mint gravy. It is an amazing side dish for rice and rotis.
Here are the recipes that I have used mint in.
Here are some other easy chicken recipes for you.
I have used whole chicken here, except for a few bony parts. You can create a boneless chicken recipe too or just chicken breast recipe. However, the flavors turn out better if you use a whole chicken and not just a portion. The chicken I have used has been cut into medium-size pieces. Since the chicken we get in India takes a lot of time to get cooked, I have brined the chicken to make it tender and juicier. I have shared the brine recipe here. It uses a lot of spices and works well for fried chicken. But the simple brine that I have used today has just salt and sugar.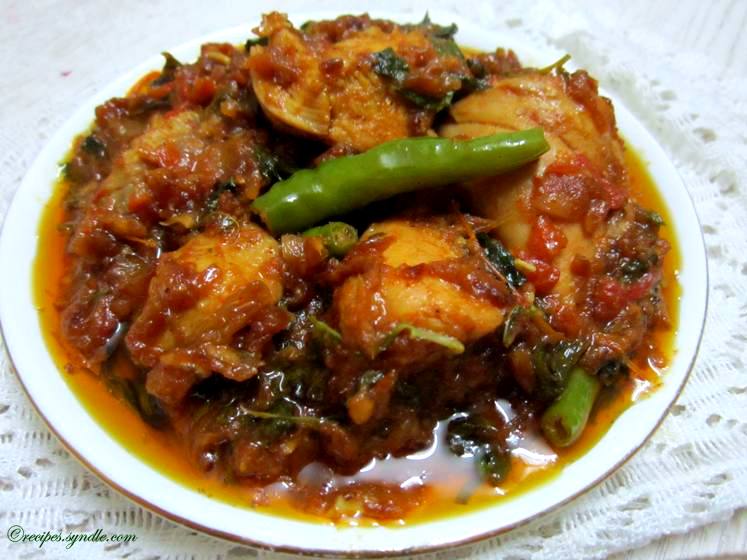 Also, I would like to mention that this recipe of Murgh Pudina has been adapted from the one shared on a Youtube Channel called Cooked with Faiza. I have kept the sequence of the recipe intact. I have just altered the quantity of spices and mint to suit my palate.
Let's get started with the recipe of Pudina Chicken. For the purpose of measurement, 1 cup = 250 ml. This recipe yields 2-3 servings.
Ingredients
To Prepare the Chicken
Chicken – 500 grams
Water – 2 cups
Salt – 2 tbsp
Sugar – 2 tbsp
To Prepare the Gravy
Crispy fried onions / Barista – 4 medium (Recipe here), crushed
Tomato – 2 large, sliced into roundels
Ginger – 1-inch piece
Garlic – 15 cloves
Cinnamon – 2-inch piece
Black cardamom – 2
Water – 3/4 cup
Coriander powder – 1 and 1/2 tsp
Red chili powder – 1 tsp
Turmeric – 1/3 tsp
Garam Masala – 1/2 tsp + 1/4 tsp
Cumin powder – 1/2 tsp
Mint leaves – 1 cup, lightly packed or 1/2 bunch
Oil – 1/3 cup
Salt – if needed
How to Make Murg Pudina / Pudina Chicken
First, let's prepare the chicken by brining it. Take a large bowl and fill it with 2 cups of water. Add salt and sugar to it.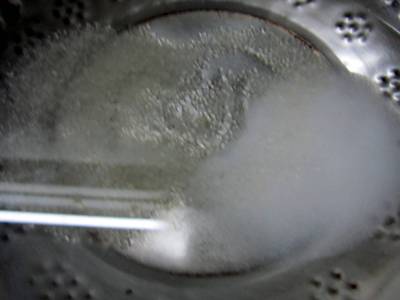 Stir the solution well till the sugar dissolves.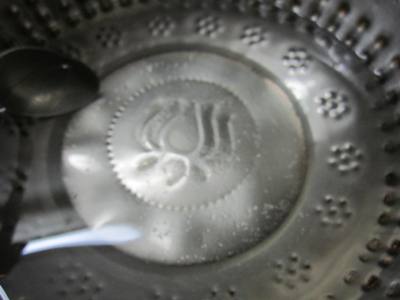 Add in the chicken and keep this in the fridge for the next 12 hours. The chicken you see here has some bony cuts. Those were used to make chicken stock later on and were not added to this dish. So avoid the very bony portions. Go for the fleshy breast and thigh.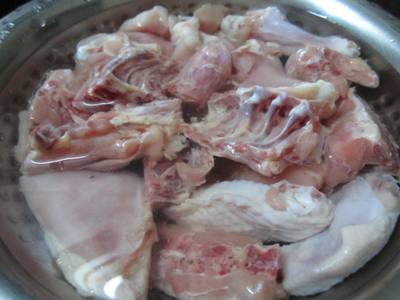 After 12 hours when you are ready to cook, take the chicken out of the fridge and discard the brine water. Heat a skillet. Add chicken, 3/4 cup water, ginger, garlic, black cardamom and cinnamon in it. No need to add salt now since the chicken has been brined in salt water and will lend the taste to the dish.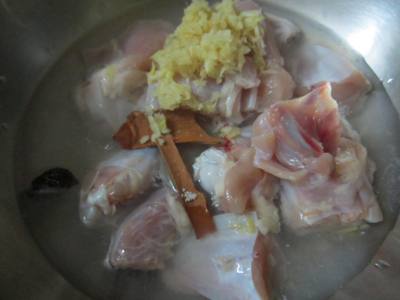 Bring the water to boil and cook for 5 minutes on medium heat till the chicken turns white.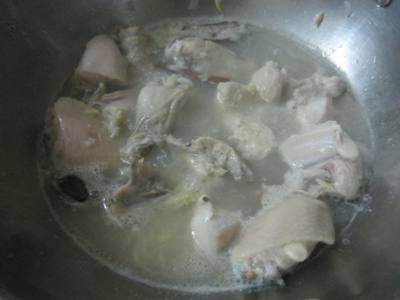 Add in the tomato roundels. Mix well. I forgot to click a pic at this stage. Cover the skillet with a lid and allow it to cook on medium flame till the tomato gets mushy and dissolves off. It should then look like this. The chicken and tomato has released a lot of water. The chicken should be half-cooked by now.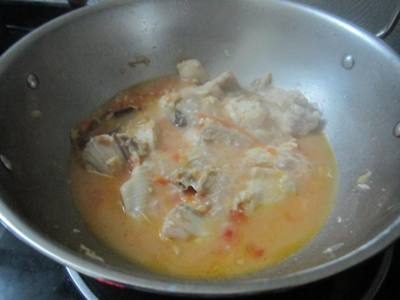 If you think there is too much water, then let it evaporate a bit. Then add in the red chili powder, turmeric powder, cumin powder, coriander powder and 1/2 tsp garam masala.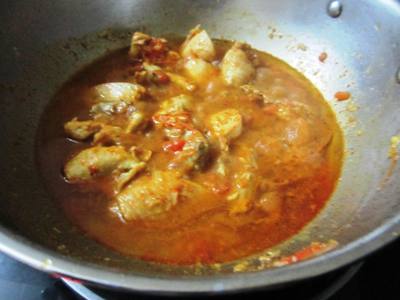 Now it's time to add oil. Roast the chicken well on medium heat while stirring it occasionally. This should take about 4-5 minutes. The oil will begin to separate and the spices will give out a nice fragrance. I didn't need to add any water.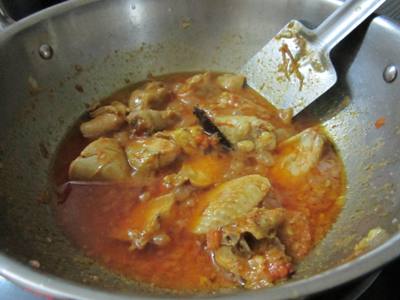 It's time to add the mint and crushed crispy fried onions. When you add mint, tear the leaves with your hands while you toss them in. Mix well.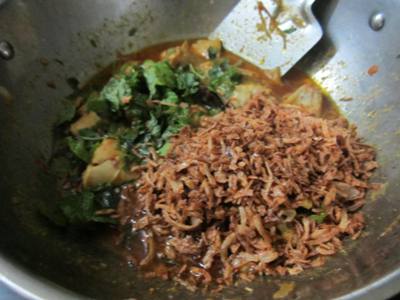 Check the salt at this stage to make sure it's right. Add green chilies and cover the skillet for about 10 minutes. Turn the heat to low and allow everything to combine together really well.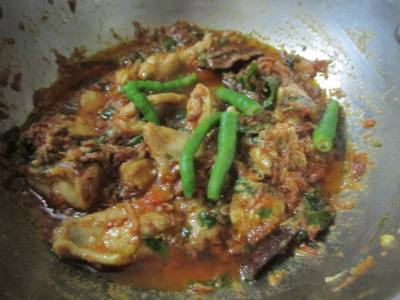 Open the lid. If there is any excess moisture, turn the heat on high and dry it out. If not then continue ahead and add the remaining 1/4 tsp of garam masala. Mix one last time.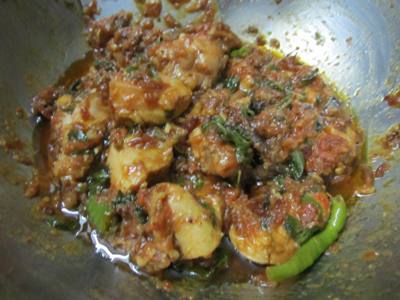 Pudina Murgh is ready to be relished. Serve hot with rotis, naan or rice. Enjoy!