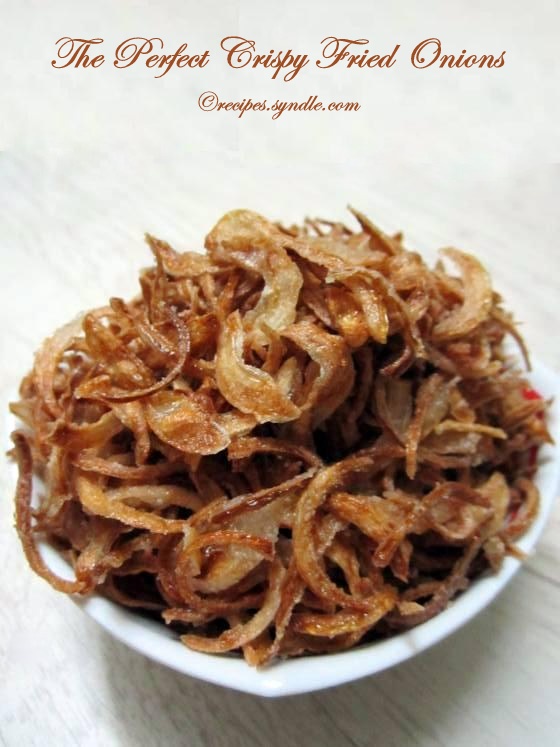 Hi again buddies. Just a while ago, I shared the recipe of Murg Pudina. That recipe uses barista or crispy fried onions. So now I am sharing the recipe o crispy fried onions. These are used to garnish biryanis and dalcha, also in making Chicken Korma etc.
The barista should be crispy, not soggy. Also, you can store these in an airtight container and freeze them. However, I make them just a day ahead. I have used 4 medium sized onions in Pudina Chicken, so this barista are prepared using that much onion.
I had tried making barista a lot of times in the past and they never came out right. Sometimes they were too oily, or soggy or just bitter. Last year I came across Cook with Faiza, a Youtube channel that has this recipe. However, I needed to use more cornflour since the onions I had released a lot of water. I have been using her tips to make this barista and they turn out perfect every time. So I thought I should share it with you guys.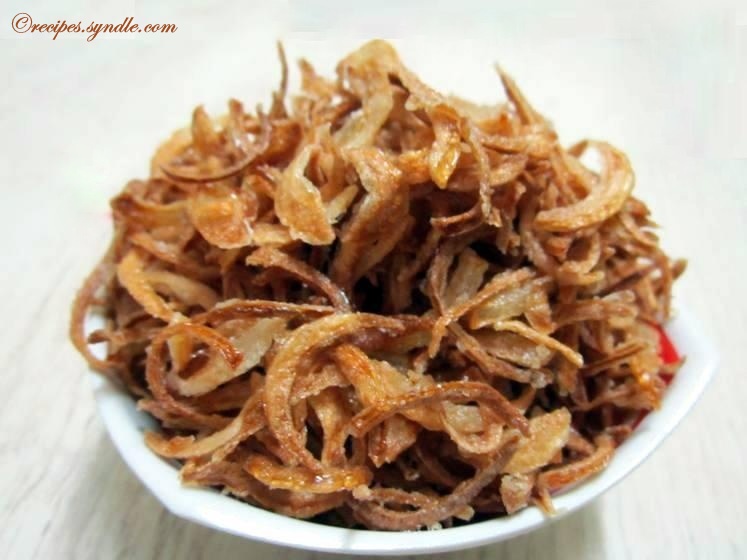 Let's get started with the recipe. Follow it just the way it's mentioned and you will get it right.
Ingredients
Onions – 4 medium
Cornstarch – 3 tbsp
Oil – to deep fry (I used sunflower oil)
How to Make Crispy Fried Onions / Barista
Peel the onions and wash them. Wipe them and then cut them into halves. Slice them as this as possible. Thinly sliced onions yield crispier barista.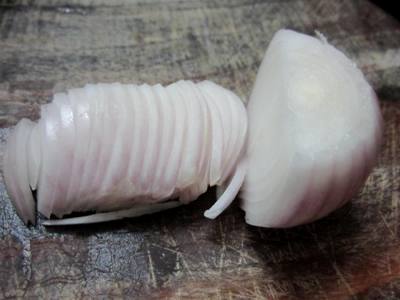 Keep a kitchen towel or handkerchief ready. Transfer the onions after slicing them onto the kitchen towel or handkerchief. Dab the onions well to get rid of the moisture. Separate their layers.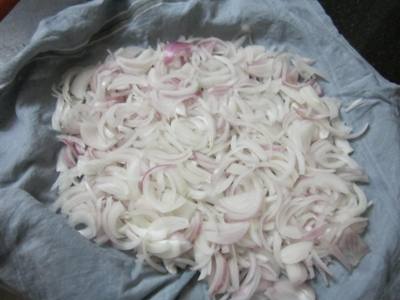 Heat oil in the meanwhile and then proceed ahead. It should not be extremely hot. About 160 to 170 degrees Celcius would be fine.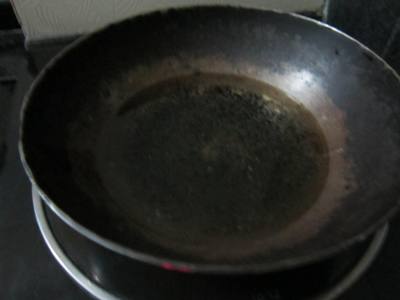 Take a sieve and place it on a plate or over a bowl. I fried these onions in 3 batches since I used a small skillet. Also, overcrowding the oil will cause the temperature to drop drastically.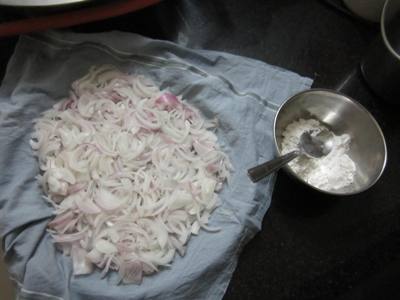 Take a batch of onions and sprinkle 1 tbsp of cornflour. Do not sprinkle cornstarch on all the onions. Just on the batch you are going to fry.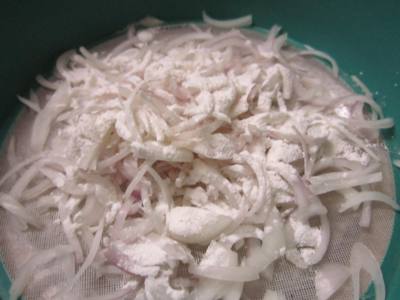 Mix around the onion slices to coat them well and evenly with the cornstarch. Shake the sieve to get rid of the excess cornstarch. The onion slices should have a thin layer of cornstarch.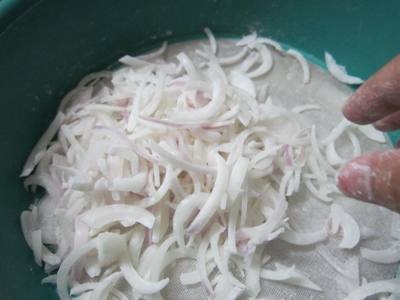 Now the oil is sufficiently hot. The flame should be between medium and low. Drop in carefully this batch of onions and fry it while stirring occasionally. The entire process will take 5-6 minutes.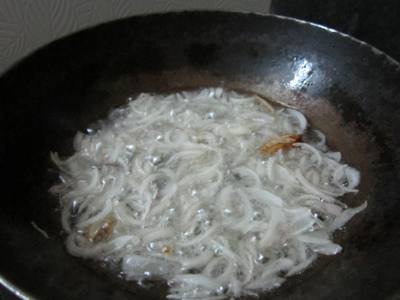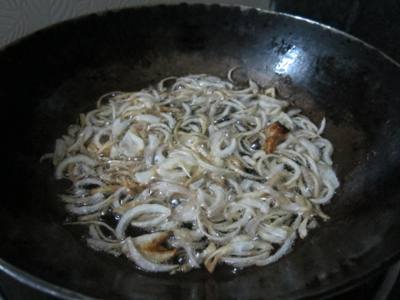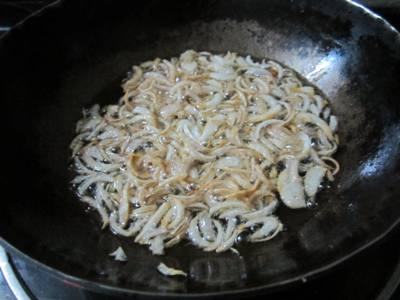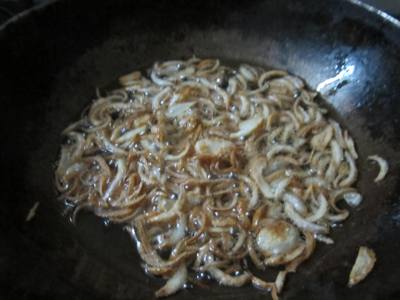 Remove the onions onto a kitchen towel to get rid of the excess oil, just when the edges are turning golden brown. They will still be hot and the cooking process will continue.  So do not brown them a lot, else they will taste bitter.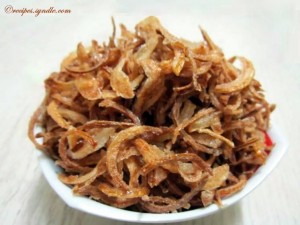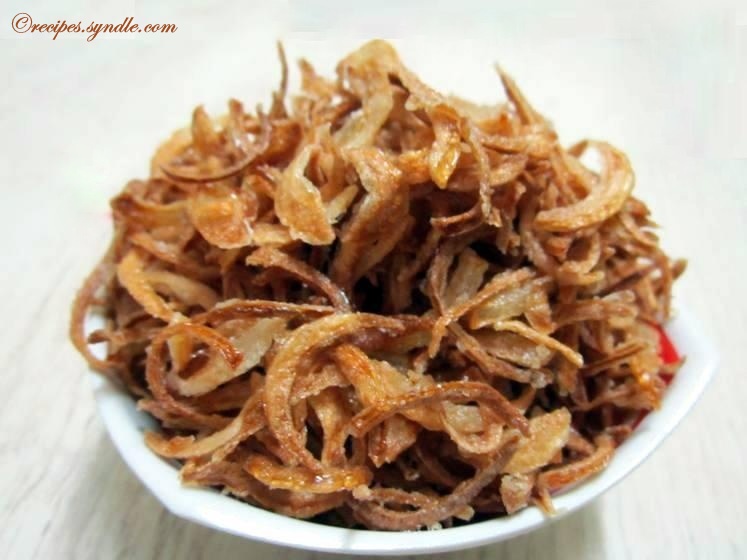 Cool the fried onion before use. They will be nice and crunchy. Proceed to fry the next batch, starting with sprinkling them with cornstarch.