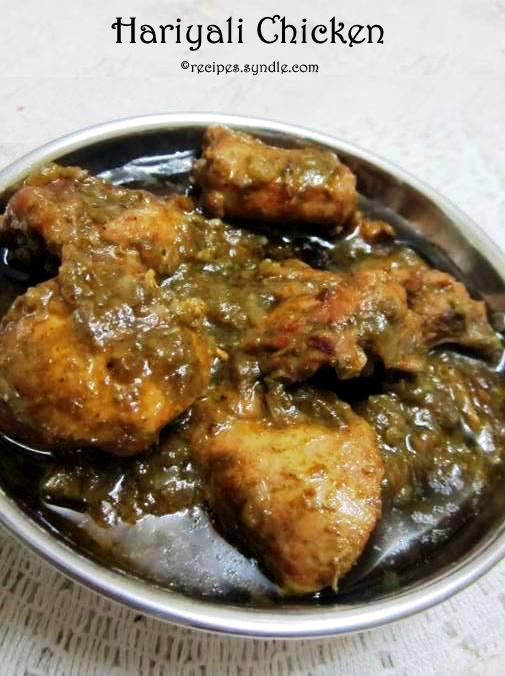 Hello, foodie buddies. Today's recipe is a chicken recipe, and an easy one. It is Chicken Hariyali. Not to mention, a one-pot chicken recipe. Hariyali because it has the goodness spinach, and a little bit of mint and cilantro. It goes well with both roti and rice.
Since the chicken we get here takes long to cook, I made this dish in pressure cooker. The key to a well-made chicken curry, or any similar dish for that matter, is to roast the chicken well for several minutes with the spices. That's what I did here too.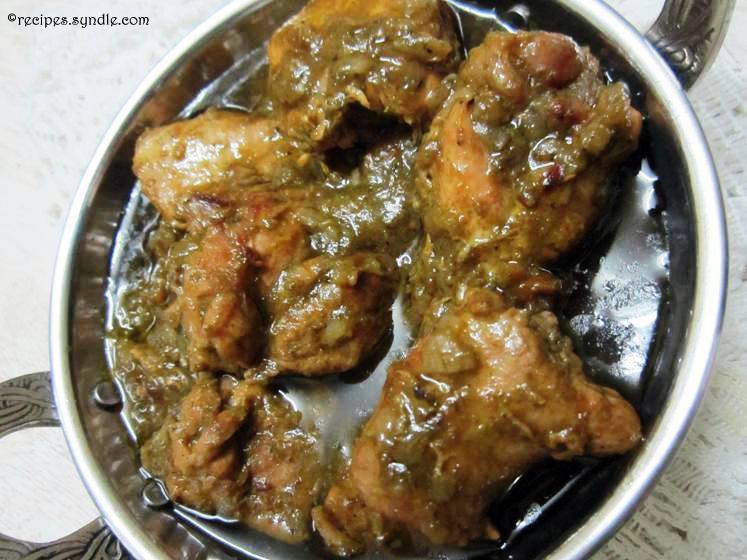 Let's get started with the recipe of Hariyali Chicken. For the purpose of measurement, 1 cup = 250 ml. This recipe yields 4 servings.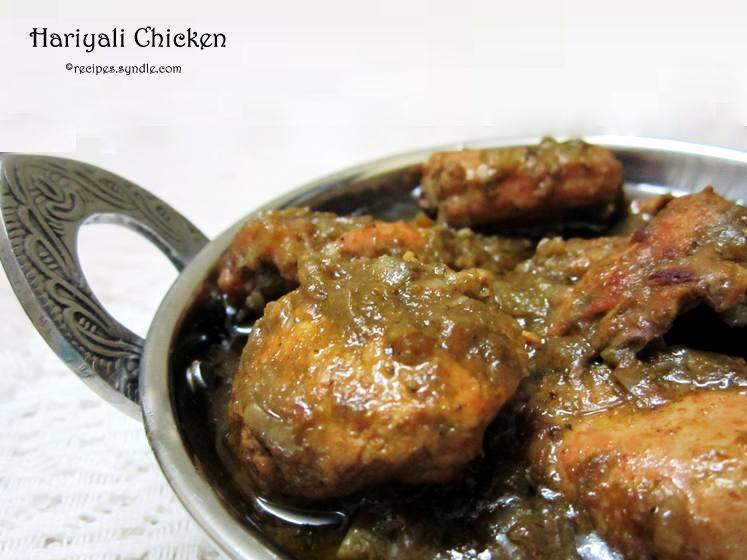 Ingredients
Chicken – 800 grams
Oil – 1/2 cup
Onion – 3 large
Tomatoes – 1 large
Bay leaves – 3
Cinnamon – 2-inch stick
Black cardamom – 1
Black peppercorns – 15
Black pepper powder – 1 tbsp or to taste, freshly ground
Cumin powder – 1 tbsp
Green chilies – 2 or to taste, chopped
Water – 1 and 1/2 cup
To Grind into a Paste
Baby spinach – 1/2 bunch, blanched
Coriander leaves – 1/2 cup. lightly packed
Mint leaves – 1/3 cup. lightly packed
Green chilies – 4
Garlic – 10 cloves
Ginger – 1/2-inch piece
To Grind Together
Garlic – 10 cloves
Ginger – 1/2-inch piece
Cloves – 3
Green cardamom – 2
How to Make Hariyali Chicken
Make a smooth puree of blanched spinach, coriander leaves, mint, green chilies, garlic, ginger, and some water.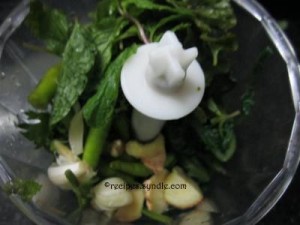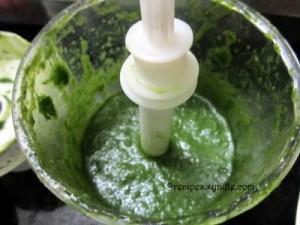 In a mortar and pestle, pound together the ginger, garlic, cloves, and green cardamoms.
Heat oil in a pressure cooker. Add in the bay leaves, cinnamon, black peppercorns and black cardamom. Saute them for a minute till they turn aromatic. Try not to burn the spices.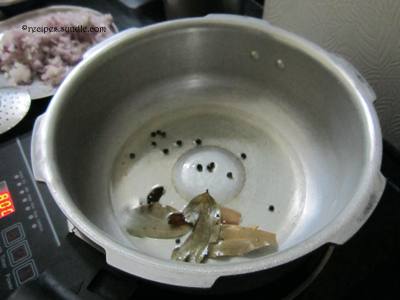 Add in the chopped onion and saute till it begins to turn golden.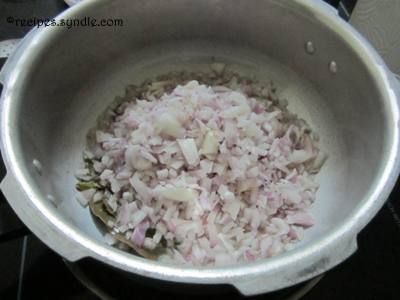 Add in the ginger-garlic-spice mix and saute for a minute till the raw smell disappears.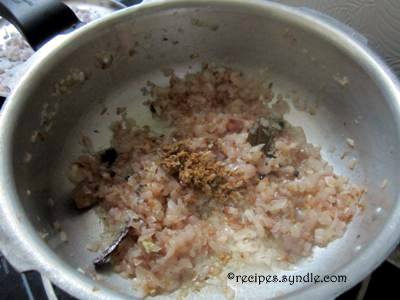 Add in the chicken, and saute it for 3-4 minutes till it gets some color.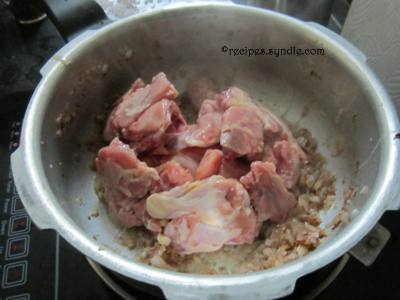 Next, add in the tomatoes, salt, and the green chilies and mix well.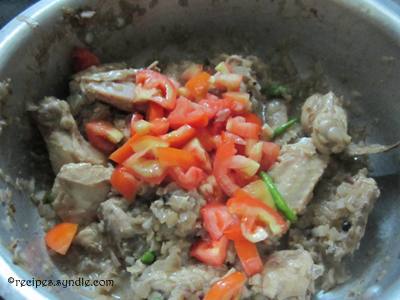 The chicken and tomatoes will release their water. Cover the cooker with the plain lid and allow it to cook for another 5-6 minutes till the tomatoes get mushy and oil begins to separate. Add in the black pepper powder and cumin powder and mix well.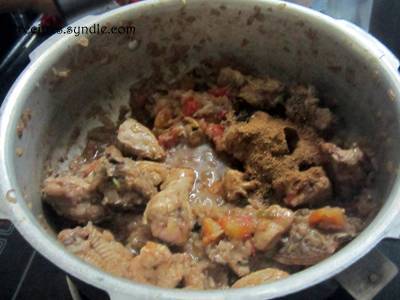 Next, add in the spinach-mint-cilantro puree and mix well.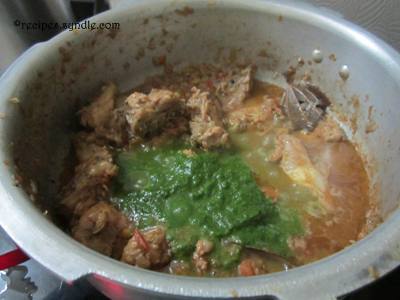 Roast the chicken for another 10-15 minutes on medium flame, stirring occasionally and sprinkling some water every now and then when the mixture gets dry.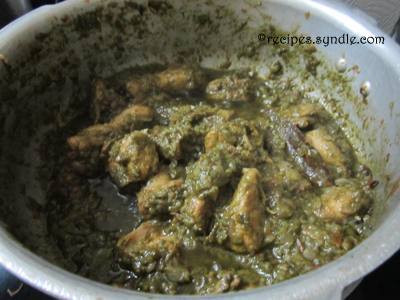 Add 1 cup of water or depending upon your pressure cooker. Check the salt. We need a thick gravy.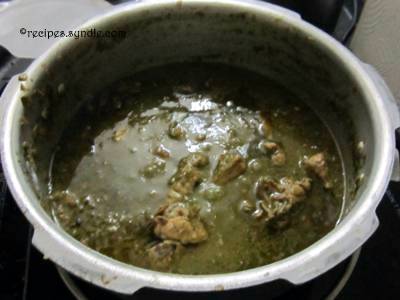 Pressure cook for 1 whistle and switch off the flame. Allow the pressure to release on its own.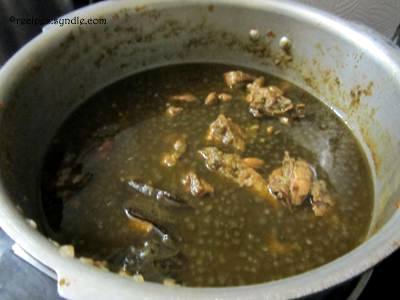 Hariyali Murg is ready. Serve hot with roti, naan or rice.