Hello there dear readers. Today we are going to see how to make Malabar Chicken Biryani. If you ask me to define 'bliss' in terms of a single food item, I would definitely say 'Biryani'. I am in love with the very sound of this dish. Biryanis bring back to mind all the happy memories of celebrations and frolic. Given the onset of monsoon, what's the better way to enjoy misty afternoons feasting on spicy and delectable home-made Malabar chicken biryani. Making the perfect biryani calls for dedication and patience. We often end up working on several components of this classic dish for 3 to 4 hours. But what if your tummy craves for Malabar chicken biryani right now? When your tummy growls and your taste-buds crave for a feisty punch of flavors, one pot meals come to your rescue.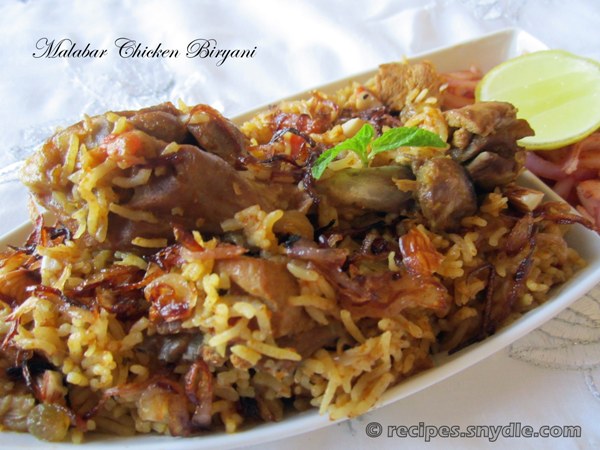 So here we are with a one pot Malabar chicken biryani recipe! (malabar chicken dum biryani recipe) This chicken biryani can be prepared using just one pressure cooker and it ready under an hour! When you have unexpected guests, you can surprise them with this quick and easy to make malabar chicken biryani.
Malabar chicken biryani is the favorite non-vegetarian rice preparation of the South, the state of Kerala to be specific. Malabar Biryani also goes by other names, such as Thalassery Biryani, Kozhikode Biryani and Kerala Biryani. The authentic Malabar Biryani recipe is prepared using the 'dum' method, wherein alternate layers of cooked rice and chicken gravy are laid out in a pot, which is then sealed with dough and cooked on a low flame. You get layers and layers of royal and rich goodness. The pressure cooker version taste similar, because we are going to use similar ingredients. You might not get alternate layers of rice and chicken. But that's passable because this recipe yields a biryani that is pretty close to its authentic cousin.
You May be Interested in HOW TO MAKE CHICKEN BIRYANI
Malabar chicken biryani
There are several tiny components of this biryani. We have to prepare a special spice mix, some fried onions and nuts for garnishing, some saffron mixed in milk for a rich color and so on. Let us see how to make Malabar chicken biryani in a pressure cooker.
Ingredients
Onions – 4 medium, finely chopped
Tomatoes – 2 medium, chopped
Ginger-garlic paste – 2 tbsp

Green Chilies – 5 nos., finely chopped

Full cream yogurt – 3 tbsp

Mint Leaves- 3 to 4 springs

Red Chili Powder – 2 tsp

Turmeric Powder – 1/2 tsp

Salt – To taste

Chicken – 1 kilogram, washed and cleaned
Jeerakasala/Khaima Rice – 3 cups, washed and drained
Hot Water – 6 cups
Ghee (Clarified butter) – 4 tbsp
Saffron – A generous pinch
Warm milk – 1/2 cup
Lemon juice – As required
To Prepare the Biryani Spice Mix
Cinnamon – 2 sticks
Black peppercorns – 10 nos.
Cloves – 5 nos.
Cardamom – 5 nos.
Mace – 2 nos.
Fennel seeds – 1/2 tsp
Star anise – 3 nos.
Coriander seeds – 1 tsp
Poppy seeds – 1 tsp
Cumin seeds- 1 tsp
Bay leaf – 2 nos.
For Garnish
Cashew nuts – 15 to 20 nos.
Raisins (Sultanas) – A handful
Coriander leaves – A handful, finely chopped
Crispy fried onions – 1 cup (2 onions, finely sliced)
How to Make Malabar Chicken Biryani
Lightly toast the spices required to make a biryani spice mix on a griddle. Keep the flame low to make sure not to burn the spices. This may take a couple of minutes. Toasting helps intensify the flavors of the spices. Allow the spices to cool down. Grind the spices in a grinder to a smooth powder. The biryani spice mix is ready.
Next, heat ghee in the pressure cooker. Fry the cashew nuts and raisins for a few seconds till they acquire a nice golden brown color. Remove onto a plate and keep aside. I did not have cashew nuts at hand, so I used almonds instead. They too give a nice crunch and texture to the biryani.
Mix the saffron in warm milk and keep aside.
To make crispy fried onions for garnish, thinly slice 2 large onions and fry them in the ghee till they are crispy and brown. Make sure you do not burn the onions. Otherwise, it will leave a bitter taste in the mouth. Remove the onion onto the plate and keep aside.
Now we have to make the chicken gravy, add in the chopped onions to the remaining ghee and sauté it till it turns golden brown. Add in the ginger-garlic paste and green chilies and sauté for a minute.
Add in the tomatoes and cook till they are soft and mushy.
It's time to spice things up. Add the biryani spice mix, red chili powder, turmeric powder and some salt. Give it a quick stir.
The oil will begin to separate. Now add in the chicken and thick yogurt and mix it nicely. Cover the cooker with a lid and let the chicken cook for 10 minutes. The chicken will absorb the flavors and taste amazing.
Remove the lid and add mint leaves and rice and give it a nice stir. Let the rice coat in the spices and take their color. Keep mixing it gently at frequent intervals till you toast the rice in the spices. Try not to break the rice grains or the chicken. Sprinkle the saffron mixed with mix little by little. Continue toasting the rice on medium flame for 5 to 6 minutes. This process is very important and ensures the flavors are evenly distributed.
Now pour in the hot water and adjust the salt. Do not add cold water as it will kill all the flavors. You might need to adjust the amount of water depending upon your pressure cooker.
Now put the lid back on and cook the biryani till 2 whistles. Turn of the flame and let the pressure release on its own.
Serve the biryani in the serving bowl. It's time for the toppings! Garnish the biryani with fresh coriander leaves, fried onions, cashew nuts and raisins.
Don't forget to add a dash of lemon juice. Serve the biryani hot with raita.
You will need to use the Jeerakasala variety of rice. It is also known as the Khaima rice. This type of rice has a distinct flavor and is used extensively in Malabar cuisine. Unlike basmati rice, the grain of Jeerakasala rice is short and thin. You don't need to soak Jeerakasala rice. Just wash it well and use it right away. Nevertheless, this variety is hard to find.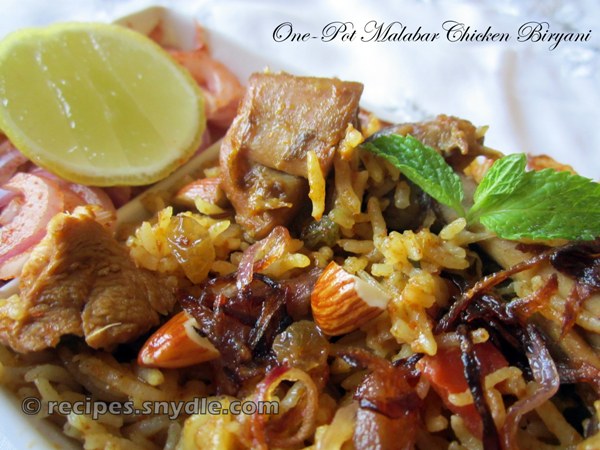 So, if you don't have it, you can use basmati rice. There are spices, flavorful rice, the sweetness of raisins, the freshness of mint, the crunch of cashews and onions and sourness from the lime juice. What more one can ask for? It is a perfect mélange indeed! So, wasn't this one pot Malabar chicken biryani a hassle free way to surprise your tummy? I bet it is! So, make this recipe at home and do let us know your feedback. Hope you like my yummy tummy kerala chicken biryani
calicut style chicken biryani
Thalassery Chicken Biryani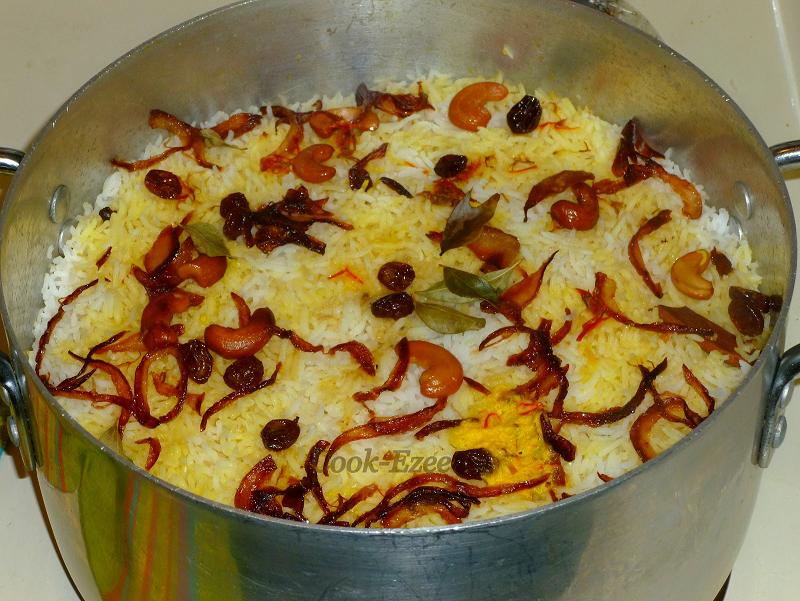 Today I found a good recipe of thalassery chicken biriyani. If you are interest please visit them
http://cook-ezee.blogspot.com.au/2012/05/thalassery-chicken-biriyanimalabar.html