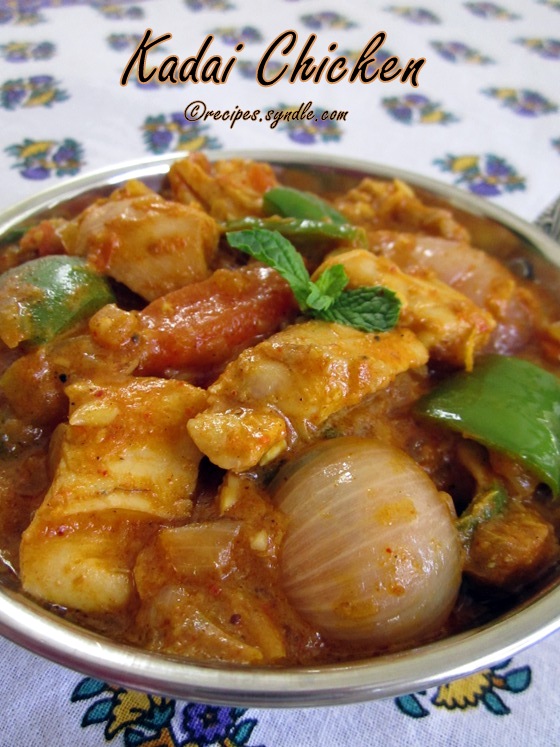 Hello foodies. Today's recipe is a special one. It's Kadai Chicken! When we often visit restaurants for enjoying Indian, non-vegetarian food, Chicken Kadai is one of dishes on the list of our favorites.
I often make this restaurant-style chicken kadai recipe at home. It has a thick gravy. Making it drier is up to you. But a thick gravy makes it easy to be relished with both rice and rotis.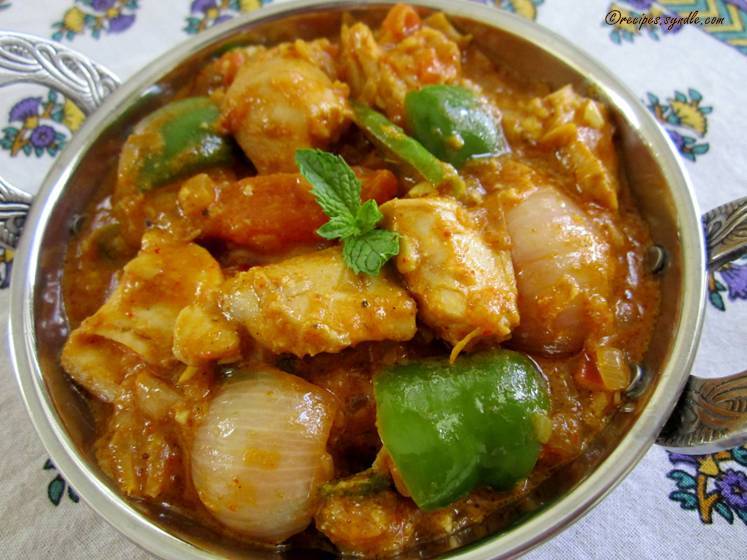 This dish is made from scratch. I have shared the recipe of kadai masala as well. It adds a unique flavor to this recipe. Apart from it, there are same spices in individual form as well, to enhance the taste and texture of the dish. If you are a vegetarian, you can replace chicken with paneer or mushroom or both.
Now let's get started with the recipe of kadai chicken. This recipe yields 2 to 3 servings.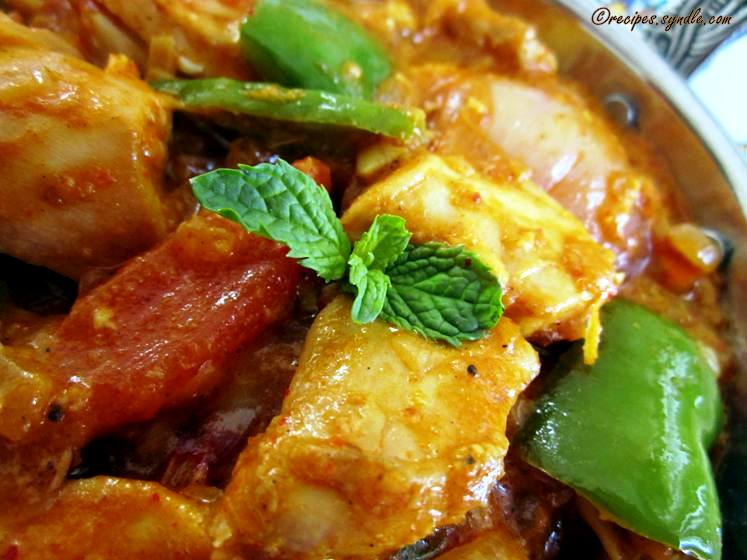 Ingredients
To Prepare the Kadai Masala
Black peppercorns – 1 tbsp
Cumin seeds – 1 tbsp
Dry Kashmiri red chilies – 6
Whole coriander seeds – 1 tbsp
Fennel seeds – 1/2 tsp
To Prepare the Chicken
Chicken on bone – 800 grams
Water – 2 cups
Garlic – 5 cloves
Bay leaves – 3
Salt – 1 tsp
Black peppercorns – 1 tsp
To Prepare the Gravy
Onions – 1 large, finely chopped
Onion – 1 medium, quartered and layers peeled
Tomato – 2 medium, blanched and pureed
Tomato – 1 medium, finely chopped
Tomato – 1 small, cut into long wedges
Capsicum – 1 medium, diced
Ginger – 1 inch piece, finely crushed
Garlic – 15 cloves, finely crushed
Green chilies – 3, split lengthwise
Salt – to taste
Turmeric powder – 1/3 tsp
Red chili powder – 1/2 tsp
Garam masala – 1/3 tsp
Chicken stock – 1/2 cup
Cashews – 15, boiled and ground to paste
Kasoori Methi – 1/3 tsp, lightly roasted
Kadai Masala – 1 tbsp
Oil – 4 tbsp
How to Make Kadai Chicken
 Dry roast dried red chilies, black peppercorns, coriander seeds, cumin seeds and fennel seeds on low flame on a tawa/griddle, till they get aromatic.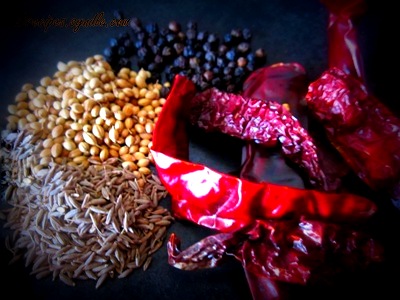 Allow them to cool down and make a powder out of them using mortar or pestle or in a mixie.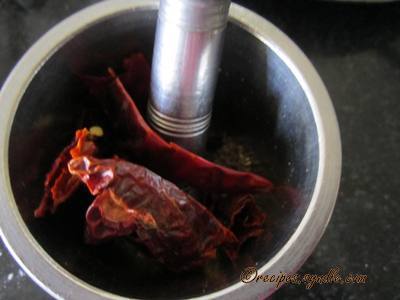 Kadai masala is ready. Keep it packed in an air-tight container.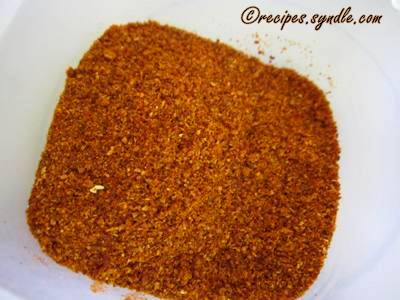 Take water, chicken, garlic, salt, bay leaves, black peppercorns in a pressure cooker. Pressure cook the chicken for about 6-8 minutes. Switch off the flame before the first whistle goes off and allow the pressure to release itself. We do not need to cook the chicken completely, but just about 3/4 th cooked.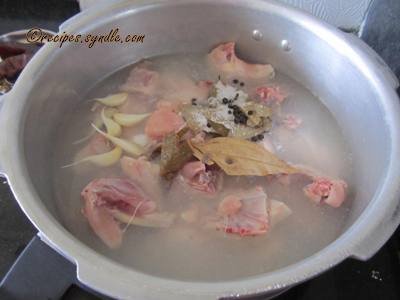 When the chicken cools down, separate the flesh from the bones. Make bite-sized pieces. Reserve the chicken stock.
Heat oil in a skillet. Add in the finely chopped onions. My Mom tossed in a couple of bay leaves and cinnamon for a an extra punch of flavors. You can add them too if you wish to. Saute the onions till they turn golden.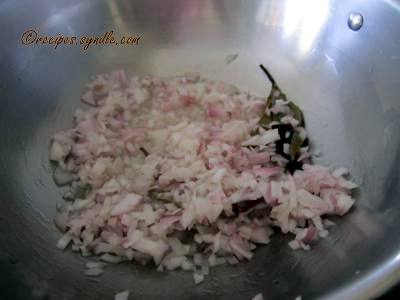 Add in the ginger and garlic and saute for a minute till the raw smell goes away.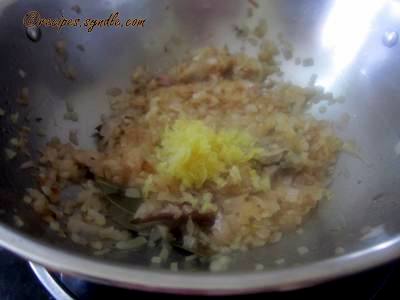 Add in the finely chopped tomato and some salt and cook till the tomato gets mushed up and oil begins to separate.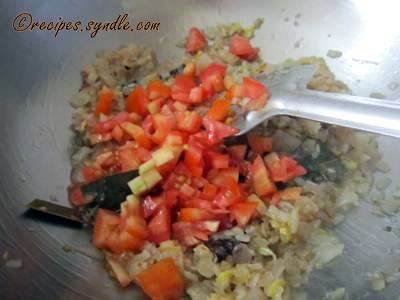 Add in the turmeric powder, red chili powder, garam masala and 1/2 tbsp of kadai masala and mix well.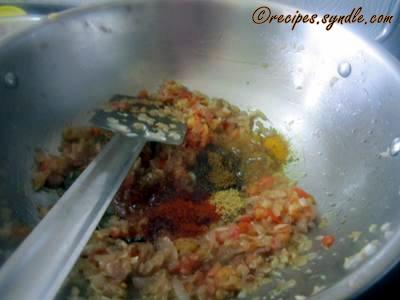 Add in the tomato puree and mix well. Cover the pan with a lid and allow the sauce to simmer for 10 minutes. Stir in between. If it looks too dry during these 10 minutes, add in some chicken stock.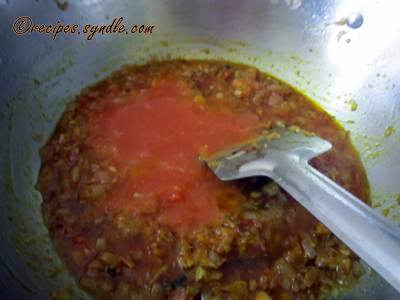 When the sauce thickens and oil floats up, add in the green chilies, diced onions, tomato and capsicum. Mix well.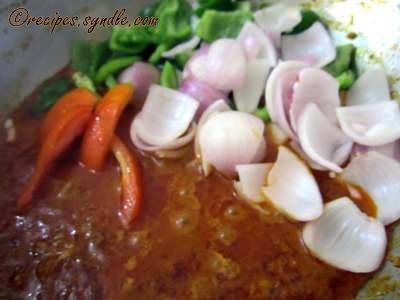 Add in the chicken and kasoori methi and mix well.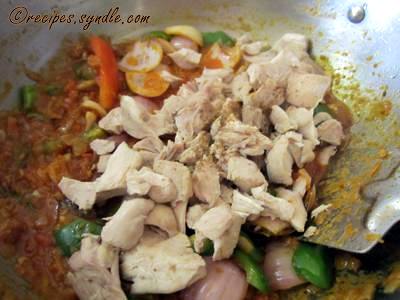 Then add the remaining 1/2 tbsp of kadai masala, 1/2 cup chicken stock and cashew paste and mix well.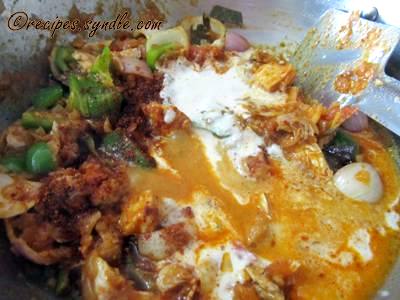 Allow it to simmer for 5-7 minutes till the chicken absorbs all the flavors and the gravy thickens a bit.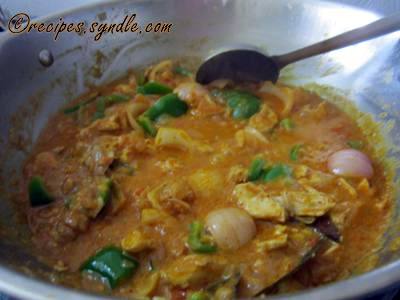 Chicken Kadai is ready. Serve hot. Decorate with a sprig of coriander leaves. I didn't have any, so I used a sprig of mint. Enjoy!