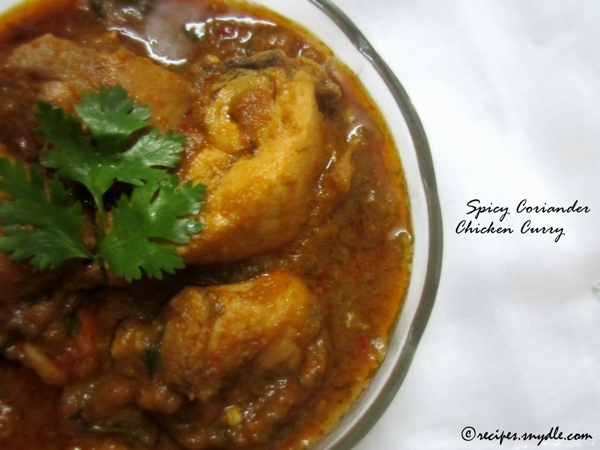 Hello readers. I think I have posted a chain of vegetarian recipes so far. So, I thought why not post a chicken recipe for a change. It has been resting in the drafts since a long time, so I thought to share it today. Procrastination always gets the better of me. Better late than never.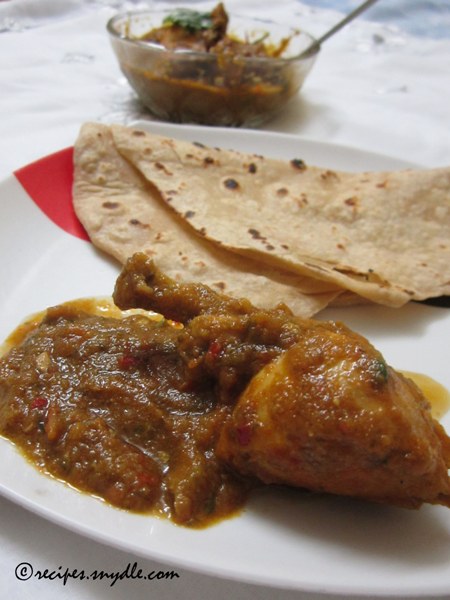 This recipe is called 'Spicy Cilantro Chicken Curry', because it's hot and the gravy is made using lots of cilantro, or coriander leaves as it is commonly known. This is a very easy chicken curry recipe and therefore a quick dinner idea, because it gets ready in minutes. It is a no-brainer and needs the most basic ingredients that one definitely has in their kitchen. The consistency of gravy is not stewy. It is rather thick, just perfect to go well as a side dish with roti or rice. You can fine-tune the amount of chilies according to your preference.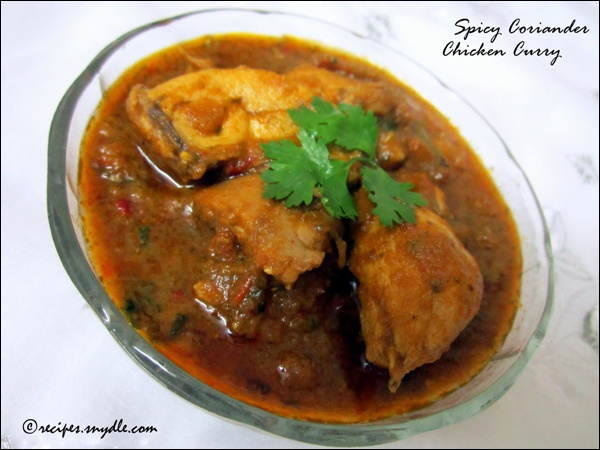 I used chicken legs, because they have the most succulent meat. You can use chicken breast as well, if you like your chicken boneless.
So now let us see how it is made!
Ingredients
Chicken- 1/2 kg
Cloves- 5
Green cardamom- 5
Salt- 1/2 tsp
Water- For pressure cooking
To make a paste
Onion- 2 medium
Ginger- 1 inch piece
Garlic- 10 cloves
Green chilies- 4
Cilantro- 1 small bunch
Other ingredients
Tomato- 3 large, cut into cubes
Cinnamon stick- 1
Red chili powder- 2 tsp
Red chili flakes- 1 tsp
Everest Chicken Masala powder- 1 tsp
Jeera (cumin) powder- 3/4 tsp
Salt- To taste
Thick and fresh yogurt- 3 tbsp
Chicken stock- 200 ml
Oil- 4 tbsp
How to Make Spicy Cilantro Chicken Curry
In a pressure cooker, place the chicken. Toss in the green cardamoms, cloves and salt. Add sufficient water. We need to cook the chicken for 1 whistle. So you won't need a lot of water, just enough for a safe pressure cooking. It should just cover the chicken. After one whistle, switch off the flame and let it rest. Allow the pressure release. Take the chicken out of the cooker. Debone the chicken if you like the chicken to be boneless. Set it aside. Preserve the chicken stock.
Place the onion, coriander leaves, ginger, garlic and green chilies in a mixie jar. Grind them to a smooth paste. The paste will turn out fresh and green.
Heat oil in a heavy bottom pan or skillet. Toss in the ground paste we just made along with a cinnamon stick. Sauté on medium flame for 5 minutes till the raw smell disappears. Stir often make sure the paste doesn't burn.
Toss in the tomatoes and a pinch of salt. Sauté the tomatoes till they are soft and look well-cooked. You will notice that the oil begins to separate on the sides.
It's time to add red chili powder, red chili flakes, jeera powder and Everest Chicken Masala powder. Add the thick yogurt and cook for a minute.
Add chicken to the gravy and combine them well. Sauté the chicken for a few minutes. This will ensure the chicken gets a nice hue from the spices. Add spoonfuls of chicken stock to avoid burning the chicken. It helps augment the flavors.
As the spiciness is infused in the chicken, add 200 ml of chicken stock. Bring it to boil. Cover the pan / skillet with the lid. Allow the gravy to simmer for 12-15 minutes till the chicken is tender and juicy, the gravy is thick and oil comes on the top. Garnish with more chopped cilantro. Serve steaming hot with roti or rice. Dig in!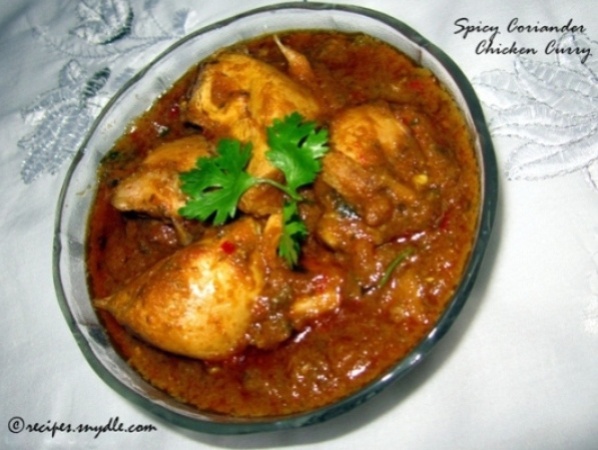 Note: If you do not find Everest Chicken Masala, you can substitute it with Garam Masala or any other spice mix or curry powder that you make at home.