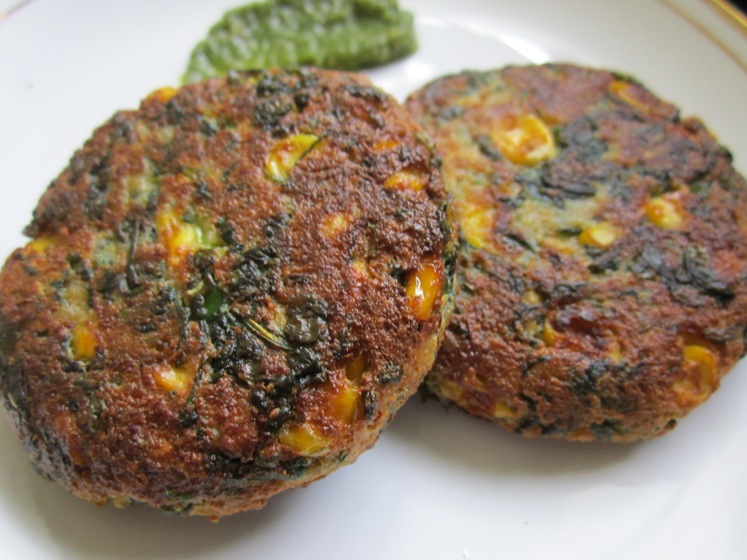 Spinach and Sweet Corn Tikki Recipe | Corn-Palak Tikki | Spinach and Sweet Corn Patty Recipe
Hey foodies! Today I am sharing an easy and healthy snack recipe. It's the Spinach and Sweet Corn Tikki or Patty. This snack is the best way to make your kids eat spinach, if they do not like it. Besides, this is not a deep-fried snack. I have shallow-fried it in nonstick pan with very little oil. You could also cook it in the air-fryer. But these tikkis do not absorb a lot of oil, so that's okay.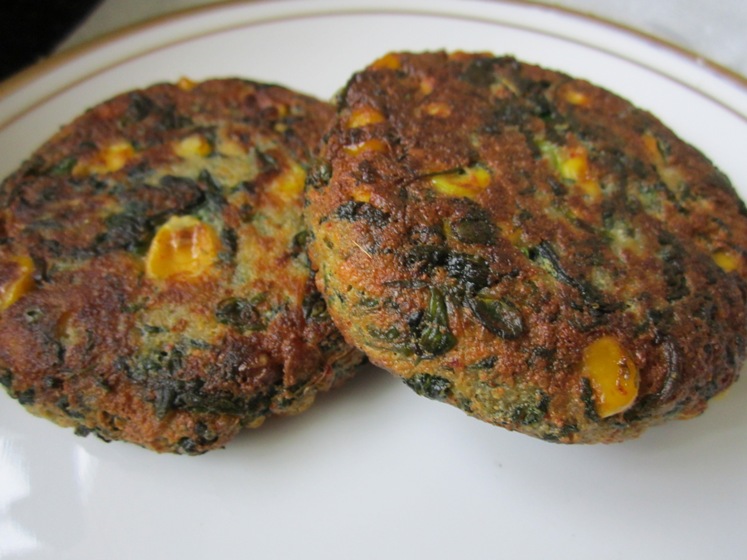 Previously, I had shared more snack recipes. Here is a list, just in case if you had missed any of these.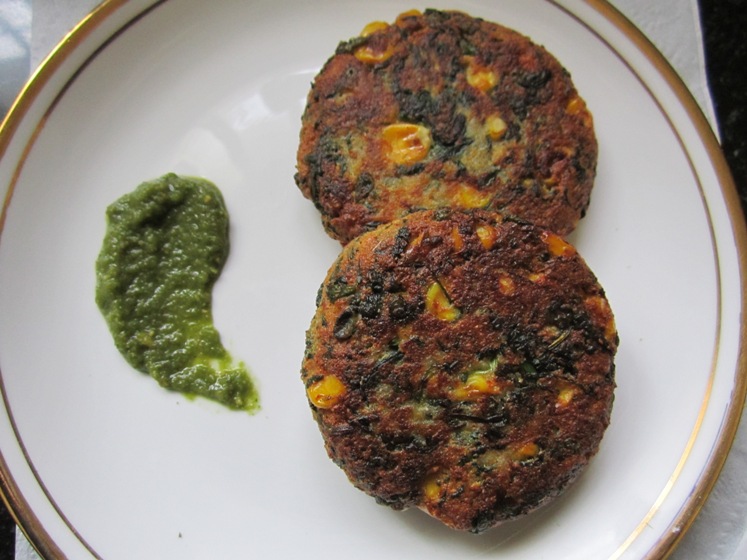 I hope you would like these. Now let's get started with the recipe of Spinach and Sweet Corn Tikkis. You can have these with green chutney or whatever dip you like. You could also use these corn-palak tikki for making burgers. For the purpose of measurement, 1 cup = 250 ml. This recipe yields 5 tikkis.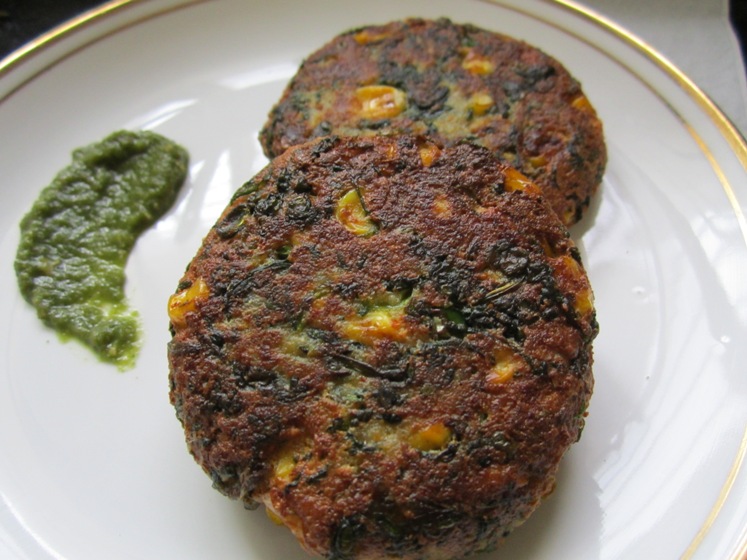 Ingredients
Spinach / Palak leaves – 1 mediumd bunch or 3 cups, tightly packed
Sweetcorn – 2/3 cups
Scrambled paneer (preferably homemade) – 1/3 cup
Potato – 1 medium, boiled and mashed or grated
Cornstarch – 1 tbsp
Salt – to taste
Black pepper – 1 tsp
Red chili powder – 3/4 tsp
Nutmeg – 1/3 tsp
Jeera powder / Cumin powder – 3/4 tsp
Chat masala – 1 tsp
Lemon juice – 2 tsp
Coriander leaves – 2 tbsp, finely chopped
Green chilies – 2, finely chopped
Ginger – 1 inch piece
Milk – 1/2 cup
Oil – to shallow fry the tikkis
How to Make Corn-Palak Tikki
Chop the sweet corn in the food processor. I chopped it with hand. I cut each grain into 3 bits. So if you do not have a food processor, you could still chop the kernels. Add the chopped sweetcorn into a saucepan and add milk to it.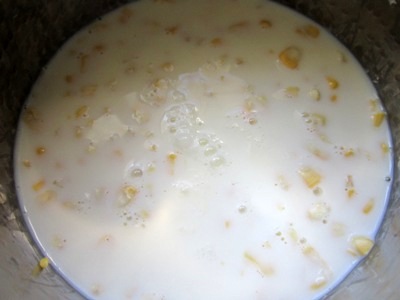 Let the sweet corn cook on low flame till all the milk evaporates and the kernels soften a bit. You could also pressure the sweet corn with milk. Allow it to cool down.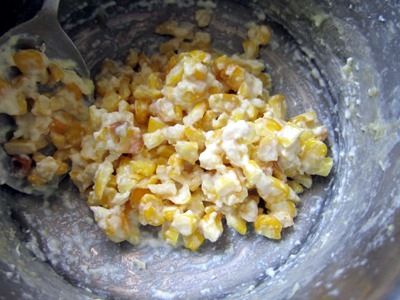 Boil palak in sufficient water for about 3 minutes.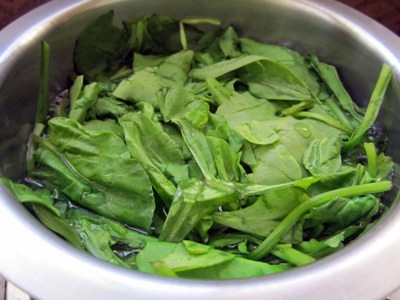 Drain it and hold it under running cold water. Gently squeeze the blanched spinach to get rid of the excess liquid.Chop the blanched spinach finely.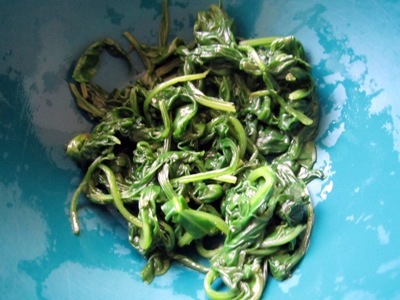 In a bowl, take all the ingredients, except the oil.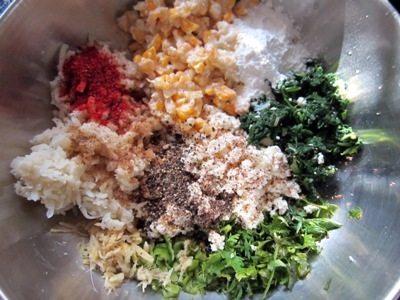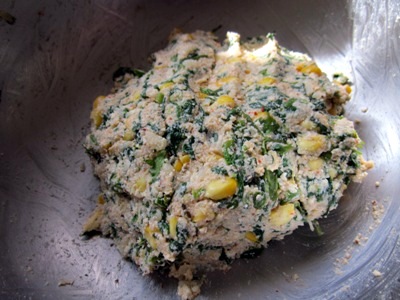 Divide the dough into 5 parts or more, if you want smaller tikkis. Shape them like in the picture. You could give them any shape you like. Refrigerate the patties for about 20 minutes. You would be able to handle them better.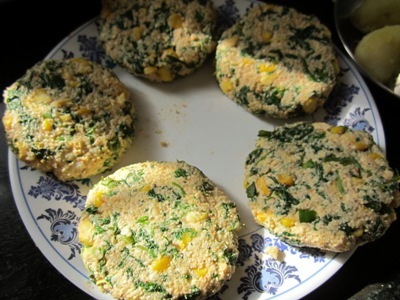 Heat oil in a pan. Carefully place the patties into the pan and allow them to get fried on one side until golden brown.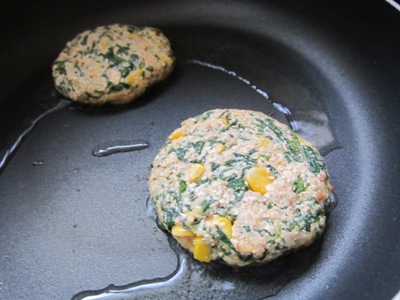 Flip and allow them to fry on the other side till golden brown. Remove them onto a plate lined with kitchen towel.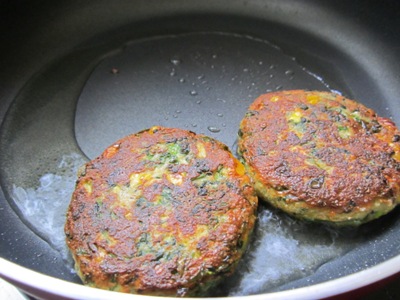 Serve hot with ketchup, green chutney or your favorite dip.