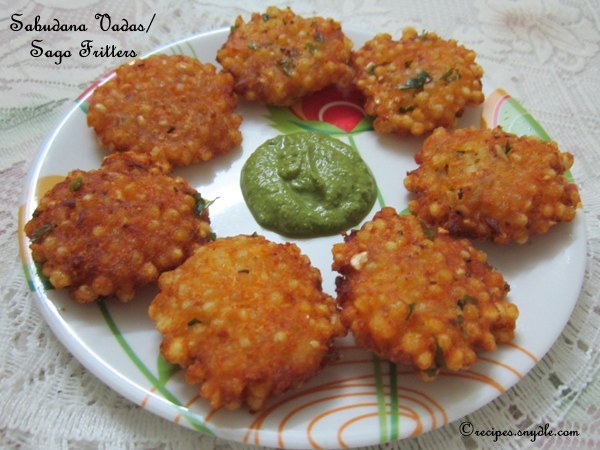 Monsoons are often about coming home drenched in rain and praying to God not to make you sick! Once you are settled, all you crave is a nice and hot cup of tea with something on the side. You cannot just eat cookies and cakes all the time. The cold in the air makes you crave for something spice and hot to go with that tea.
If you come to the think of it, there are so many options. You can make pakodas, vadas and fried rolls out of so many things. I decided to for sabudana vadas. Sabudana vadas are the fritters made using sago / tapioca, potato, peanuts and spices. Fried crispy, these smell heavenly and taste amazing! They are the perfect accompaniment with the evening tea while you are sitting pretty inside your blanket.
Let us see how to make sabudana vadas. But before we proceed, please read the important notes.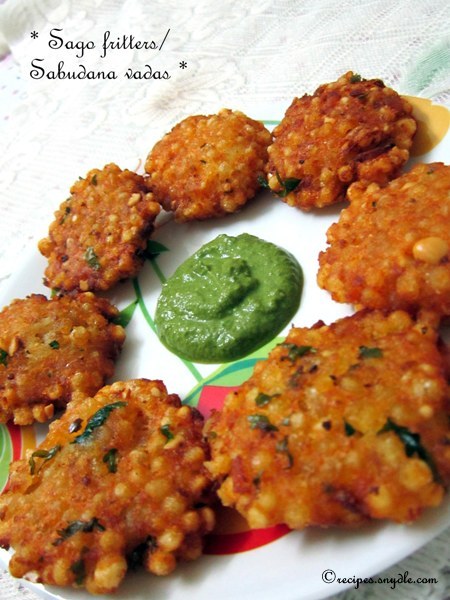 Notes
Make sure the sago is soaked properly. It should be soft and fluffy. This is necessary if you do not want the grains of sago to burst during the frying process. Bursting of sago grains cause the oil to splutter. Please be careful while frying the sabudana vadas.
Flattening the fritters like a patty will ensure it is cooked properly on the inside.
For the purpose of measurement, 1 cup = 250 ml. This recipe makes about 15 vadas, depending upon the size.
Ingredients
Sago / sabudana – 1 cup
Potato – 1 large, boiled and mashed
Groundnuts – 1/3 cup, roasted and coarsely ground
Green chilies – 3, finely chopped
Cilantro – A handful, finely chopped
Cumin seeds – 1 tsp
Red chili powder – 1 tbsp
Sugar – 1 tsp
Salt – To taste
Oil – For deep frying
How to Make Sabudana Vadas
In a big bowl take sago and wash it 2-3 times. Add enough water to cover the sago. Allow it to soak for 10 hours. The sago becomes soft and fluffy. The sago should not be sticky or gooey. The grains should be separated from one another.
In a bowl take the fluffed up sago and add all the remaining ingredients to it (except oil) and mix them well to form a soft mixture. Divide the mixture in about 15 parts of a size somewhat larger than that of a lemon. Roll them all between your palms to form balls.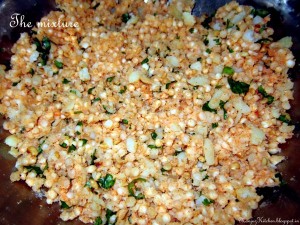 Slowly press each one of them between your palms one by one to flatten them a bit. Let it rest for 5 to 7 minutes.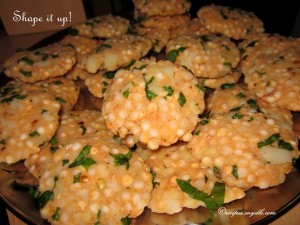 Heat sufficient oil in a skillet. Drop in some sago mixture to check the temperature of the oil. The oil should not be smoking hot, else the fritters will burn. When the oil is hot to the right temperature, carefully slide in the fritters and fry them on medium to low heat for 3-4 minutes till they get a nice golden brown color. They should look crispy and smell good.
Try a fritter to check if it is well done cooked from inside too. Fry the remaining fritters in the same way.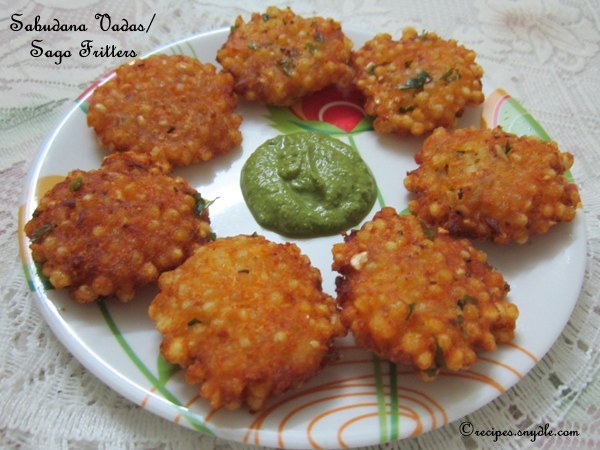 Serve the sabudana vadas hot with chutney, ketchup or sweetened yogurt! Enjoy this most amazing tea time snack with your family and friends!