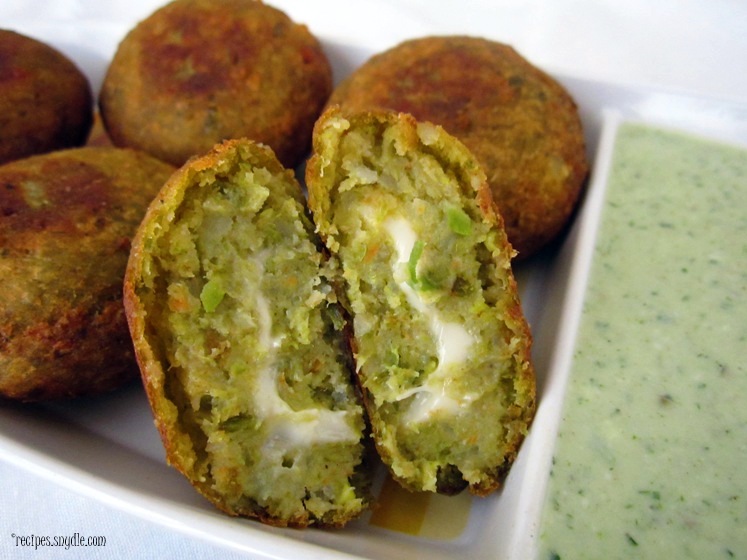 Hello again buddies! It's been a really fun-filled week for me, or rather a food-filled one. Mom and I have been on baking spree and ended up baking four different cakes in the span of two days, the recipes of which I will share soon. And just right now we both finished making yummilicious cutlets. Who doesn't like cutlets that are crispy on the outside and have a center flooded with hot, gooey and melty cheese? I bet you are drooling right now just by the tempting description!
These cutlets are vegetarian, made from lots of healthy veggies and no cornstarch at all. The mixture is pretty smooth. Therefore, you do not need to coat it with anything. It absorbs extremely less oil. This vegetable cutlet is very healthy. You can even bake it if you don't want to fry them.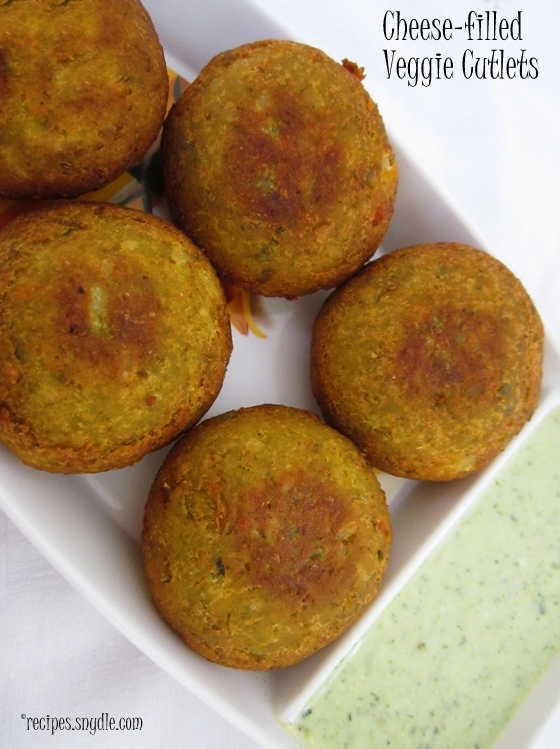 I served it with a yogurt dip that I made using some spring onion greens, coriander leaves and spices. Yogurt dips are so soothing in summers. Well, the cutlets weren't very spicy. But they paired up just great with this spring onion-yogurt dip. You can use these as tikkis for burgers. Use buns toasted with some butter. Add some lettuce, tomato and spring onion dip in there and you are good to go. You will need to make bigger cutlets if you want to use them as tikkis for burgers.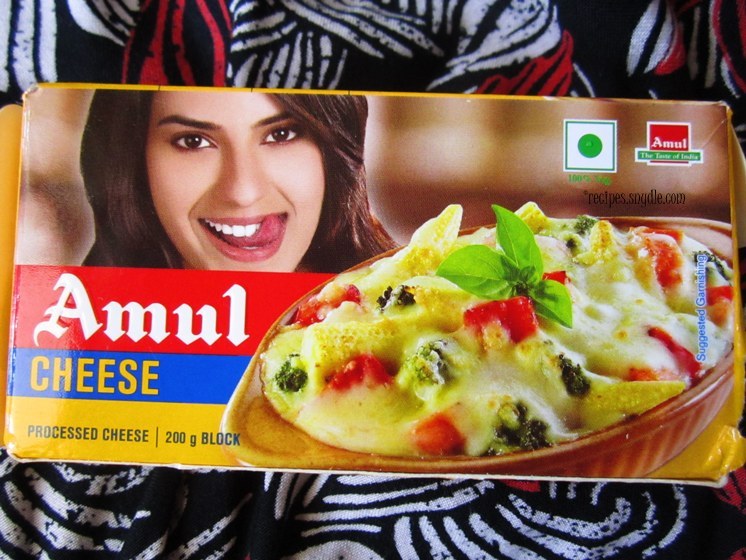 For the cheese filling, you could use mozzarella or processed, or the combination of both. I used Amul Processed Cheese. I feel that the quality of this cheese is much different from and of course better  than the cheese cubes and the one that come in the tin. This one melts well and tastes better.
Now let's get started with the recipe. For the purpose of measurement, 1 cup = 250 ml. This recipe will yield about 8 to 10 medium-size cutlets. Now let us see how to make vegetable cutlets.
NOTE:
Reserve the water you boiled the veggies in. Also, reserve the water you get after squeezing the minced veggies.  The water is rich in nutrients. You can use it while cooking; in making curries or so.
For Making the Veggie Cutlet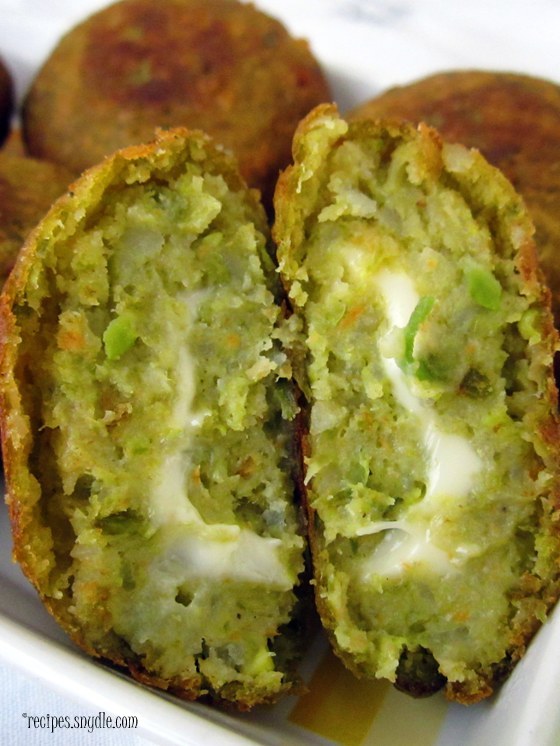 Ingredients
Potatoes – 2 medium or as required for binding
Green peas – 1 cup
French beans – 1 cup, chopped
English carrots – 1 cup, cut into small dices
Cauliflower – 1 cup, cut into small florets
Green chilies – 4 or to taste
Besan / Gram flour – 4 tbsp
Salt – To taste
Jeera / cumin powder – 3/4 to 1 tsp
Cardamom powder – 1/2 tsp, freshly ground
Black pepper powder – 1/2 tsp or to taste
Ginger – 1 inch piece
Garlic powder – 1/2 tsp
Cheese – 100 grams or as needed, cut into small bits
How to Make Cheese-Filled Veggie Cutlets
Boil potatoes and take them out from the pressure cooker after the pressure releases. Allow them to cool. Grate them and keep aside.
Grind together green chilies and ginger. Keep aside.
Dry roast besan/gram flour in a pan on low flame for about 3 to 4 minutes, till raw smell goes away and it turns aromatic. The besan will look light golden brown in color.
Bring to a boil sufficient water in a saucepan. Boil the green peas, french beans, English carrots and cauliflower for about 5 to 7 minutes till they are partly cooked. Drain the water and allow the veggies to cool.
Grind the veggies in the mixie to form a coarse mince. Remove excess water from the veggies by squeezing them with your hands or by using a cloth.
Add the grated boiled potato, ground ginger and green chilies, roasted besan / gram flour, black pepper, cardamom powder, salt, cumin powder and garlic powder to the veggie mince. Mix well with a light hand.
Refrigerate the cutlet mixture for about half an hour. In the meanwhile, prepare the spring onion and yogurt dip.
Remove the cutlet mixture from the fridge and divide it into 8 to 10 parts. Take one part and flaten it a little on your palm. Generously place the small bits of cheese.  Make sure the cheese is distributed evenly throughout the cutlet and not just in the center. Pack the cutlet by bringing its side together and forming a patty.
Deep fry in hot oil for about 5 minutes on low to medium flame till golden brown and crispy on the outside and well-cooked on the inside. Remove the cutlets onto a paper towel.
Alternately, you may bake the cutlets. Preheat the oven at 180 degree Celcius. Place the cutlets on a greased cookie sheet, brush them with very little oil. Bake them for about 15 minutes till they turn crispy and golden brown. The timing may vary a bit from one oven to another.
Cheese-filled veggie cutlet is ready! Serve hot with spring onion and yogurt dip. Enjoy!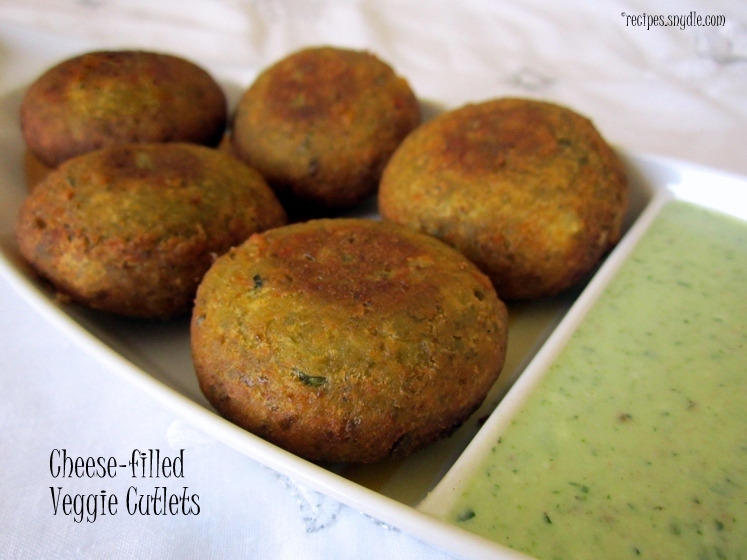 For Making the Spring Onion Dip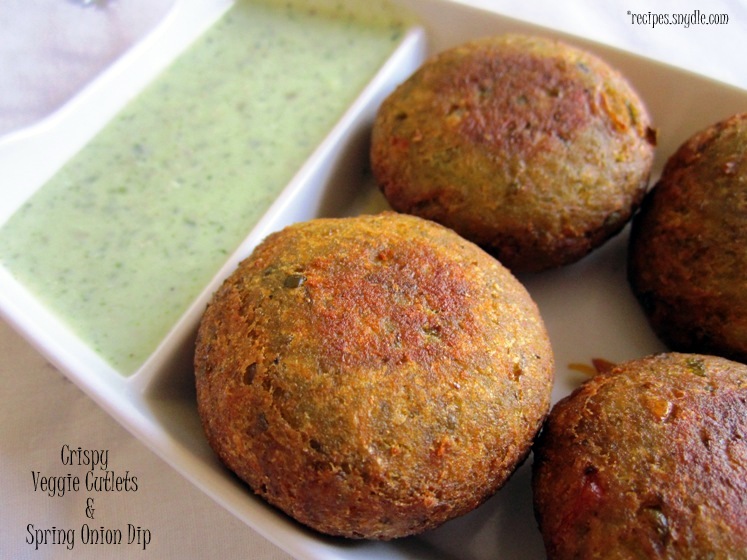 Ingredients
Spring onion greens – 2 leaves
Coriander leaves – a handful
Green chilies – 2 or adjust to taste
Cashews – 8 to 10
Salt – to taste
Garlic – 2 cloves
Jeera powder – 1/2 tsp
Sugar – 1/2 tsp
Chilled thick yogurt – 1 cup
How to Make Spring Onion Dip
Grind together spring onion, coriander leaves, cashews, green chilies and garlic together to a paste with 1 tbsp of yogurt.
Take yogurt in a bowl and whisk it to make it smooth. Add salt, sugar and jeera powder and mix.
Add in the ground spring onion greens-coriander leaves paste and mix well.
Spring onion-yogurt dip is ready. Serve it chilled with hot finger foods, or in this case the veggie cutlets.