How to make Gosht do Pyaza Recipe/ Gosht dopiaza Recipe/Mutton Do Pyaza Recipe with step by step pictures.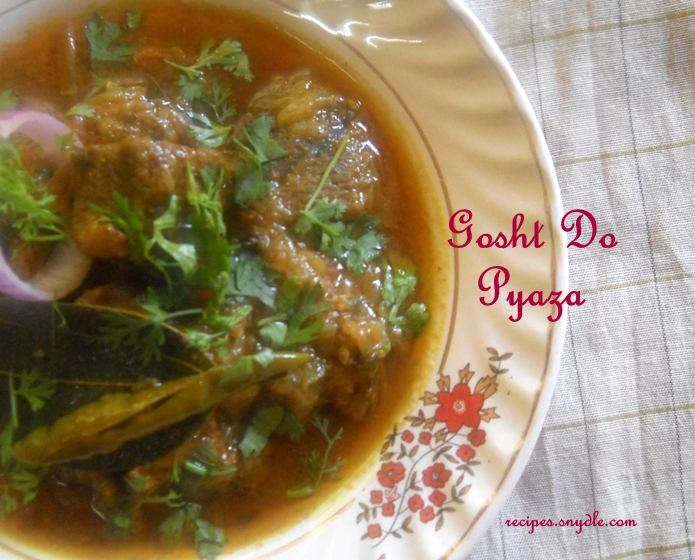 The simple and easy recipe of meat/gosht prepared with less efforts and time. The name of the recipe gosht do pyaza itself calls for lots of onions. This recipe of gosht do pyaza tastes luscious and results as if you have spend lots of efforts and time for its preparation.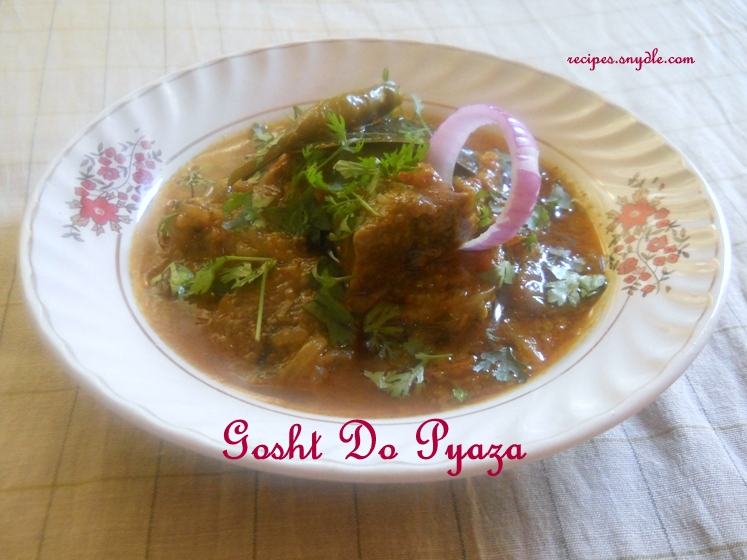 The gosht do pyaza recipe ingredients include: onion and tomatoes are the base of the gravy, spices includes cloves, bay leaf, cardamom, cinnamon, black pepper, red chilli powder and turmeric powder which enhance the taste and aroma of the dish. The spices tenders the meat and gives a delicious flavor.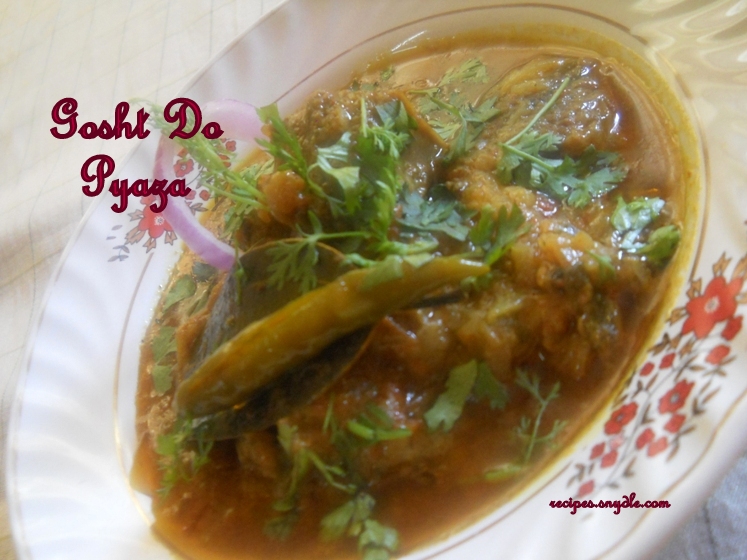 This recipe is easy to make as the whole ingredients are mixed at a time and pressure cooked. This recipe of gosht do piazza does not take in the long procedure to first marinate the meat than prepare masala and cook the meat with the masala. Sometimes you really feel to make some less time consuming dishes and here is the one for you.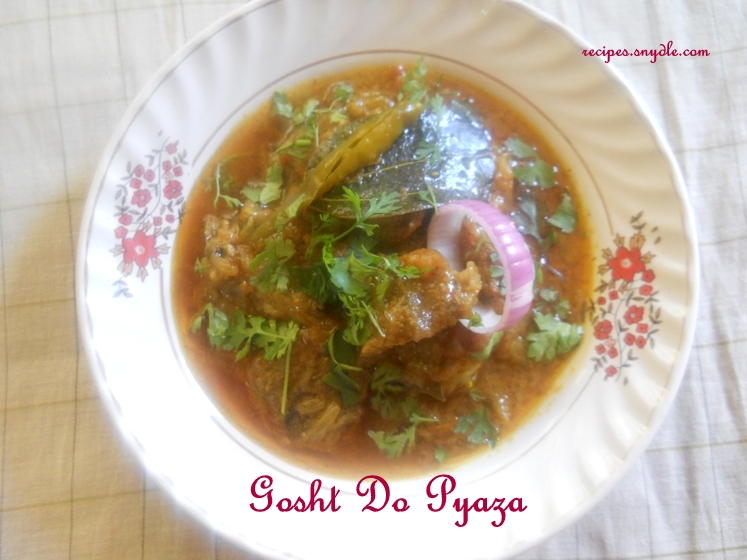 You must surely try this easy and delicious and mouth watering recipe. Onions are used in large quantity, the meat gets tender with the masala well and results into spicy meat curry. This recipe is excellent whenever you are in hurry. This recipe is simple but needs preparation beforehand, so prep your ingredients. This is a unique and a easy version of gosht/ meat curry.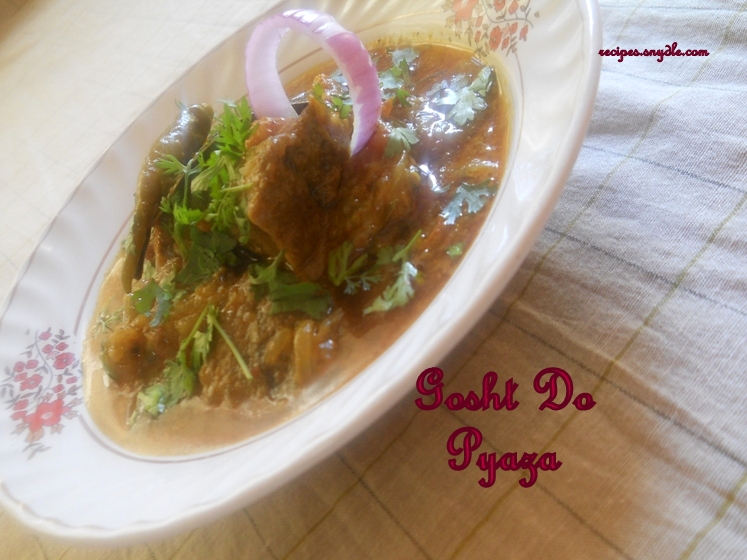 Gosht do pyaza goes well with roti, naan and rice. Serve hot with naan, jeera rice and yogurt and cucumber salad. When the gosht do pyaza is ready, do not forget to mix them again. This will help to mash the cooked onion and tomatoes and form gravy for the recipe. This curry does not have a rich red colour but tastes succulent.
This recipe of Gosht do Pyaza yields 2 – 3 servings. For the purpose of measurement 1 cup = 250 ml.
Ingredients
Meat – 250 grams
Onion – 4, big
Green Chillies – 4
Tomatoes – 2, big
Coriander leaves – 2 tbsp, chopped
Ginger and garlic paste – 1 tbsp
Red chilli powder – ½ tsp
Turmeric powder – ½ tsp
Cinnamon – 3, small sticks
Black pepper – 10
Cardamom – 4
Cloves – 7 – 8
Bay leaf – 2
Salt – To taste
Oil – 6 tbsp
How to make Gosht do Pyaza/Gosht dopiaza/Mutton Do Pyaza.
Wash and drain the meat. Place the meat into the pressure cooker and add chopped onions, chopped tomatoes, green chillies and chopped coriander leaves.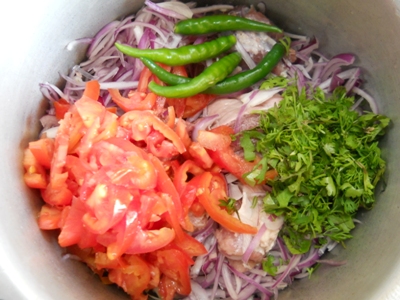 Now add ginger – garlic paste, red chilli powder, turmeric powder, bay leaf, cloves, cinnamon, black pepper, cardamom,salt and oil.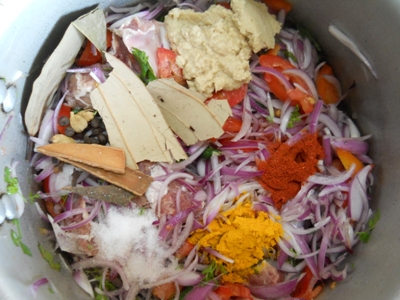 Add water to the pressure cooker.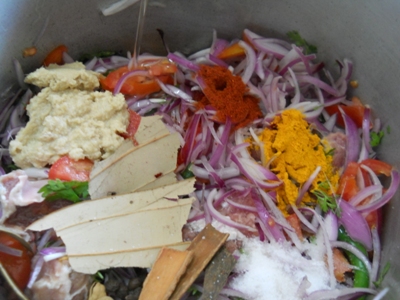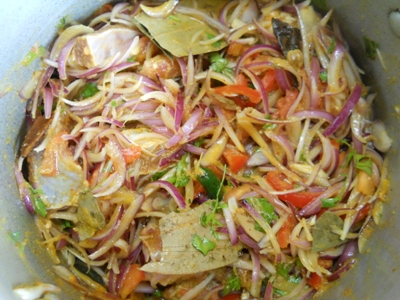 Close the lid of the pressure cooker and take a whistle on high flame and reduce the flame to low. Allow the meat to cook for 20 minutes on low flame. Off the flame and open the lid of the pressure cooker after 5 minutes.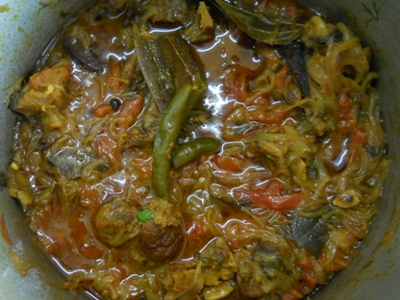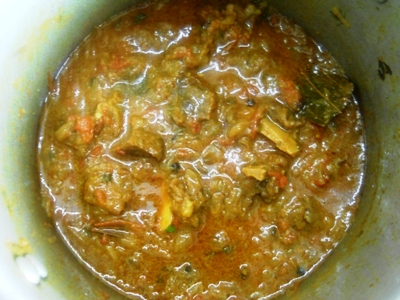 Gosht do pyaza is ready to serve. Garnish it with onion ring and bay leaf. Serve hot with roti, naan , rice and yogurt-cucumber salad. Enjoy!