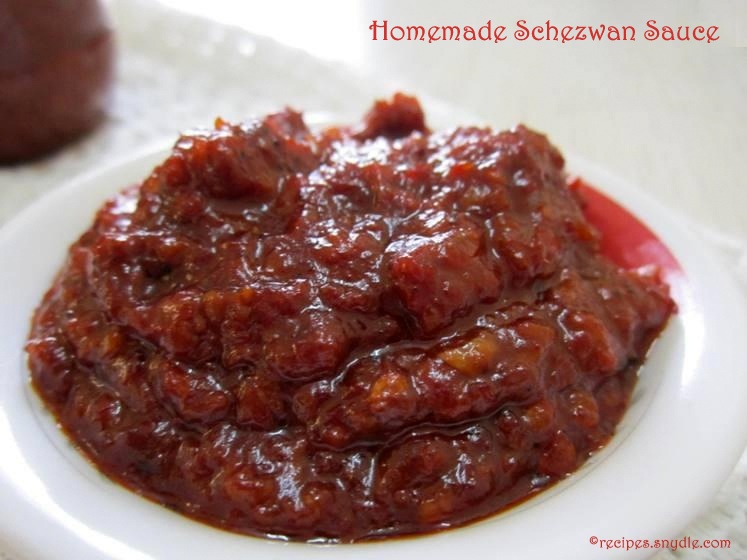 There is something very special about the Indo-Chinese cuisine. We Indians swear by it. It's so tangy and zesty that no matter what, you can't say no to a platter of well-made Schezwan Rice or a bowl of piping hot Manchow Soup. Recently, I have shared the recipe of Chicken Schezwan Noodles and Veg Hakka Noodles. Earlier before that, I had shared the recipe of Vegetable Manchurian. To top it, I tried a fusion recipe of Schezwan Bread Pakora.
I always prefer using homemade sauces and spice-mixes. The schezwan sauce-based recipes that I just mentioned used homemade schezwan sauce. Who knows what goes into those store-bought schezwan sauces? Stabilizers, emulsifiers, added colors and preservatives etc.
Homemade schezwan sauce, on the other hand, is fresh and tastier, with minimal artificial things going into it. Moreover, you can alter it according to your taste; how spicy you want it, or how sweet or sour. Making sauces at home is one of the most enjoyable things ever.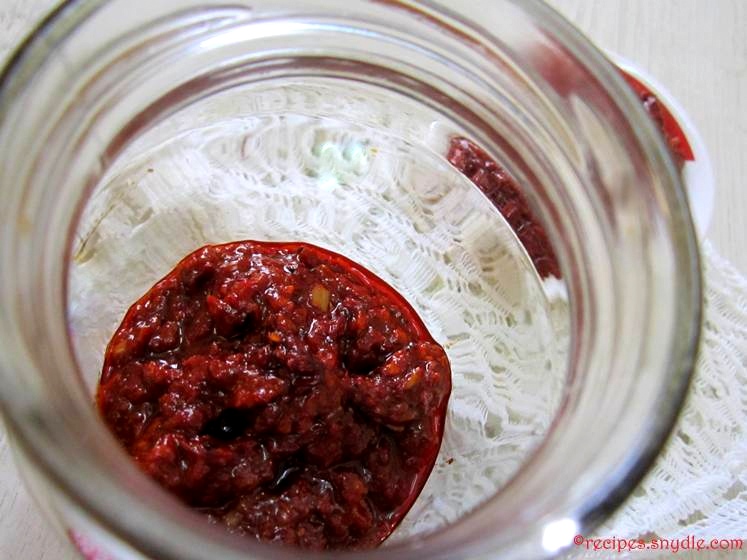 So I made this schezwan sauce with 3 kinds of dried red chilies. I just didn't want heat, but also flavor and color. Hence, I used 3 kinds of chilies. I promise this will yield you great results. Your schezwan sauce would be just enough hot, zesty and brightly colored.
Now let's start with the recipe. It uses considerable amount of oil. But don't be alarmed. This sauce will be used several times and you can reduce the amount of oil while you make the recipes using this sauce. The flavorful oil in this sauce will compensate for it.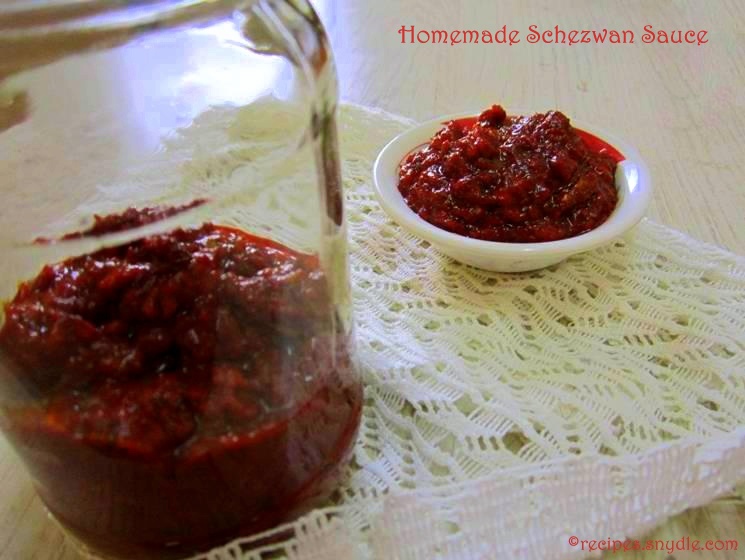 For the purpose of measurement, 1 cup = 250 ml. Now let's get started.
NOTE
Make sure you make this sauce on low flame for best results. It's all about love and patience here.
Also, I made this sauce in an iron skillet. But I removed it into glass bowl as soon as I finished making it, since I have heard things going bad if kept in iron skillets for too long. You can make it in non-stick saucepan or the usual kadhais as well.
Ingredients
Byadgi mirchi – 8
Rasgulla mirchi – 8
Chapata mirchi – 8
Hot water – 3/4 cup
Shallots – 3, finely chopped
Garlic – 30 cloves, finely crushed
Ginger – 2 inch piece, finely crushed
Sichuan peppers – 1 tsp, freshly ground
Salt – to taste
Ajinomoto – 1/2 tsp (Optional)
Brown Sugar – 1 tbsp
Vinegar – 1 tbsp
Soy sauce – 1 tbsp
Tomato ketchup – 1/2 tbsp
Oil – 1/2 cup
Water – 1 and 1/2 cup
How to Make Schezwan Sauce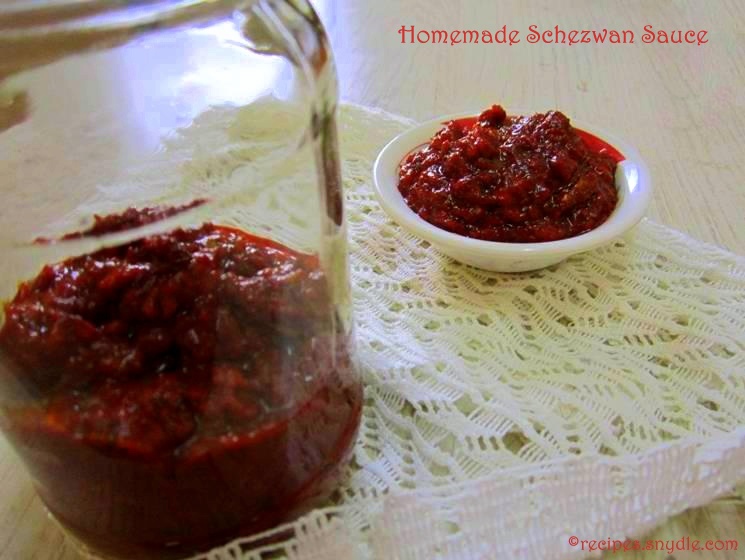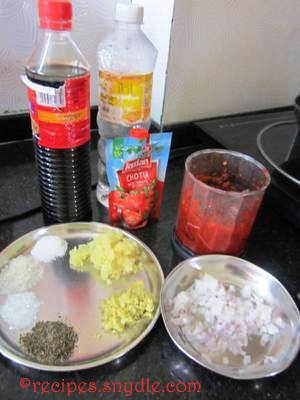 Boil the three chilies together in 1 and 1/2 cup or just enough water for about 10-12 minutes.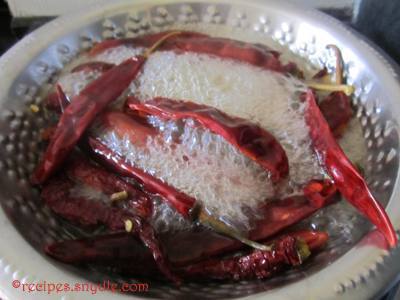 Allow them to cool down. Then drain the chilies thereafter and remove their stems. Reserve the water. I did not deseed the chilies because they aren't extremely hot.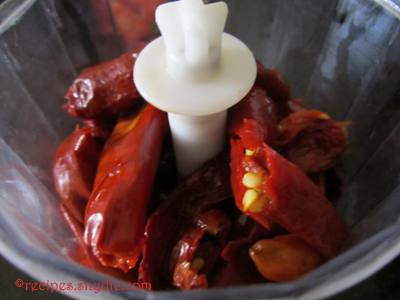 Grind the chilies to a smooth paste using very little water you reserved. Set it aside.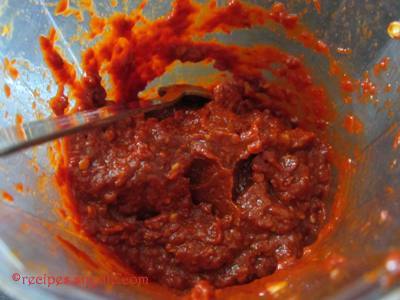 Heat oil in a saucepan or a heavy bottom skillet. Add in the chopped shallots and sauté them on low flame till they begin to turn golden.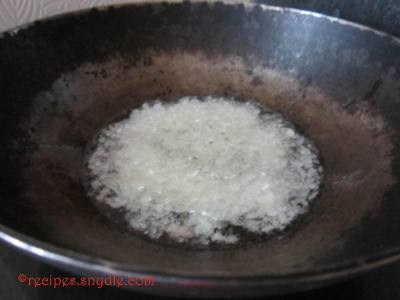 Add in the chopped garlic and sauté for about 2 minutes.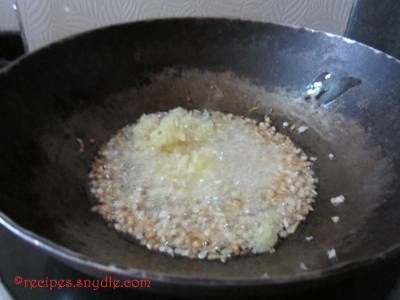 Add in the ginger and sauté for another 1 minute till the raw smell disappears.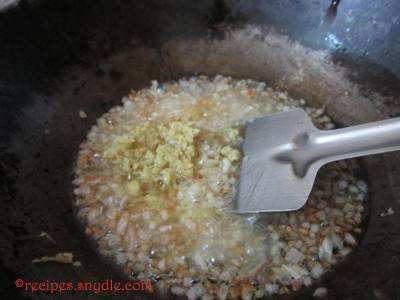 Add in the red chili paste.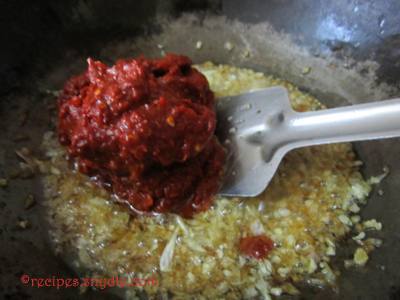 Add about 2 tbsp of the reserved water and let it cook on low flame for about 2 minutes.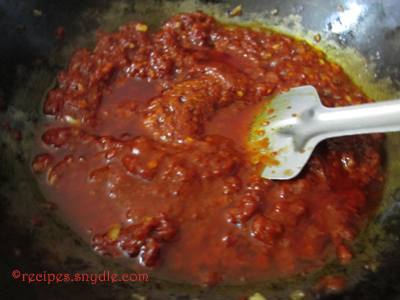 Add in the soya sauce, vinegar, salt, Sichuan peppers, sugar, and ketchup. Allow the sauce to simmer for 2-3 minutes and stir it every now and then.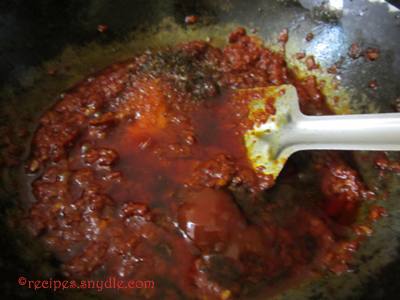 Most of the oil will have been absorbed by the sauce. Switch off the flame.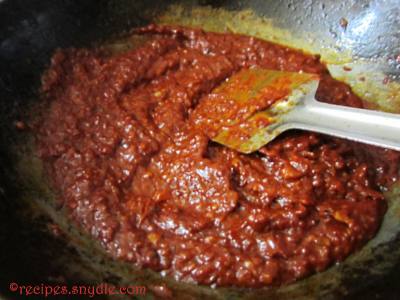 Allow the sauce to completely cool off.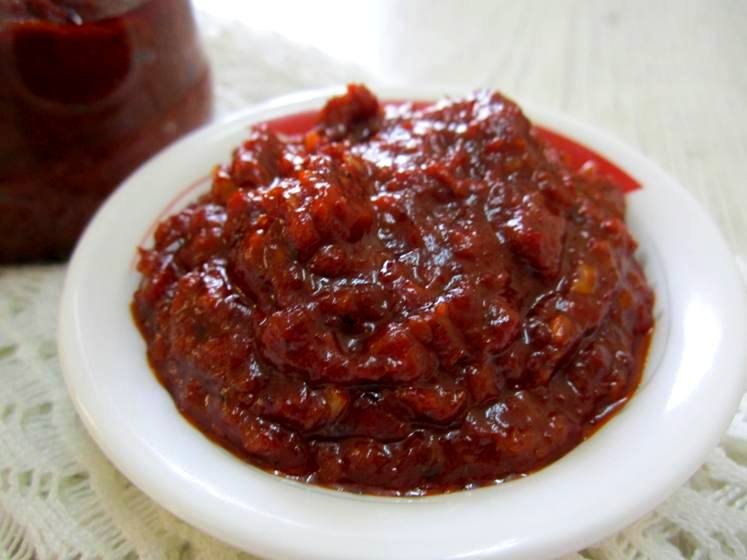 Pour the hot sauce in a clean sterilized glass jar and pack it.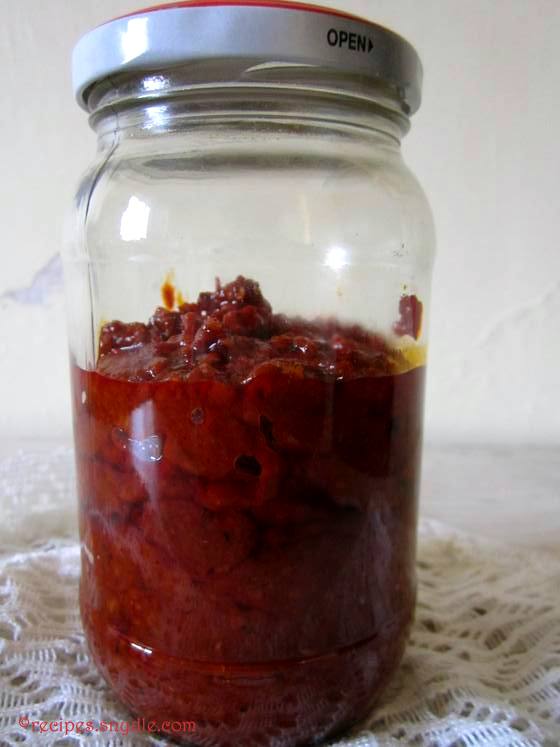 Schezwan sauce is ready to be used. It stays good in the refrigerator for about 8 – 10 days. Use as needed.