Hi again, buddies. Today's recipe is Vegetable Manchurian. It is an Indo- Chinese recipe and consists of fried veggie dumplings and cooked with gravy. It's an all time favorite in my home. But I don't like that dark and blackish color of gravy due to the soy sauce. So when I make this dish I add some finely chopped veggies to make it look colorful and tempting. Also the tiny bits of veggies render a nice texture to the otherwise plain gravy. This recipe needs a lot of garlic; you may reduce the amount if you feel it's too much for you. Try it out, and I am sure you will love it!
This recipe will serve 3 to 4 people. For the purpose of measurement, 1 cup = 250 ml. Let's begin.
Ingredients
For the Vegetable Dumplings
Cabbage- 1 cup
Carrot- 1 cup
Cauliflower- 1 cup
Capsicum- 1 cup
Cooked rice- 1/3 cup, mashed (helps in binding)
Ginger- 1 tsp, finely crushed
Garlic- 1 tsp, finely crushed
Black pepper- 1/2 tsp, freshly ground
Ajinomoto (Mono Sodium Glutamate) – 1/2 tsp
Salt- 1/2 tsp or to taste
Cornstarch- 1 tbsp
Water- 1.5 cup
Oil- For frying
For the gravy
Onion – 1 small, finely chopped
Tomato – 2 tbsp, finely chopped
Capsicum- 1/2, finely chopped
Carrot- 2 tbsp finely chopped
Garlic – 10 to 12 flakes, minced or finely chopped
Ginger- 1/2 inch piece, minced
Green chilies – 2 nos., split lengthwise.
Soy sauce- 1 tbsp
Red chili sauce- 1/2 tbsp
Vinegar- 1/2 tbsp
Ajinomoto- 1/2 tsp
Cornstarch- 1 tsp
Water – 4 tbsp
Vegetable stock – 1 cups (Obtained from boiling veggies, read Method)
Salt- To taste
Oil- 3 tbsp
Spring onion greens- For garnish (Optional)
How to Make Vegetable Manchurian
For Making the Vegetable Dumplings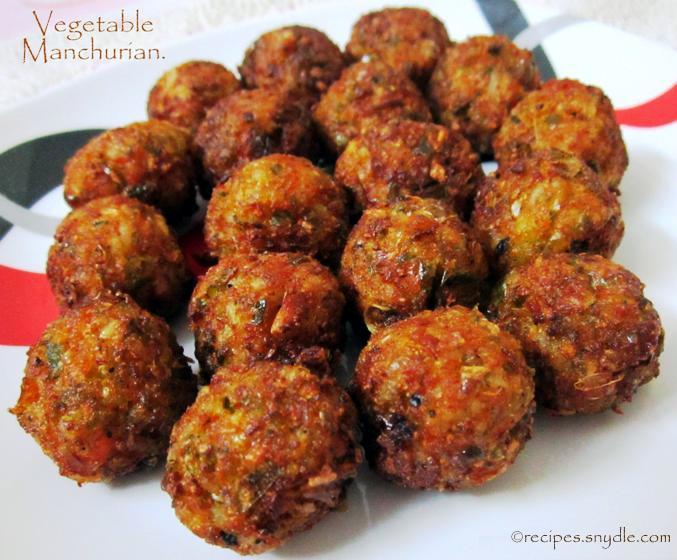 Chop/ grate the veggies (carrot, cabbage, cauliflower and capsicum) very finely using the food processor. In a pan put all the chopped/ grated veggies and water. Cover with a lid and simmer for 10 minutes, till the veggies become a little soft.
In a clean cloth, place the veggies and squeeze the water out of it. Reserve this veggie stock to make the gravy. It would yield about 2 cups of stock since veggies release water.
Transfer the veggies in a bowl, mix in the remaining ingredients (except oil) and make a soft mixture. Divide the mixture into 15-18 parts and make lime sized balls out of it.
Deep fry the veggie balls on a medium to low flame till golden brown taking care not to burn them. Taste a dumpling to make sure it's not raw from within. Keep aside when done.
For Making the Gravy
Mix corn starch in little water and keep aside.
In the wok or skillet heat oil on a high flame, add onion and fry for a few seconds. Add in ginger and garlic, fry for a few more seconds. Reduce the flame if needed, so as not to burn anything.
Toss in the capsicum, carrot, green chilies, and tomato. Give a quick stir. Add soy sauce, red chili sauce, vinegar, ajinomoto and mix. Add a little salt.
Add in the vegetable stock and bring it to boil. Add the corn starch paste. After a minute when the gravy thickens a little, drop in the vegetable dumplings and let it simmer for a minute or two.
Turn off the flame and transfer to a serving bowl. Garnish with green part of spring onion. (I ran out of spring onion greens so I couldn't add any)
Serve hot with Hakka Noodles or fried rice as per your choice! Enjoy!