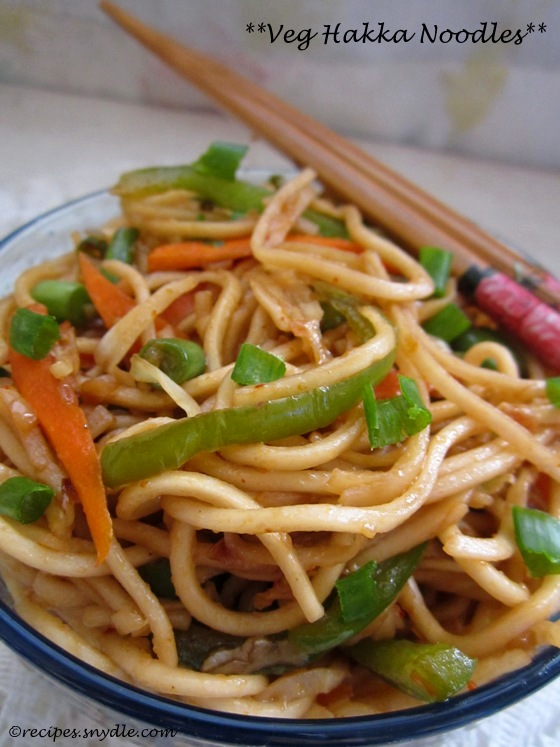 Indo-Chinese dishes are one of my all time favorites. Never can I say no to a bowl of piping hot manchow soup or a platter of hakka noodles. Today I am sharing the recipe of one of the most iconic Indo-Chinese dishes, Veg Hakka Noodles! It is a very simple, quick recipe and nutritious recipe.
I have added capsicum, carrots, french beans and cabbage to my recipe. You can add the veggies of your choice. Purple cabbage lends a nice color to the dish. So if you can find purple cabbage, it even better. Mushrooms taste very nice in hakka noodles. You can create non-vegetarian versions by adding chicken, eggs or shrimps. You can reduce the quantities of veggies to half in that case.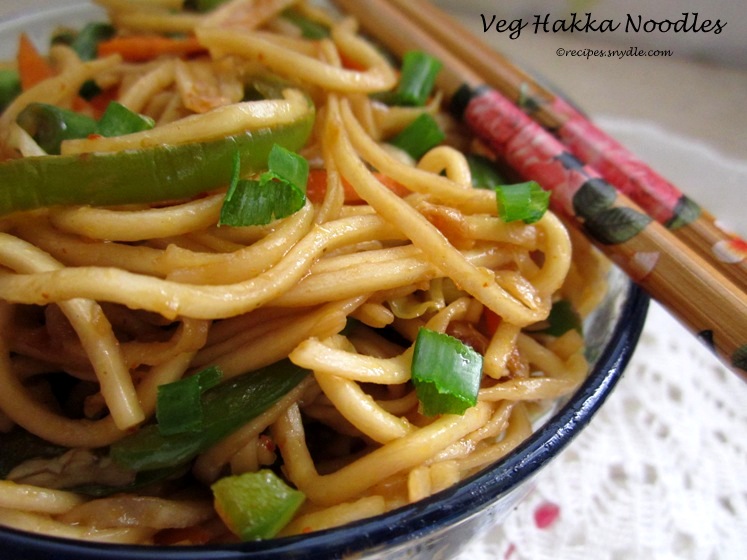 Now here is an important note about boiling the noodles and some more pointers for the novice chefs out there.
When preparing the noodles, adding them to cold water and then heating them gives a better result than tossing the noodles in boiling water. But if the latter works for you, go for it.
With some practice, you will be able to tell how much the noodles should be cooked. Try eating a piece of noodle as they boil. You will get a better idea, how raw or done the noodles are. That's how we learn.
If you are adding mushrooms to this recipe, sauté them separately with some oil
in a separate pan and then add them along with the veggies. This is because they release a lot of water and will make other veggies soggy if not precooked.
If you are adding chicken, add boiled and shredded / chopped boneless chunks of chicken. You can add them before or along with the veggies, as you please.
If you want to add eggs, make scrambled eggs using some oil, salt and pepper to taste in a pan. Add it to the noodles in the end, just before the spring onion greens.
For the purpose of measurement, 1 cup = 250 ml. This recipe yields 2 servings. You can have it with any dry or gravy-based side dish of your choice. You might like this recipe of Veg Manchurian.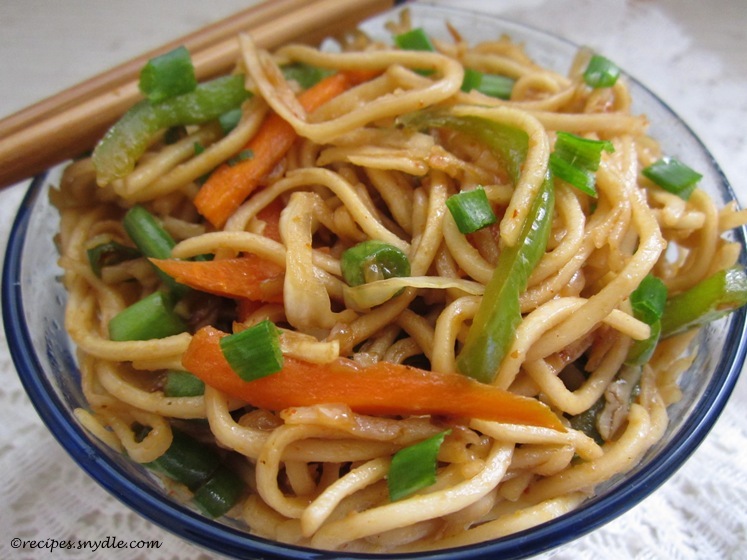 Ingredients
Noodles – 1 pack of 150 grams
Water – as required, to boil the noodles
Onion – 1 medium, finely chopped
Spring onion greens – 3 springs, finely chopped
Garlic – 8 cloves, finely crushed
Ginger – 1 inch piece, finely crushed
Green chilies – 4, split lengthwise
Capsicum – 1 medium, finely chopped
Cabbage – 1/2 cup shredded, lightly packed
English carrot – 1, julienned
French beans – 10, finely chopped
Soy sauce – 1 and 1/2 tbsp
Tomato ketchup – 1/2 tbsp
Worcestershire sauce – 2 tbsp
Ajinomoto / Chinese salt – 1/4 tsp (optional)
Salt – to taste
Sesame oil – 1 and 1/2 tbsp + some more for preparing the noodles
How to Make Veg Hakka Noodles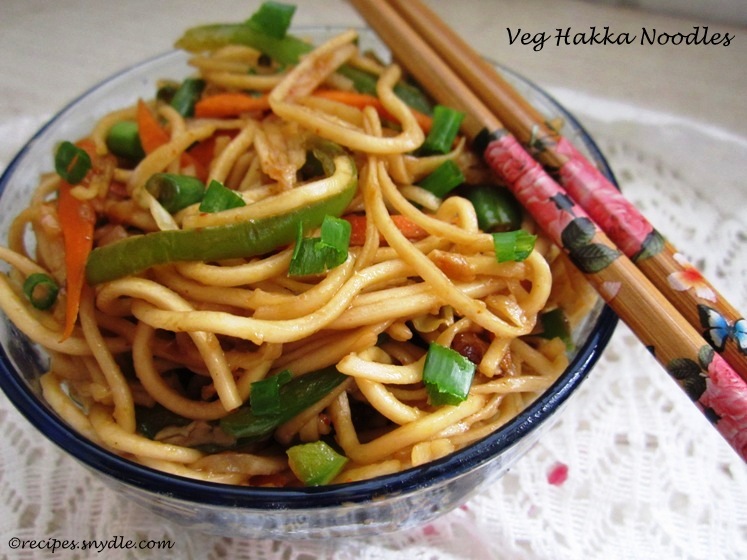 Let's start by preparing the noodles. Take lots of water in a large, wide pot. Add in the noodles in the cold water itself.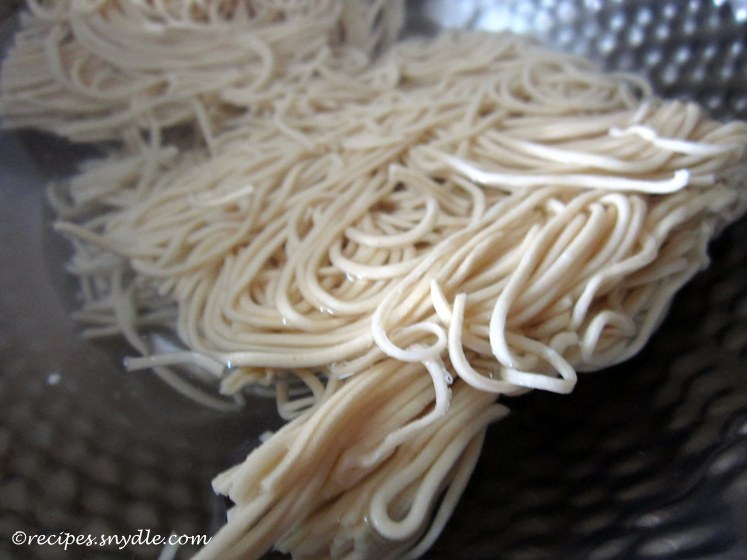 Keep the pot on the heat and allow the noodles to boil. It depends a lot on the type of noodles how much time this process takes. Mine took about 7 minutes.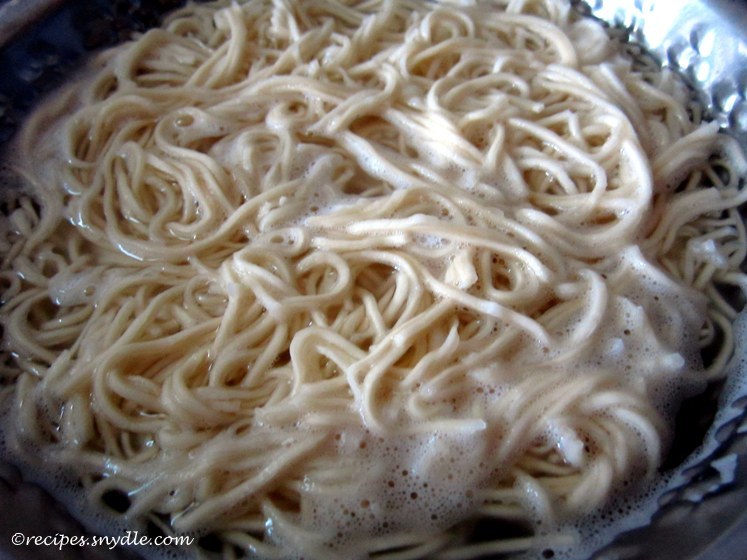 When the noodles are just cooked, strain them using a colander. Hold the colander under the gently running tap to stop the cooking process. Allow the water to drain. Apply some oil to your fingers and gently run them through the noodles so that they won't stick to one another.
In a wok, heat sesame oil. Add in the onion and stir fry them on medium heat for a minute till it turns translucent.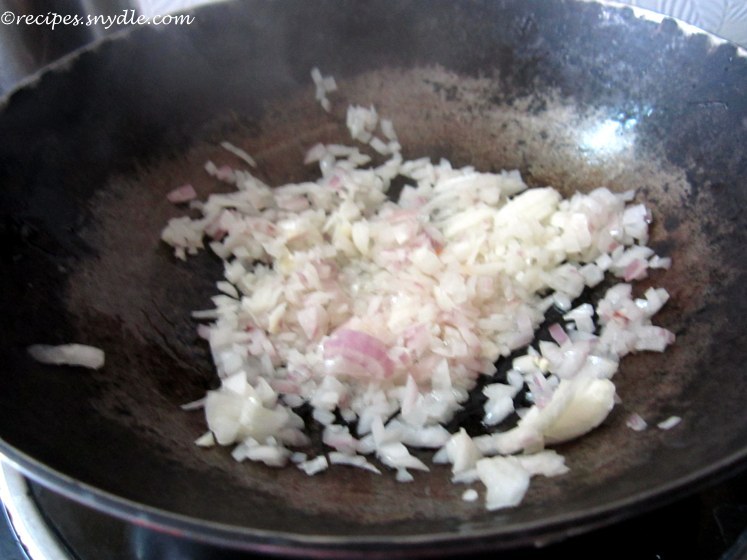 Add in the ginger, garlic and green chilies. Sauté for a few seconds till the raw smell disappears.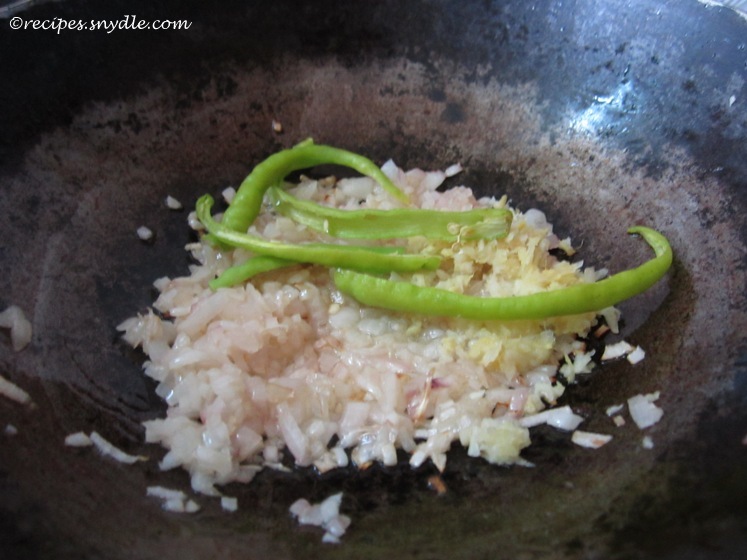 Add in the French beans, carrot, cabbage and capsicum, some salt and stir fry for another few seconds. Do not overcook the veggies. They should retain their crunch.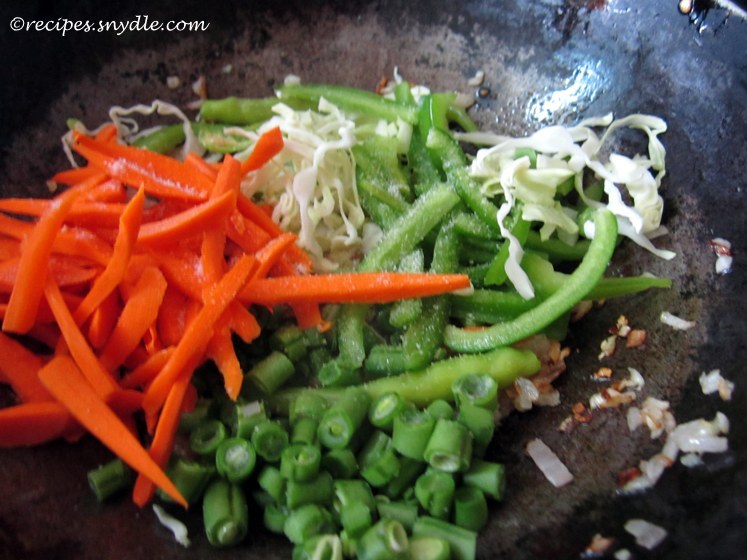 Add in the soy sauce, Worcestershire sauce, tomato ketchup, and ajinomoto and toss the veggies.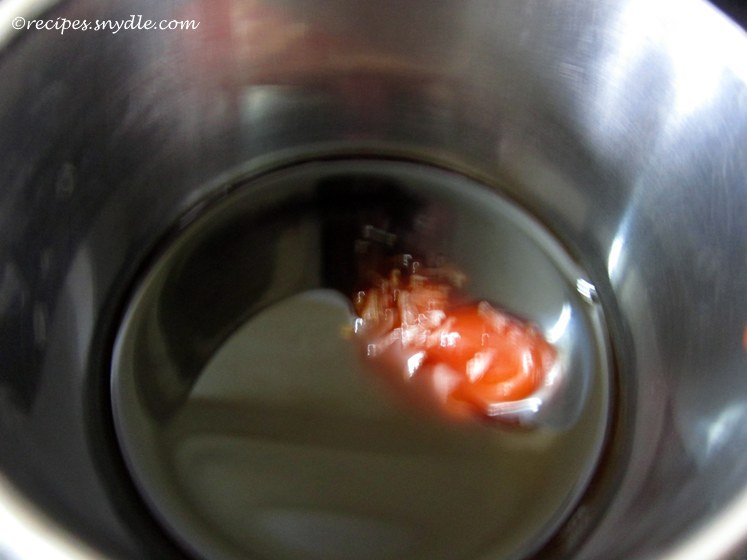 Add in the boiled noodles and toss and stir fry them for a minute. The noodles should be well coated in the sauces and heated evenly. Add in the spring onion greens and give it a final toss.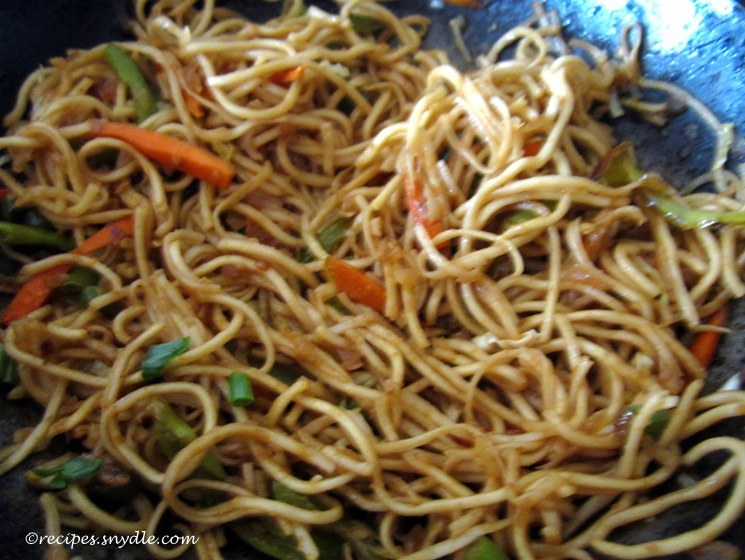 Veggie Hakka Noodles are ready to be served. Garnish with a few more spring onion greens. Serve hot as it is or with your favorite side-dish. Enjoy!