Turkey berry is called as sundakkai is Tamil.  It can be cooked as such or dried and used.  Here I have made use of dried sundakkai.  Turkey berry contains all essential nutrients and minerals which are helpful in preventing and curing diseases.  It is better to have fresh sundakkai than the dried ones.  You can prepare sambar with fresh sundakka.  It has the ability to kill germs and also helps to cure stomach related problems.  It is also believed that it is good to control diabetics.  In Tamil Nadu, tasty curry called as vathal kuzhambu is made.  Vathal means "sun dried vegetable" and kuzhambu means "curry".  It is fried in oil and used.  The sundakkai is dried, fried and then used in the curry.  It is a very tasty preparation.  Now to the recipe..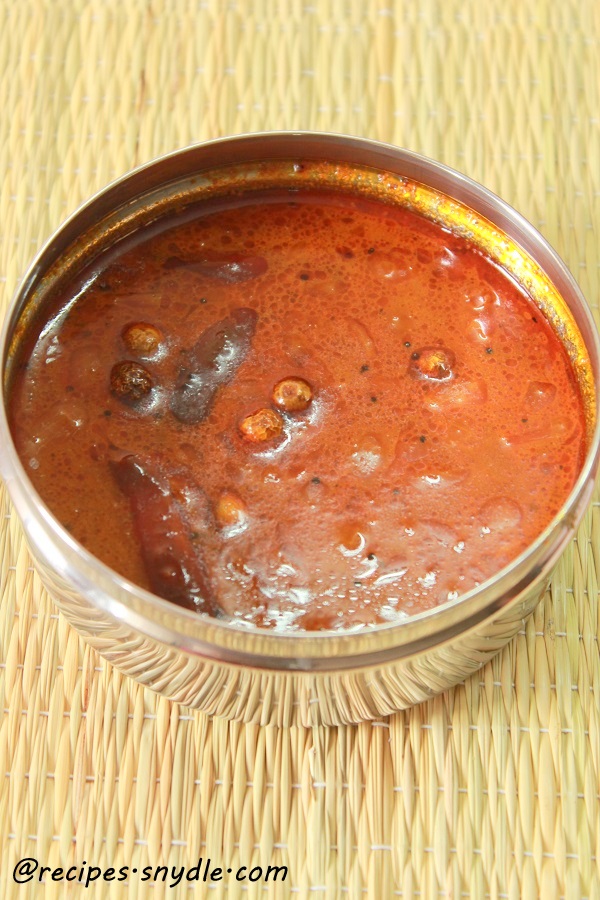 Ingredients required
Sundakkai / Dried turkey berry  – 1/4 cup
Tamarind – small lemon sized ball
small onion – 10 – 15
garlic – 3 – 4
sambar powder – 1 tablespoon
water  – 2 cups
powdered jaggery – 1 teaspoon (optional)
salt  – to taste
For tempering
sesame oil  – 3 tablespoon
mustard seeds – 1/2 teaspoon
cumin seeds  – 1/2 teaspoon
chana dal – 3/4 teaspoon
fenugreek seeds  – 1/4 teaspoon
red chilies – 2
curry leaves  – few
Method
1.  Soak tamarind in 1/2 cup of hot water. Add one more cup of water and extract the juice.  Keep it aside.
2.  Peel the skin of garlic and shallots, chop them into small pieces and keep it aside.
3.  In a pan, heat oil, add sundakkai vathal and fry till dark brown color.  Transfer it to another plate.

4.  In the same oil, splutter mustard seeds.  Then add fenugreek seeds and wait till it gets brownish in color.  Then add chana dal, cumin seeds, dry red chili, curry leaves.  Saute for few seconds.
5.  Then add chopped onion and garlic and saute till it leaves a nice aroma.

6.  Add sambar powder (or you can also use kulambu milagai thool). Saute till the raw smell goes off.
7.  Then ad tamarind water and let it boil for few minutes (around 5 minutes) till oil separates and becomes slightly thick.
8.  Finally add roasted sundakkai vathal, reduce the flame to low, and let it boil for another 5 minutes.  Now add jaggery.  Mix well. Turn off the flame.

9.  Serve with rice.