kadai soya chunks is a tasty side dish for chapathi / roti / paratha.  Usually I make kadai paneer which is very popular in India.  But today, I made this kadai soya chunks and it was very tasty.  I followed the same procedure for kadai paneer.  One thing to be taken care while making kadai soya chunks is that, roast the soya chunks well so that all the water gets evaporated.  Other wise, you won't get the taste.  Soya chunks is very healthy, they are made from soya beans and they work well as a meat substitute.  They come in the form of regular chunks, nuggets, granules and can be used in many ways in day to day cooking.  They are rich in proteins, carbohydrates, iron and calcium. It is also called as meal maker.  It is also believed that soya chunks may reduce the risk of osteoporosis in menopausal women. Now to the recipe..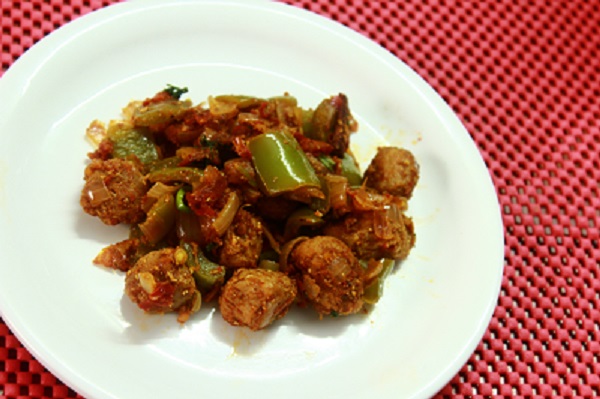 Ingredients required
soya chunks – 1 cup
tomato – 6 (small)
green capsicum – 1 (diced)
onion  – 1 (big)
salt  – to taste
turmeric powder  – 1/4 teaspoon
oil  – 3 tablespoon
yogurt  – 1 tablespoon
kasoori methi – 1 teaspoon
coriander leaves  – 1 tablespoon
ginger  – 3/4 inch piece
garlic  – 6 – 7
For spice powder 
coriander seeds  – 3 tablespoon
red chilly – 2
cumin  – 2 teaspoon
pepper corns  – 1/2  teaspoon
fennel seeds  – 1 teaspoon
cinnamon
cloves  – 2
Method
1.  Dry roast all the ingredients mentioned under the heading "for spice powder".  Let it cool and then grind it to coarse powder when cooled.

2.  Chop capsicum, onion and tomato into cubes.
3.  Boil water and immerse soya chunks in hot water, cover and keep aside for 10 – 15 minutes.  After that squeeze out the excess water and clean it twice or thrice in cold water and squeeze out the excess water by pressing it between your palms.
4.  Heat a tablespoon of oil in a kadai / pan, add soya chunks and in low flame fry it till it becomes golden brown color, till the soya chunks become dry without any water.  Keep it aside.
5.   In the same pan add rest of the oil, add chopped tomatoes and saute till it becomes mushy and oil starts separating.
6.  Next add 1 tablespoon of  ground masala and saute again for few more seconds.   Add yogurt / curd and saute for a minute.

7.  Then add diced onion, saute for few minutes followed by diced capsicum, saute for 2 minutes.

8.  Now add fried soya chunks, mix well, ensure that the masala gets well coated in soya chunks. Cover and leave it aside in low flame for 1 – 2 minutes.
9.  Add one more tablespoon of ground masala on top and mix well.  Finally garnish with finely chopped coriander leaves and kasuri methi.

10.  Serve it with roti or chapathi.