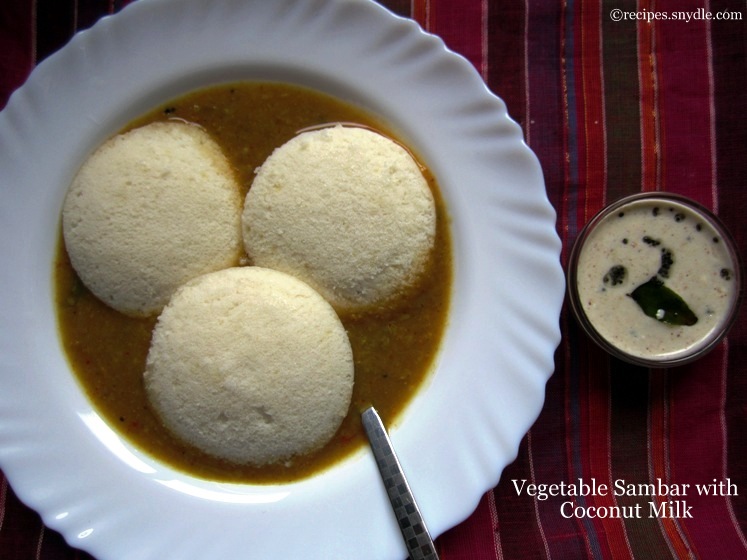 Hi again foodies. If you have been following me regularly, you would notice that I have been sharing the recipes of popular South Indian dishes recently. I am a big fan of dosas, idlis, and uttapas. I had previously shared these recipes and you should take a look at them.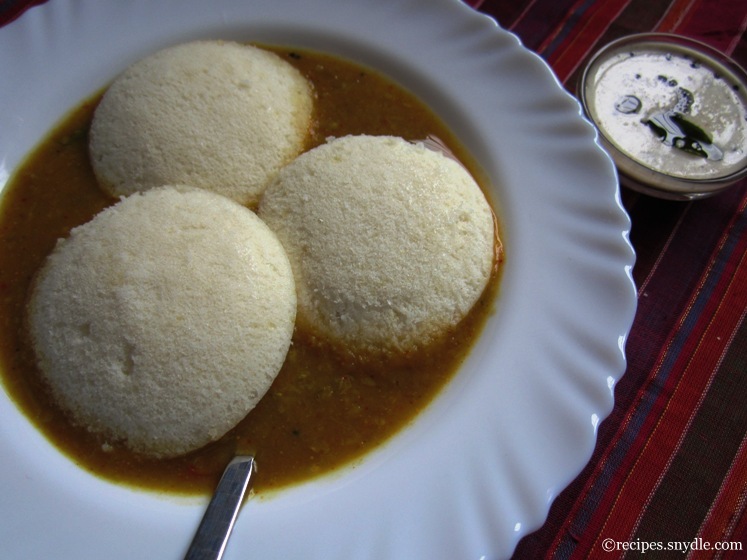 Today I am sharing the South Indian Sambar recipe with step by step pictures. I have used coconut milk in this recipe. Not only does it enhances the flavor profile of the sambar but also its texture. The coconut milk has a unique sweetness that complements the sharpness of the sambar masala and sourness of the tamarind. However, never add too much of coconut milk else it would make the color of the sambar overly dull.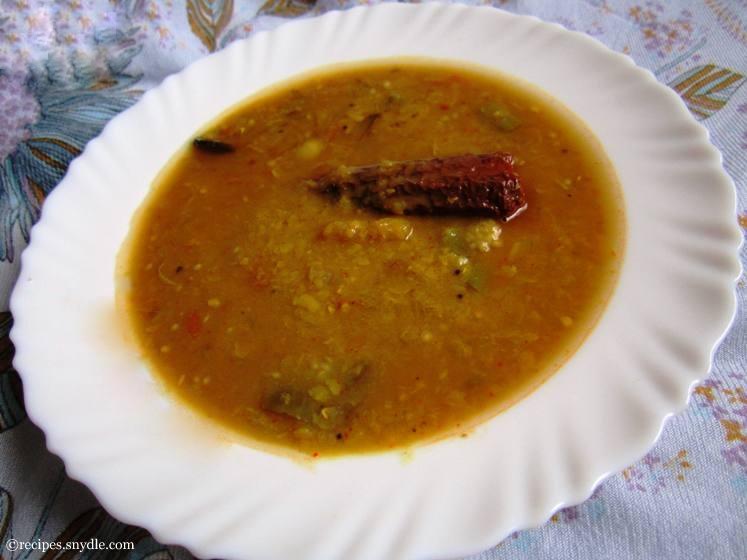 I added a variety of veggies I had at hand that go really well together. I added brinjals/eggplant, drumsticks, french beans, and pumpkin. I boiled these veggies along with dal itself instead of cooking them separately. The variety of pumpkin I used is called gangafal in Hindi and Marathi. These are commonly used vegetables in sambar. You can sue the veggies you like and think that would taste good. However, the taste will vary from that of this sambar.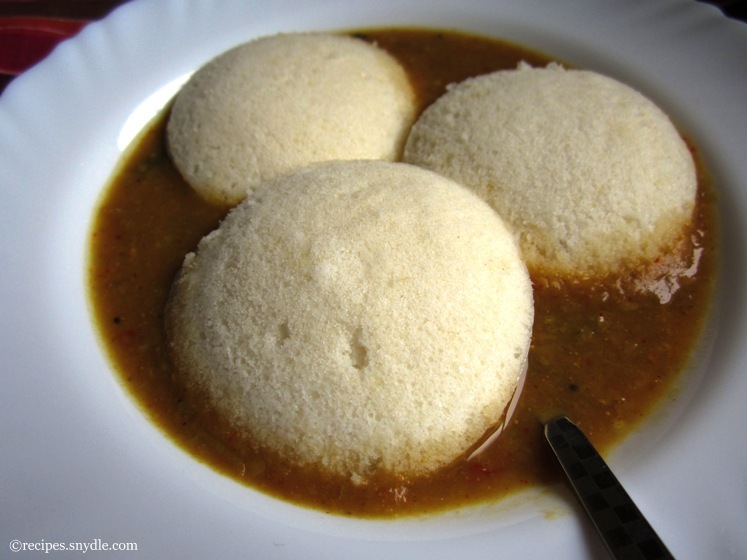 The tangy and spicy sambar smells great and goes well with idlis and dosas. The bits of vegetables in between taste really yummy. Let's start with the hotel sambar recipe. For the purpose of measurement, 1 cup = 250 ml. This recipe yields 4-5 servings of sambar.
Ingredients 
Toor / Arhar Dal / Yellow pigeon pea – 1/2 cup
Masoor dal – 1/2 cup
Water – 2.5 cups + 1 cup or as needed
Salt – to taste
Red chili powder – 2 tsp or to taste
Sambar masala – 2 tbsp (I used MDH brand)
Turmeric – 3/4 tsp
Drumsticks – 1 or 2, peeled and cut into 4 pieces
French beans – 15, roughly chopped
Pumpkin – 1/2 cup, diced
Eggplants – 2 small, diced
Oil – 2 tbsp
Fenugreek seeds – 15 seeds
Mustard seeds – 1 tsp
Whole red chilies – 2
Asafoetida – 1/5 tsp or a generous pinch
Onion – 1 medium, finely chopped
Ginger – 1-inch piece, finely crushed
Green chilies – 2, chopped
Curry leaves – 15 leaves
Tomato – 1 large
Tamarind pulp – 1/4 cup, freshly extracted
Jaggery – 1/4 cup, chopped or grated
Thick coconut milk – 1/2 cup
Cilantro – a handful, finely chopped
How to Make Vegetable Sambar with Coconut Milk
Wash and soak toor dal and masoor dal for 30 minutes. Add them to the pressure cooker. Add the veggies, salt and turmeric.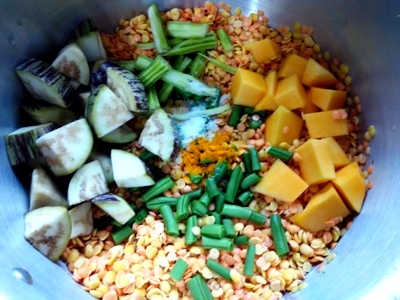 Add 2.5 cups of water or as needed depending on your cooker. Cook for 4 whistles. Let the pressure release on its own. In the meanwhile, prepare the masala.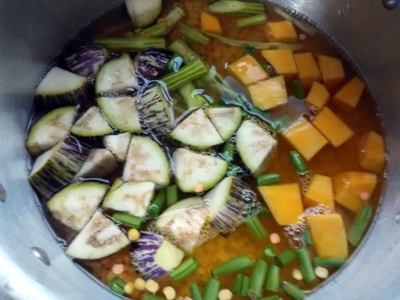 In a skillet, heat oil. Add mustard seeds and allow them to crackle. Add fenugreek seeds and fry them for about 10 seconds. Do not burn anything. Add asafoetida and fry it for 5 seconds.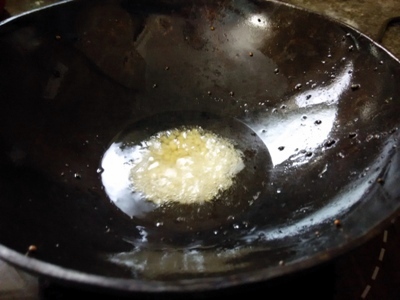 Add whole red chilies and fry them till they change color and smell fragrant.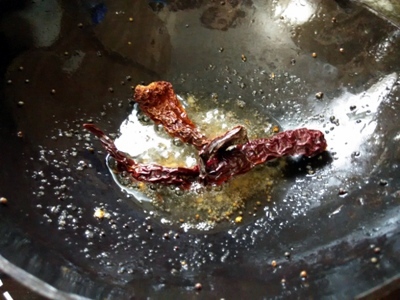 Add in the onion, ginger, green chilies, and curry leaves all at once. Saute till the onions turn pink and lose their raw smell.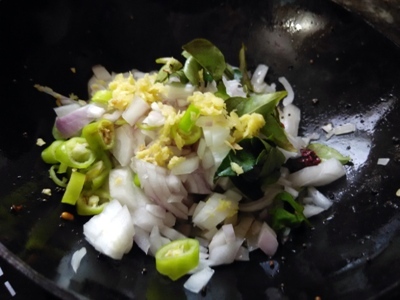 Add in the tomato and cook till it gets mushy and the oil begins to separate.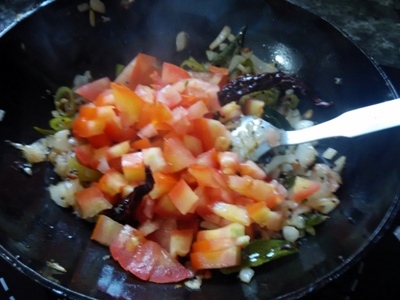 Add in the red chili powder, a little salt, and sambar masala. Saute for a few minutes. The masala is ready.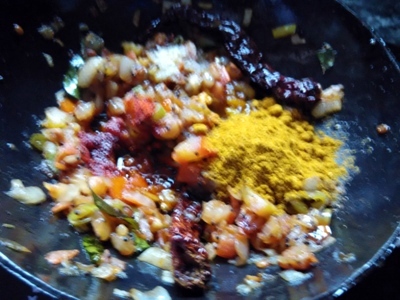 Cook it for another minute on medium to low flame.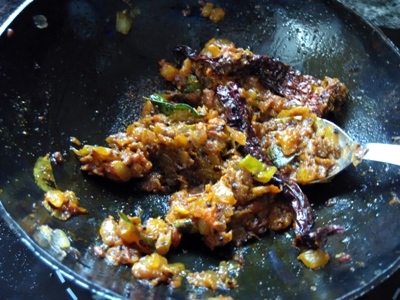 The pressure of the cooker will have released by now. The dal should be like this, cooked and the small bits veggies still visible. Just give it a mix with the ladle. dd 1 cup of water or as needed to adjust the consistency. Bring it to a boil.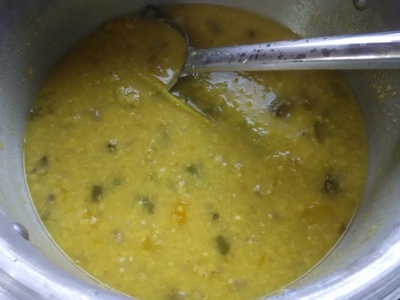 Add the masala we prepared to the dal.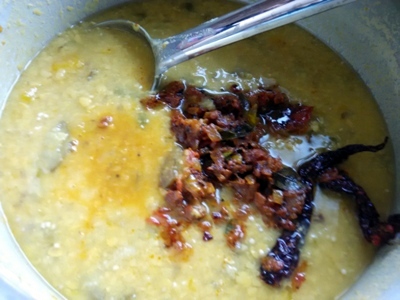 Check the salt. Add the jaggery. It sunk in while I turned to pick up my camera.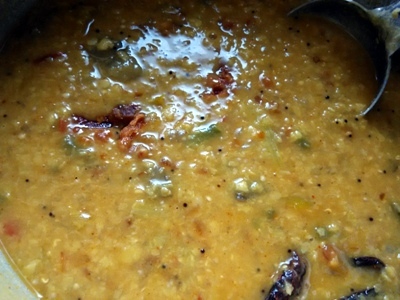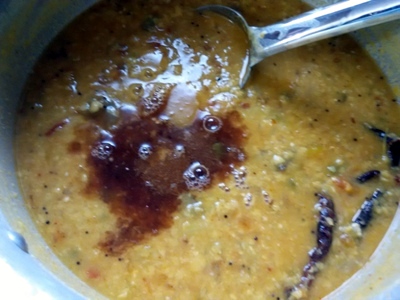 Allow the sambar to simmer for about 7-8 minutes. Add in the coconut milk. Mix and switch off the flame.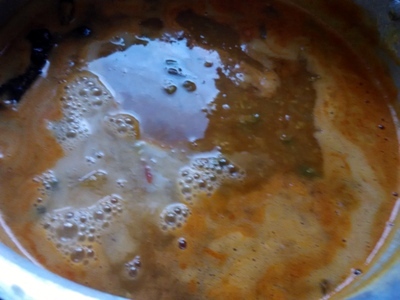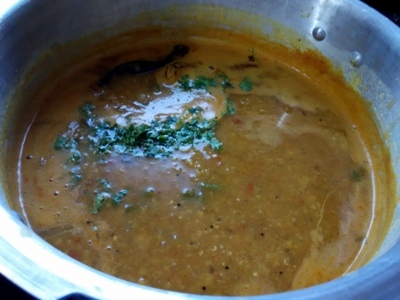 Serve hot with idlis, medu vadas or dosas. Enjoy!