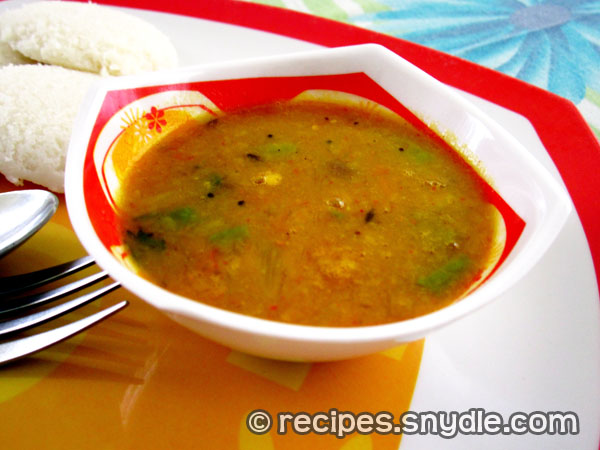 Hi there buddies! Hope you are hungry! Because, today I am sharing the sambar recipe as I had promised in the previous post. Sambar is a type of stew that is usually made with toor daal (pigeon pea) or yellow moong daal. It is a perfect accompaniment for idli, dosa, venpongal and appams. It is spicy and sour with a hint of sweetness. People in South India prepare a variety of different sambars, such as the coconut samhar, onion sambar, potato sambar, restaurant style sambar, sambar with spinach and lady fingers and what not!
You can make sambar using the store-bought sambar masala to make this recipe. My favorite brand is MDH. MDH sambar masala's taste and flavors are very close to an authentic home-made sambar masala that you will find in any South Indian home. The next best brand is Everest. Nevertheless, you can also prepare sambar masala at home! Why not I share with you the sambar masala recipe too? Let's do a sambar masala recipe for the next post.
The recipe that I am sharing today can be called as restaurant style sambar. The sambar in most restaurants has tiny bits of bottle gourd. It's spicy and loaded with flavors, with a hint of jaggery's sweetness and a punch of tamarind's sourness. My Mom usually make this with Idli. You generally don't find cumin seeds floating in the sambar. It's usually just the mustard seeds. I happen to like cumin seeds, so I add it. So, cumin seeds are optional. So, let us get started with the recipe now.
Ingredients – Sambar Recipe
Toor dal / Pigeon Pea – 1 cup

Onion – 1 large, finely sliced

Tomato – 1 medium, chopped

Bottle gourd – 1/2 cup, cut into small cubes

Green chiles – 3, chopped

Curry leaves – 15 to 20 leaves

Coriander leaves – A handful

Sambar Masala powder – 2 tbsp

Red chili powder – 1 tsp

Turmeric powder – 1/2 tsp + 1/2 tsp

Salt – To taste

Tamarind – Lime-sized lump

Jaggery – Lime-sized lump

Water – 3  cups, for boiling the daal + some more
For Tempering
Cumin seeds – 1 tsp

Mustard seeds – 1 tsp

Whole dried red chilies – 2

Oil – 1 tbsp
How to Make Sambar
Wash the toor daal and soak it for 30 minutes. Pressure cook the toor daal with 3 cups of water, 1/2 tsp turmeric and some salt for 4 whistles. You might need to adjust the quantity of water depending upon your pressure cooker.
Release the pressure and mash the daal with a masher. Right now the consistency of the daal must be quite thick. So, we will add some water to achieve the desired consistency. 200 ml of water should suffice. Stir nicely and keep aside. We do not add all the water awhile boiling instead, because it makes it difficult to mash the daal. You will end up having grainy daal, which doesn't taste really good.
Heat some oil in the skillet. Add in the cumin seeds, whole red chilies and mustard seeds and let them sizzle. Add in the onion and saut

é

it till it turns golden brown. Toss in the curry leaves, chopped green chilies and saut

é

them for a minute. A fresh wonderful aroma wafts out at this stage. It's incredible how curry leaves bring in a vibrant flavor to a dish.
Add the cubed bottle gourd and saut

é

it till its soft. This will take a couple of minutes. Toss in the tomato and sprinkle some salt. Cook the tomatoes till they are soft and oil begins to separate.
Now add the red chili powder, turmeric powder and sambar masala and cook for a minute. Add in the boiled daal and adjust the salt. Bring the sambar to a boil.
Add the jaggery and tamarind for a nice sweet and sour m

é

lange. You can adjust the amount of jaggery and tamarind as per your palate.
Let the sambar simmer away for 5-7 minutes. Turn of the flame. Serve piping hot with idlis, dosas or appam. Or just have some of it like soup!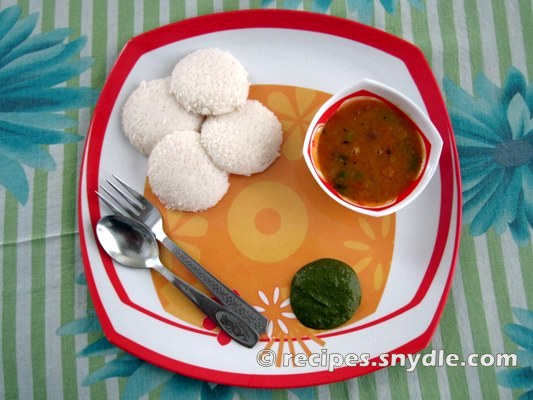 I hope you like this recipe and find it really simple. It needs no fancy preparation. It is so quick, healthy and full of goodness. You can add drumsticks, shallots or potatoes to your sambar as well. Do give it a try and let us know how you like it.