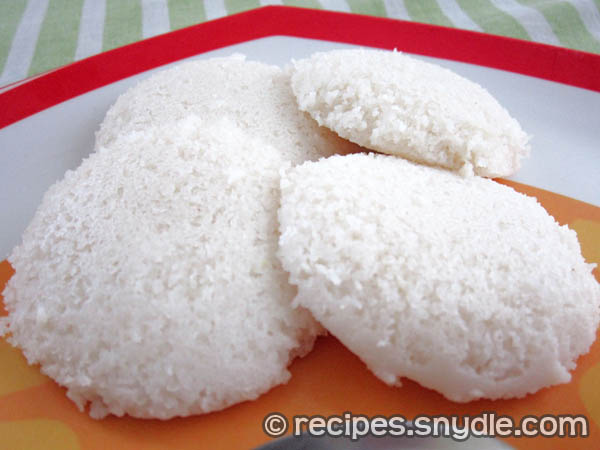 Rawa Idli Recipe – South Indian delicacies such as dosa, uttapam and idli are served at majority of restaurants throughout India. These dishes are easy on the tummy, filling and nutritious. South Indian cuisine brims with simplicity and clean flavors. The dishes have the correct balance of spicy, sour and sweet, making South Indian cuisine one of my personal favorites.
Today we are sharing the recipe of idli, which can be made at home with minimal efforts. This is a very special recipe, which has beaten rice, i.e., poha, urad dal and idli rawa as its base. The standard recipe calls for rice. We are not using rice for this recipe. Idli rawa is a type of semolina especially formulated to make idlis. It is easily available in the market. Idli rawa is coarser than the usual semolina that we use to make sheera or upma. Hence, this idli is also known as rawa idli. Poha on the other hand, will lend the idli an amazing softness.Who wants to cook a lavish and time-consuming meal on a Sunday? Why not make idlis with sambhar or coconut chutney?
Everyone likes round, soft and fluffy idlis dipped in a bowl  delicious, hot and steaming sambhar on any day. You just have to do some preparation on the day before. This recipe yields around 20 idlis. You can make idlis using the specialized idli steamer. If you have the idli moulds but not  the steamer, you can use pressure cooker to make idlis. You need to remove the whistle off the lid, so that the excess steam will have a way to escape.
Usually it takes 10 to 12 minutes for a batch of idli to get ready. Sometimes, it may take 15 minutes. Idlis should never be steamed for very long. They tend to lose their fluffiness and turn dry and chewy as they cool off. So now let us see how to make delicious idlis at home. Try this Rawa Idli Recipe !
Ingredients – Rawa Idli Recipe
Beaten rice (

poha

) – 1/2 cup

White urad dal – 1/2 cup

Idli rawa – 2 cups

Water – As needed

Salt – To taste
How to Make Rawa Idlis
Wash and soak together the poha and idli rawa for about couple of hours.
Wash and soak the urad dal for couple of hours as well.
Drain the excess water and grind the poha and idli rawa to a very fine paste. You might not need any water. But if you do need it, add just a spoonful of water while grinding. Try touching the batter with your fingers. It should not be grainy, but smooth. Transfer the batter into a deep vessel or a container.
Grind the urad dal to a smooth paste using little water. Add the ground urad dal to the idli rawa and poha batter. Mix the two batters really well. Be sure you use a container that is large enough. The batter tends to double up due to fermentation.
You can now add salt to the batter. Mix it properly and cover the container with the lid. You might want to keep the container in a warm spot, so that you get a nicely fermented idli batter. Leave the container undisturbed for around 8 hours. Be sure to not use air-tight containers.
When the batter gets fermented, you will see it has almost doubled in volume. It also looks frothy and smells a little sour. That's how a perfect idli batter looks and smells like. Give it a gentle stir to combine the froth and batter, as if you were folding a cake mixture.
Add sufficient amount of water in the cooker or idli steamer and bring it to boil. In the meanwhile, lightly grease the idli moulds with oil. It will prevent the idli from sticking to the mould and makes it easy for you to scoop the idlis out of the mould without breaking them.
Pour the idli batter into the moulds with the help of a laddle. Ideally, you should fill 3/4 of the mould, so that there is some space for the idlis to rise. Otherwise when the mould is full, the idlis will rise outside the mould and lose their shape.
Transfer the idli moulds to the pressure cooker or steamer and steam the idli batter for 10 to 12 minutes with the lid on. If you think it are still raw, steam it for a couple of more minutes.
Remove the moulds and let them cool of a bit. Scoop out the idlis with the help of a spoon while they are still hot. Serve the fluffy and hot idlis with sambhar or chutney of your choice.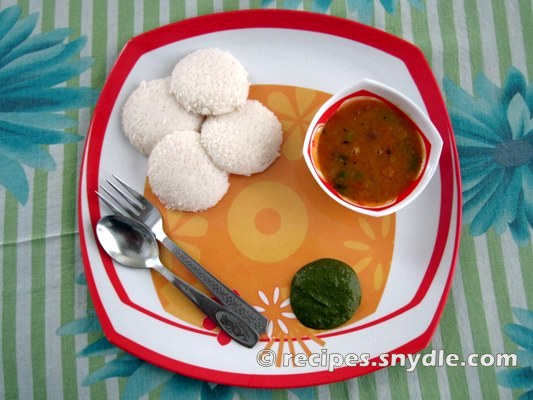 Rawa idlis are a lifesaver! They are ready in matter of minutes and taste incredible. Not to mention they are so healthy. Have you faced a problem of the steamer of pressure cooker turning black from the inside when you boil water in it to steam idlis or anything else? There is a simple solution to prevent such blackening. You should try adding a tiny lemon wedge in the water before you keep the steamer/cooker on the stove.
This will not affect the flavor or taste of idlis or whatever you are going to steam in there and the steamer/cooker stays clean. We hope you enjoyed reading this post. We will come up with amazing recipes for sambhar and coconut chutney as well, which you can prepare at home in no time!