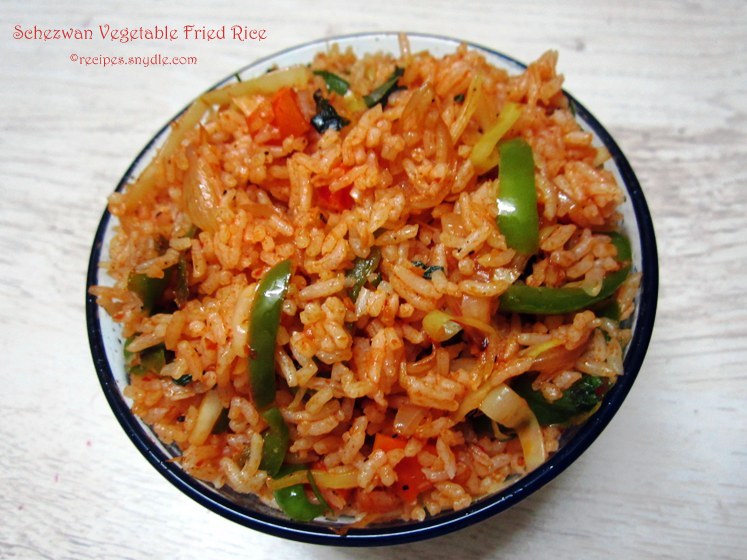 Remember the last time when I said there is something very strangely delectable about the Indo-Chinese food that makes it so irresistible? It got the better of me today again and I ended up making Vegetable Schezwan Fried Rice.
I had prepared half a bottle of schezwan sauce sometime back, the recipe of which you can get here. Then I posted the recipe of Chicken Schezwan Noodles and Schezwan Bread Pakora as well. So today I wanted to finish up the sauce and I used it in this delicious and easy recipe of Veg Schezwan fried rice.
You can add any veggies you have at home. Cabbages, French beans, carrots, capsicum and mushrooms work great. If you want to add mushrooms, sauté them separately with some oil in a pan and then add them along with the veggies. This is because they release a lot of moisture and will make other veggies soggy. For chicken schezwan fried rice you can add boiled, diced chicken to this recipe. You can also create schezwan egg fried rice by adding scrambled eggs at the end of this recipe.
Make sure you have cooked the rice and spread it out to cool in a wide utensil. This will ensure the grains won't stick together. For better results, use rice cooked a day before and stored in the air-tight container in the fridge.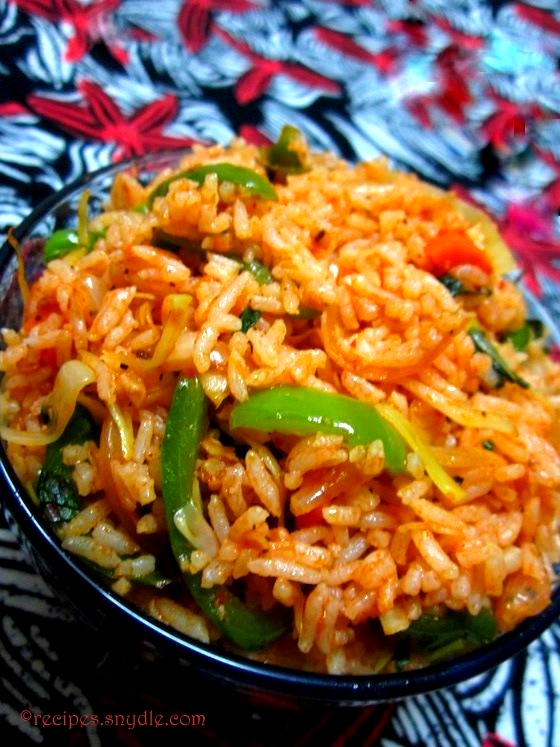 Now let's start with the recipe. For the purpose of measurement, 1 cup = 250 ml. This recipe yields 3-4 servings. You can have it with any dry or gravy-based side dish of your choice. You might like this recipe of Veg Manchurian, if you want a side-dish.
Ingredients
Cooked Rice – 3 cup
Onion – 1 medium, finely sliced
Spring onion greens – 3 springs, finely chopped
Garlic – 8 cloves, finely crushed
Ginger – 1/2-inch piece, finely crushed
Green chilies – 3 or as per taste, split lengthwise (OPTIONAL)
Capsicum – 1 medium, finely chopped
Cabbage – 1/2 cup shredded, lightly packed
English carrot – 1, finely chopped
Schezwan Sauce – 5 tbsp
Ajinomoto / Chinese salt – 1/4 tsp (OPTIONAL)
Black pepper powder – 1/2 tsp or to taste
Salt – to taste
Oil – 2 tbsp
How to Make Schezwan Vegetable Fried Rice
Heat oil in a wok or a skillet. Toss in the onions and stir fry them on medium heat till they lose the raw smell and turn translucent.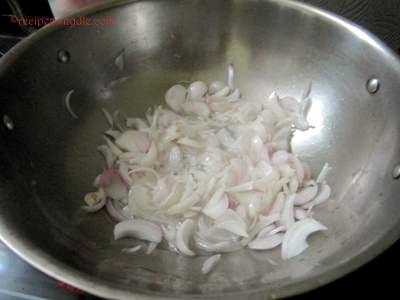 Add in the green chilies and sauté for a minute. Add in the crushed ginger and garlic and sauté for a few seconds till the raw smell disappears.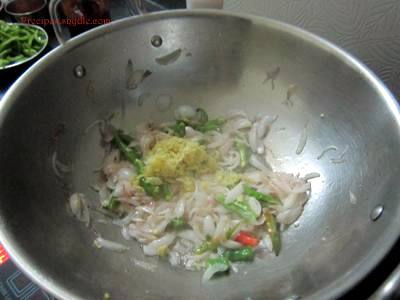 Add in the veggies; carrot, cabbage and capsicum or whatever veggies you got and stir fry for another few seconds. Do not overcook the veggies. They should retain their crunch.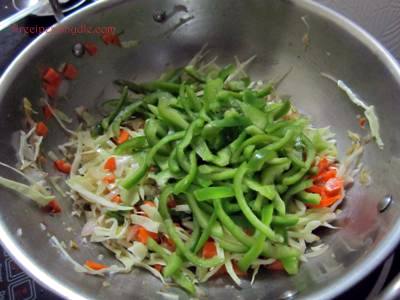 Add the salt, black pepper powder and ajinomoto and toss everything well. Go easy on the salt because the Schezwan sauce already has salt in it.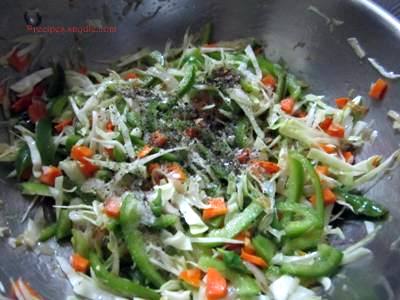 Add in the homemade Schezwan sauce and mix well.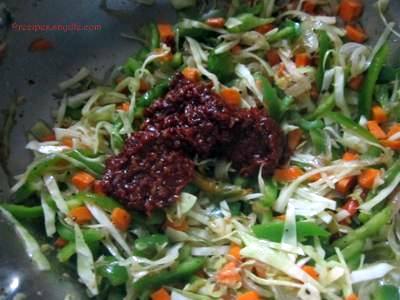 Add in the cooked rice and toss and stir fry them for a few minutes. The rice should be well coated in the sauce and heated evenly. Add in the spring onion greens and give it a final toss. Since I did not have spring onions, I added chopped coriander leaves for some fragrance.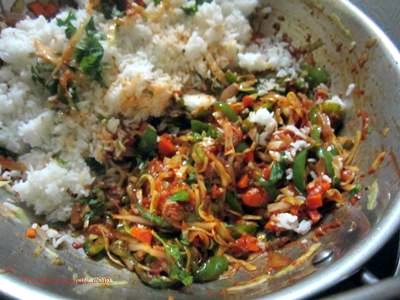 Vegetable Schezwan Fried Rice are ready to be served.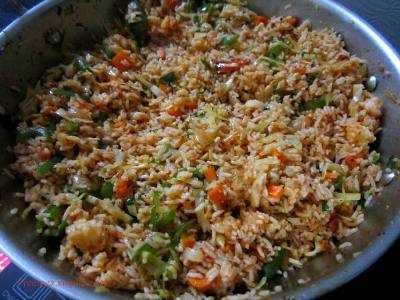 Garnish with a few more spring onion greens. Serve hot as it is or with your favorite side-dish. Enjoy!