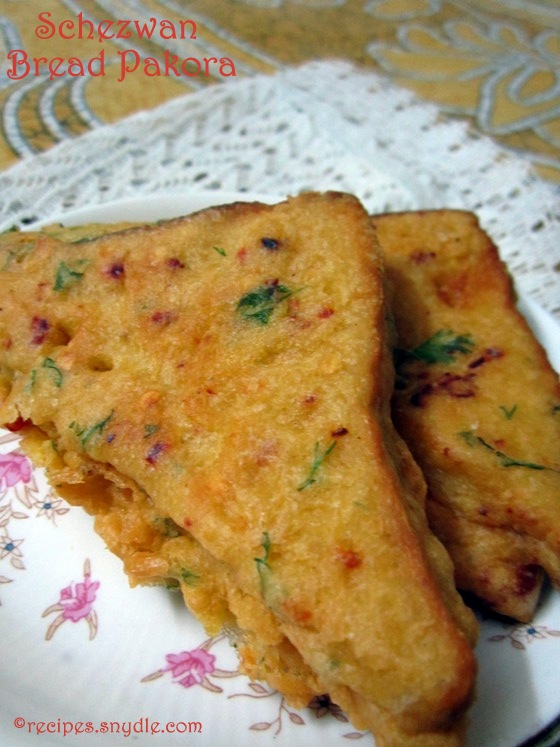 Hello, buddies. The weather has been a little hazy lately. The untimely rains made me crave for a hot and spicy fried snack. I didn't have much at hand today, so I had to make do with whatever was available. I had half a bottle of schezwan sauce left from the Chicken Schezwan Noodles I made last week. A loaf of bread and some condiments.
Bread pakora is what came to my mind. It's a delicious snack that we often make with a potato stuffing packed between two slices of bread, dipped in gram flour batter and deep-fried to crispy and golden pakora. So instead of potato I used homemade schezwan sauce and added some pizza mix to the batter for a delicious aroma.
You can find the Recipe of Homemade Schezwan sauce – here.
Let's start with the recipe now. For the purpose of measurement, 1 cup = 250 ml/ This recipe yields 6 schezwan bread pakoras.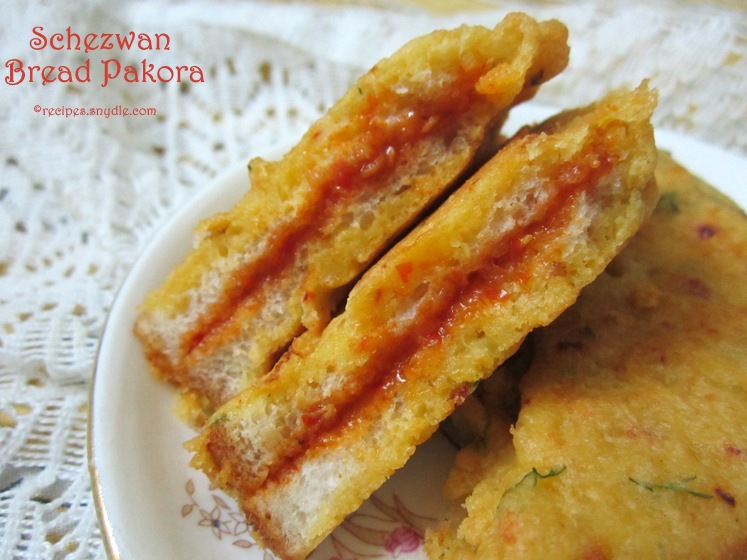 NoteYou can add 2 pinches of baking soda to the gram flour batter. It will make your bread pakora's coating crispier. However, I didn't add it since it makes the pakoras soak a lot of oil. This recipe still yields decently crispy pakoras.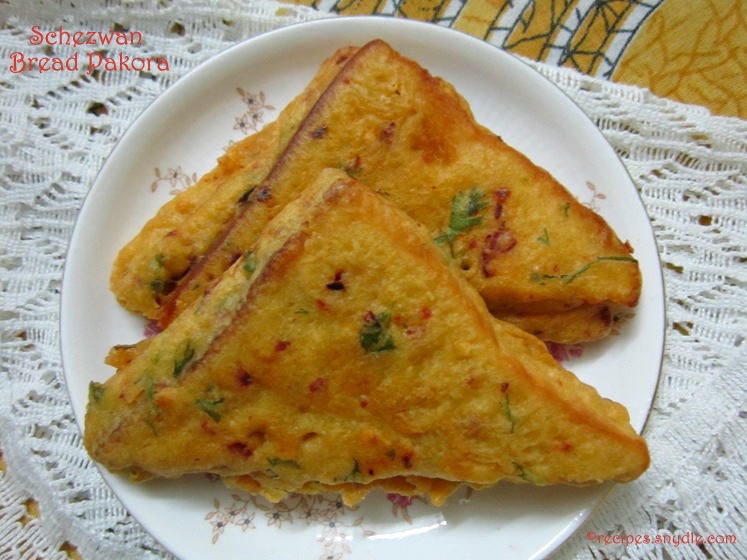 Ingredients
Bread slices – 6 (I used slices of a small loaf)
Schezwan sauce – about 8 tsp or as needed
Oil – to deep fry
For the Batter
Gram flour / besan – 1 cup
Water – about 1/2 cup to 3/4 cup
Salt – to taste
Red chili powder – 1/2 tsp
Red chili flakes – 1 tsp
Pizza seasoning – 1 tsp (I used Snappin brand)
Coriander leaves – 2 tbsp, finely chopped
Garlic – 2 cloves, grated or crushed
Oil – 2 tsp
How to Make Schezwan Bread Pakora Recipe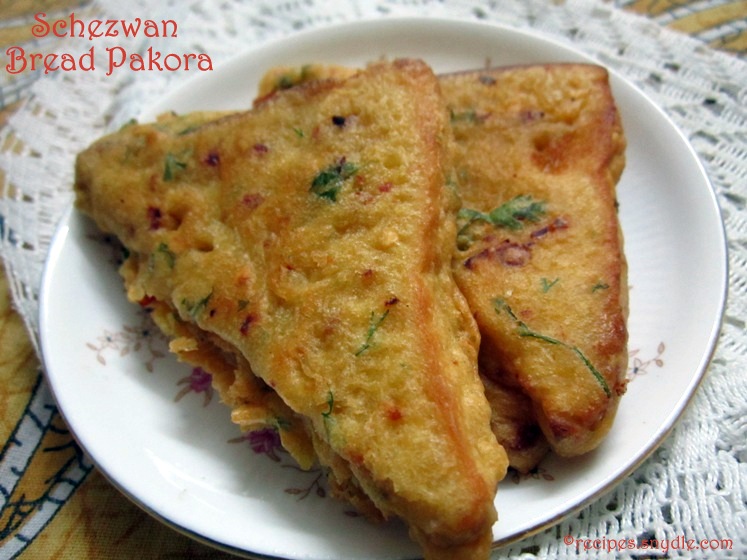 Let's start making the batter for the bread pakora. Take besan in a bowl. Add to it the salt, pizza seasoning, red chili powder and red chili flakes to it and mix well. Now add water little by little to the gram flour and whisk it to make a smooth batter of thick pouring consistency, just like that of the dosa batter. Add in the coriander leaves and garlic and oil and whisk again. Batter is ready.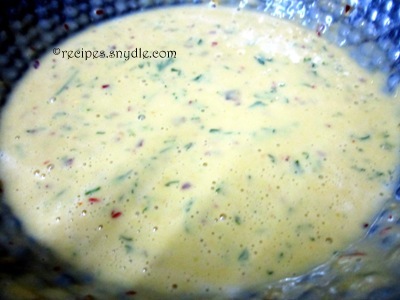 Let's keep the oil to heat up in the meanwhile.
Now apply as much or as little schezwan sauce as you like on to the bread slices.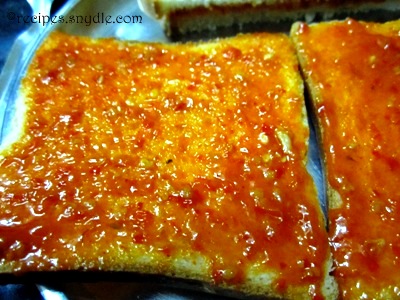 Place another bread slice over it to make a sandwich and press gently. You can apply schezwan sauce to both the bread slices, if you like.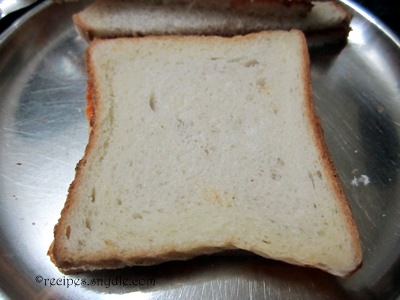 Cut the sandwich diagonally to make two triangles.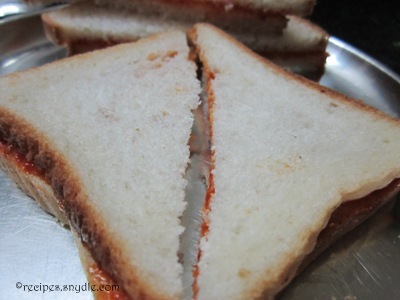 When the oil is hot enough, dip each bread pakora in the gram flour batter and allow the excess to drip.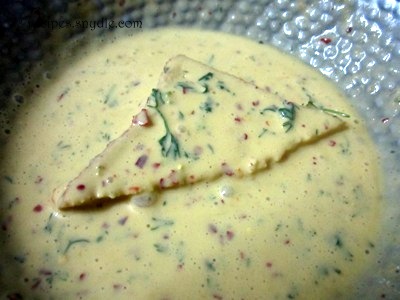 Carefully put the bread pakora in hot oil with a slotted spoon. Fry on medium to low heat for 3 to 4 flipping occasionally. When the layer of batter has cooked through and crispy and golden, remove the bread pakora onto a kitchen towel to drain the excess oil.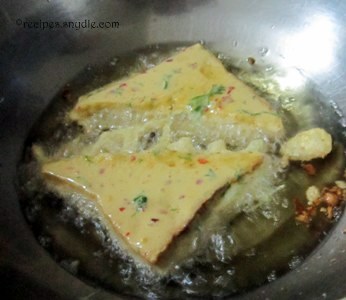 Serve hot with a cup of tea and enjoy!