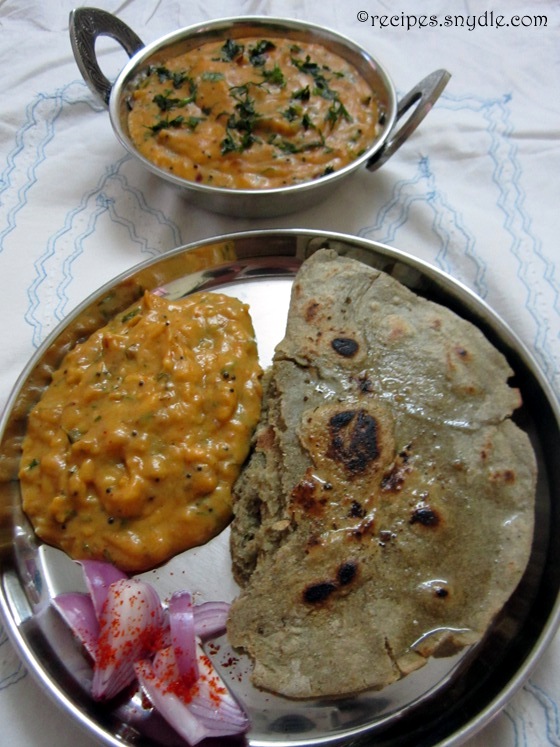 Hi again, dear foodies! Today I am going to share the recipe for 'Pithla', which is one of the most iconic preparations from Maharashtra. Pithla is a side-dish made from gram flour, tempered with spices and cooked to perfection. Pithla is usually had with jowar bhakri,i.e., the flatbread made from pearl millet. Pithla and bhakri is the most cherished duo in the world of Maharashtrian food. We have always had a couple of Maharashtrian families in our neighborhood. It has been great getting the opportunity to learn to prepare their staples. I personally feel that of all the pithla preparations I have ever had, the ones I got to taste in Jalgaon and Pune were the best.
Surprisingly, I am the only one in my family who enjoys Maharashtrian delicacies to the core. Be it the sensational bharli vangi, the warm and comforting puranpolis or the humble pithla bhakri, I love them all! I love to smother my bhakris with the fragrant and wholesome homemade ghee / clarified butter and drizzle some groundnut oil / peanut oil over my pithla and have some onion wedges seasoned with red chili powder and a dash of lemon on the side.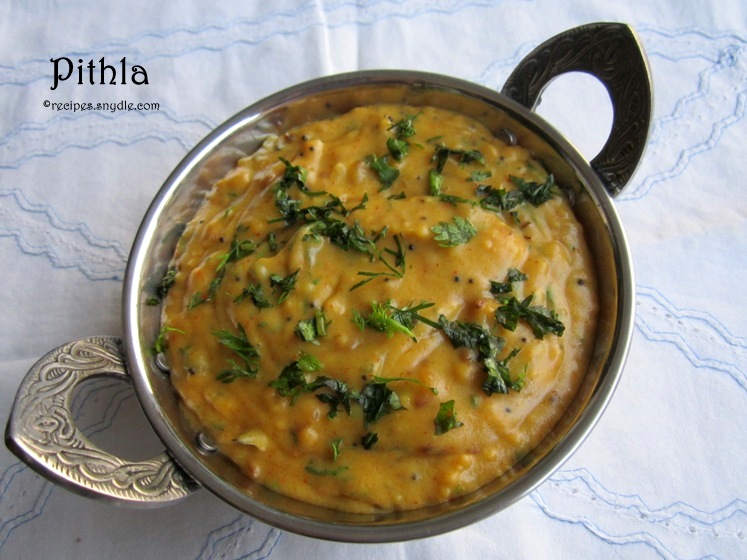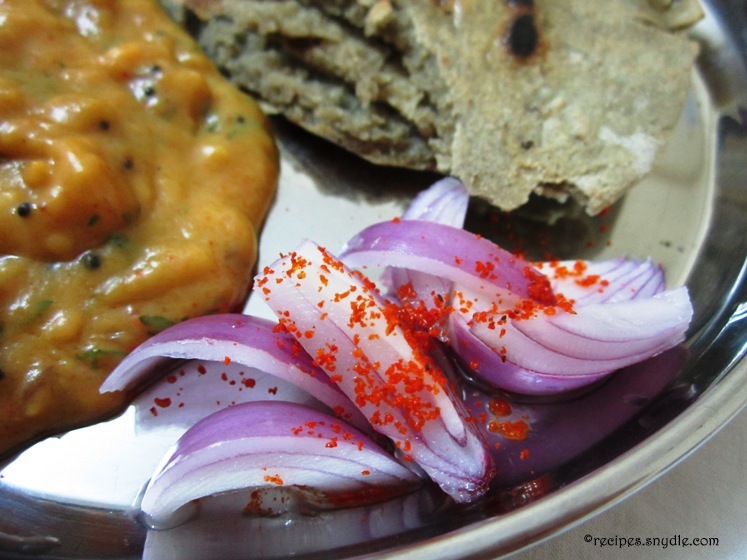 It is not a very common practice to add milk to the pithla. But I do add milk to it. Milk renders the pithla a very velvety texture. Pithla should be served immediately because it tends to thicken up as it stands for longer. Making pithla is a no brainer even if you are trying it for the very first time. All you need to do is follow the instructions and you can enjoy this rustic, spicy and comforting dish in your very own home.
I have shared a couple of more recipes that are native to Maharashtra. You can check them out here.
Vada Pav
Sabudana Khichdi
Jowar Bhakri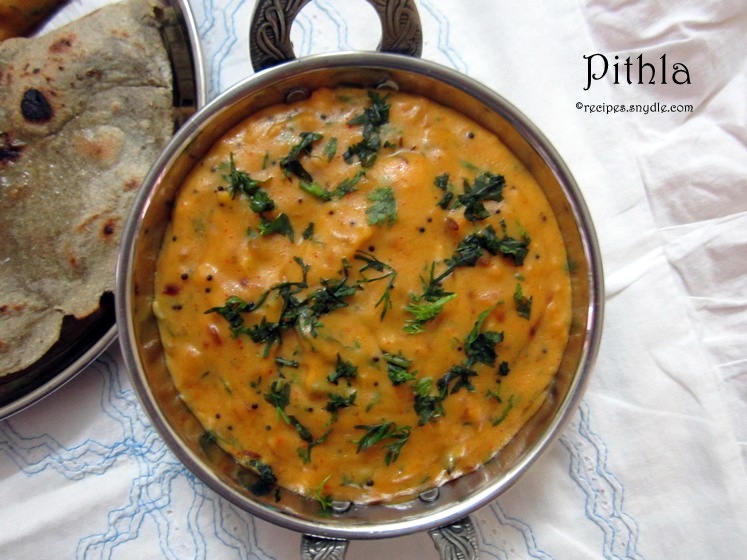 This recipe yields 4 servings. For the purpose of measurement, 1 cup = 250 ml. Let's begin with the recipe of pithla.
NOTE – The red chili powder is optional. If you do not want to add it, you can increase the quantity of green chilies or adjust it as per your taste preference.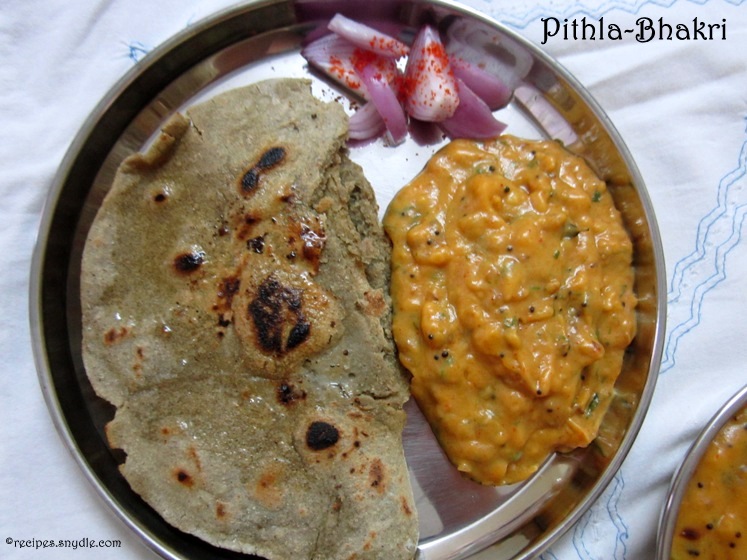 Ingredients
Besan / Gram flour – 1 cup
Milk – 1 cup
Water – 3 and 1/2 cups
Sugar – 1 tsp
Salt – To taste
Turmeric – 1/2 tsp
Red chili powder – 1 tsp
Asafoetida – 1/3 tsp
Cumin seeds – 3/4 tsp
Mustard seeds – 3/4 tsp
Green chilies – 5, finely chopped
Onion – 3 medium, finely chopped
Garlic – 12 cloves, finely crushed
Curry leaves – about 15 leaves
Coriander leaves – A generous handful, finely chopped + some more for garnish
Oil – 3 tbsp
Groundnut oil / Peanut oil – 1 tsp per serving, to drizzle over
How to Make Pithla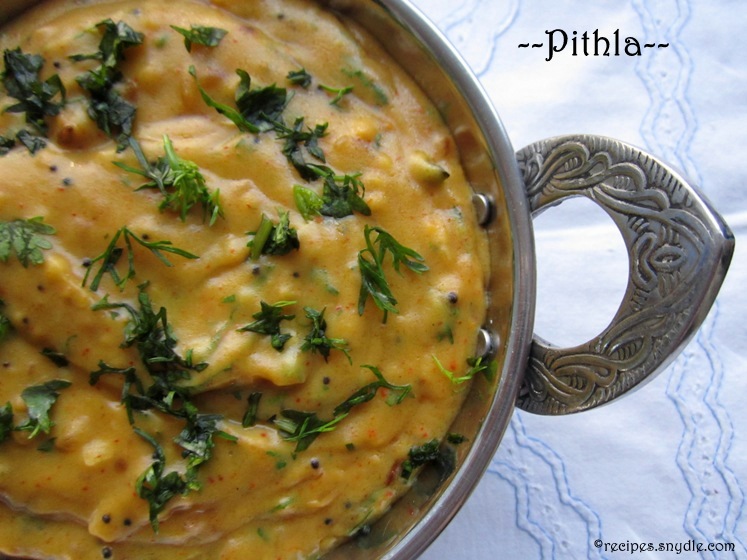 Finely crush the garlic using mortar and pestle.
In a bowl, take gram flour and add milk to it little by little. Whisk it as you go to form a smooth, lump-free batter. Add in the water and whisk well. Add sugar and some salt to this batter and mix well. Set it aside.
Heat the 3 tbsp oil in a skillet. Use sunflower, vegetable oil or rice bran oil. Groundnut oil is not a good choice for tempering. Add in the mustard seeds and then cumin seeds. Allow them to splutter.
Add in the asafoetida and sauté for about 10 seconds on a medium heat by stirring it around. Try not to burn it. The oil should get aromatic.
Add in the chopped onions and sauté till it turns golden. Toss in the finely crushed garlic and sauté it till the raw smell disappears.
Add in the green chilies and curry leaves and sauté for another minute or two till both of them get a golden tinge and it smells nice. Add some salt to season the masala. Add the generous handful of chopped coriander leaves and sauté for a few seconds.
Turn the flame to low and add in the turmeric and red chili powder. Stir them around and make sure not to burn the spices.
Pour in the gram flour batter little by little and keep whisking so that the batter gets nicely incorporated with the spices.
Check the seasoning. Cover the skillet with a lid and allow the pithla to simmer for about 10 to 12 minutes. Make sure you stir it every 3-4 minutes so that the gram flour doesn't stick to the bottom. In between if you feel that the batter has thickened up too much, add in some water and whisk the pithla and continue to cook it.
The raw smell of the gram flour will disappear and it will look like a thick, velvety liquid. Some oil will float on the top as well and the pithla will be ready after 10 to 12 minutes.
Serve the pithla immediately and drizzle some groundnut oil / peanut oil over it for a lovely flavor. Pair it with jowar bhakris / pearl millet flat breads. Tastes best when you have onion wedges seasoned with red chili powder and lemon on the side. Enjoy the piping hot rustic meal!