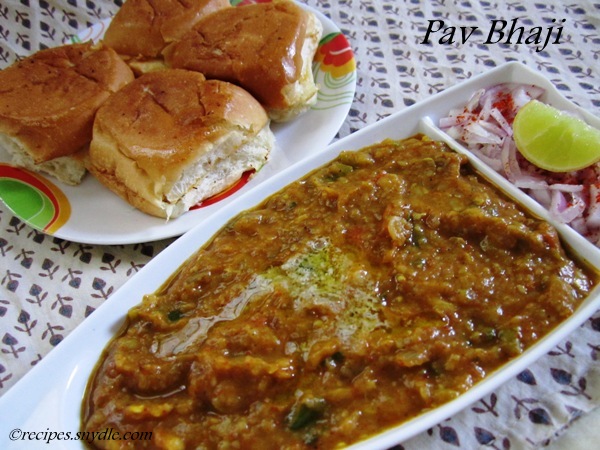 Hello folks! How have you been? I hope you continue to cook great food and enjoy it with your family.
I made pav bhaji yesterday for lunch after so many months. It is a Maharashtrian fast food that is believed to have its roots in Mumbai, where it originated. This is one delicacy I love to the core. It is spicy, tangy and has a characteristic flavor that comes from the special spice mix known as the pav bhaji masala. It is easily available in the Indian grocery stores. I used Everest brand. You can go ahead and use your favorite brand. Some people prepare pav bhaji masala at home as well.
Pav bhaji is also very nutritious because it has so many vegetables in it that are boiled and mashed, and then cooked with spices. It is served with hot buns (or pav as we call them) that are toasted using some butter.
The process may seem bit lengthy. But in the end you will know it was all worth the efforts and time. When I prepare Pav Bhaji, I make sure I have an extra bowl of it for my next meal. It tastes even better the next day. I pair it up with rice or pav. Sometimes I just make sandwiches out of it. No matter how you use the leftover Pav Bhaji, the resultant dish will always be absolutely delicious. This time I made Pav Bhaji sandwiches which everyone loved at home. I will share its recipe in the next post.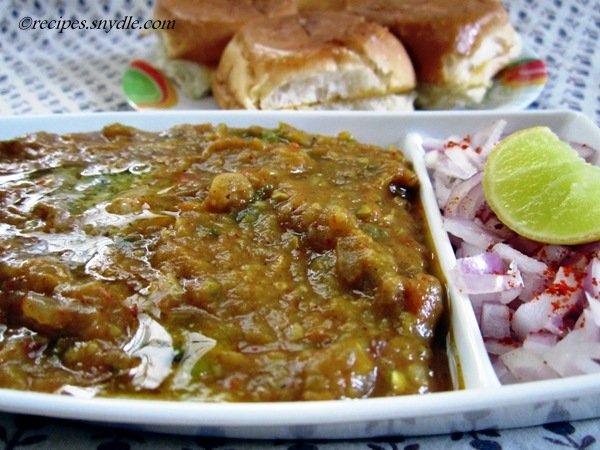 Some people would like to add carrots to Pav Bhaji. However, I don't add carrots because the Pav Bhaji turns out a bit sweet. But if you like carrots, you can add them. You can add French beans as well. I always add brinjals. They render an amazing flavor to the Pav Bhaji. This dish tastes best when made with butter. However, you can use oil if you don't want to use butter.
For the purpose of measurement, 1 cup = 250 ml. This recipe will serve 4 people. Now let us see how to make the perfect Pav Bhaji.
IngredientsFor Making the Vegetable Mix
Potato – 2 large
Cauliflower florets – 1/2 cup
Green peas – 1/2 cup
Brinjal / Aubergine (Purple variety) – 4, small
Water – 1 & half cups or as needed
Salt – 1 tsp
For Making the Masala
Butter – 3 tbsp + some more
Oil – 1 tbsp
Cumin seeds – 1 tsp
Onion – 2 large, finely chopped
Tomatoes – 2 large, finely chopped
Capsicum – 2 large, cut into small bits
Green chilies – 4, finely chopped
Ginger – 1 tbsp, finely crushed
Garlic – 1 tbsp, finely crushed
Turmeric powder – 1/2 tsp
Red chili powder – 1 & 1/2 tsp
Pav Bhaji Masala – 4 to 5 tsp (I used Everest Pav Bhaji Masala)
Amchur / Dried Mango Powder – 1 tsp
Salt – To taste
Chopped cilantro – A handful, for garnish
How to Make Pav Bhaji
Cut the potatoes and brinjals into dices. Cut the cauliflower into smaller florets. You can use fresh or frozen green peas, whichever you have at hand. Now toss these veggies into a pressure cooker. Add in sufficient water to cover the veggies. We do not want to use a lot of water here; else it will diminish the nutrient content of the veggies. Now put the lid on and cook the veggies for 4 to 5 whistles.
When done, allow the pressure to release on its own. Open the pressure cooker. Carefully remove the vegetable stock into a bowl and reserve it for later use. Alternatively, you can boil the veggies in the microwave oven.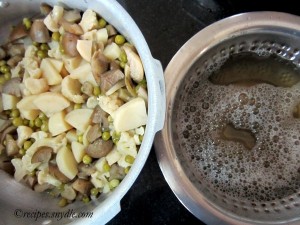 Use a pav bhaji masher or a daal masher to mash the veggies. We do not need to make a smooth paste. We need tiny chunks of veggies for the great texture. They should look like the picture below. Set the veggies aside.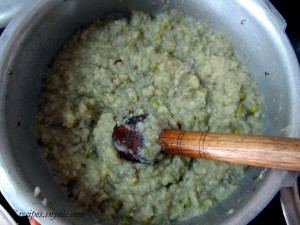 Heat the oil and butter together in a skillet. Adding oil to the butter will prevent it from burning. Add in the cumin seeds and allow them to crackle.
Toss in the onions and sauté them till they turn golden.
Now add in the ginger paste and garlic paste and sauté it for a minute the raw smell goes away. Now add in the chopped green chilies and sauté for another minute.
It is time to add the tomatoes and some salt. Cook it till the tomatoes become really soft and mushy.
Now when the oil begins to separate, add the turmeric powder, red chili powder, amchur / dried mango powder and pav bhaji masala. Mix everything well and sauté for a minute till it gets aromatic.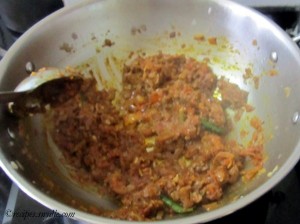 At this stage, we add the capsicum and sauté it for a minute. We need to keep it crunchy.
Add in the boiled and mashed veggies and combine it with the spices. Allow it to cook for 4 to 5 minutes, so that it absorbs the flavors of the spices.
When the veggies are nice and hot, add in little by little the stock that we had reserved. Mix well. Add more water if needed, to adjust the consistency of the pav bhaji. Adjust the salt.
Bring it to boil and as you stir it occasionally. Turn the flame to low and cover the skillet with a lid. Let the pav bhaji simmer away for 5 minutes. Make sure you stir it occasionally. The consistency should be thick enough, similar to a dip.
Add in the chopped coriander and 2 spoonfuls of butter and mix well. More butter means more flavorful pav bhaji. However, it is optional.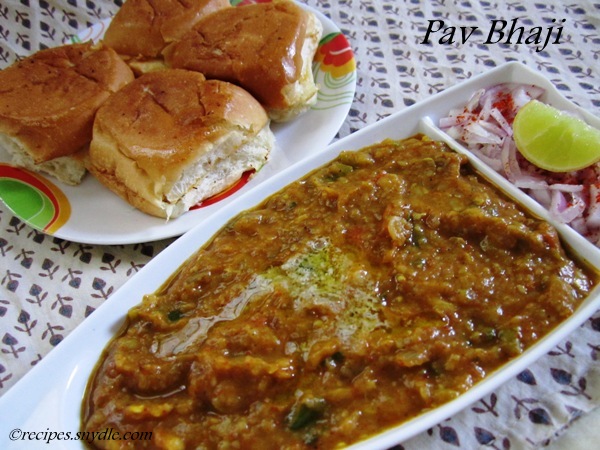 Pav Bhaji is ready to be served. Serve hot with pavs toasted in butter and chopped onions and lemon juice.
Let us see how to make the butter-toasted pavs.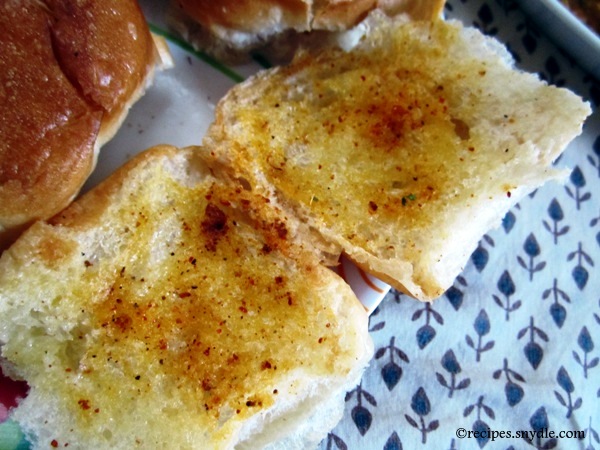 Ingredients
Pavs – 12
Butter – 3 tbsp
Pav bhaji Masala – As needed
How to make Butter-Toasted Pavs
Cut the pavs into halves by slicing them horizontally in the center.
Heat a pan or tawa. Add some butter to it and allow it to melt. Swirl the pan gently so that the butter gets spread out on the pan.
Drizzle around a generous pinch of pav bhaji masala in the butter.
Place the pavs into the pan inner side facing down and allow it to get toasted. It should turn golden and a bit crispy yet stay soft on the inside.
Turn over to toast the pavs on the other side. You can toast 3 to 4 pavs at a time depending on the size of your pan.
Melt-in-the-mouth butter toasted pavs are ready. Remove the pav onto the plate and serve hot with pav bhaji. Enjoy!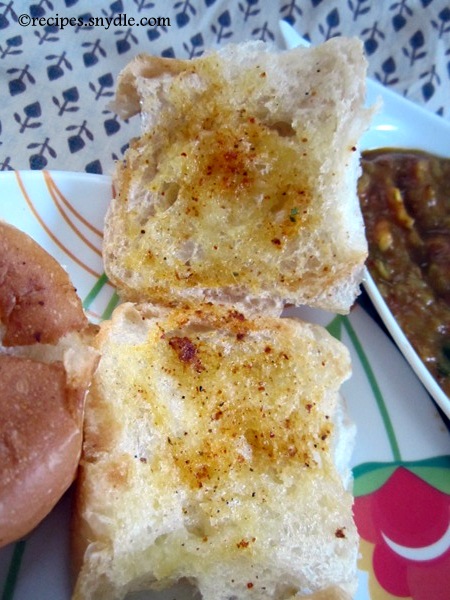 In the next post, I will share the recipe of a mind-blowing and cheesy pav bhaji sandwich that you might not have come across. Stay tuned!