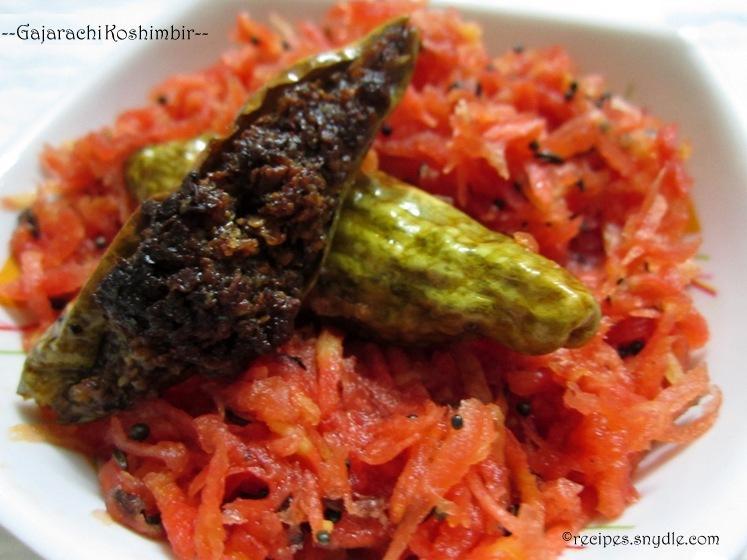 Hello buddies. Today I am sharing the recipe of 'Gajarachi Koshimbir'. It is a Maharashtrian recipe and has carrots as its main ingredient. Carrots are called gajar in Marathi. Summers are here and koshimbir is something a lot of people enjoy. It's a good break from the plain old salads. I like my carrot koshimbir cold and they provide a momentary respite from the hotness of food. This one has no yogurt. It's a no-cook recipe. The carrots are seasoned and tempered using the most quintessential ingredients. I once had it at a friend's place and ever since then I am in love with this recipe.
But there is one such ingredient without which it is really impossible in my opinion to make a good carrot koshimbir. Sandgi mirchi is a chili that has been processed to enhance its flavors. It is soaked in buttermilk, and then stuffed with dried condiments like garlic, asafetida, fenugreek seeds and the like. It is easily available in the Indian grocery stores. This chili is the star ingredient of the carrot koshimbir recipe. It is slightly spicy and gives you a burst of flavors when you bite into it. The red carrots are the best for this recipe. The orange ones,i.e., the English carrots do not make a very good koshimbir.
This carrot koshimbir is healthy, delicious and high on nutrients. It must be had fresh. It goes well with chapati and side dish or even dal and rice. Or just grab a bowl of it and have it as is when you feel the urge to binge on unhealthy snacks! The preparation time is just 5 minutes and you have a delicious koshimbir to enjoy in no time!
This recipe yields two servings. Let's begin!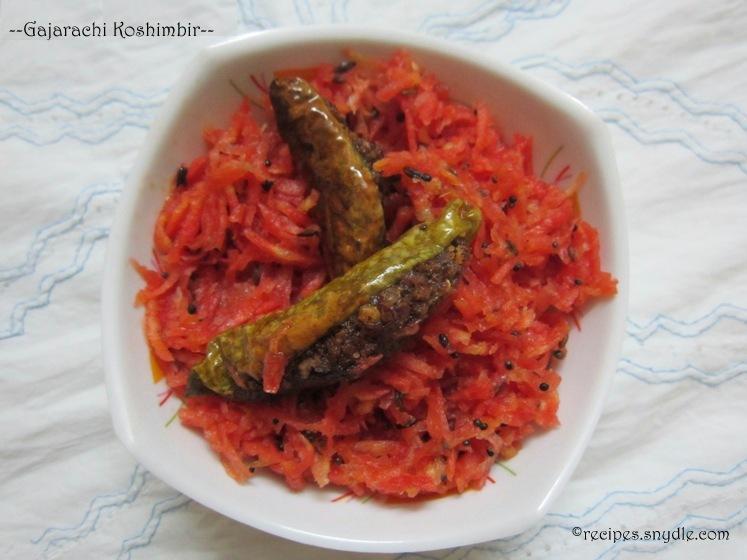 Ingredients
Red carrots – 3 medium, cold (just removed from the fridge)
Sugar – 2 tsp to 2.5 tsp
Salt – 1/3 tsp
Oil – 1 tbsp
Cumin seeds / Jeera – 1/2 tsp
Mustard seeds – 1/2 tsp
Sandgi mirchi – 2 nos.
How to Make Gajarachi Koshimbir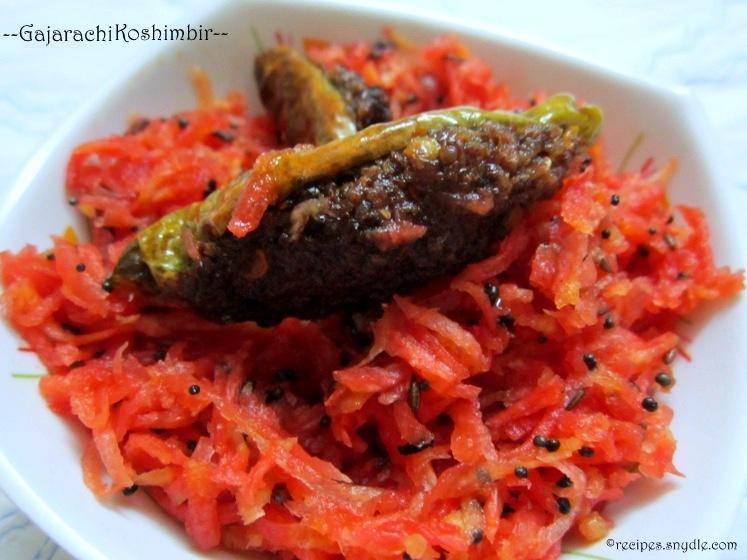 Grate the carrots. In a bowl, take the grated carrots. Add salt and sugar to it and mix well. Cover the bowl and allow it to stand for about 15 minutes. The carrots will release some of its juices due to the salt that has been added to it.
Mix around the carrot once again. The sugar should have dissolved partially by now.
Now we have to prepare the tempering. Heat oil in a skillet. Add in the mustard seeds and the cumin seeds. Allow them to splutter.
Add in the sandgi mirchi and fry it on a low flame for a few seconds, mixing it around with a spoon. When the chili looks golden and the tempering gets aromatic, pour it over the carrots and mix around well.
Gajarachi koshimbir is ready to be served! Enjoy!
NOTE – If you want your carrot koshimbir to have some crunchy texture, you can add coarsely ground roasted groundnuts to it. A tablespoon of it should suffice according to the quantities of ingredients mentioned in this recipe.