Pochero is a dish that originated from Spain and well known across the world especially in countries such as Paraguay, Colombia, Mexico, Uruguay, Argentina and Philippines. The name puchero simply means stewpot. I grow up eating puchero or pochero because it's my dad's favorite dish. So, my mom often prepares it for lunch usually on Sunday so the whole family is at home. This pochero recipe is my mom's recipe, her version of pochero.
In the Philippines, pochero composed of beef, plantains, cabbage, pechay, garbanzos and potatoes. There are other versions too, wherein instead of the usual beef the main ingredient is pork or chicken. I have never tried the other version and I don't think I will try them for I love my beef pochero just the way it is. LOL!
By the way, I don't like plaintain or saging na saba for pochero. I only add plantain whenever my husband is around. Enough of the chit chat, let's proceed to the ingredients and direction for making pochero.
Here's my pochero recipe, enjoy cooking!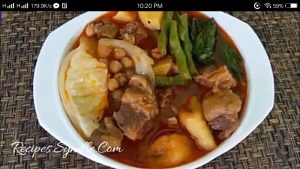 Pochero Recipe
Ingredients:
1 kilo beef (pochero cut)
2 large potatoes, diced
1 onion, sliced
1 tbsp pepper corn
1 can garbanzoz (chick peas)
1 pc plantain (saging na saba)
1 small cabbage, quartered
1 bunch pechay or bok choy
1 bunch sitaw or long green beans
1 pack large tomato sauce
2 beef knorr cube
5 cup water
Fish sauce or patis
Direction:
In a large pot, boil the beef in 5 cups of water for 1 hour or till tender. Put in the onion and peppercorn. Next, put in the beef cube, potatoes, plantain and chick peas. Simmer for 5 minutes.
Add the long green beans and cabbage then pour in the tomato sauce. Cook for about 5 minutes. Put in the patis or fish sauce to taste. Lastly, put in the bok choy and cover the pot. Turn off the heat and let the residual heat cook the vegetables. Leave for about 5 minutes.
Transfer to a serving dish and serve with rice. Enjoy your pochero!
Thank you for dropping by and checking out my pochero recipe. Please feel free to browse other recipes on the site and don't forget to bookmark the recipe you want to try at your home. Have a nice day!