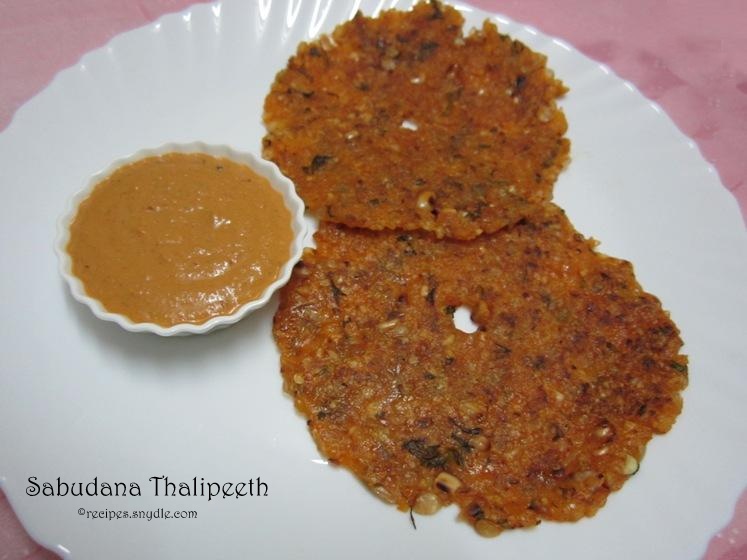 NOTE – The ingredients mentioned in this recipe are allowed during Navratri fast in our community. The ingredients allowed or forbidden during Navratri fast vary from one community to another. Kindly consult the elders in your family if you are not sure about any ingredient mentioned in this recipe.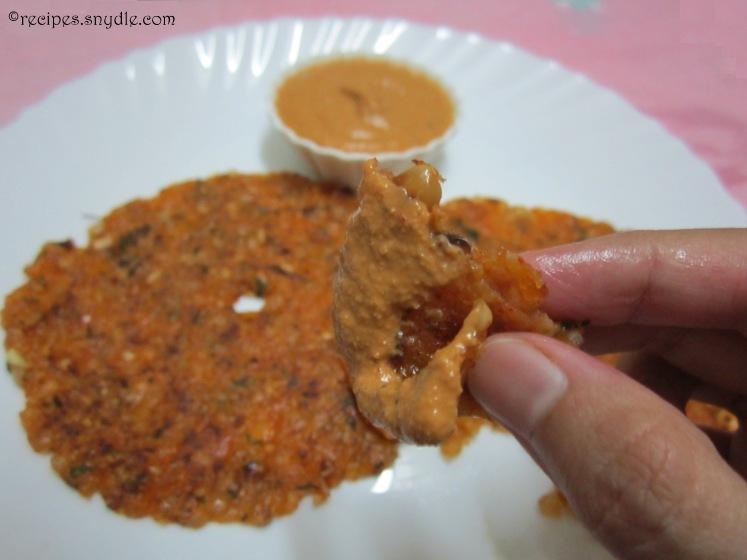 Hello foodies. Today I am sharing yet another Navratri Special recipe. It's the recipe of Sabudana Thalipeeth, which is a savory snacks recipe made from sago or tapioca pearls. It's an extremely flavorful recipe that you would relish with great fervor when you are fasting. It's warm and a bit spicy and has a crunchy texture from peanuts and the freshness of cilantro. I served it with phalahari peanut chutney. You can find it's recipe here.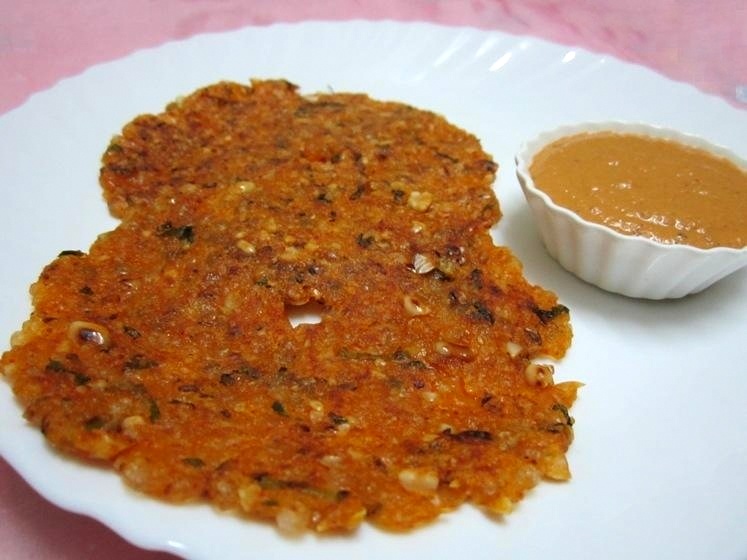 This thalipeeth recipe is very easy to prepare. The prep time is a bit long because you need to soak your sago for 24 hours. Some people might prefer to soak them for just 2-3 hours. But I prefer well-soaked and soft sago so that it's not hard or chewy. For complete instruction on how I soak sago, check the notes in this post here. I am sure you will notice a major difference if you follow my lead.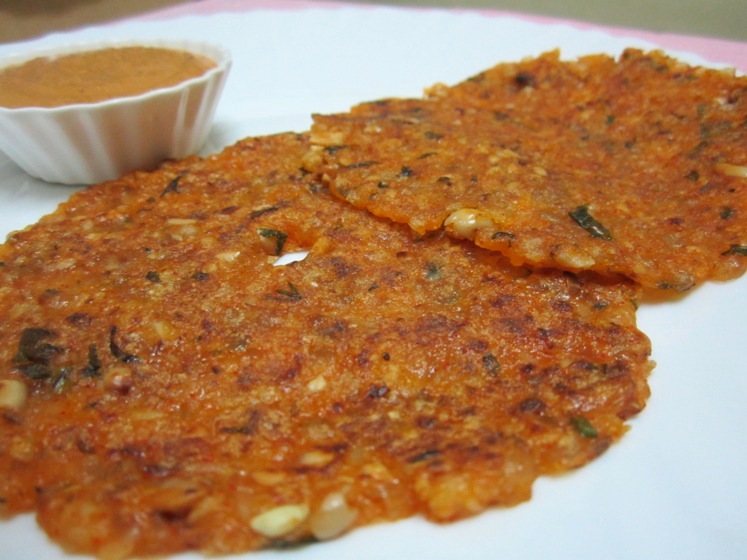 I also make other delicious treats with tapioca pearls like these.
Sago Pudding / Sabudane ki Kheer
Yep! You can make luscious desserts with sago! That's the magic of Indian cooking. Let's start with the recipe for Sabudana Thalipeeth. This recipe yield 5 thalipeeths. For the purpose of measurement, 1 cup = 250 ml.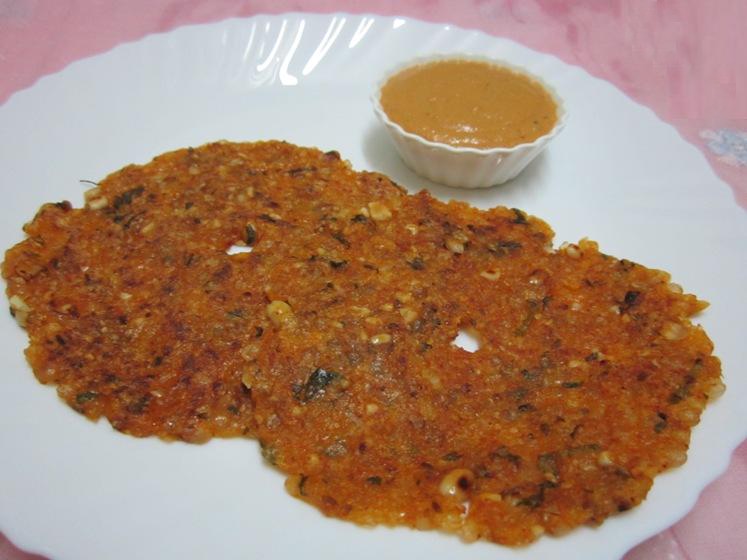 Ingredients
Sago/Sabudana – 1 cup, soaked for 24 hous (Check method here)
Potato – 2 large, boiled and mashed
Roasted groundnuts – 1/2 cup, coarsely crushed
Green chilies – 2, finely chopped
Ginger – 1/2 inch piece, finely crushed
Coriander leaves – a handful, finely chopped
Rock salt – to taste
Sugar – 1 tsp
Lemon juice – 1 tbsp
Cumin seeds – 3/4 tsp
Red chili powder – 1 tsp
Ghee – 2 tbsp or as needed
How to Make Sabudana Thalipeeth
Take all the ingredients except the ghee in a large bowl.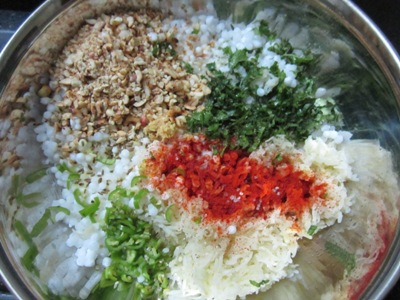 Mix everything well and check the seasoning.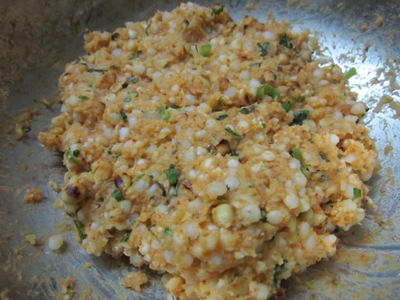 Divide the dough into 8 parts. Put down a sheet of aluminum foil onto the platform or a plate. Apply some water over the foil. Apply some water on your palms as well.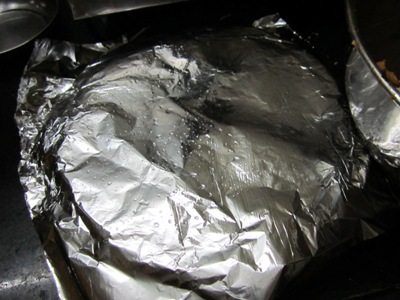 Take a portion of dough and flatten it with your fingers to form a 5-inch circle.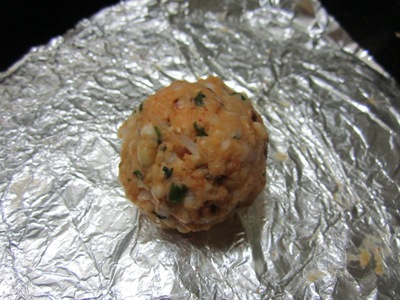 It should not be very thick. This one about 1/2 cm. Make a hol into the centre with your fingertip.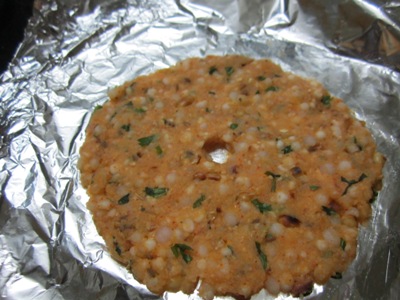 Heat a pan or tawa. Spread a little ghee and carefully get the thalipeeth off from the foil onto your palm by inverting it over. Then flip the thalipeeth gently onto the hot tawa. Keep the heat medium. Cover the pan/tawa and allow th thalipeeth to cook for about 3 minutes on medium-low heat.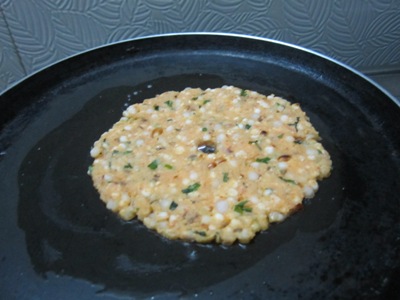 Apply some ghee on the top side and flip it over. Add a drop or two of ghee in the center cavity of the thalipeeth. Cover again and cook for 3 minutes.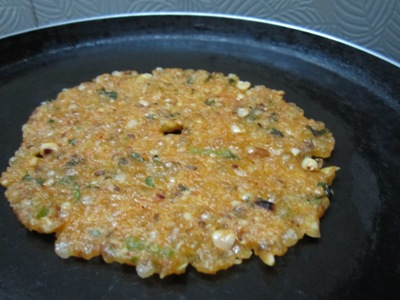 The thalipeeth will be golden brown now. When it's done, remove it onto a plate. Make the remaining thalipeeth in the same way.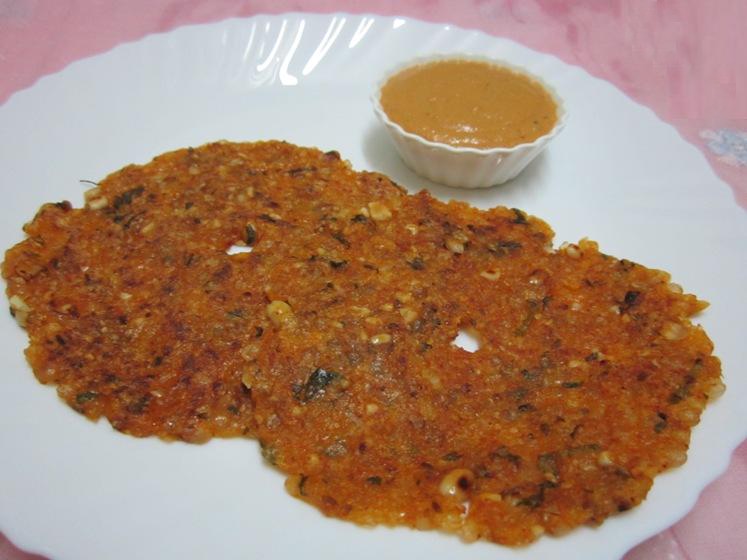 Serve hot with peanut chutney. Enjoy!