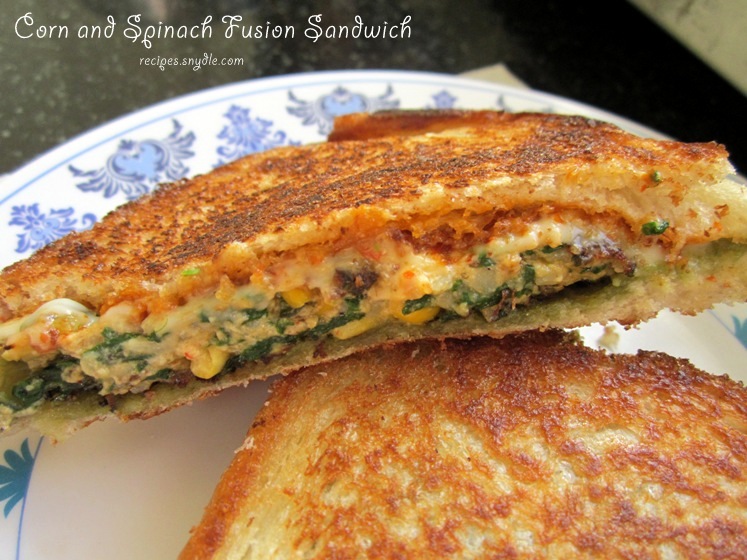 Corn and Spinach Fusion Sandwich Recipe with Step by Step Pictures
Hey foodies! Today is the last day of 2015 and I am all busy with tonight's party food preparation. Since there is so much that needs to be done, I am trying top save time on cooking lunch. I am going to put my leftover mixture of Corn-Palak Tikki or the Spinach and Sweet Corn Patty to some good use. I had kept the leftover mixture in the fridge yesterday and its very fresh and full of flavors.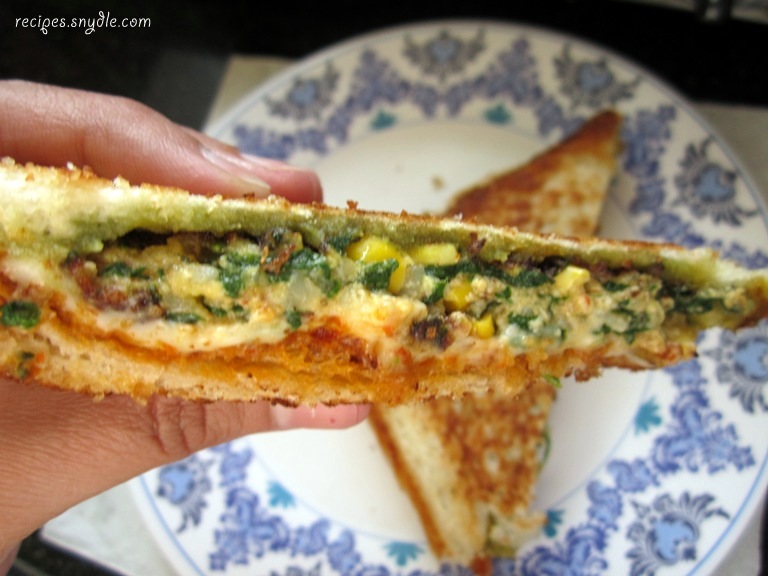 So as the name suggests, this is a fusion recipe. Also, this is a building-on recipe because there are 3 things that need to be ready. So let's come back to the fusion part. This sandwich recipe has Indian as well as Chinese flavors. Yup! You read that right! I have used two different chutneys as spread for this sandwich, one being the green chutney aka the coriander chutney and the other one being schezwan sauce. You could also use mint chutney if you like. But cilantro/coriander chutney has a subtle flavor which doesn't shadow the flavors of the stuffing. Mint chutney could be a bit overpowering.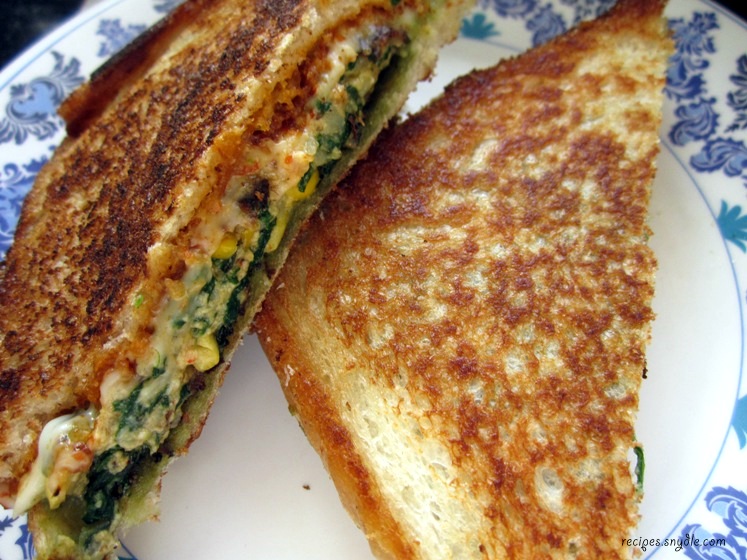 So the 3 recipes that I said earlier that you would need are:
So let's begin! This recipe yields 3 sandwiches.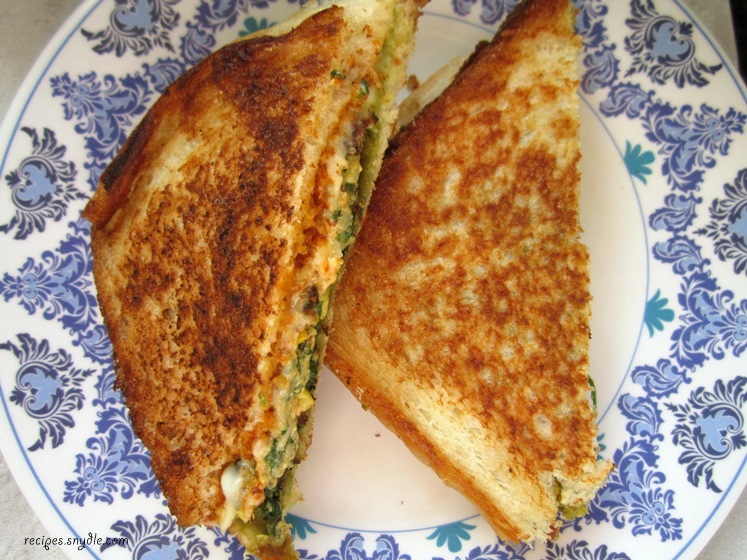 Ingredients
Bread slices – 6 (or burger buns)
Cheese slices – 3
Corn-palak tikki – 3 (Recipe here)
Schezwan Sauce – 6 tsp or as needed (Recipe here)
Green chutney – 6 tsp or as needed (Recipe here) (Replace mint with coriander leaves)
Butter – as needed, to spread and to toast the sandwich
How to Make Corn and Spinach Fusion Sandwich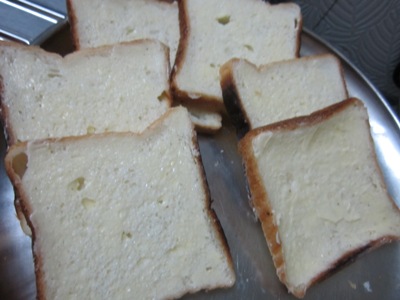 Apply some green chutney on to one slices. Apply as much or as little chutney as you want. Generally, 2 tsp chutney tastes good and keeps the sandwich juicy and moist on the inside.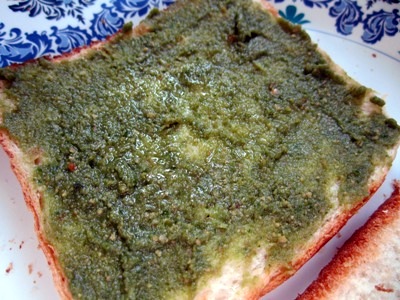 Place the hot patty straight out of the pan on the bread. Since it's a round patty, you could press it a bit to make it spread on the square bread slice. It doesn't affect the taste. Alternatively, you could use burger buns.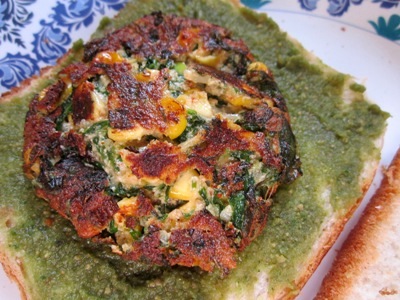 Now place a slice of your favorite cheese.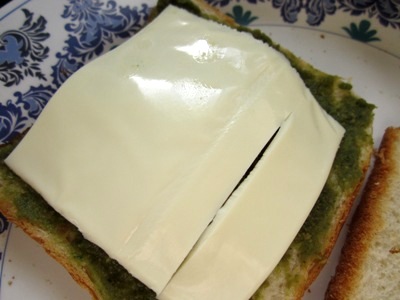 Apply some schezwan sauce to it generously.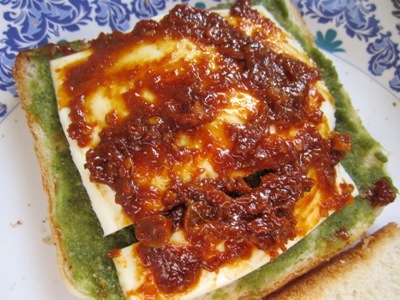 Cover the sandwich with another slice of bread.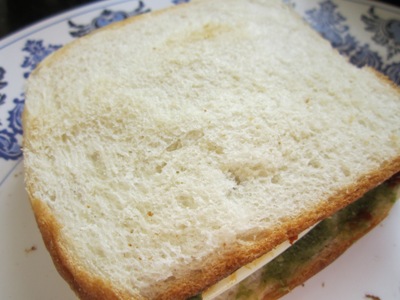 Place the sandwich onto a griddle/tawa or the sandwich maker. Apply some butter on the outside and toast it gently till its golden brown on both sides.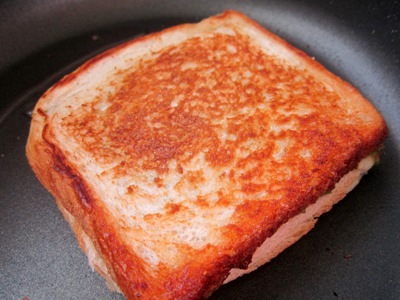 Corn and Spinach Fusion Sandwich is ready. Serve hot. Enjoy!