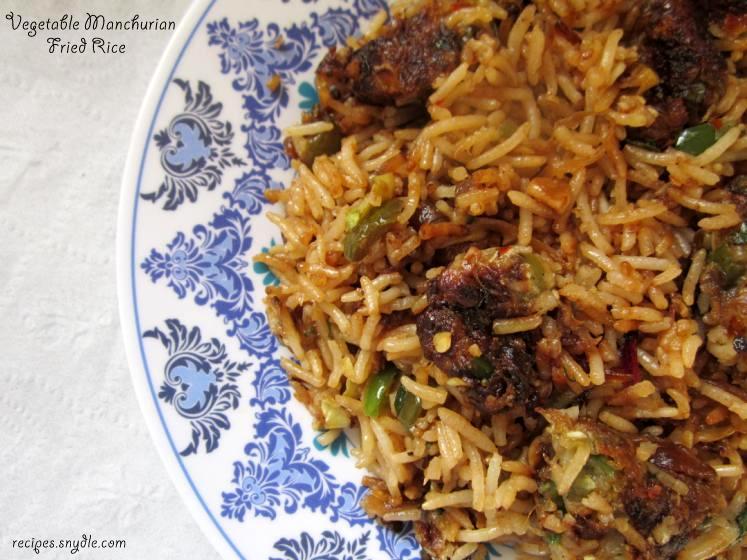 Vegetable Manchurian Fried Rice Recipe with step by step pictures.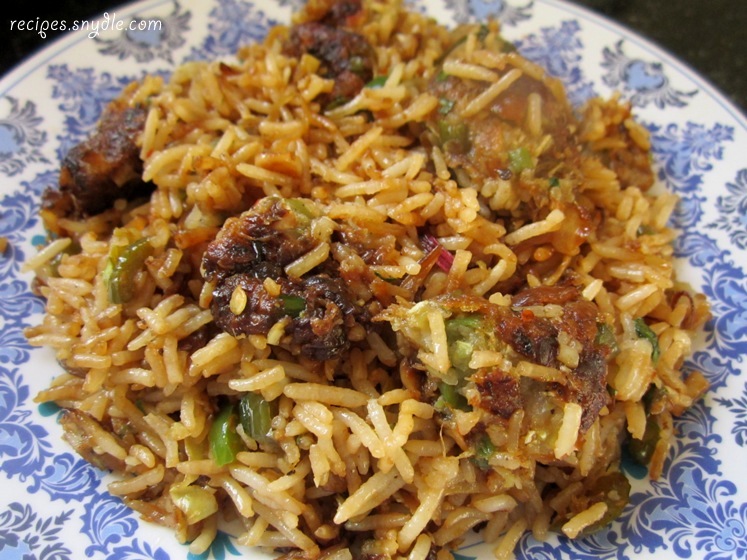 Hello foodies! To day I am sharing an exciting Indo-Chinese recipe. It's the combination of your favorite vegetable manchurian and fried rice. Ever imagined, how loaded and delicious your fried rice would turn out to be if you added those fried manchurian balls to it? And the texture as you bite into those juicy, tender veggie balls is amazing.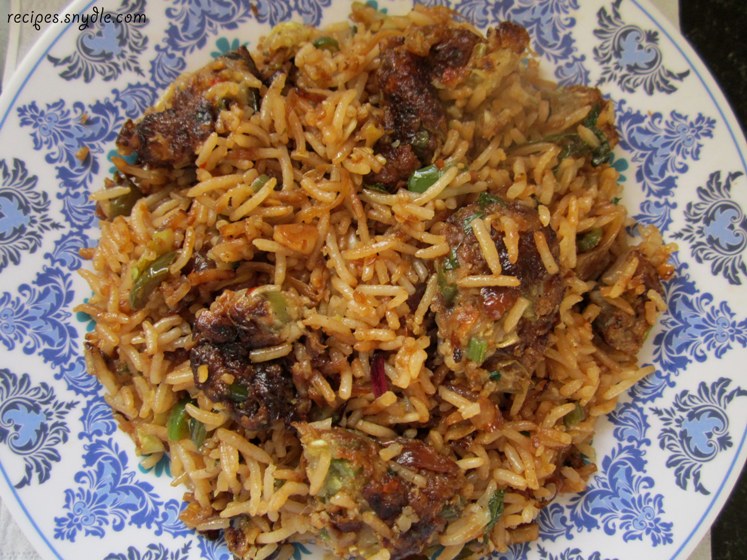 This rice recipe is a building on recipe since it calls for vegetable manchurian balls. You can make those a day ahead and refrigerate them. Or like I did, you can make them fresh if you have time like I did. You can find the recipe of vegetable manchurian here. Remember, we only need the veggie balls and not the gravy.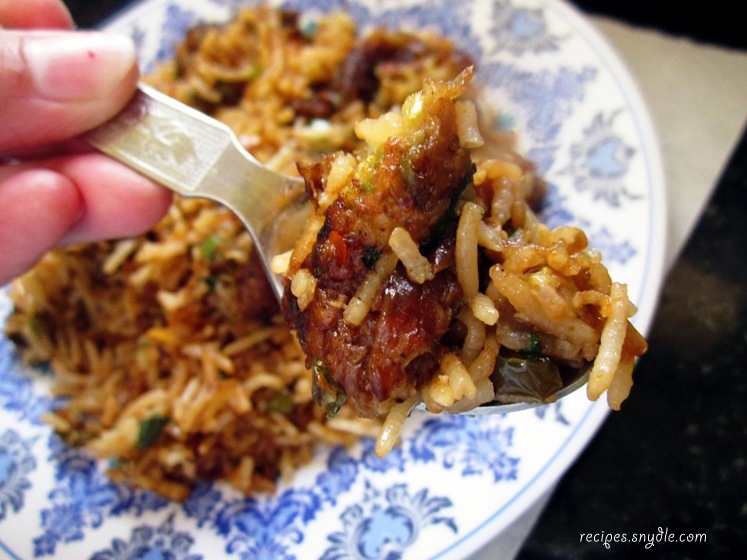 Let's start with the recipe of Vegetable Manchurian Fried Rice. For the purpose of measurement, 1 cup = 250 ml. This recipe serves 3-4.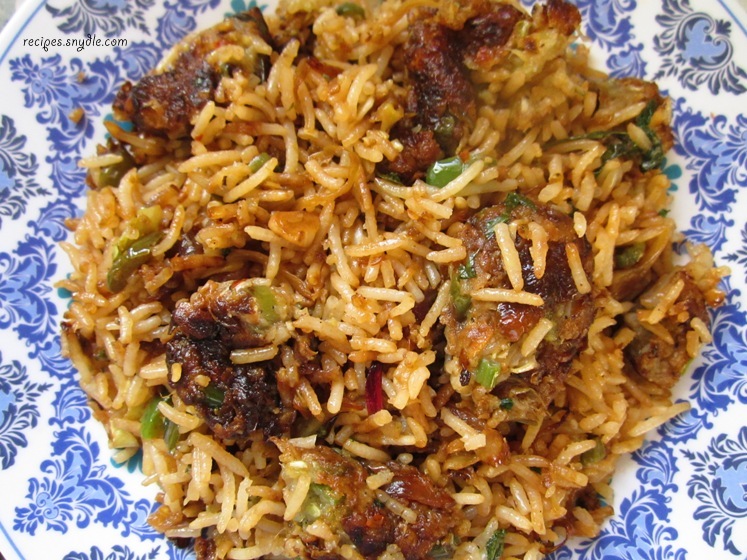 Ingredients
For Prepping the Rice
Rice – 1 cup, washed and soaked for 20 minutes
Water – 2 and 1/2 cups
Salt – to taste
Oil – 1 tbsp
Other Ingredients
Oil – 2 tbsp
Onion – 2 medium, finely sliced
Garlic – 15 cloves, finely chopped or minced
Ginger – 1 inch piece, grated or finely chopped
Capsicum – 1 medium, chopped to small bits
Cabbage – 1/2 cup, shredded, lightly packed
Green chilies – 1, split lengthwise
Veg Manchurian balls – 15 or as many as you like (Recipe here)
Soy sauce – 2 tbsp
Red chili paste – 2 tbsp or to taste
Tomato Ketchup – 1/2 tbsp
Vinegar – 2 tbsp or to taste
Salt – to taste
Ajinomoto/ Chinese salt – 1/2 tsp (optional)
Spring onion greens – finely chopped, for garnish
How to Make Vegetable Manchurian Fried Rice Recipe
Keep the Machurian Dumplings ready.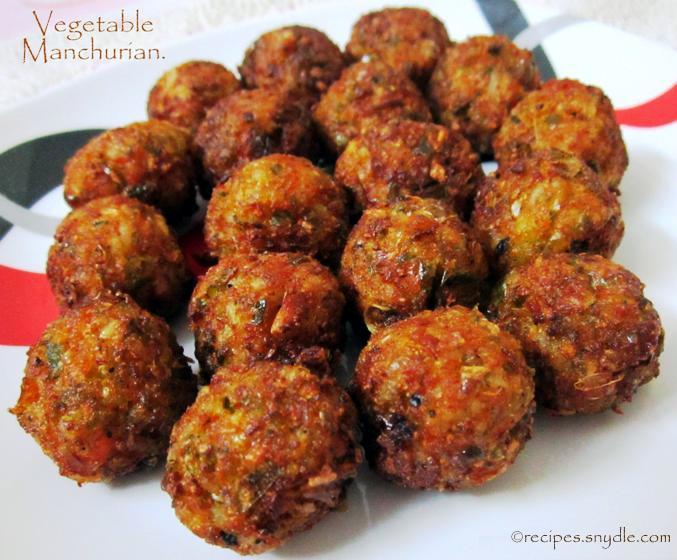 Let's cook the plain rice. Take a heavy bottom skillet. Add water to it and bring it to boil. Add in the soaked rice, salt and oil. Cook the rice on a high flame till just little water is left and you begin to see that the surface of rice begins to develop holes. Now turn the flame to low and cover the skillet with a lid. Cook the rice like that for 10 more minutes till the rice gets cooked. When done, you can spread the rice out onto large plate. This will prevent the grains from clinging on to each other.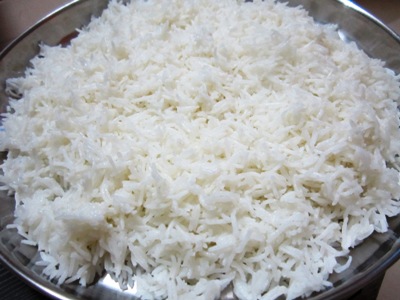 Heat oil in a wok or skillet. Add in the slices onion and saute it on high flame till it becomes translucent.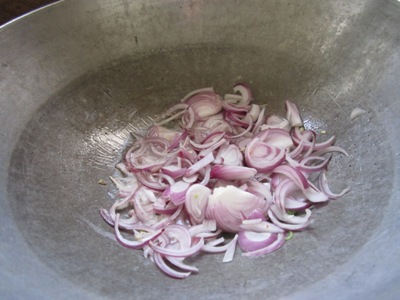 Add in the ginger, garlic and green chilies and saute for another minute till the raw smell goes away.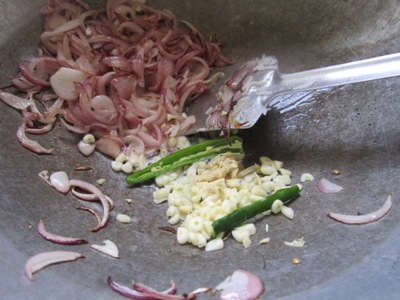 Add in the capsicum and cabbage and saute for a few seconds. The veggies should stay crunchy. You could also add your favorite veggies like carrots, beans or baby corn, mushroom, etc.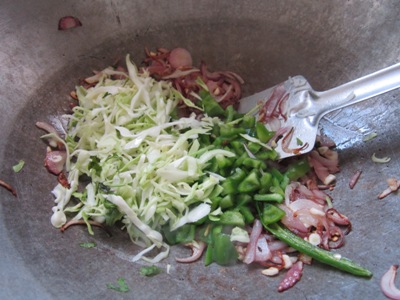 Add in the ajinomoto, vinegar, soy sauce, red chili paste and ketchup. Mix well.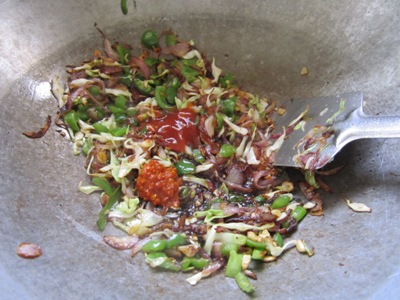 Add in the manchurian balls and mix well. I broke the balls into half. You can do so too.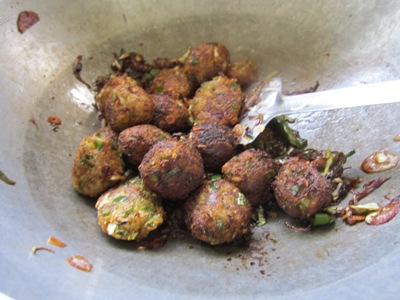 Add in the rice and toss well. Allow the rice to get heated properly.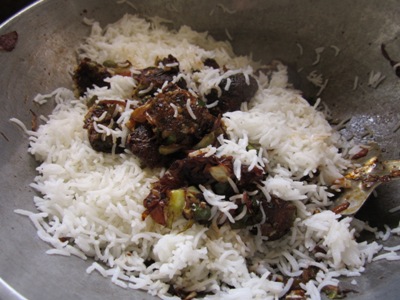 Finish with chopped spring onion greens. Since I was out of spring onion, I used some cilantro instead.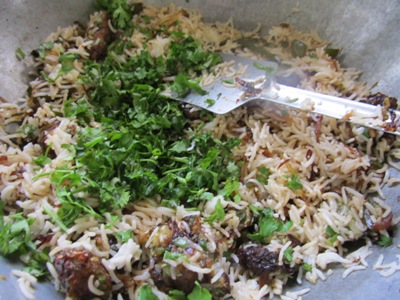 Veg Manchurian Fried Rice is ready to be served. Enjoy hot with your favorite side dish or as is.