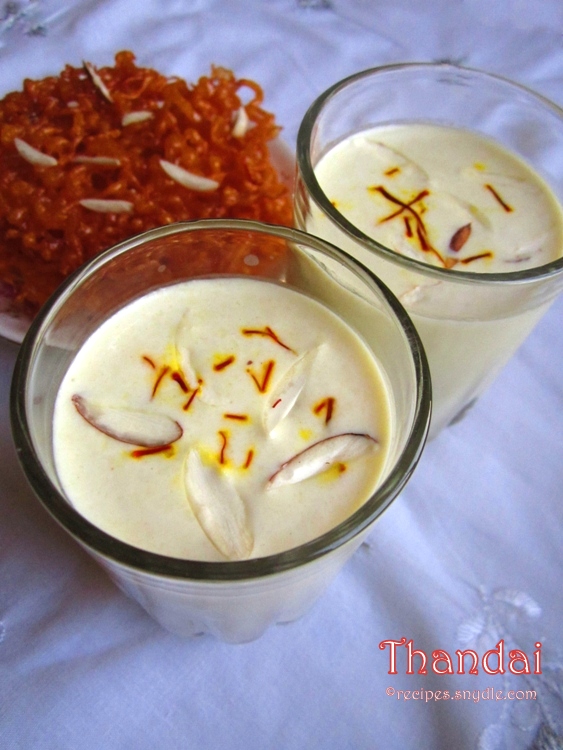 Hello folks. Festivity is here once again, and I am here with a very special recipe for the occasion. It's Holi, the festival of colors that would be celebrated tomorrow. Food is obviously the most important aspect of celebrations, and Holi has its own special menu. Gujiyas, thandai, jalebis, ghears and what not!
Today I made two such very special Holi recipes, which I am sure you would love to try. This is the recipe for thandai. Thandai is a milk-based beverage, laced with delicate flavors of spices and richness of dry-fruits, served chilled. It's a very simple drink and gets ready in minutes.
Usually, people purchase ready-made thandai masalas. But those aren't very fresh and also contain additives. In my opinion, nothing can beat the taste of homemade food and beverages. Again, some people would want to make a big batch of thandai masala in advance. However, making it fresh every time would yield a yummier thandai, extremely flavorful and refreshing. We serve it alongside gheeyar/ghear, which is Sindhi specialty sweet. For its recipe, please click  here.
The two main components of thandai are the spices and the nuts. Instead of grinding them together, I ground them separately. Keep reading and you will know why.
Let's get started with the recipe now. This recipe will serve 5 people.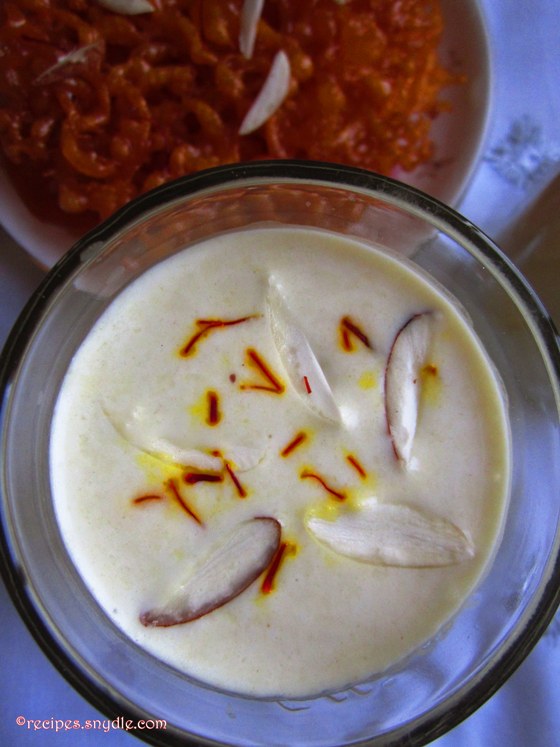 NOTE 
If you do not have dried rose petals, you can use rose essence.
You can make dried rose petals at home, by drying the rose petals in the sun for a couple of days till they shrink and lose the moisture. Pack them in an airtight container. Choose pink or red roses.
People often grind the spices and nuts together. Grinding them separately will help make a better thandai having a smoother texture. The spice residue will be strained out and all the dry-fruits will be retained.
Ingredients
Full-fat milk – 1 liter + 2tbsp
Saffron – Few strands
Sugar – 1/2 cup or to taste
For Making the Spice Mix
Cardamoms – 5
Black peppercorns – 10
Fennel seeds – 2 tsp
Cinnamon – 1 inch stick
Dried Rose Petals – 30 or Rose Essense – 1 tsp
For Grinding to the Paste
Almonds – 15
Pistachios – 20
Cashews – 15
Melon Seeds – 2 tbsp
Poppy seeds – 2 tbsp
Water – 1/2 cup or as needed, to soak the nuts and seeds
For Garnishing
Saffron- a few strands
Almonds or pistachios – a few slivers
How to Make Thandai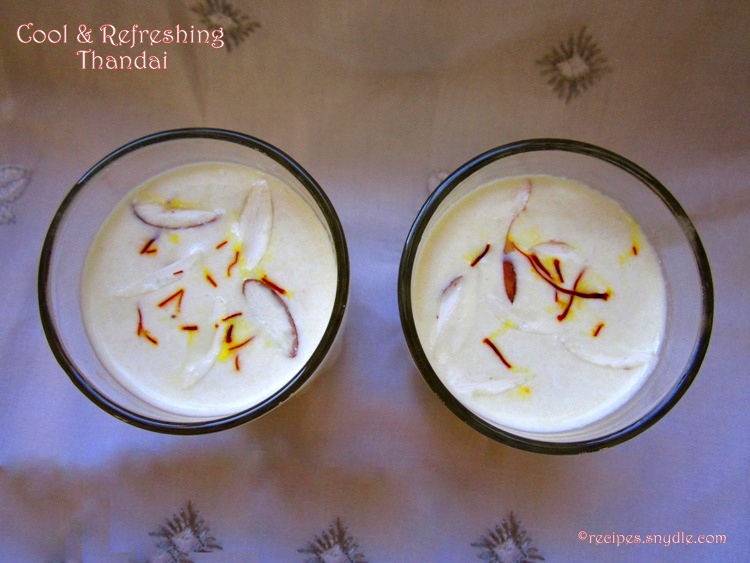 Soak the cashews, pistachios, almonds, poppy seeds and melon seeds in hot water for a few hours. Peel the almonds and pistachios. Grind everything to a smooth paste using the required amount of water that was used to soak the nuts. Don't make the paste very runny. Set aside.
Grind the dried rose petals, green cardamom, black peppercorns, fennel seeds and cinnamon stick to a fine powder.
Soak a few saffron strands in 2 tbsp of warm milk. Set aside.
Take the milk in a saucepan and bring it to boil. Add in the ground spice mix and simmer for 5 minutes till all the flavors get incorporated into the milk. Stir occasionally.
Add in the sugar and stir till it dissolves.
Switch off the flame and strain the milk using the sieve. Be very careful while straining hot milk. Use a ladle to strain milk little by little. If you want, allow the milk to cool down a bit so that you can strain it comfortably.
Return the strained milk back on flame and now add in the ground paste of nuts and seeds. Simmer for 5 more minutes. Add in the saffron soaked in milk. Turn the flame off.
Allow the milk to cool down till just warm. Add in the rose essence at this point if you haven't added rose petals earlier. Chill the thandai in the fridge for a couple of hours.
Serve in glasses and garnish with some saffron strands and slivered almonds or pistachios. Enjoy!