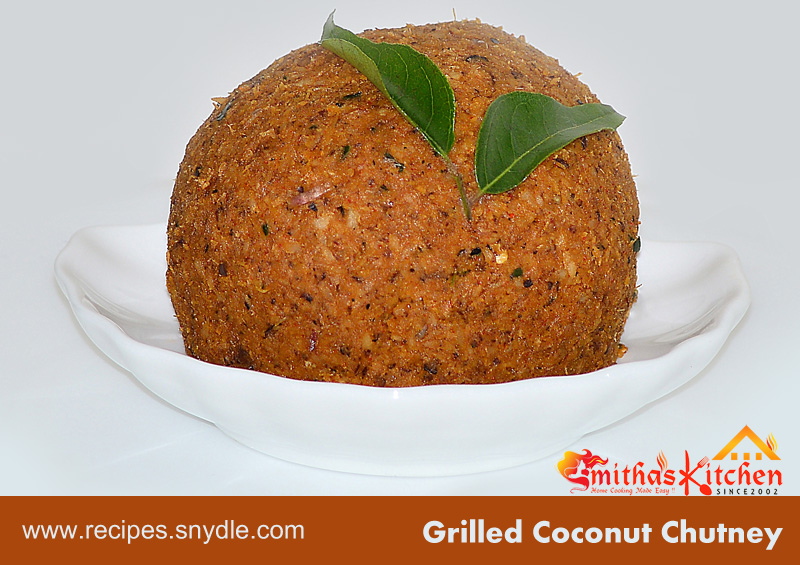 One of the traditional chutney recipes of Kerala cuisine using the roasted coconut pieces in the wood burning fire. Toss the coconut pieces and the red chilies in the ashes and the coal pieces left after burning the wood and let them roast. The coconut gets a smoky flavor from the wood fire.
INGREDIENTS:
Coconut – ½ coconut, diced
Dried Red Chilies – 5 nos
Tamarind – one gooseberry size
Salt – to taste
Shallots – 3 nos
Curry leaves – 2 springs
METHOD OF COOKING:
Dry roast the coconut pieces in a large non sticky pan, on medium heat. Turn the sides when they turn brown. Once both the sides are done take them out from the pan. The coconut pieces shouldn't burn, but there shouldn't be any white left on them.
Dry roast the red chilies too, turning the sides in between, till they change the color.
Let the dry roasted coconut pieces and chilies cool down a bit.
Grind them with the other ingredients in a mixie/grinder. Sprinkle a couple of spoons of water to let the chutney come together. Do not grind it to smooth paste. It prefers to be bit coarse.
Serve with warm rice and any other side dish of your choice.
SK recipe No. 253