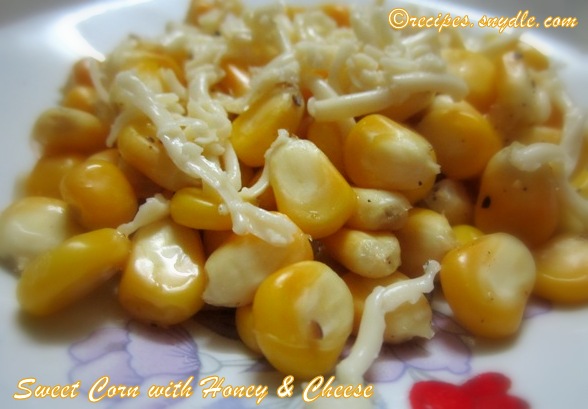 Sweet corn with Honey & Cheese Recipe – Who doesn't like a bowl of steaming hot sweet corn? Sweet corn is a very healthy snack option. It is loaded with fiber, protein, vitamins and antioxidants.
Usually like my sweet corn smoked over the coals and seasoned with red chili powder, salt and lemon. Today I tried making a dressing and mixing sweet corn in it for a change. And boy, it was delicious! Let us now see how to make the very yummilicious sweet corn with cheese and honey. I am sure you will give the bag of chips a pass any day for a bowl of this healthy goodness.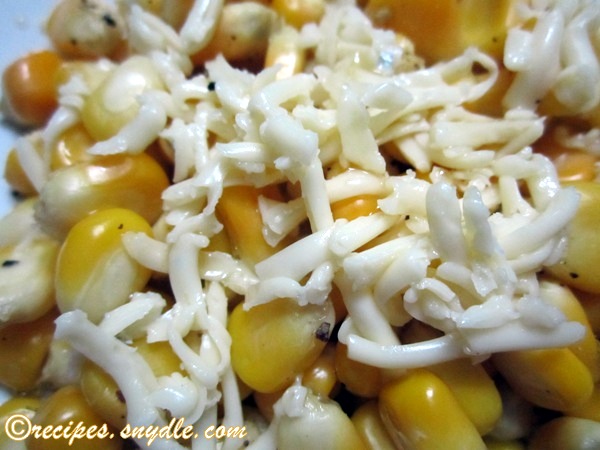 Ingredients – Sweet corn with Honey & Cheese Recipe
Sweet corn kernels – 250 grams
Salt – A pinch
Fresh ground black pepper- 1 tsp or to taste
Lemon Juice – 1 tbsp or to taste
Honey – 2 tbsp
Cheese – 4 tbsp, grated (I used cheddar cheese cubes)
Olive oil – 1 tbsp
Water – To boil the sweet corn
How to Make Sweet Corn with Honey and Cheese
Clean the sweet corn kernels in a colander under running water. Take a pot and add sufficient water to it. Add in the sweet corn kernels. Boil the sweet corn for 5 to 7 minutes.
Meanwhile, combine lemon juice, honey and olive oil in another bowl.
Strain out the sweet corn from hot water. Toss the hot sweet corn into the honey-lemon mixture.
Add salt, pepper and cheese. Mix everything nicely with a spoon and serve right away.
Adorn your serving of sweet corn with some more grated cheese, if desired.