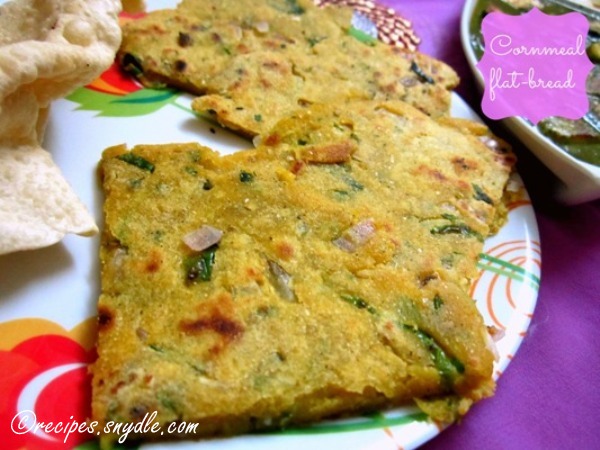 Today's post features a flat-bread recipe. It is made from cornmeal and is popularly known as makke ki roti in Hindi. Makke ki roti goes really well with leafy vegetables, such a palak paneer or sarson ka sag. You can find the palak paneer recipe here -> How to make palak paneer?
Cornmeal is gluten-free and wholesome, which makes this flatbread such a healthy recipe. You can find it at your nearest grocery store pretty easily. Cornmeal has a beautiful taste. This flatbread is anything but bland. It will leave you hungry for more.
Ingredients
Cornmeal flour/ Makke ka atta- 2 cups
Onion- 1 medium, chopped
Green chilies- 4, chopped
Cilantro- A handful, finely chooped
Clarified butter / Ghee – 1 tbsp + some more for roasting
Cumin seeds/ Jeera- 1/2 tsp
Salt- To taste
Water- 1.5 cups, or as required
How to Make Makke Ki Roti
Take a big bowl and place all the ingredients in it. Combine the ingredients well with the help of your fingers. Pour in the water little by little and work the dough. The dough will be crumbly and not sticky. But it must be soft enough.
Split the dough in 4 parts. Roll a ball out of each part. Place it on a plate and cover it. Let the dough balls rest for 10-12 minutes.
Lay a plastic or polythene sheet on the rolling surface. Keep the dough ball on the sheet. Lightly flatten the dough ball with your fingers. Tap it lightly with your palm to roll it out to make a 6-inches circle. Since the dough is crumbly, using a rolling pin really won't help.
Heat a griddle or tawa. You can use a non-stick pan. I used the cast iron girdle. Smear it with some oil at first. Lift the flatbread off the rolling surface onto your palms by flipping over the plastic sheet with other hand. Put the flatbread onto the tawa / pan. Roast it on a medium heat so that it will be crusty on the outside and properly cooked on the inside. Turn it over after 2 minutes till the roti is golden and crusty on one side.
Put on a little clarified butter and flip the roti again. Smear some clarified butter on the other side of the roti as well. Roast it till it is completely cooked. Make the remaining flatbreads in the same fashion. Each one of them may require 6-7 minutes.
Makke ki roti or cornmeal flatbread is ready to be served. Slice it in halves or quarters. Serve with paalak paneer any side dish of your choice.