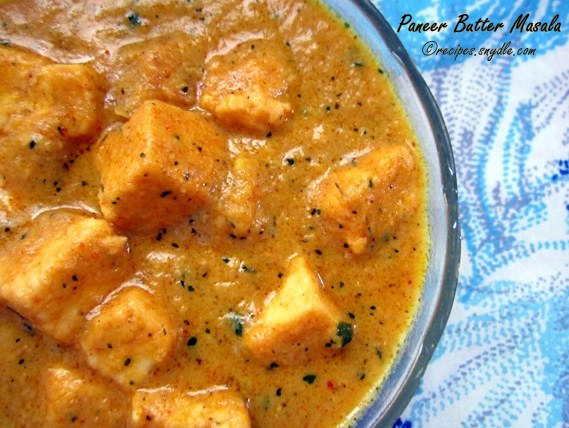 If you have been looking for dinner party recipes, Paneer Butter Masala is the ultimate dish for the vegetarians! Paneer Butter Masala or Paneer Makhani is a popular Punjabi dish consisting of soft chunks of Indian cottage cheese or paneer prepared in rich, smooth gravy laced with lots of butter. The paste of boiled onions and freshly prepared puree from ripe tomatoes are the best base for preparing the gravy. It is a very simple recipe, only a bit time consuming. You need to boil some ingredients and grind them. Make a cashew paste and a spice mix. But in the end all you have to do is stir things for a while. The end result is extremely gratifying and worth all the efforts you put in. I replaced the garam masala with a spice blend that consists of limited spices essential to this dish. Also, I gave cilantro a pass because I wanted pure and untouched flavors of kasoori methi.
I did skimp on butter. You can add butter more if you like. Adding cream is optional. But it gives a nice leverage to the gravy's richness. Since there is milk and cream, the color of the gravy tends to look a bit pale. You can add kashmiri chili powder or a pinch of food color if you want a bright red color.
This recipe suffices for 3-4 persons. You see I added 3 large onions. Some of you might feel that's a lot of onion. But believe me, when you sauté the paste of boiled onions, it shrinks and gets reduced.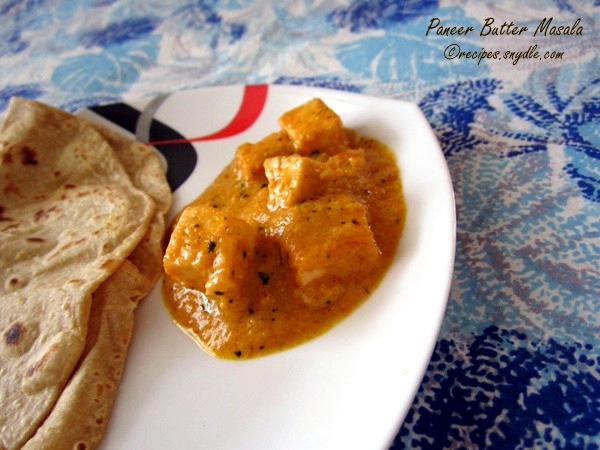 Let us now see how to make this yummilious and delightful Punjabi recipe.
Ingredients for
Paneer Butter Masala
Onion – 3 large, cut into halves
Tomato – 2, large
Ginger – 1 inch piece
Garlic – 10 cloves
Paneer / Cottage Cheese – 250 grams
Cashew nuts – 12, soaked in hot water for 30 minutes
Red chili powder – 1 tsp
Turmeric – 1/5 tsp
Salt – To taste
Honey – 1 tsp
Water – 150 ml
Milk – 100 ml
Cream – 2 tbsp
Butter – 1 tbsp + 1 tbsp
Oil – 3 tbsp
Kasoori methi – 1 tsp
To Grind to a Fine Powder
Cardamom – 2 nos.
Whole coriander seeds – 1 tsp
Fennel seeds – 1 tsp
Black peppercorns – 8 nos.
Cumin seeds – 1 tsp
Cinnamon – 1 small stick
How to Make Paneer Butter Masala
Soak paneer cubes in warm water for 10 to 15 minutes to let it become soft. Remove from water onto a plate and set it aside. I used Amul Malai Paneer. You can also use homemade paneer as well. You won't need to soak freshly made homemade paneer in warm water.
Boil the halved onions in sufficient water for 10 minutes, preferably in a deep pot. Alternatively, you can pressure cook the onions for two whistles. Let them cool and grind it to a smooth paste without using any water.
Blanch the whole tomatoes by dropping them in boiling water for 6 to 7 minutes till their skin cracks and tomatoes are well cooked on the inside. Remove them from hot water, allow them to cool and then discard its peel / skin. Grind the boiled tomatoes to a smooth puree without using any water.
Grind the cashews to a smooth paste using some water they were soaked in. Keep aside. Grind the ginger and garlic to a smooth paste using very little water.
Lightly dry roast the spices mentioned 'To Grind to a Fine Powder' on low flame on a tawa / pan for a couple of minutes, till they become fragrant. Take care not to burn them. Allow the spices to cool down and grind them to a fine powder.
Roast kasoori methi for a minute on a low flame on tawa / pan. Transfer it to a plate and allow it to cool down. Crush it between your palms and keep aside to be added to the gravy in the end. Roasting and crushing kasoori methi is important to release its flavors. Now we are all set! It's time to prepare the gravy.
Heat 2 tbsp oil and 1 tbsp of butter in a skillet. Add in the pureed onion and sauté for 10 minutes till the raw smell wanes away and the onion puree turns slightly pink and fragrant.
Add in the ginger-garlic paste and sauté for a couple of minutes. Now pour in the tomato puree and cook for 5 more minutes till the puree begins to dry and becomes fragrant. Add some salt and mix well.
Now make a well in the center of the skillet. Add in the remaining 1 tbsp of oil in the center. Add in the turmeric powder, red chili powder and the ground spice mix. When the ingredients are pureed, the oil doesn't tend to separate out. So, adding some oil at the later stage along with spices will help get rid of their raw smell of turmeric and release the flavors of red chili powder and spice mix. After a few seconds when the spices look good in the hot oil in the center, mix it around with the gravy. Cook for a couple of minutes.
Add hot water at this stage and stir it well. You can adjust the quantity of water to achieve the desired consistency. Cover the skillet with a lid and let it simmer of 5 to 7 minutes.
Remove the lid, add in the milk and cashew nut paste to the gravy. The gravy will look rich and thick. Check if the salt is enough. Toss in the paneer cubes and let them simmer away for 2 minutes and absorb the flavors of the gravy.
Add in the remaining 1 tbsp of butter and some cream. Finish it with kasoori methi and honey. Give it a good stir. Can use sugar instead of honey.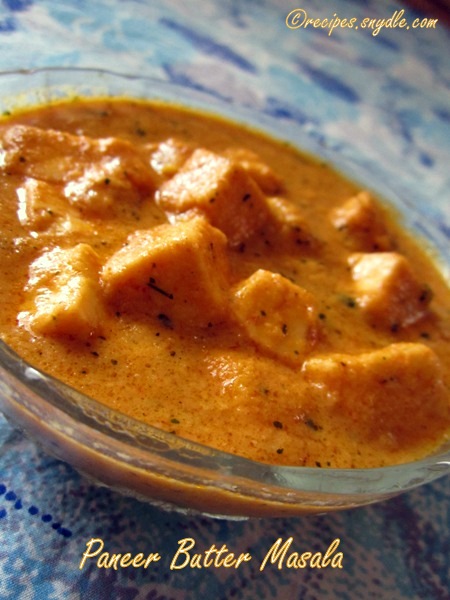 Paneer butter masala is ready to be served. You can have it with roti or naan. I served it with phulkas. Enjoy hot!