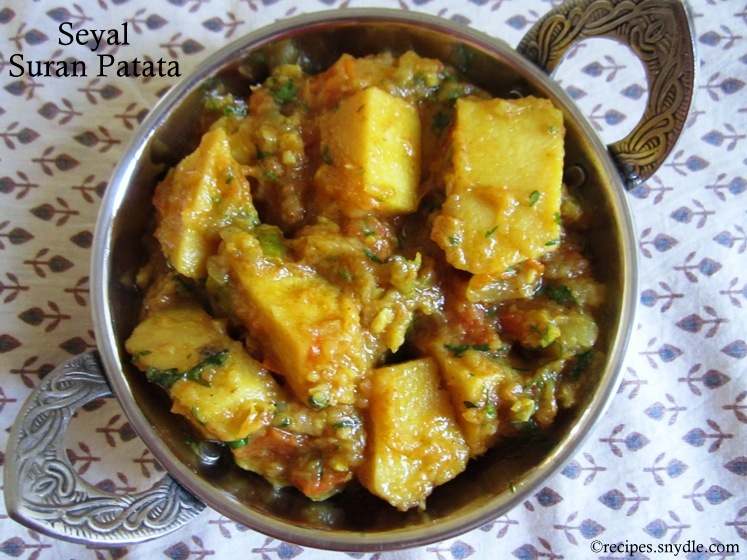 Hi again, foodie buddies. Today's recipe is one of my personal favorites. Seyal Suran Patata is a Sindhi recipe. Suran means yam and patata means potatoes, whereas, seyal is a method of cooking.
Seyal recipes have onion based gravies. The onion is caramelised for golden brown colored gravy. Very little water is used to cook these recipes.they pair up well with both rotis and rice. Personally, I like seyal suran patata or any seyal recipe for that matter better with rice and lemon wedges.
Let's get started with the recipe now. This recipe yields 3 to 4 servings.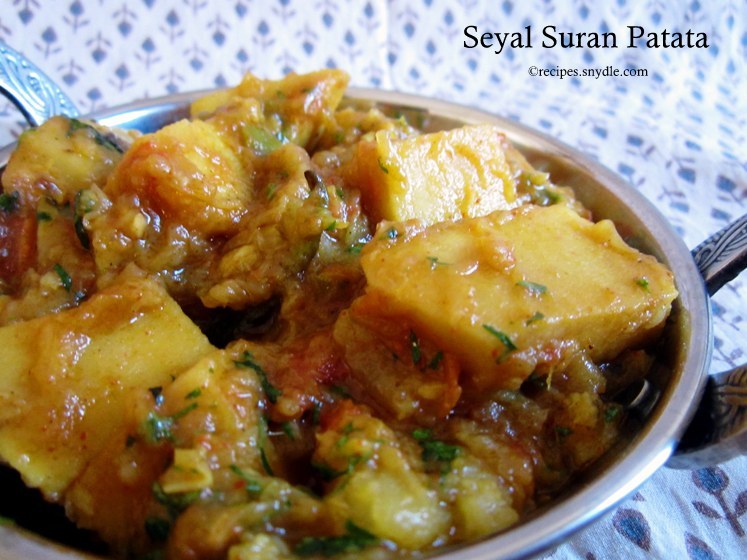 Ingredients
Onion – 4 large, finely chopped
Tomato – 2 medium, diced
Potatoes – 2 medium, cut into medium size dices
Yam – 2 cups, cut into medium size dices
Ginger – 15 cloves
Ginger – 1-inch piece
Green chillies – 3, chopped and another 2 halved
Coriander leaves – A handful
Red chili powder – 1 tsp
Turmeric powder – 1/3 tsp
Coriander powder – 1 tbsp
Garam masala – 1/2 tsp + 1/2 tsp
Salt – to taste
Oil – 5 tbsp
Cumin seeds – 1 tsp
Water – 3/4 cup or as needed depending on your pressure cooker
How to Make Seyal Suran Patata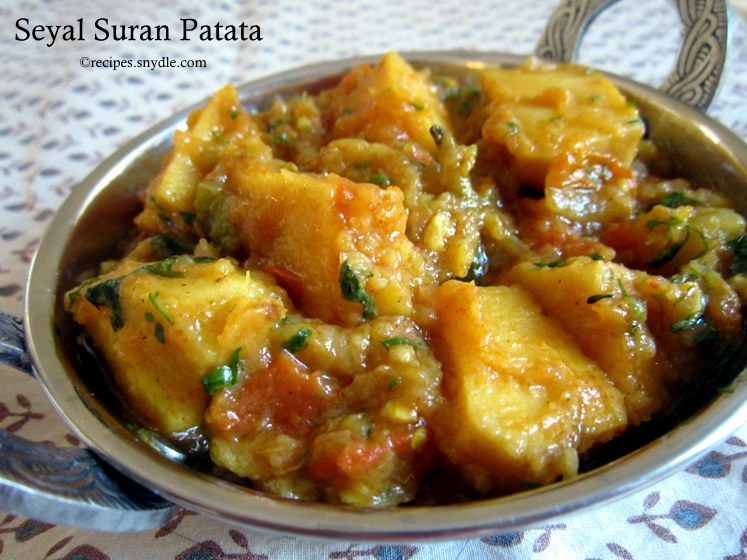 Finely crush ginger, garlic and cumin seeds together in mortar and pestle. Set it aside.
Heat oil in a pressure cooker. Add in the chopped onion and saute it on medium to low flame till it turns golden brown. This takes time. So please be patient.
Add in the finely crushed ginger-garlic-cumin seeds mixture and saute it well on low flame so that it loses its raw smell. It should become very aromatic.
Add in 3 chopped green chilies and saute for a minute.
Add in the diced tomatoes and saute till they become soft and oil begins to separate.
Add in the red chili powder, turmeric powder, coriander powder, salt and 1/2 tsp garam masala. Mix well and cook for a minute.
Add in the diced potatoes and yams. At this stage, we turn the heat to medium – high and 'bhuno' everything.
The water will evaporate and the flavors will mature. You add a couple of spoonfuls of water and continue to cook the veggies stirring constantly. This goes on for about 10 minutes; cooking, sprinkling water and cooking again. This brings out a very nice flavor. Try not to burn anything.
After 10 minutes, add about 3/4 cups of water and pressure cook it for 2 to 3 whistles till the potato and yam are well cooked. Allow the pressure to release on its own.
Open the cooker, there will be a some water in the gravy. This needs to be dried up.
Keep the cooker back on medium flame.  The potatoes break easily at this stage. Stir occasionally with a light hand. Check the salt.
The gravy will become thick and release some oil and the potatoes and yams will be nicely coated in it. Add a handful of chopped coriander, the remaining 2 halved green chilies and 1/2 tsp of garam masala.
Mix and switch off the flame. Seyal Suran Patata is ready.  Serve hot with phulkas or plain rice and don't forget to squeeze some lemon juice. Enjoy this delicious Sindhi treat!