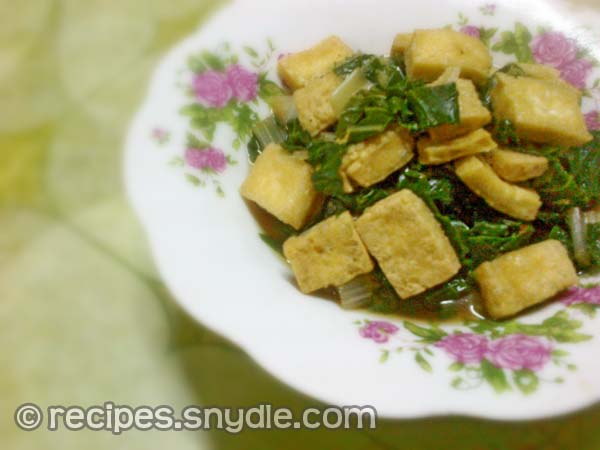 Sauteed Pechay and Tofu Recipe – Have you ever had a time when you simply can't eat meat anymore as if your taste bud became so bland that the only food you want to eat is veggies? Well, I'm currently experiencing that. Probably because my diet this week was mostly meat. Well, who can resist the tasty Lechon courtesy of our neighbor who celebrated their 25th wedding anniversary? Who can resist the yummy, mouth-watering chicken adobo that I suddenly craved to the other day? And who can say no to a lip-smacking beef Mechado courtesy of my brother who (out of the blue) cooked for dinner?
The thing is the only veggie available in our fridge is pechay, also known as Chinese cabbage. Actually, cabbage is my favorite vegetable, aside from kangkong and ampalaya. So I thought why not cook something with pechay. I found some blocks of tofu in the fridge as well. And here's my humble recipe for ginisang pechay and tofu (Sautéed Pechay and Tofu).
Sauteed Pechay and Tofu Recipe
Ingredients:
3 tablespoons cooking oil
10 bunches of pechay
1 piece tokwa or tofu
2 tablespoons mL oyster sauce
3 cloves of garlic, crushed
2 pieces of medium-sized tomatoes, chopped
1 piece of medium-sized onion, sliced
How to Cook Sautéed Pechay and Tofu
Pour oil in wok and heat.
Fry Tofu until golden brown.
Cut the tofu into cubes after cooling. Set the tofu aside.
Sauté garlic, onion and tomatoes in the wok you used earlier.
Add oyster sauce and the tofu.
Add the pechay, stir and cover with a lid.
After a few minutes, remove the lid and turn off the heat.
Serve and dig in!
And now I've got a happy tummy! Upon browsing, I found out that I am not the only one who likes this dish. Also, I found out that this dish is also known as Sautéed Bok Choy. I didn't know that! The only "Bok Choy" I knew is the pet name for little boy. Anyway, I hope you do enjoy this dish as much as I did.