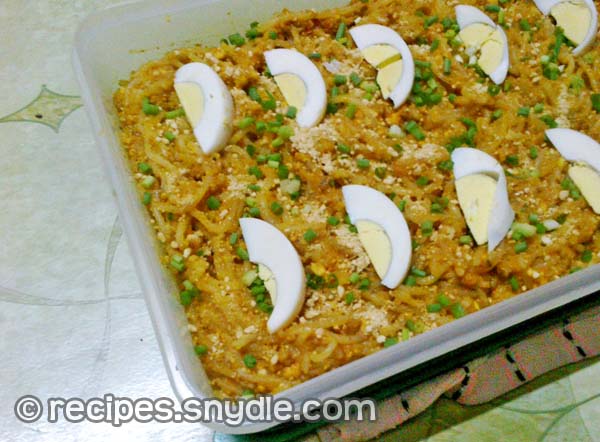 Pancit Palabok is one of my most favorite dishes. Love the orange sauce and the different toppings. I love the different mix of textures and flavors in every bite. I eat Pancit Palabok as much as I can. When I throw parties, you can be sure that Pancit Palabok will always be present on my table. I also order it when I eat out—my favorite is in Jollibee. Pancit Palabok is my go-to comfort food.
If I have the time and the energy, I make it all from scratch and eat a big plate of it. Sure, it does take time to make, but it will all be worth all the effort once you dig in and taste the shrimp-flavored sauce, the crunchy chicharon, perfect hard-boiled eggs and all the other magical bits of toppings. I especially like squeezing calamansi or lime on top of this dish. It cuts through the creaminess and gives it a bit of zest.
Pancit Palabok Recipe
Ingredients:
500 grams of rice noodles or bihon
For Sauce:
2 tablespoons cooking oil
½ teaspoon black pepper
250 grams of ground pork
2 tablespoons fish sauce
1 tablespoon annatto powder
3 cups pork broth or stock
3 tablespoons of flour or cornstarch (dissolved in 1/4 cup pork stock)
1 shrimp cube
For Toppings:
3 teaspoon fried garlic
1 cup boiled pork, cut into thin pieces
2 pieces of sliced lemon or 8 pieces of sliced calamansi
2 pieces of fried firm tofu/tokwa, cubed
¼ cup finely chopped scallions
Half a cup of tinapa or smoked fish flakes
Half a cup of chicharon, pounded
A half  cup of boiled or steamed shrimps (optional)
2 hard-boiled eggs, sliced
How to Cook Pancit Palabok
Soak noodles in water. Drain after 15 minutes and set aside.
In a hot saucepan, pour the cooking oil and cook the ground pork for 5 to 7 minutes.
Pour the pork broth in the saucepan and dilute the annatto powder. Bring the mixture to a boil.
While stirring, add the flour little by little.
Add the fish sauce and black pepper. Simmer until sauce thickens.
Boil water in a pot and cook the rice noodles or bihon.
Drain the noodles and put them in a serving plate. Make sure that the noodles are still a bit firm.
Pour the sauce and arrange the toppings on top.
Serve with lemon or calamansi slices and dig in!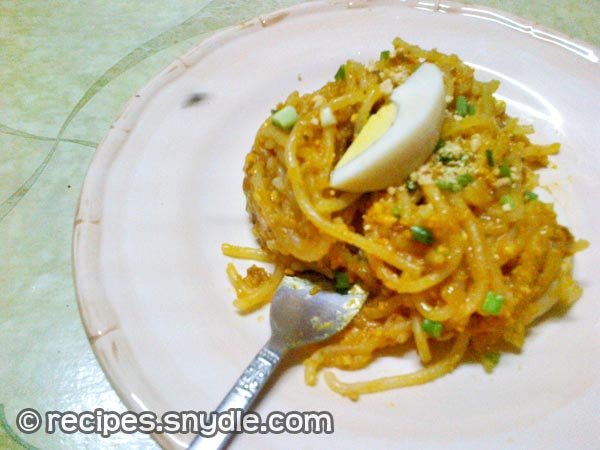 And the next thing that I can say is… yum yum!