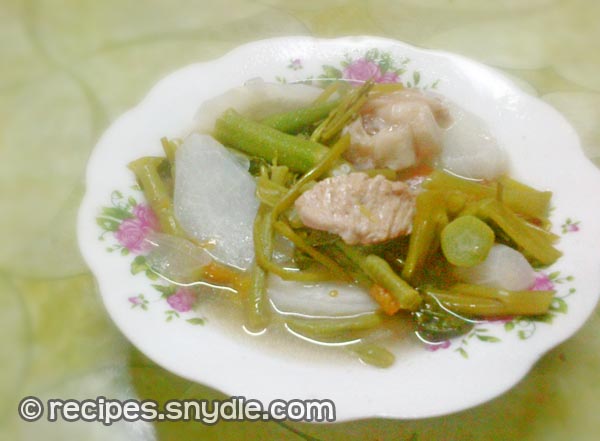 Pork sinigang – I have a strong penchant for things that are sour and salty. I love the feeling of something sour on my tongue and the way the sourness seem to travel down my throat as well.
That being said, I love the tangy and savory flavor of Pork Sinigang. It is so awesome and great that I literally can't find words to describe it. We can't put a finger on it, but it has a way with me that no mere words can express.
I was craving something sour at that time so I ordered it. I became hooked since. We don't usually have sinigang in our house, because my siblings are not really a fan of sour food, but I begged my mother to teach me how to make it and since then, we have it at least twice a month.
Pork Sinigang Recipe
Ingredients – Pork sinigang
1 pack Sinigang Mix
1lb. grams pork belly
2 pieces taro or gabi, cut into quarters
1 bunch kangkong or spinach
1 large onion, sliced
3 tablespoon fish sauce
2 liters water
1 bunch string beans, cut into lengths of 2 inches
1 tablespoon cooking oil
2 pieces medium-sized tomatoes, cut into quarters
3 pieces chilli or banana pepper
How to Cook Pork Sinigang
Put some cooking oil in a pot and heat it.
Sauté onions.
Brown the pork in the cooking oil.
Add fish sauce and mix everything.
Mix water and bring the whole thing to a boil.
Add the taro and tomatoes and simmer until tender.
Pour the sinigang mix and add the chilli.
Add the string beans and simmer for a few minutes.
Put in the spinach, cover the pot with a lid and turn off the heat.
Serve and enjoy.