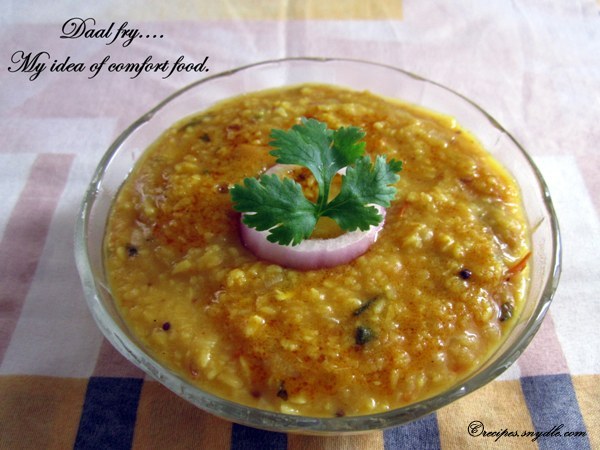 After a week of cooking fancy dishes, today I decided to settle for something simple for lunch. What could be better than dal and rice? I made dal fry with yellow moong dal. It may seem like run of the mill, but it tastes gorgeous! Dal fry and jeera rice is my ultimate way to gastronomic nirvana!
You need just the basic ingredients in your kitchen and you can prepare this yummilicious dal fry in no time!
This recipe serves 3 to 4 persons. For the purpose of measurement, 1 cup = 250 ml. You can pair it with roti / naan or paratha of your choice. Let us now see how to make dal fry with moong dal.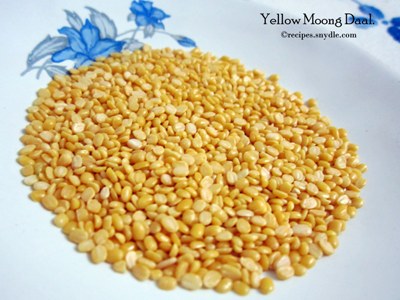 Ingredients
Yellow moong dal – 1 cup, washed and soaked for 20 minutes
Onion – 1 large, finely chopped
Tomato – 1 large, chopped
Green chilies – 2, chopped
Ginger – garlic paste – 1 tbsp
Curry leaves – 10 to 15
Chopped cilantro – A handful, and some more for garnish
Lemon Juice – 1 tbsp
Red chili powder – 1 tsp
Turmeric powder – 1/2 tsp
Meat masala – 1 tsp (I used Everest brand)
Salt – To taste
Cumin seeds – 1 tsp
Mustard seeds – 1 tsp
Oil – 1/2 tbsp
Ghee / Clarified butter – 1 tbsp
Hot water – 1 & 1/2 cups
How to Make Dal Fry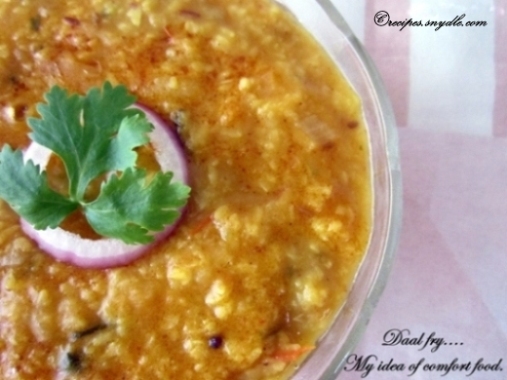 Heat oil and ghee together in a pressure cooker. Temper it with cumin seeds and mustard seeds. Allow them to sizzle. Throw in the curry leaves and sauté for a few seconds.
Toss in onion and sauté them till they turn golden brown. Add in the green chilies and ginger-garlic paste and sauté till the raw smell disappears.
Add in the tomatoes and cook till they turn soft and oil begins to separate. Toss in the handful of chopped cilantro and sauté for another minute.
Add in the red chili powder, turmeric powder, meat masala, salt and mix well. Add in the moong dal and sauté for 4 to 5 minutes till the dal is nicely coated in spices.
Pour in the hot water and combine everything well. Adjust the salt if need be. You can adjust the amount of water depending on your cooker (plus or minus 1/2 cup). We want the dal to be thick. Pressure cook the dal for 3 whistles.
When done and the pressure is released, give dal a quick stir. We do not want to mash it but keep it grainy. Finish the dal with some fresh lemon juice. Garnish it with some more chopped cilantro and we are done!
Serve the dal fry hot with rice or roti.